Really, it only takes a little bit of time to truly declutter your home and believe me, it is SO worth it!  One of the things I love is having a clean, organized and uncluttered home!  I will admit sometimes I am a bit of a pack-rat, and so are my children.  But a few times a year we go through our home and purge it so that it is truly decluttered and junk-free!  And it feels so good when it is done!
1 hour + 7 days to Declutter Your Home is all it takes!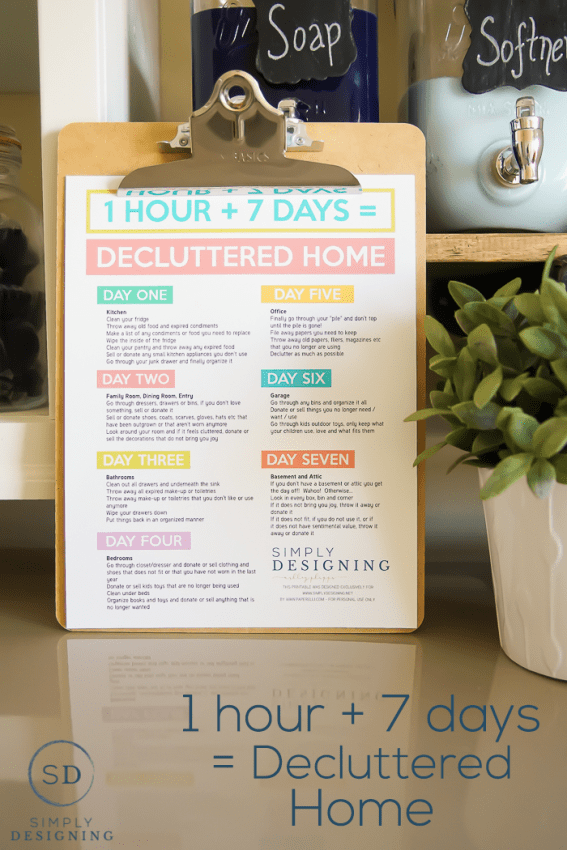 This post contains affiliate links for your convenience.
But sometimes, purging feels overwhelming.  Sometimes it feels like you don't have enough time or energy to complete it.  So today I am breaking it down for you so that you can truly declutter your whole home in about an hour a day, for only seven days!  Really!  And in a week, you will have a home that is clear of clutter, clear of excess and only filled with things that are useful or special.
If you follow this to have a decluttered home, your home will NOT look like this...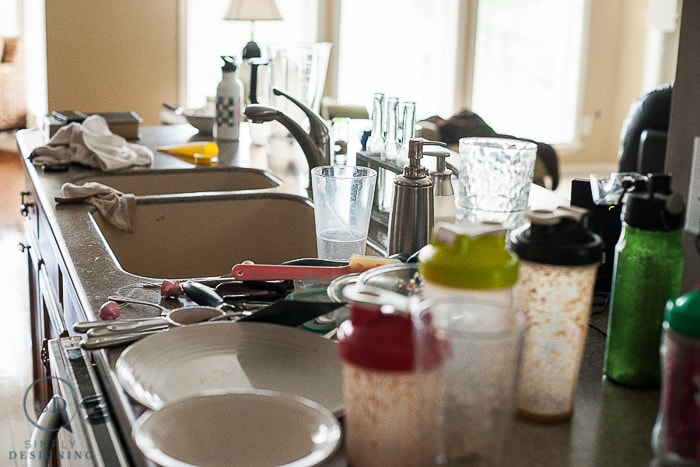 Promise!  Unless you get so wrapped up in decluttering that you forget to clean...but please don't do that!  Please oh please don't do that!  Ha!
Anyway...
I have taught classes before on how to purge and declutter and it all really breaks down to a few simple rules.
Yes, there are popular books about decluttering out right now like this one here (I haven't read it but have heard good things about it.)  But really, it all comes down to the same basic principles that I have been helping others with for years!  So keep reading to learn more about how to truly declutter your home in about a week!
The 5 Rules to Declutter Your Home
If you haven't used it in the last year, donate or toss it.
If you don't love it, donate or toss it.
If it doesn't have sentimental value to you and you don't use or love it, donate or toss it.
If it has sentimental value, even if you don't love it or you haven't used it, you can keep it.  IF you have a place to put it.
Everything.  EVERYTHING.  Needs to have a home.  A place.  If it doesn't have a home, find a home, donate it or toss it.
That's it.  Those are the rules!  It's that simple!
So today I am sharing this really cute decluttering printable!  It tells you exactly what to do every day for 7 days to truly declutter your home!  In every space, you go through, keep the 5 Rules to Declutter Your Home in mind.
As you are going through the spaces, I like to have 3 bins (or bags) handy.
The 3 Container Decluttering Method
One container to Donate
One container to Throw Away
One container to Think About
Everything else you encounter that you plan to keep gets put in it's home right away.
These bins are fairly self-explanatory.  The donate bin is for things you will donate to your local donation store.  Things to throw away are things that are not in good enough condition to donate.
But the "to think about" bin...this is the bin where you put the things that you aren't quite sure if you are ready to part with.  Purging is hard!  Psychologically we are attached to our stuff, and sometimes it is really hard to get rid of things even if they don't have sentimental value.  That is why you need a "think about it" bin.
My rule is this, you can have a bin of items to think about.  Close the bin and put it in the garage or the back of a closet.  In 6 months if you haven't used it or missed it, just go ahead and toss the entire bin!  I promise you won't even know it's gone!
Ok.  So.  To recap.  In order to begin to declutter your home you need:
1 hour +/- every day for 7 days
3 bins
The 5 rules to decluttering your home
My Printable
See, it's really pretty easy!
Every day, follow my printable and work on decluttering the stated rooms in your home.  Some rooms will be fast, but others may take a bit longer.  If you work quickly, you should be able to go through every room in your home in 1 hour or less, but be prepared for some rooms to possibly take a little bit longer (like my garage for example!).  But that's ok because other rooms (like my living room) will only take 10 minutes in my home.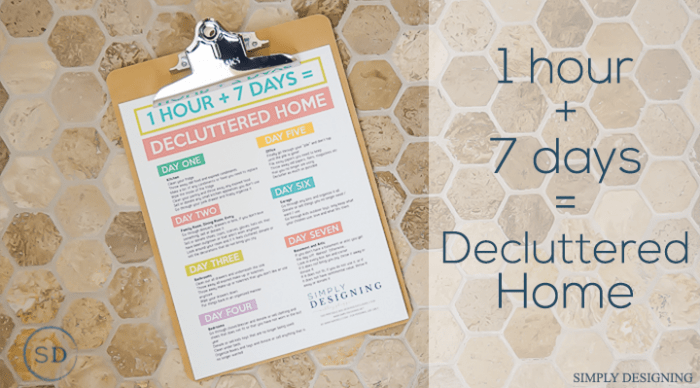 And isn't it just the cutest printable every?  Courtney from Paperelli joined forces with me to put my ideas in a beautiful checklist format for you to easily use and to help you have a decluttered home in no time!  And I just love how it turned out!

And did I mention, I am participating in a HUGE Ultimate Cleaning and Organizing Resource extravaganza this week!  Woot woot!  Click on the links below to get all the tips you need for a clean and organized home!  These are some of the best ideas out there, you won't want to miss any of them!
Check out these great cleaning and organizing ideas:
SUNDAY - CLEAN AND ORGANIZATION PRINTABLES
Domestically Speaking | Simply Designing | Hymns and Verses
Fresh Idea Studio | Decor Adventures
MONDAY - CLEANING TIPS & RECIPES
Refresh Restyle | Cupcakes and Crinoline | Stone Gable
What Meegan Makes | My Uncommon Slice of Suburbia
TUESDAY - KITCHEN ORGANIZATION AND DIY PROJECTS
Postcards from the Ridge | H2O Bungalow
Yesterday on Tuesday | Inspiration for Moms
WEDNESDAY - BATHROOM ORGANIZATION AND DIY PROJECTS
Petticoat Junktion | Redhead Can Decorate
The Silly Pearl | Cleverly Inspired
THURSDAY - LAUNDRY ROOM ORGANIZATION AND DIY PROJECTS
The Interior Frugalista | Setting for Four
FRIDAY - PANTRY & LINEN CLOSET ORGANIZATION AND DIY PROJECTS
Dukes and Duchesses | Organized Island
Occasionally Craft | Organize and Decorate Everything
You might also enjoy these posts: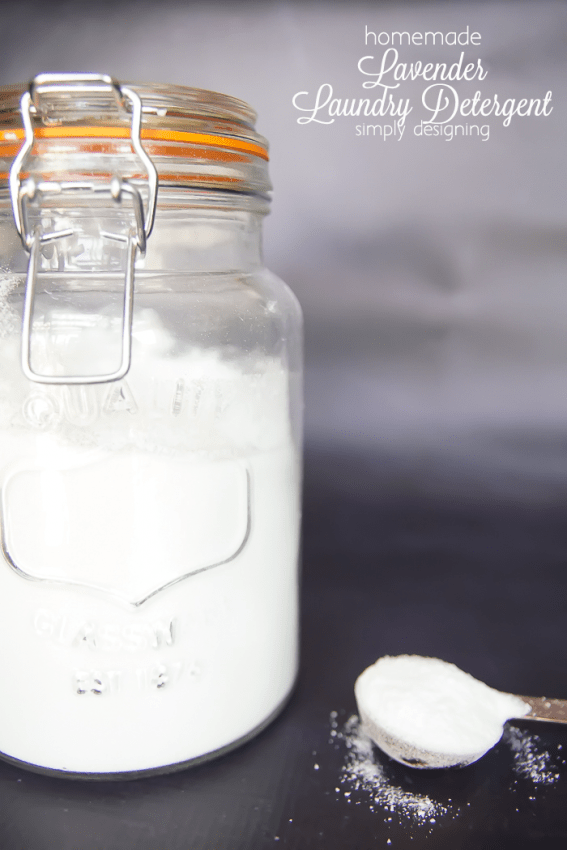 Lavender Scented Homemade Laundry Detergent Recipe