This Blue Cheese Bacon Burger is the ultimate burger packed with so many flavors and textures, it is better then the best burger I have eatten out at the best burger joints! It is truly one of a kind and oh-so-delicious. I can't even begin to describe the awesomeness that this burger is, you'll just need to make it, and eat it, yourself.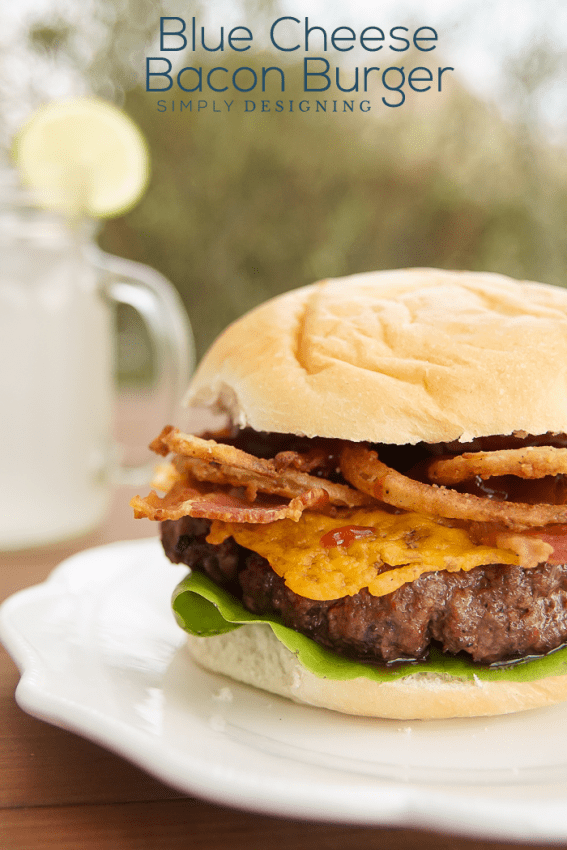 Blue Cheese Bacon Burger Recipe
This burger is a blue cheese stuffed, topped with a cheddar cheese crisp, bacon, homemade onion rings and sweet BBQ sauce! Served with your favorite toppings like lettuce or tomato, this Blue Cheese Bacon Burger Recipe is sure to please anyone!
A big thank you to HomeRight for making this post and my full recipe possible. All opinions, recipes and images are mine.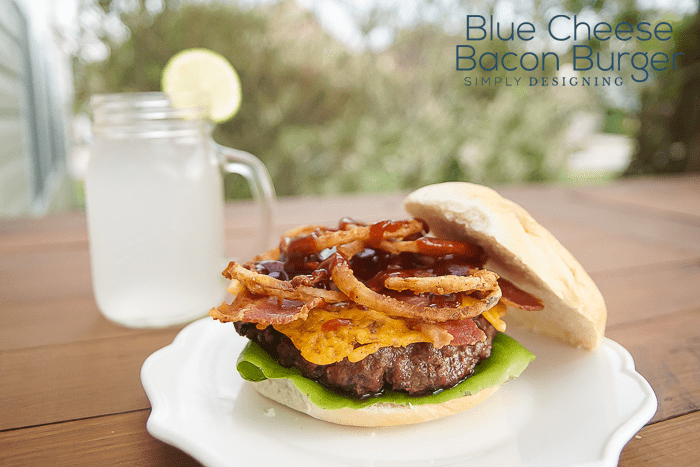 It is a bit labor-intensive but it is well worth the effort. I promise!
And the best part is that I've cut down some of your time by sharing the best way to get your charcoal grill going! Normally it takes us about 30 minutes to get our charcoal ready to grill (we don't use lighter fluid) but with the new HomeRight Electrolight, it only takes about 10 minutes so you can put all your efforts into preparing this amazingly delicious burger instead of getting your charcoal to light.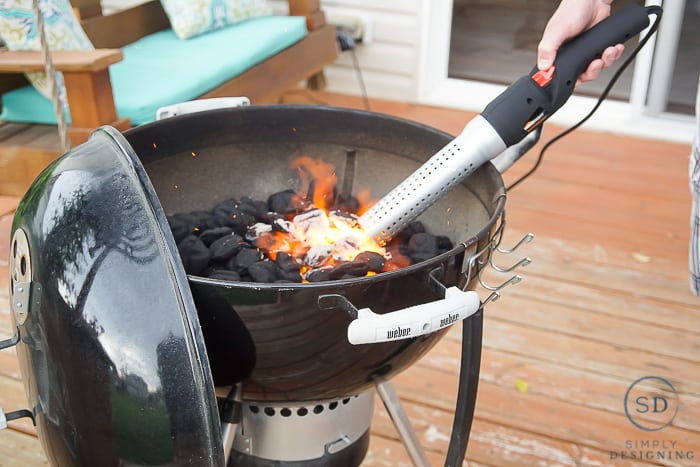 You can of course modify this burger to your preference, but I think it is perfect just as it is! And I am sharing my entire recipe over on HomeRight's blog HERE. I am sharing how to make the burger, the cheese crisp and the homemade onion rings!
And let me just say, homemade onion rings are completely worth it! I wasn't sure if they would be worth the effort but they are the best ever...I might just make these to eat regularly because they are so good! (And I don't even love onions! But these are amazing.)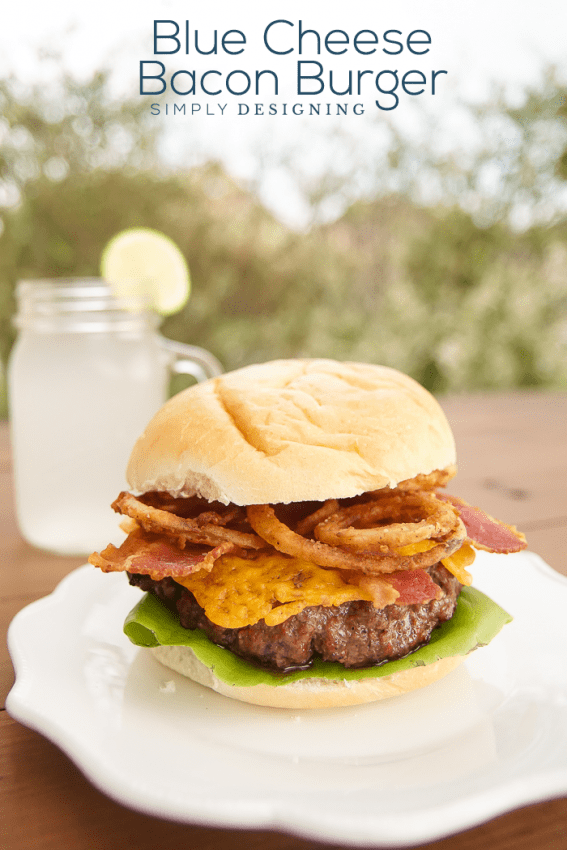 I love grilling! And in our family, we prefer grilling over charcoal. Without lighter fluid. It just tastes better. Everything tastes amazingly delicious hot off a charcoal grill, it is a taste that can't be beaten.
But unfortunately, getting a charcoal grill (without lighter fluid) going, can take a long time. So long in fact, that sometimes I choose not to grill because of the time involved in getting the coals ready to cook over. We have a gas grill I will pull out when I really want to grill something but am short on time, however, it's just not the same. So I was really excited when I heard about HomeRight's ElectroLight because I knew it had the potential to cut down my prep time when using a charcoal grill!
In light of summer and Father's Day, I decided to create the ultimate burger perfect for any burger-loving man (or woman) in your life! This burger is juicy and full of flavor, it is seriously delicious! It does take a little bit of prep time, but I cut down the time needed by using HomeRight's ElectroLight to get my charcoal grill going! Yes this burger could be made on a gas grill or over the stove, but it tastes best when grilled over charcoal!
Blue Cheese Bacon Burger
Ingredients:
1 lb Ground Beef 80/20
Crumbled Blue Cheese
Shredded Cheddar Cheese
Bacon
1 Vidalia (sweet) Onion
1 cup Buttermilk
1 Egg
1 cup Flour
½ teaspoon Salt
½ teaspoon Black Pepper
Canola Oil
Lettuce
Sweet BBQ Sauce
Hamburger Buns
Before you begin anything, you will want to prep all the different parts of your burger. You can prep many of these ahead of time so that in the end all you need to do is assemble the burger and enjoy!
You will begin by dividing the meat into 4 equal parts to create 4 ¼ lbs burgers. If you prefer a larger burger you can divide the meat up accordingly. The burger shown in the photo is about ⅓ lb. Combine your meat and blue cheese crumbles to make hamburger patties.
*Note: if you make the center a bit thinner than the outside edges it will cook up a little more evenly and your burger will look better too!
Set your prepared patties aside until ready to grill.
Make your cheese crisps by laying a thin layer of shredded cheddar cheese onto parchment paper on a cookie sheet in a circle about the size of your hamburger buns. Place this in the oven at 350 degrees Fahrenheit for approximately 15-20 minutes. Remove from the oven and place parchment paper on a cool surface if possible. (I placed mine on my granite countertops)
Cook bacon according to package directions and set aside between two paper towels to remove excess bacon grease.
Next, you will make your homemade onion rings. You will want to place about 2" of canola oil into a large pot on the stove. Use a thermometer if possible to heat the oil up to approximately 360 degrees Fahrenheit. In the meantime, slice your onion into thin slices. I really like thin onion rings so I cut the onion as thin as possible and then separated out the rings. Combine the buttermilk and egg in one bowl and the flour, salt, and pepper in a second bowl. Place the onions in the buttermilk mixture then dip them in the flour, salt, and pepper mix until they are fully coated on all sides. Once the oil is heated up, drop onions into the oil and let them fry for a minute or so on each side until a golden brown color is achieved. You may need to fry these in batches.
Yes, making your own onion rings is a bit of work, but I promise you, it is well worth the effort! These taste simply amazing!!
I also got my hamburger buns out and tore up my lettuce so that as soon as my burgers were cooked we would be ready to assemble and dig in!
Once your burger is prepped, you can light your charcoal grill!
We began by filling the bottom of our grill with charcoal. Then we used the ElectroLight to get the coals going.Like I mentioned before, we don't use lighter fluid on our coals, so normally the process of getting the coals ready takes about 30 minutes. But because of the high heat air blown onto the coals by the ElectroLight, we were able to get our coals going much quicker and were ready to cook our burgers in about 10 minutes!
You simply hold the ElectroLight close to the coals and push the button to turn it on (after you have plugged it in of course).
Within a few minutes, your coals will catch fire and turn white and be ready to use!
If you are using a lot of coal, you might want to do this in a couple of different sections of your grill as we did.
We then put the lid on, allowed the grill to heat up for just a couple of minutes, and then placed our burgers on the grill!
Depending on how thick and big your burgers are, you may have to adjust your grill time. In general it takes about 5 minutes on each side to get a well-done burger, but this time can vary depending on how hot your grill is and how big and thick your burgers are.
I always check my burger with a knife in the center of the burger to ensure it is done. If the juices run clear and it looks fully cooked, your burger is fully cooked. For a more accurate result, you can use a thermometer. Ground beef should be cooked to an internal temperature of 165 degrees Fahrenheit.
Once your burgers are fully cooked, you can assemble your sandwich! Of course you can make this to your own liking, but here is what we did!
I placed the bottom bun on my plate, then added lettuce, then the blue cheeseburger on top. Next I added my cheddar cheese crisp, then bacon, and then my onion rings. Â I topped this with sweet BBQ sauce and the other half of my hamburger bun.
This burger was juicy and delicious and the added punch of the blue cheese was delicious but not overwhelming. It sounds like a lot of flavors going on, but these different flavors compliment each other so well that this truly creates a delicious, amazing Blue Cheese Bacon Burger! I don't think I can go back to eating a normal burger ever again!
You might also enjoy these posts: