Are you going on a summer vacation this year?  One of my favorite family vacations is to hit the beach!  I hope to enjoy a few days of relaxing under the sun (with lots of sunscreen of course) this summer!  Over the years we have gone on a few really fun vacations and I always struggle to know if I was a souvenir, what type of souvenir I want and what do to with it when I get home.  So today I am sharing a few tips and ideas for decorating with summer souvenirs!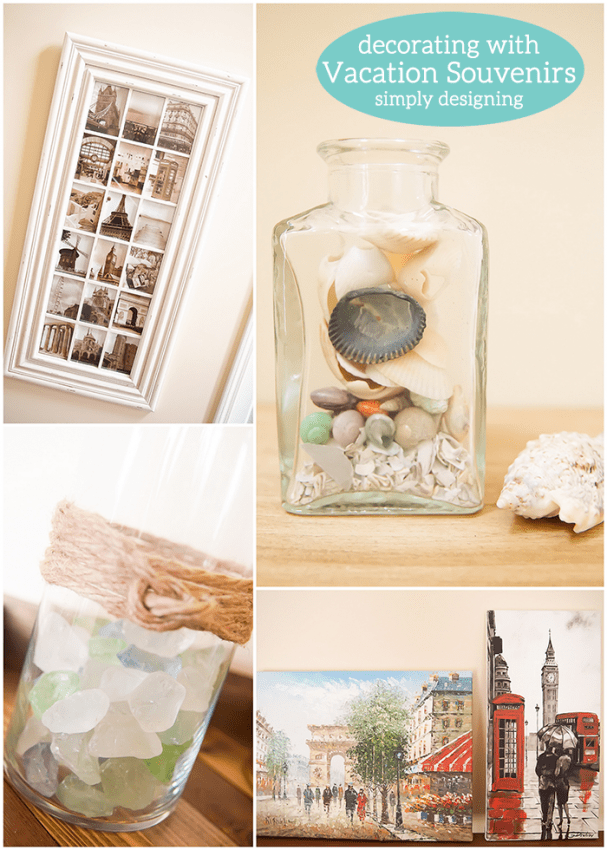 Before you buy a souvenir, think about what you will do with it once you get home.  Don't buy something that will just collect dust in a box.  Buy (or find) something that will add beauty, value or is useful in some way.  Only spend money or space on something if you truly love it and if you know what you will do with it before bringing it home.
So today I am sharing my tips for what souvenirs to buy, what to find and what to do with it when you get home!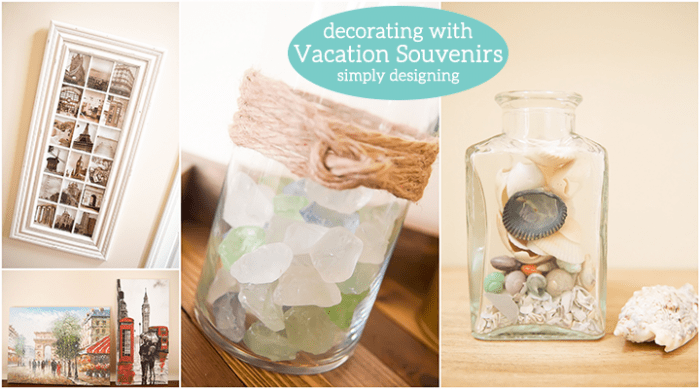 Decorating with Vacation Souvenirs

Photographs
I love taking photographs while on vacation!  But I often come home with a camera full of photos and no plan.  So I found this really cool frame (it is actually really large) and hung it in my front entrance.  I printed several photos from really fun vacations in sepia tone and it is now a really fun display of some of our most fun vacations!
What is really funny is that since many of these photos are from famous places, people ask if we bought it like that or if we went to these places.  Ha!  Yes, we went to all of them, took the photos ourselves and created the collage!  But it is really that cool!

Art
When we went to London and Paris we decided that instead of bringing back souvenirs we would never touch, we wanted to bring back art.  So we picked up a piece in both cities and love them!  They are not very big but they were pretty and they are within our price range so they worked!  Plus they were easy to bring home with us because they aren't bulky or heavy.

Found Treasure
Sometimes free found treasures are the best souvenirs!  If you visit a beach, consider collecting sea glass or sea shells to bring home!  You can create a piece of art or display them simply in a vase.  Either way found treasure is free and is a great reminder of your trip!

Kids and Souvenirs
If you have children, chances are they will beg you to buy everything they see.  You need to decide how your family wants to handle this.  Whether they are allows to spend their own money, if they have a budget or if you do nothing at all.  That is a family decision.  We prefer to spend our money on fun experiences instead of lots of nick knacks, but the decision is up to you and your family!  One thing we love to do with our kids is to allow them to bring home a reasonable amount of found treasure (if the location permits)!  One year my son collected drift wood from a beach to bring home.  This past winter when we went to Florida, my daughter collected sea shells and we found a cute little glass jar for her to keep them in.  This provides a fun activity for the kids (to collect something), is free and can also be displayed in a fun way.  This becomes a lasting and meaningful souvenir they any store purchases ever will.
Do you bring home souvenirs from trips and what do you do with them?
This post was first aired on Mohawk's Creative Home Blog.