Ever since my sweet friend Stacey posted about her awesome abstract plexiglass bowl she made, I have been dying to create something beautiful with plexiglass!  I had so many ideas but finally narrowed it down to creating a DIY Acrylic Tray.  I have never worked with plexiglass but was completely surprised at how easy and doable a project like this truly is!  So don't be worried, you can totally do this!  It looks really impressive but it is actually fairly easy!  (Those are my favorite types of projects!)  So I am thrilled to show you my really fun and simple to make, DIY Acrylic Tray today!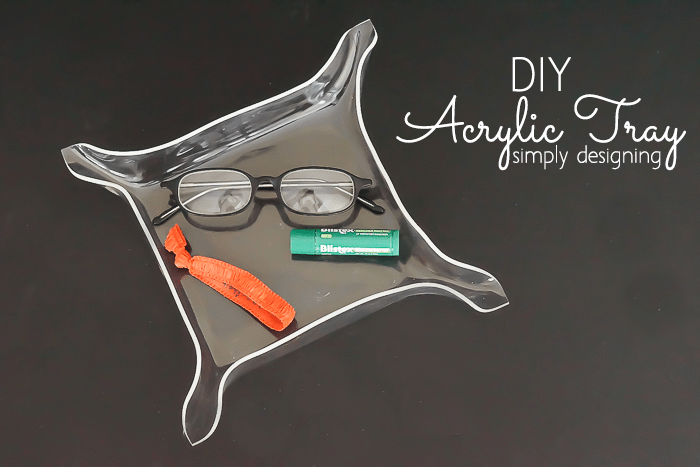 A big thanks goes out to HomeRight for making this post possible today.
Several years ago I bought my husband this beautiful leather catchall from Pottery Barn!  I decided to use this as my inspiration to create my own little bedside acrylic tray, with a bit more modern feel to it.  (This would also make a beautiful entryway organizer too!)  Here is my inspiration: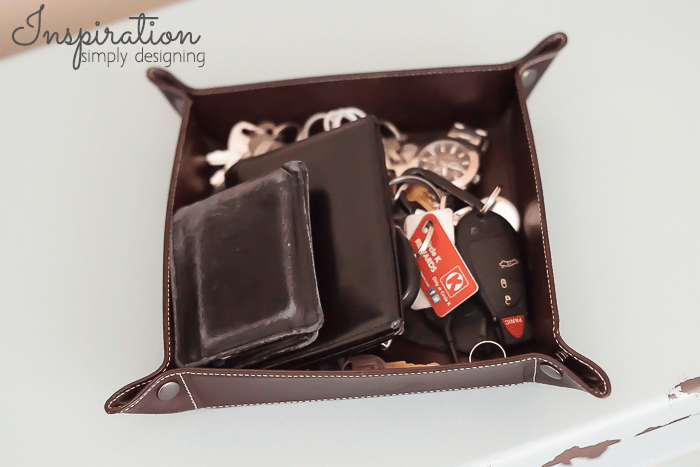 DIY Acrylic Tray
To create this, I used:
1 sheet of plexiglass
BladeRunner, Jig Saw, or Table Saw
Plexiglass Blade
Leather gloves (my husband uses these for welding so be sure you get gloves that are meant to withstand heat because it will get hot)
Block of Wood
Sharpie Marker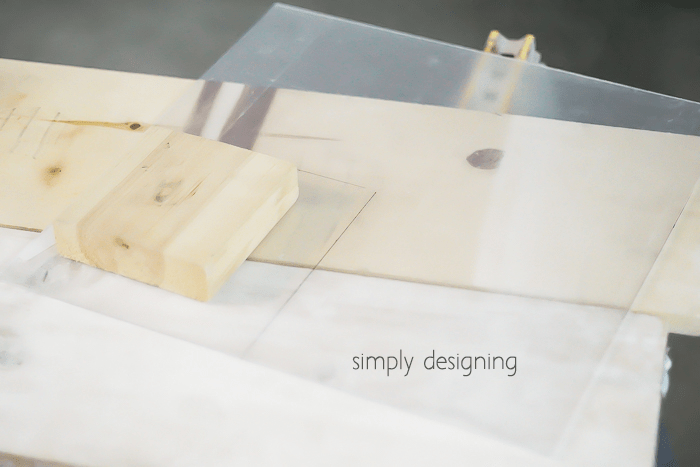 The first thing I did was determine the approximate size I wanted my acrylic tray to be.  I happened to have a piece of wood about the same size so I decided to use this as my guide.  I added 3" in both directions (so that I would have about 1 ½" tall sides) and that became the size of plexiglass I needed.  I drew a square that size with a sharpie marker onto my plexiglass.
*Please note that you do NOT want to remove the plastic from the plexiglass yet!  So you aren't actually drawing your square on the plexiglass, it is actually on the plastic coating that you will take off later.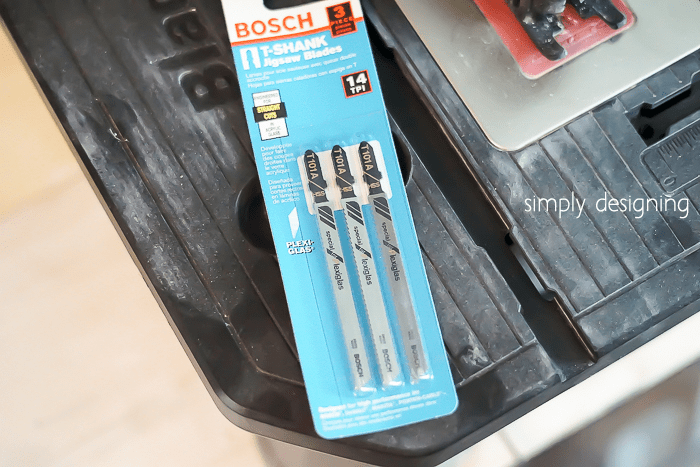 After the square was drawn onto the plexiglass, I cut it to size.  I used my BladeRunner with a plexiglass blade and it worked flawlessly!  But a jig saw or table saw would work well for this too.  I just recommend using a really fine grit saw blade so that you have clean and smooth edges.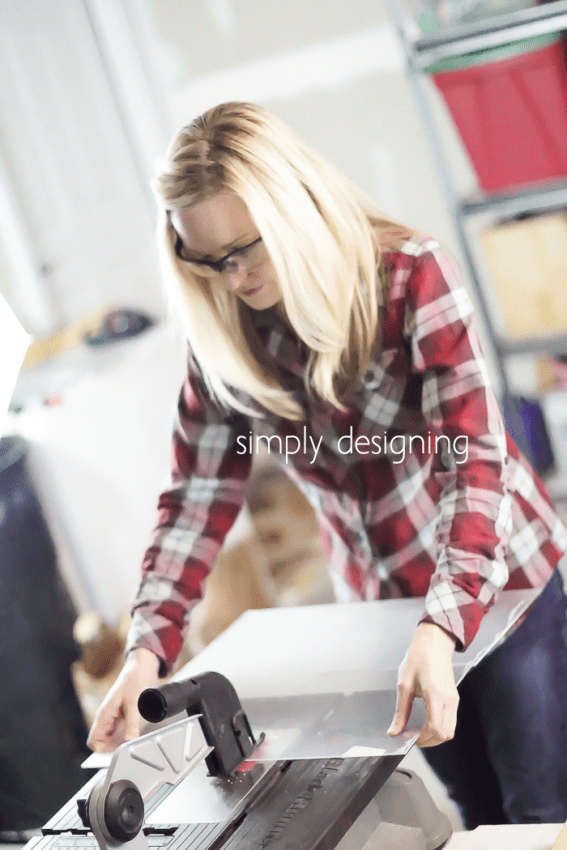 After I cut my plexiglass I removed the plastic coating from both sides.  Then I laid it onto my wood and turned my Heat Gun on.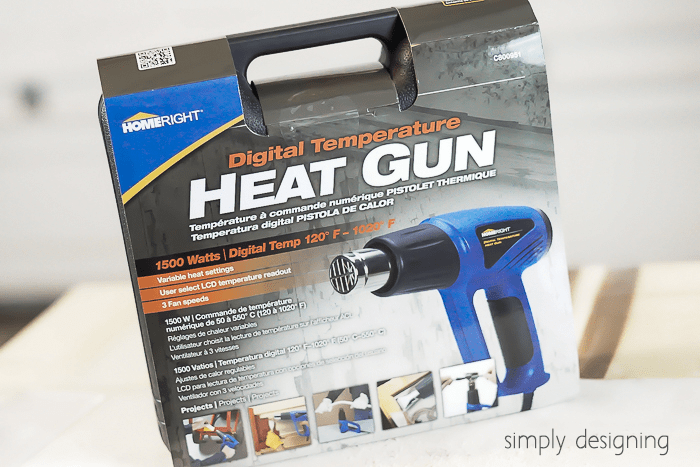 Please use caution when using tools like a saw and a heat gun.  You will want to wear protective gear, especially eye protection, and of course when using a heat gun, I recommend wearing heat resistant gloves too!  I used my husbands leather welding gloves.  Also, please be sure to do this in a well ventilated area and if you can't, be sure you wear a mask.
I cranked my heat gun all the way up and began to warm my plexiglass.  I turned it to setting number III and then turned the heat up to 1020 degrees.  That is extraordinarily hot so please use extreme caution when doing this!  (Please note I am not a professional at this, I am only sharing what worked for me.  I am not responsible if you don't have the same results or if any injury results.  I always recommend reading and following all manufacturer instructions when using tools.)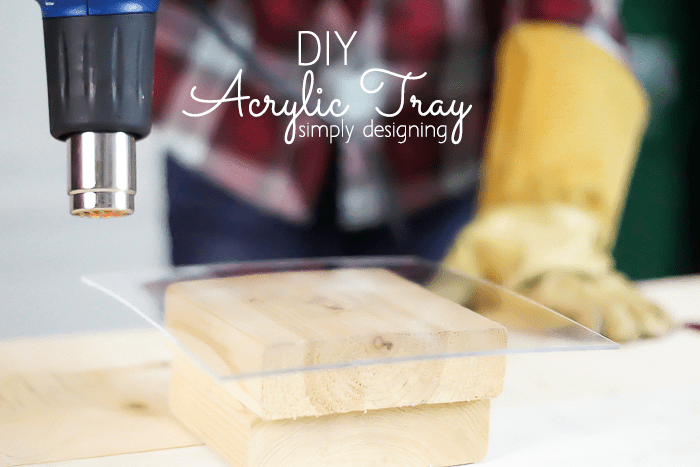 It took several minutes to warm the plexiglass up to a point where it was malleable.  Once it was, I began to work the plexiglass, one area at a time, to fold the sides down around the wood block.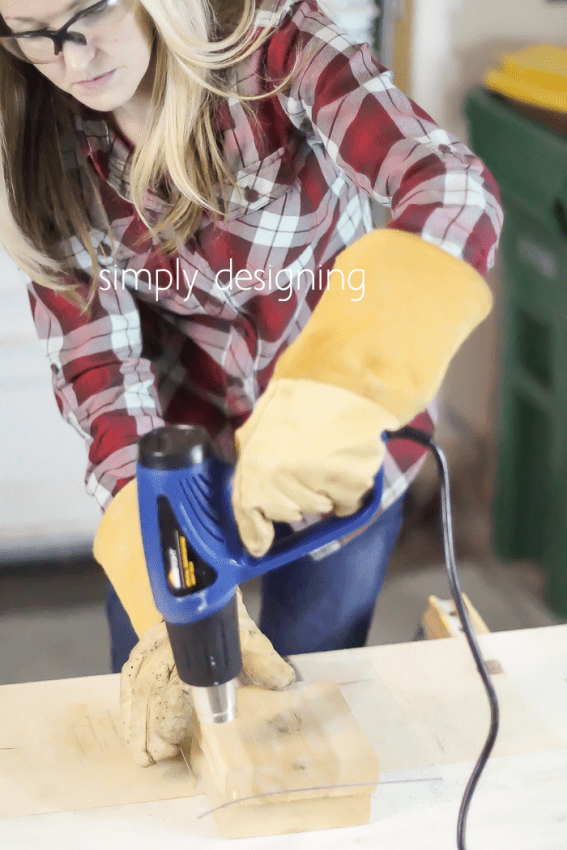 This will take time and patience to shape and form the plexiglass into the perfect catchall shape.  But little by little I turned each edge down to create four sides on my catchall.
Then I slowly worked the corners until they pinched in ever so slightly to be reminiscent of my husband's catchall.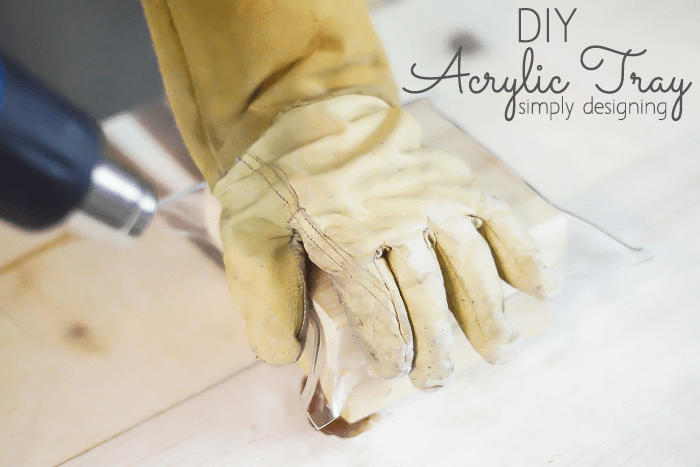 Once I thought the shape was close, I turned the acrylic tray over and made a few minor adjustments and tweaks to get it perfect.  I smoothed out a few areas and tried to get all of the corners as similar to each other as possible.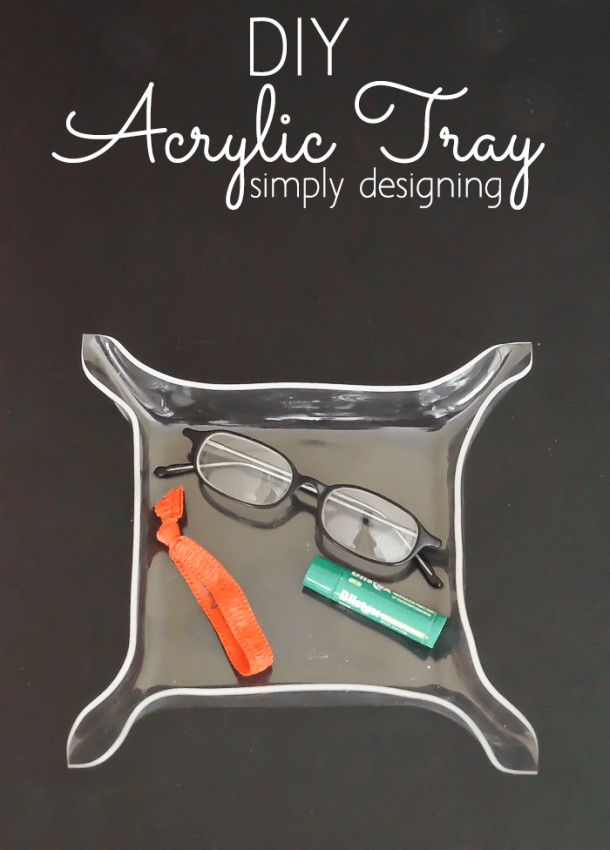 What is great about working with plexiglass is that you can continue to work it until it is perfect!  You can just reheat the area and try again.  It is really such a fun medium to use for creating!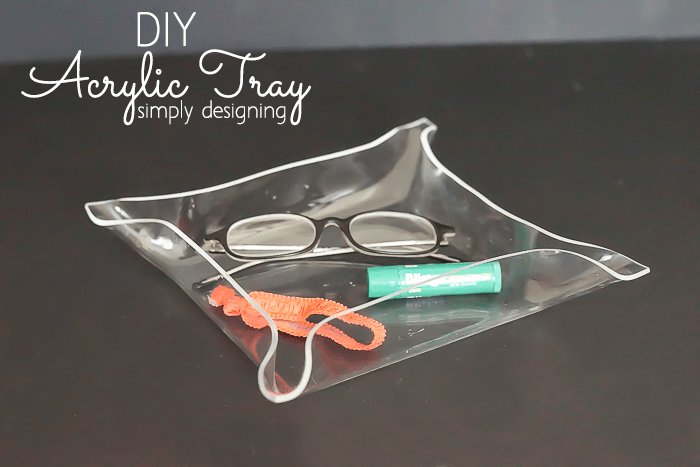 And the HomeRight Digital Heat Gun, is to die for!  I love that I can easily control the exact temperature I need with this!  Plus it makes starting and stopping simple since I can keep the temperature consistent each time I use it!
And I am really excited because I get to give a Digital Heat Gun from HomeRight away today!  Woot woot!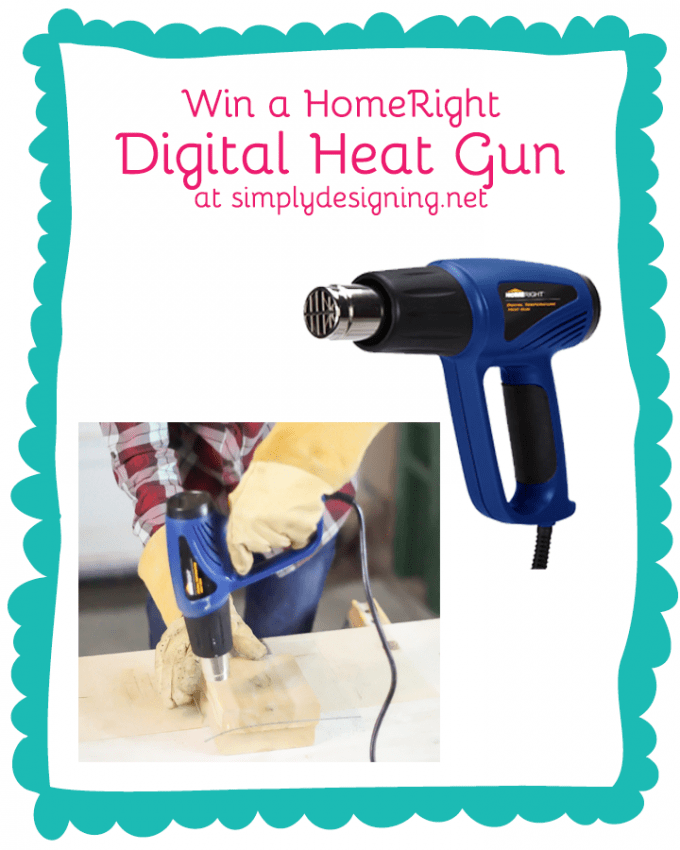 Please wait until the Rafflecopter fully loads and enter to win below:
By entering to win, you agree to these Terms: Winning entries will be verified.  This giveaway is in no way affiliated, administered or endorsed by Facebook, Pinterest, Twitter or Instagram.  No information will be disclosed to Facebook, Pinterest, Twitter or Instagram by entering this giveaway.  No purchase necessary to win.  Odds of winning are based on number of entrants.  Winner for prize package will be chosen randomly through Rafflecopter.  Giveaway will run from January 14, 2015 until January 22, 2015 at 6:00am EST.  Winner will be announced on January XXXXXXX, 2015 in this blog post and the winner will need to respond within 48 hours of announcement via email to claim their prize or another winner will be chosen.  Winner must be 18 years of age or older and a US citizen with a US mailing address in order to win.  Void where prohibited.  Winner is responsible for paying any necessary taxes on winnings.  All prizes will be mailed / emailed / fulfilled by the sponsor and the blog owner(s) involved are not held responsible if the prize is not fulfilled.  A list of winners may be requested after the giveaway has ended.  Please email me with any questions or to obtain additional information at: [email protected]