We use a lot of chip clips in our house!  They work well for quickly securing all kinds of bags around the house plus even young children can use them.  However, they are generally not very pretty.  So I am excited to show you a very quick and very cheap way to make your own glittery DIY Chip Clips!  These are really cute, inexpensive and so simple to make!  And best part is is that even though they are glittery, they don't leave sparkles everywhere!  Really!  Come see my trick!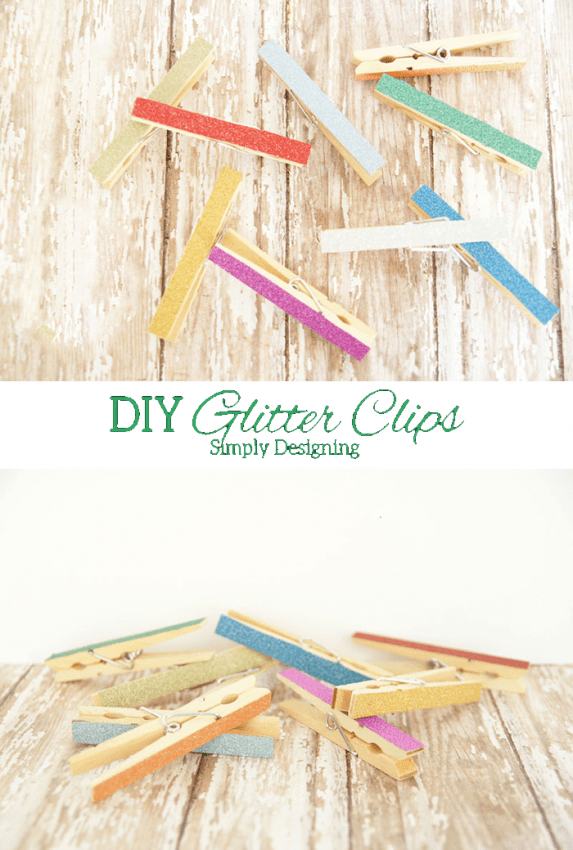 Glitter DIY Chip Clips
Supplies Needed:
This is seriously one of the most simple crafts ever!  You can even have your children help you create these!  But what makes these so much fun is that simple clothes pins turn into beautiful, sparkly, functional clips in a matter of seconds!  And the part that makes my husband happy is that this glitter doesn't come off!
This Sparkle Tape is some of the coolest tape I've seen.  It is similar to washi tape in that it is definitely a paper tape that tears easily and isn't as sticky as traditional tape.  It is incredibly glittery, however the glitter does not come off!  Which makes this the perfect way to add a little sparkle to just about anything without ending up with glitter everywhere!
All you need to do is to tear a piece of sparkly tape off of the roll a bit longer then the clothes pin.  Adhere the tape to the clothes pin and then cut off the excess tape.
Once that is done, if you'd like to make these magnetic, use your E600 to glue a magnet to the back side of the clip.  Be sure to let this set completely prior to using.
Once they are magnetic they become perfect for hanging notes, quotes, shopping lists or even to-do lists from the fridge.  This fridge magnet is about as cute as they get!
These also make the perfect clip to hold a bag of goodies closed for a neighbor gift!  Seriously, wouldn't you love to receive that!?
In just a few minutes and for very little cost, you can simply and easily create these DIY Glitter Clips in no time at all!
You might also enjoy these other fun crafts: