Today I am excited to talk about outdoor living with an Easy Backyard Fire Pit.  We love spending time outside and making Chocolate Caramel S'mores.  So having an open fire pit to do it over has been a dream of ours for a while.  I am thrilled that we finally created a new outdoor living space to help us truly enjoy the outdoors and make our dreams of having a backyard fire pit come true!  Once spring hits, we spend as much time outside as we possibly can until the fall/winter weather gets too cold.  And we have always wanted a fire pit with Adirondack chairs to sit around to be able to enjoy being outside in more varied weather.  We love roasting marshmallows over an open fire but I also think that having a backyard fire pit will be so fun to roast hot dogs over, make our Chocolate Caramel S'mores over or even grill some corn for our Crazy Corn Recipe on!  I love huddling by an open fire on chilly nights with a blanket and watching the stars.  And I love that with this simple creation, we now have the perfect space to do all of this!

A big huge thank you to Better Homes & Gardens for sponsoring this post today.  All opinions are mine.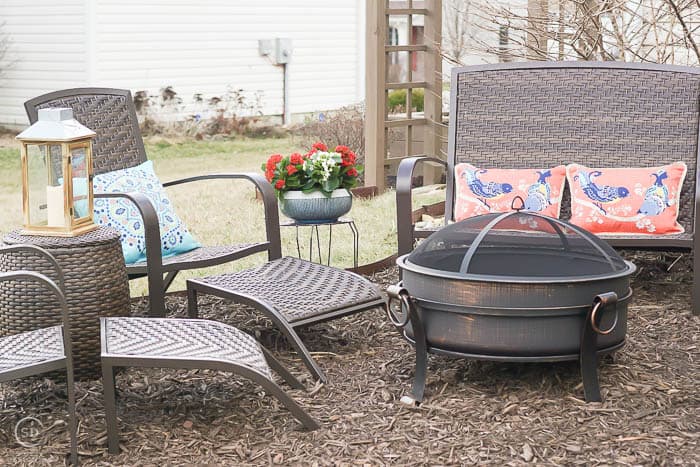 Outdoor Living with an Easy Backyard Fire Pit
Once my friends found out that we were adding outdoor living space to our backyard, they have all been antsy to come over!  I can't wait until the weather is above 35 degrees so that we can have them over to roast hot dogs and marshmallows over our new fire pit!  And the best part is that we have more seating too!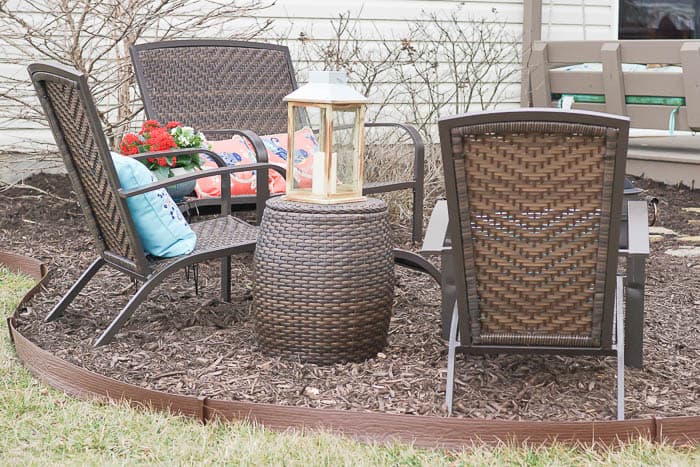 I feel like at this point I should show you the before photos of what the space looked like: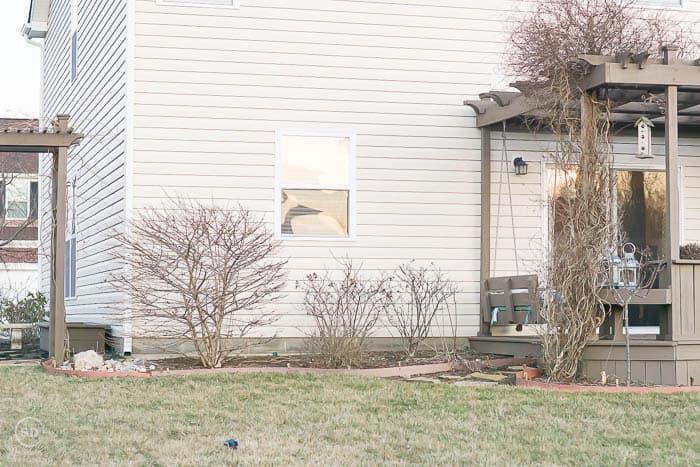 We already had a deck in our backyard, but it isn't very big and so we didn't always feel like we had a good way to entertain outdoors.  We have been dreaming of adding outdoor living space for years and I am so glad we finally did it!  And guess what!?  It really wasn't too difficult to do!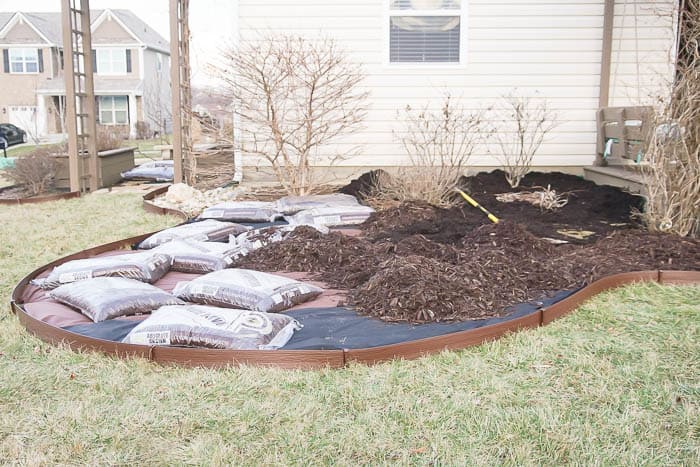 We simply extended our mow strip and added mulch to create a new space perfect for a fire pit.  We already had a couple of stepping stones in place off our deck into our yard, so these were simply repositioned so that we could walk off the deck and into the new outdoor living space.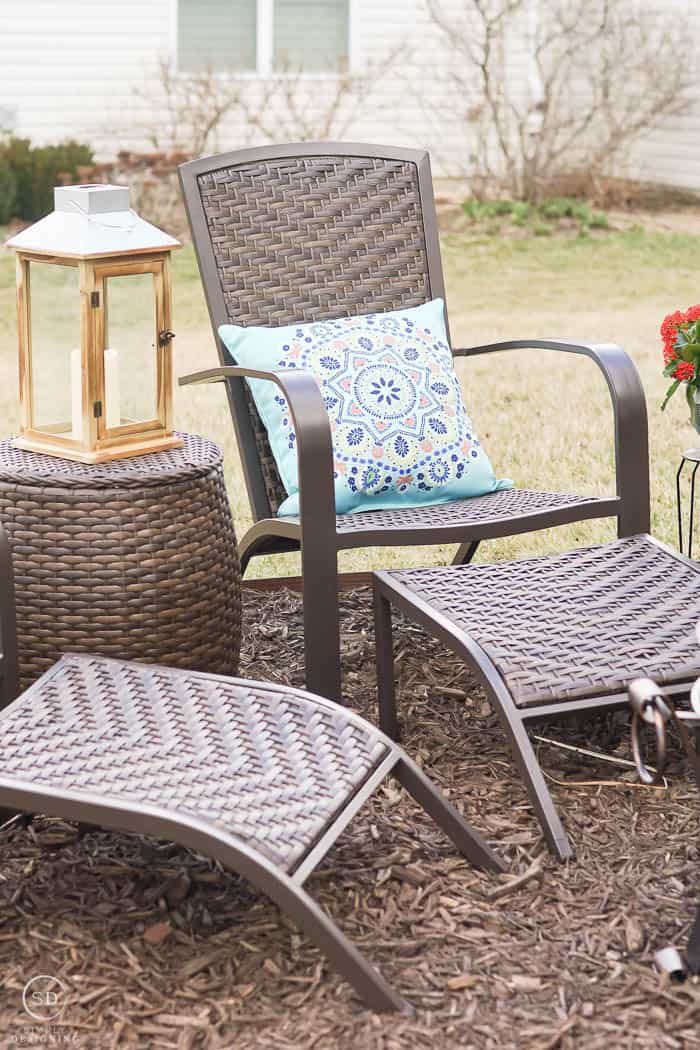 Once we had created the space, I found a few amazing and really nice quality items from Better Homes & Gardens at Walmart and the space was ready to host parties and entertain in no time!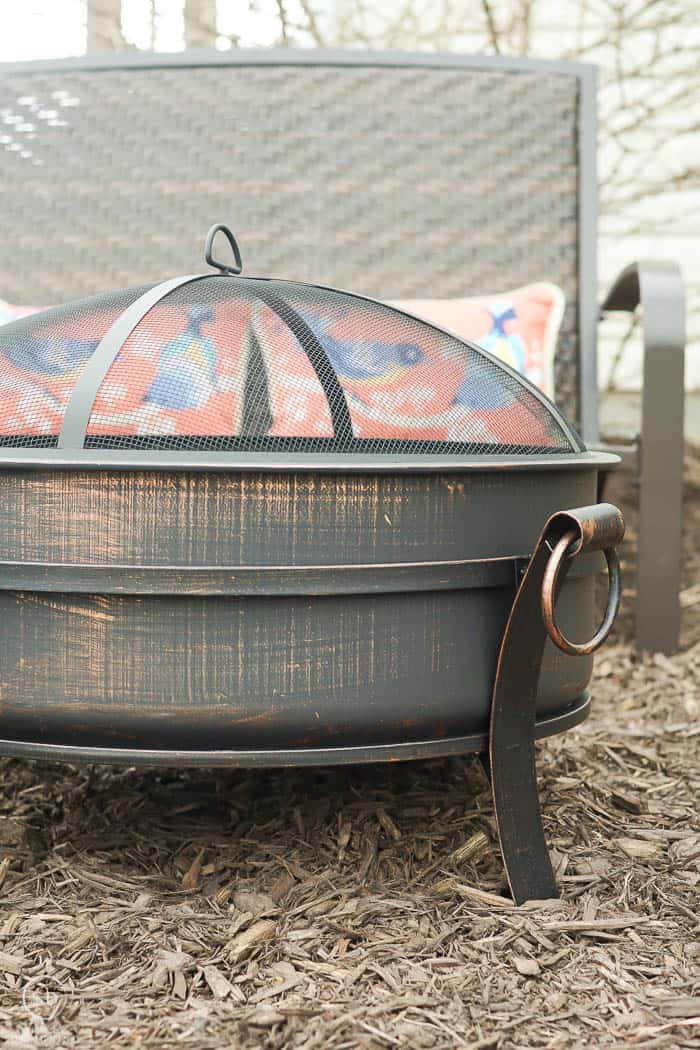 We added this Cauldron Fire Pit in Antique Bronze, a Wicker Adirondack Bench and this 5-Piece Wicker Adirondack Chair Chat Set.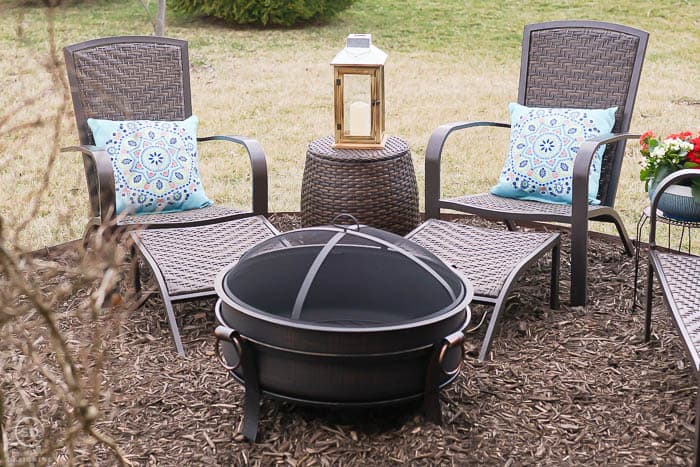 I love how nice quality the fire pit is!  It also comes with a lid which will be perfect to have with little ones around, and a cover to protect it in bad weather.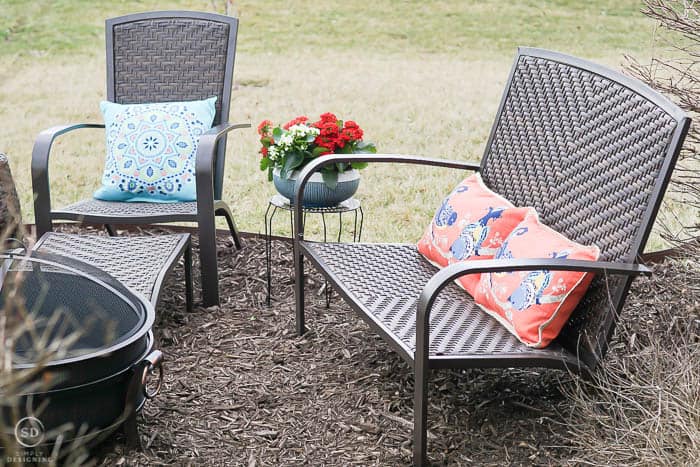 The wicker bench and 5-piece Adirondack chair set match, look so nice and are comfortable!  Oh man, I could sit in these for days!  They are the perfect way to add seating to a comfortable space like this and affordable too.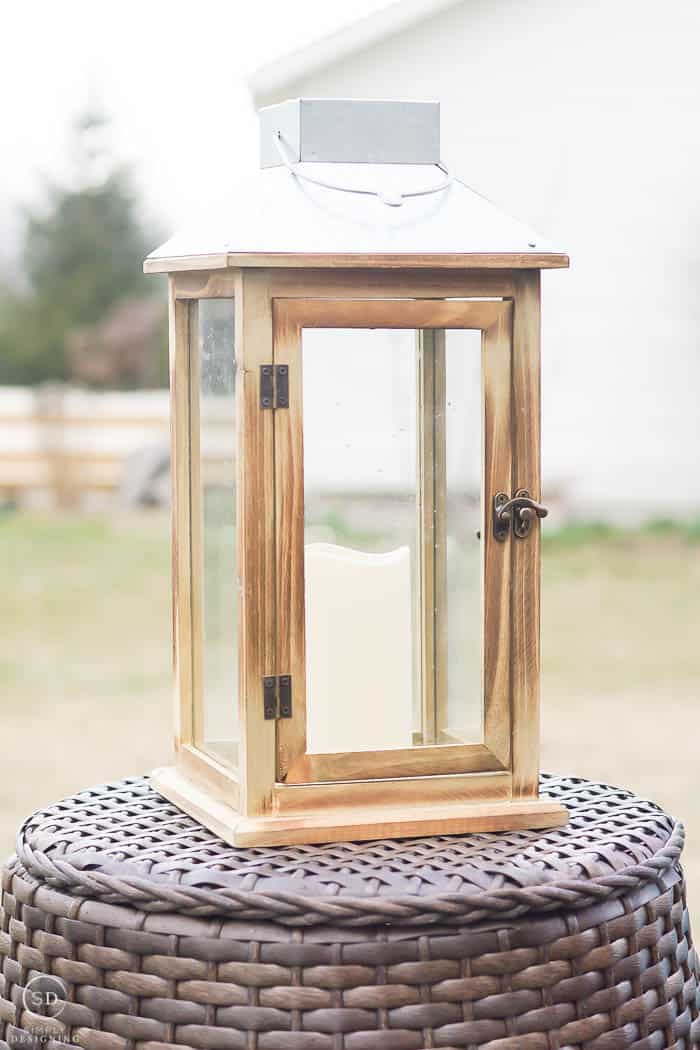 We added an Outdoor 16 in. Solar Powered Wood Lantern to the space to give a bit of lighting at night.  I love that this charges during the day and will emit light for 8 hours at night.  It is also so stylish and well-made.  I love the wood with metal accents, so pretty!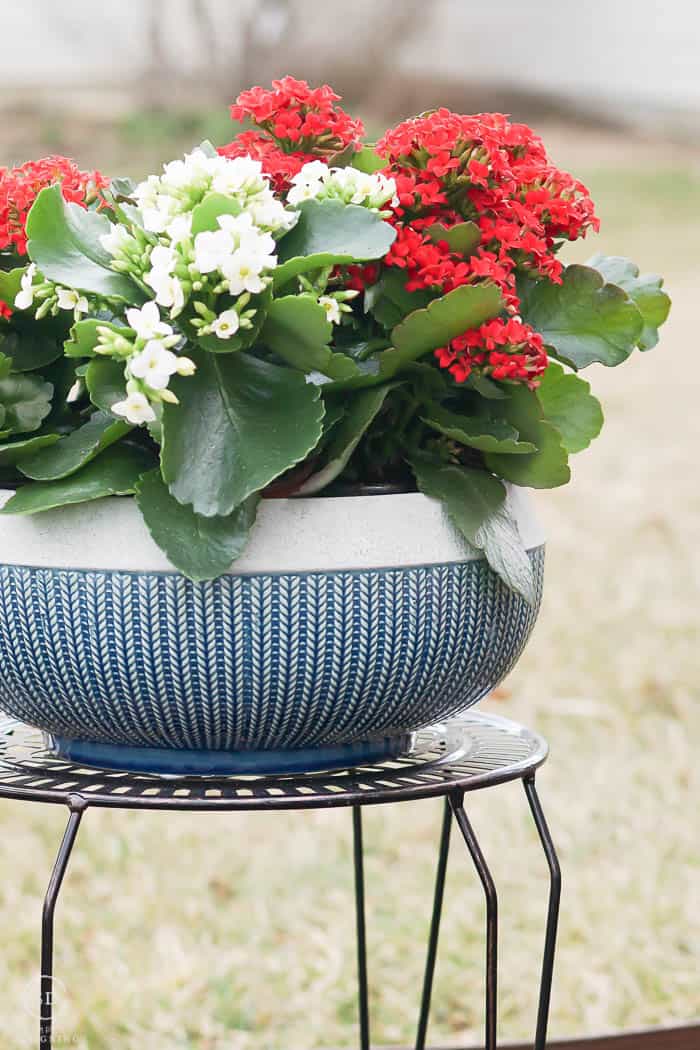 And then I added a 15 in. Outdoor Lattice Plant Stand with a 12" Planter in Teal to add a bit more color to the space.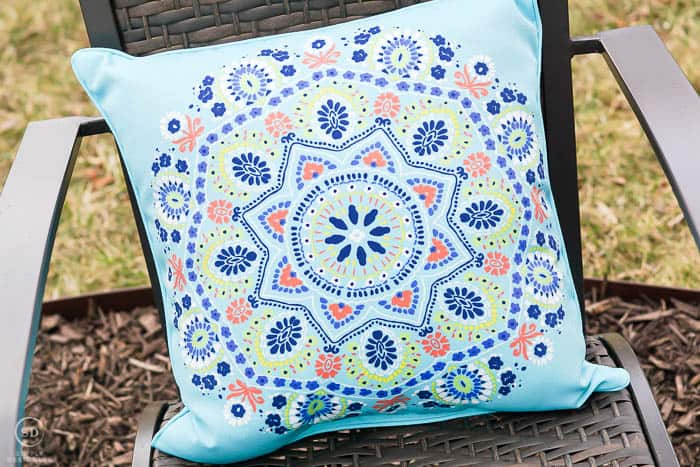 I finalized the space with Soliel Medallion Toss Pillows and Paisley Bird Toss Pillows to add a pop of color and a touch of comfort!!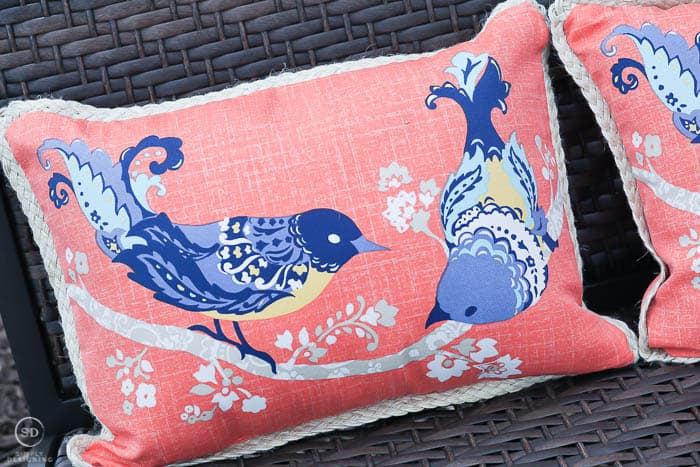 I truly can't wait to invite our friends and family over!  I just love how we added this outdoor living space and an easy backyard fire pit!  I picture endless summer nights outside roasting marshmallows over the fire and enjoying the company of friends and family!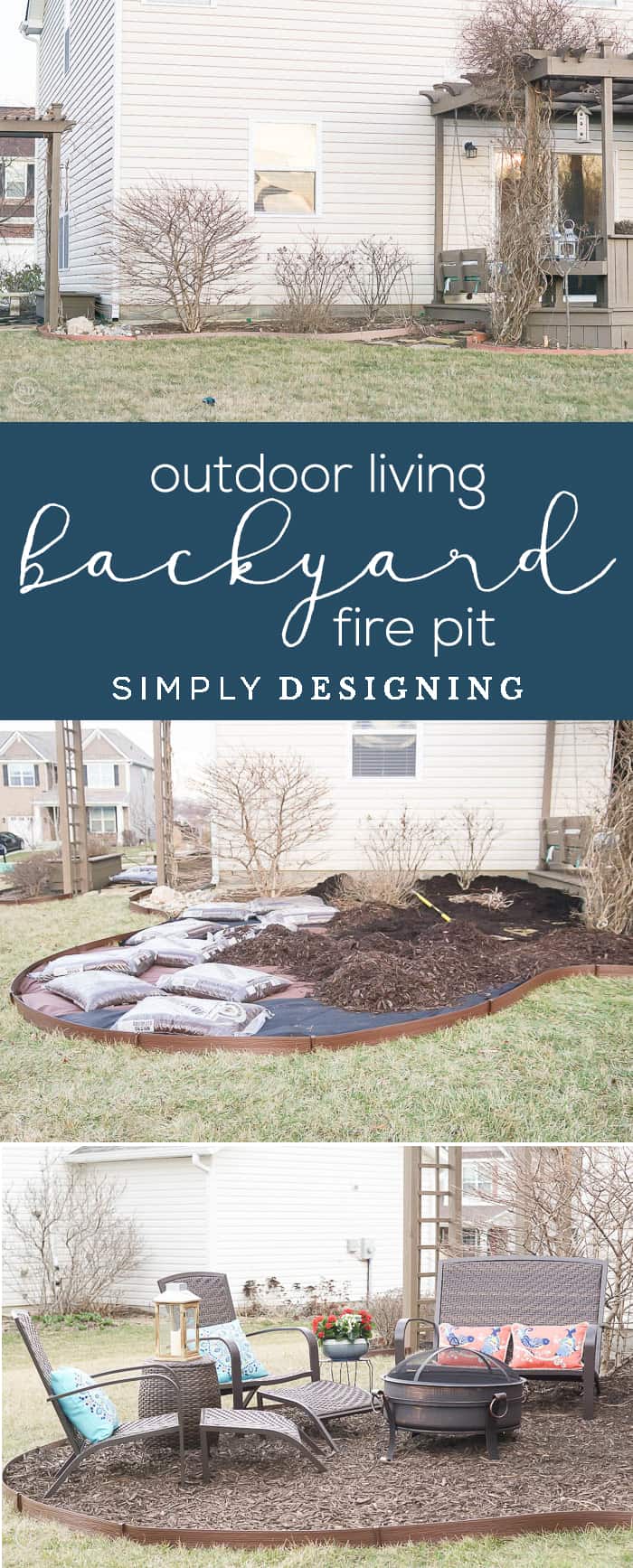 You can shop this Outdoor Living with an Easy Backyard Fire Pit post here: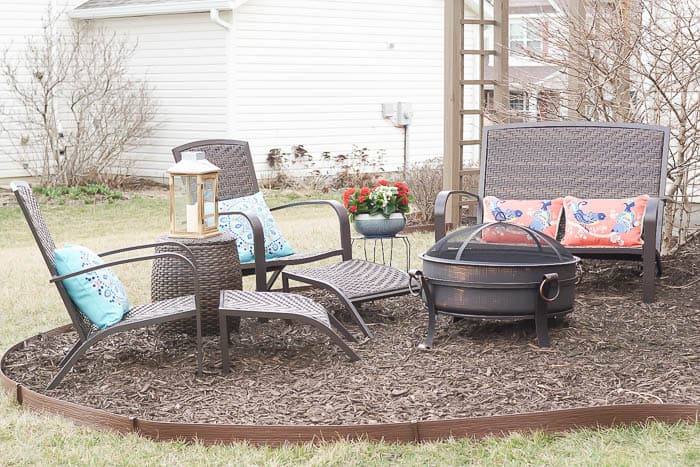 I just love how easy it was to extend our outdoor living space and create this great fire pit seating area for my family!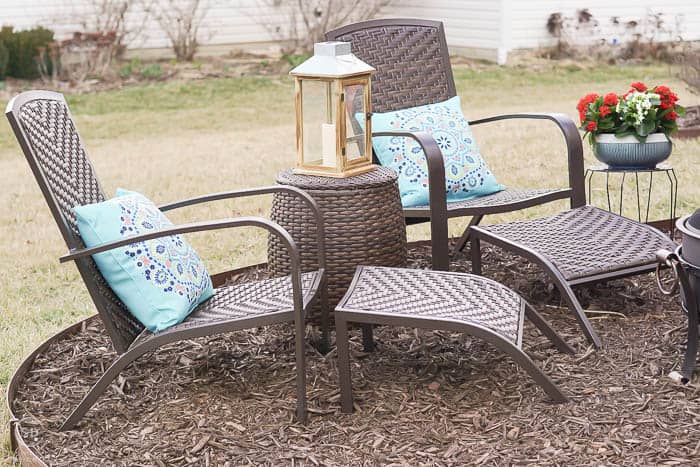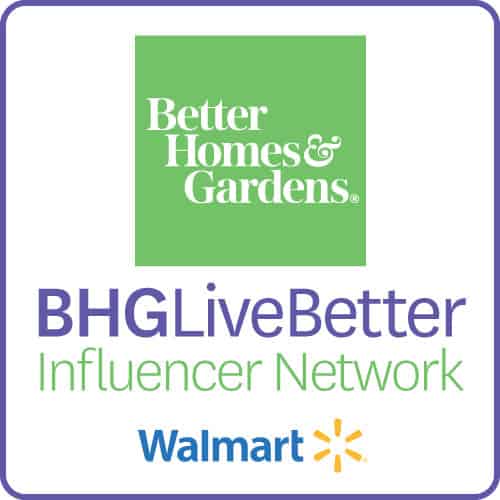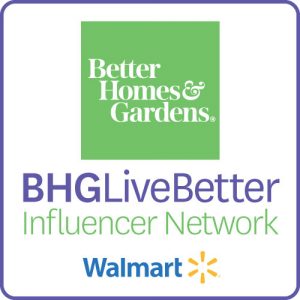 You might also enjoy these posts: