I really am not a huge costume maker but myself and over 80 other amazing bloggers have joined forces today for the ultimate DIY Haloween Costume Blog Hop!  Woot woot!  But more on that later... I have a lot of fun ideas in my head for DIY costumes, but I rarely go through with actually making them!  But I did once create a fun Witch Princess Costume and my mom created an amazing Flynn Rider costume!  This year I wanted to create something fun and simple that would be perfect for a girl, tween, teen or even an adult!  So I came up with this really fun Peacock Princess Costume!!
This was really quite simple to make.  The only downside is that I had feathers everywhere during the process.  But it cleaned up quickly and really was no big deal!  So come check out how to make my pretty Peacock Princess Costume!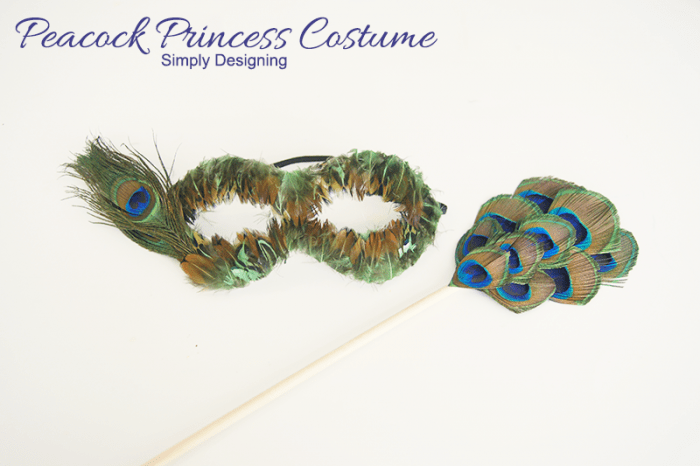 Peacock Princess Costume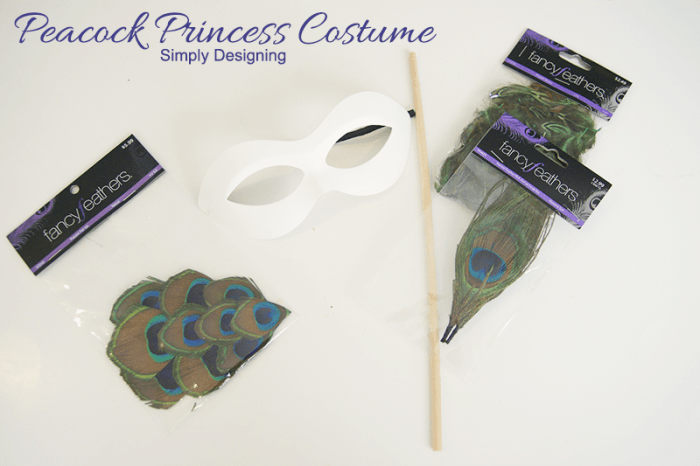 To make a Peacock Princess Costume, you will need:
Costume Eye Mask
1 packet Peacock Feathers (I found a fancy bundle all ready to use for my wand at Hobby Lobby)
1 packet (2 each) full Peacock Feathers
1 packet of blue-green-black fancy feathers
Hot glue gun
Scissors
Wooden Dowel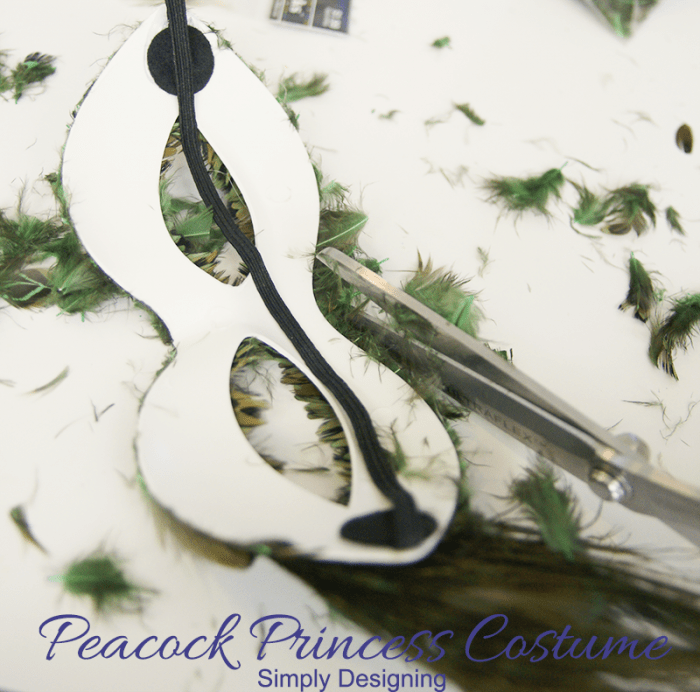 For the wand I simply hot glued the pretty little peacock feather grouping that I bought to the wooden dowel!  You can not get any more simple then that!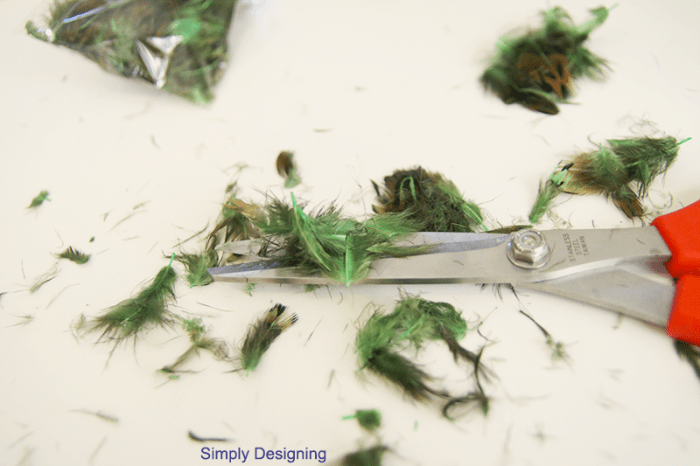 For the eye mask, I hot glued two peacock feathers on one side of the mask and then I hot glued the rest of the blue-green feathers all over the mask!
I then trimmed around the edges of the eye mask.  It was a bit messy.  But it was well worth it for the end result!  I really do love how this Peacock Princess Costume turned out!  It is super cute!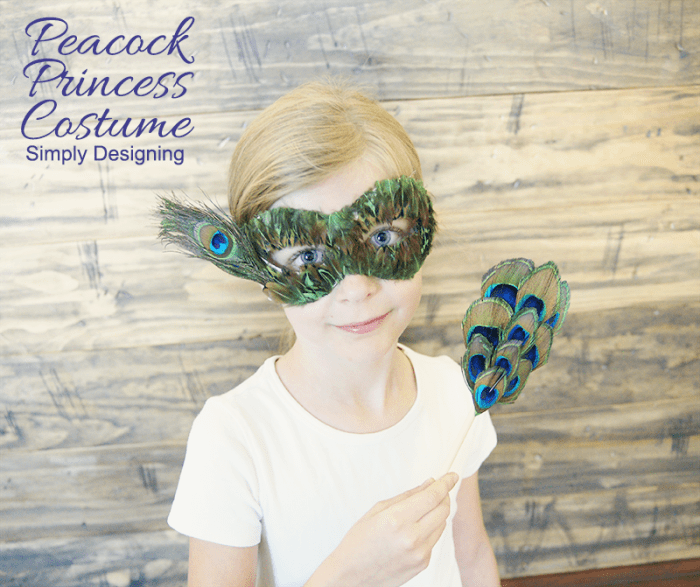 I think it is cute on a little girl, but would be equally as cute on an adult as well!  And even though it was a bit messy, it really only took about 15 minutes to put together!  My only hint is to not skimp on the hot glue so that the feathers stay put on their mask.  We love how our Peacock Princess Costume turned out!
Do you dress up for Halloween?
Today I am teaming up with Jamie Dorobek over eighty other bloggers to bring you 80+ DIY Halloween costumes, perfect for everyone in your family!
Join in on the BLOG HOP!  Click on the links below each collage to get the detailed instructions about how to make the costume pictured, just like mine above. Don't forget to follow the Handamde Halloween Costumes Pinterest Board for even more DIY costume greatness!
1. Handmade Baby Hamburger Costume
3. DIY Minecraft Steve Costume
4. Football Brothers Halloween Costumes with DIY Pads and Onesie
5. Star Trek Halloween Costume for Kids
9. Pinocchio
10. Marty McFly
11. Princess Wedding Dress Costume
12. Handmade Lalaloopsy Doll Costume
13. Homemade Toothless Costume
14. DIY Mermaid For Less Than $20 (No-Sew Option)
16. Mario and Luigi Go Kart Costumes
17. Dog The Bounty Hunter and Beth
18. Family Monsters University Costumes
19. Scooby Doo family costumes
21. Cheap and Easy DIY Spider Costume
27. Elsa crown
29. DIY Pineapple Baby Costume
32. Disney Planes Costume: Dipper
34. Easy Costume Idea - Renaissance Girl
35. 10 Minute Homemade Jellyfish Costume
36. DIY Cat Costume
38. Easy Frozen Costumes (Carrisa!!)
39. Easy Greek Goddess Costume
40. DIY Family Willy Wonka Costumes
41. DIY No Sew Maleficent Costume
42. No Sew Pineapple Halloween Costume
43. Graveyard Bean Bag Toss: Trunk or Treat Car Costume
44. DIY Teenage Mutant Ninja Turtles Costumes
45. DIY Raccoon Costume with Printable Mask
46. Easy WildStyle Lego Movie Costume
47. Simple Hello Kitty Costume
48. No Sew Minnie Mouse Costume
49. DIY Inspector Gadget and Penny Costumes
50. DIY Frozen Elsa Dress Baby Edition
51. Fairy Princess Dog Costume
52. DIY Hashtag Halloween Costume
53. Toddler or Baby Egg Costume
57. Baby Short Stack Pancake Costume
58. Elephant and Piggie Halloween Costumes
59. Instagram Halloween Costume
60. Peter Pan & Mr. Smee Halloween Costume
61. Wildstyle Costume from the Lego Movie
62. Fred and Wilma Couples Costume
64. DIY Cruella de Vil Costume for a child
65. Disney Frozen Olaf Halloween Treat Bucket
66. How to Make a Minecraft Steve Head
69. No Sew Cupcake Baker Halloween Costume
70. DIY Skunk Mask
71. Ghostbusters Proton Pack DIY
72. Frozen Anna Costume Tutorial
74. Paw Patrol Halloween Costume
75. No Sew Toothless Dragon Costume
78. Reese's Peanut Butter Cup Costume
79. Thrifted Gentleman Spy DIY Halloween Costume
80. DIY Boy Garden Gnome Costume
81. Group Costume: Bob Ross, Happy Tree, & Squirrel
82. DIY Blues Brothers Costumes
86. Easy Teenage Mutant Ninja Turtle Costume
87. Handmade Teddy Bear Costume
88. Princess Elsa and the Spy Kid
What handmade costume ideas did you love the most?!  Be sure to click over to get the costume instructions, pin the costume, and let them know you love it!