The season is upon us! Holiday cards (or Christmas cards), family photos, falling leaves, Thanksgiving and before you know it, Christmas! Yikes! So before this time of year gets too crazy, it is important to plan if you want to take your own family photos! You can take family photos any time of year! In fact, I love a good spring family photo session, but my favorite time of year is the fall and so I love to take our photos then!
In the past, we have had family photos taken in a variety of ways. We have simply not done it, we have gone to a studio and we have also hired a professional to take our family photos in an outdoor setting! My favorite photos are the outdoor, slightly more candid photos and so this year, that is what we wanted. My husband is a hard one to nail down though, he doesn't love family photos time, so with my recent purchase of some new camera equipment, he suggested that we take our family photos ourselves this year.
I was hesitant to agree, but I also knew that this may be the only way I would get him fully on board to take family photos this year. So I agreed. And can I just tell you, we had the best experience ever! So today I want to share with you my top 11 Tips to Take Your Own Family Photos!

11 Tips to Take Your Own Family Photos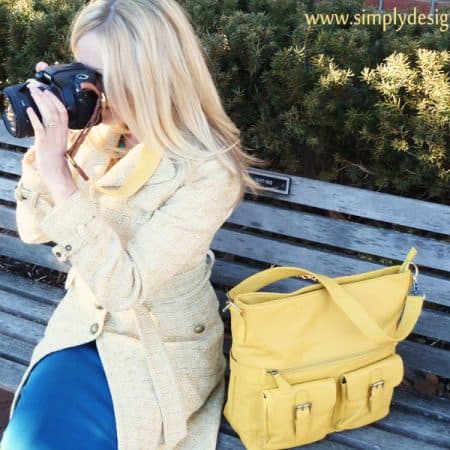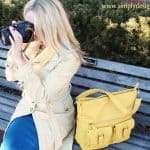 Equipment Needed to Take Great Family Photos
There is no need for a new camera. In fact, stick with what you know and learn how to rock what you have! Whether it is a smartphone, a point-and-shoot, or a fancy DSLR, if you practice and know how to use it, you can take a great shot with it!
A tripod and a camera that has a timer or a remote control though are pretty important if you plan to take your own family photos.
I set up our family shots with my DSLR on a tripod and then I used a 10-second timer to take the photos! I also set my camera to take three photos in a row. So I had 10 seconds to run into place, fix my clothes and hair and smile at the camera! All the while my kiddos yelled, "run mommy run!" Believe me, we got some genuine smiles and laughter from them watching mommy run and act like a crazy person!
For this family photo shoot, I used the following equipment: (affiliate links are contained in this post, but you won't pay a penny more)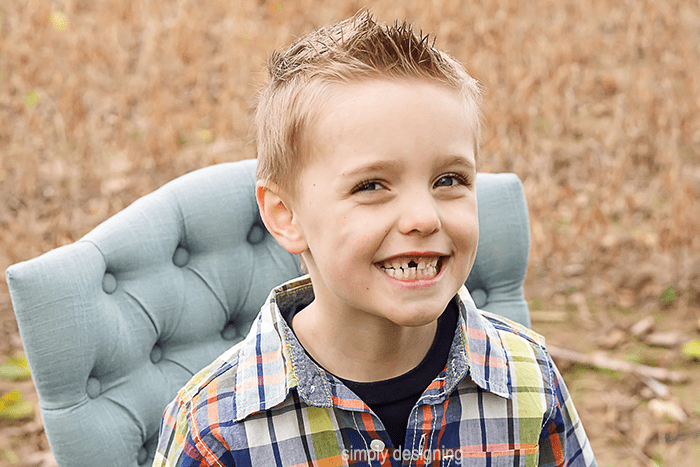 Locations for Great Family Photo Shoots
This can make or break family photos in my opinion. Look for a background that fits your style. Great ideas for locations are local parks, bridges, forests, walking trails, apple farms, pumpkin farms, in front of a barn, in a field or at a farm. I also love more urban photos too! The options are endless!
This year we were lucky enough to know someone whose grandma has a barn on her property! We invaded their property (with permission!) for about an hour and we ended up with some of the best memories and photos! Always be sure to get permission before you go onto someone's property.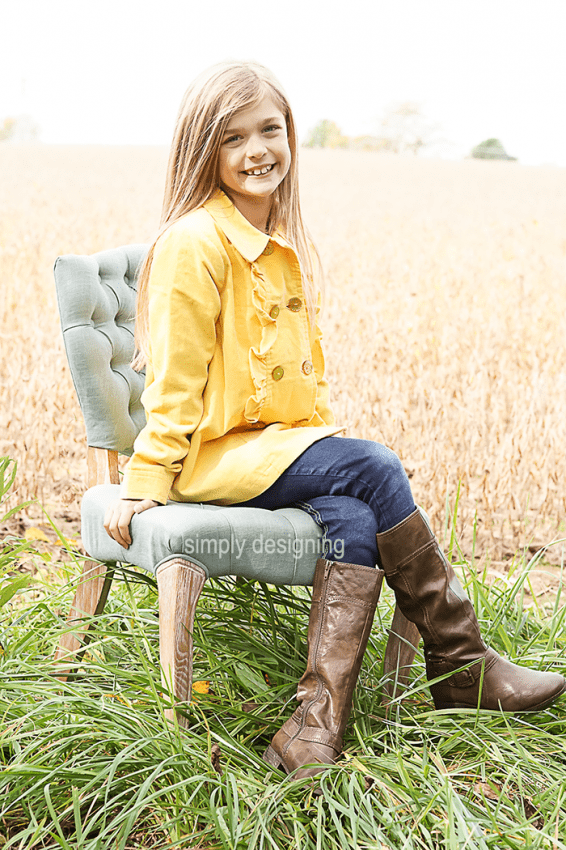 The Best Lighting and Time to Take Outdoor Family Photos
Morning and dusk are the best times to take photos for lighting, but not always the most convenient time. The lighting right before dusk is my absolute favorite! It is warm and beautiful but for children, sometimes it is the hardest time of the day. Morning light is beautiful as well, but sometimes a bit cool, so be prepared to do a little editing. The afternoon light is just too harsh so avoid it is possible. If it is not possible, find shade to take your photos in to diminish the risk of harsh shadows.
The above photo was taken when the sun was a bit too high and you can see the shadows on my daughter's face. The photo is still beautiful though and worth keeping! But it was not the most ideal lighting conditions.
Last year we did photos at dusk and they were beautiful! This year we did them in the morning and they were equally as beautiful!
Scope out your location and where it is in relation to the sun in order to find the best time of day to take photos in the location of your choice.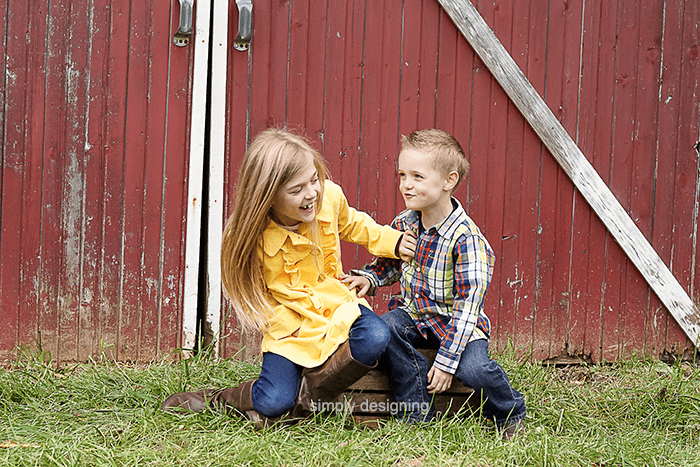 Have A Photo Shoot Plan
We thought ahead about location, poses, logistics, and timing. If you have a plan, it is easier to get in and out and end up with photos that you are happy with! Take the photos of the whole family first, then the children together and individually, and then couple photos if desired. You can realistically take great family photos in 30-60 minutes by yourself if you have a plan.
But of course, be prepared to change the plan in you need to! And take those cute candid shots right in the moment when they happen! The above shot is one of my son trying to kiss my daughter and it is just priceless! These shots are often my favorite as it shows their personalities best.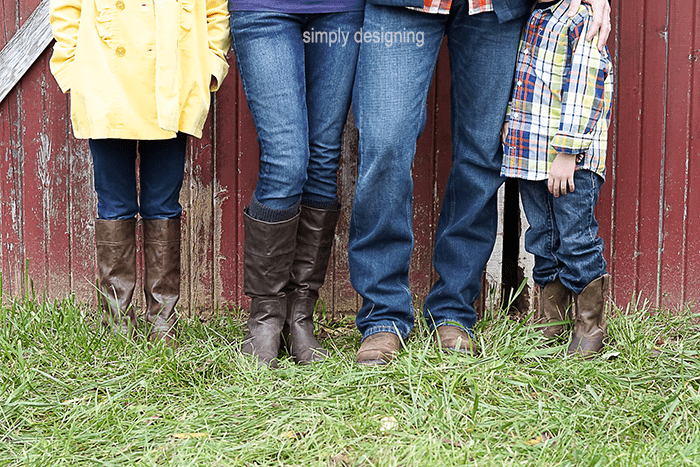 What kind of Clothing you should wear for family photos.
I always stress about clothing! There is a fine line between matching and coordinating. While I don't want my entire family in khaki's and white polos, I do want the photo to look cohesive and intentional. So we shopped our closets and found clothing that coordinated, but didn't match.
Layers look great in photographs. Too many busy patterns do not. So try to limit patterns to small children or in small doses on adults, but layer layer layer.
And the boots. We all had on our boots and loved them so much, we needed a photo just of the boots!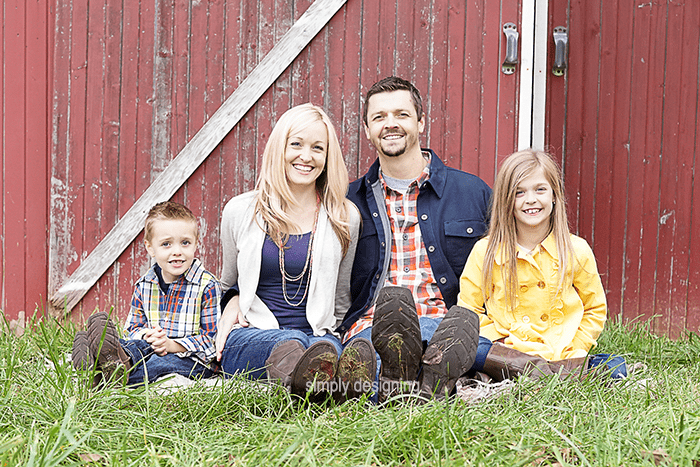 Great Poses for family Photos
My husband and I both searched Pinterest for cute, casual poses. And you can see a lot of fun ideas HERE. We went into the photo shoot with a few ideas and also used the surroundings as a guide to take the best family photos.
Plan to do some more traditional poses as well as a few more candid photos. The candid photos are often my favorite!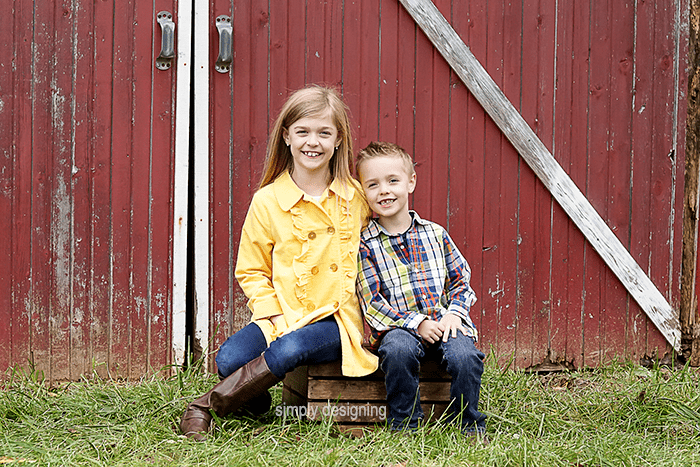 Props you can use in family photos
I am not a huge photo prop person. However, some props will make your session easier! We brought a blanket, a wooden crate, and a fun turquoise chair! All of these allowed us to take certain photos easily. In the photo above, the crate enabled me to photograph my two children who vary greatly in height a lot easier! You can tell that my son is shorter than my daughter, but the height difference is not as noticeable as it is when they stand next to each other.
Your background can also function as a prop sometimes too! This barn lent itself to some really fun photos! But next year my husband really wants to take our photos with his truck as a prop! It should be really fun!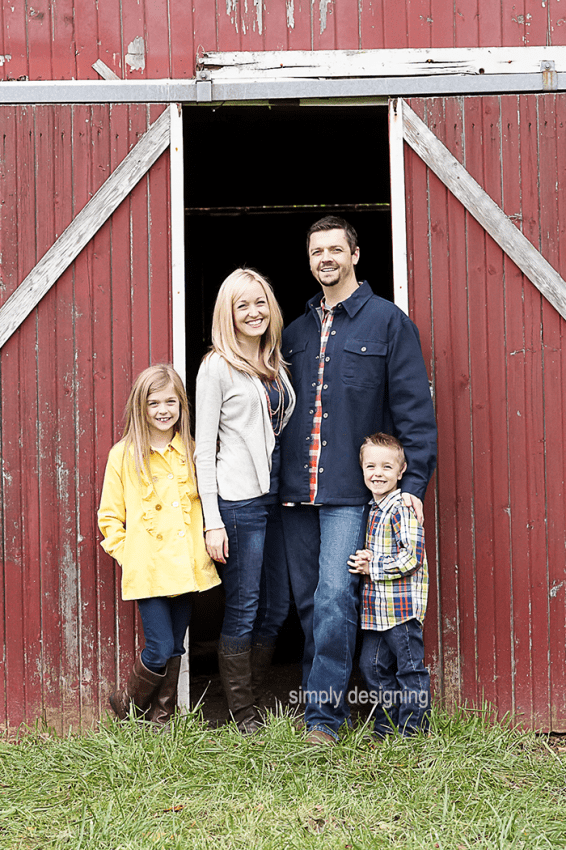 Begin with the Hardest Shots First
The kids will get bored and frustrated with the session soonest. Begin with the hardest, and most important shots first. Like your whole family! Once you have a few of those shots done, take some photos of the kids together and separately. And if you want couples photos, take those last.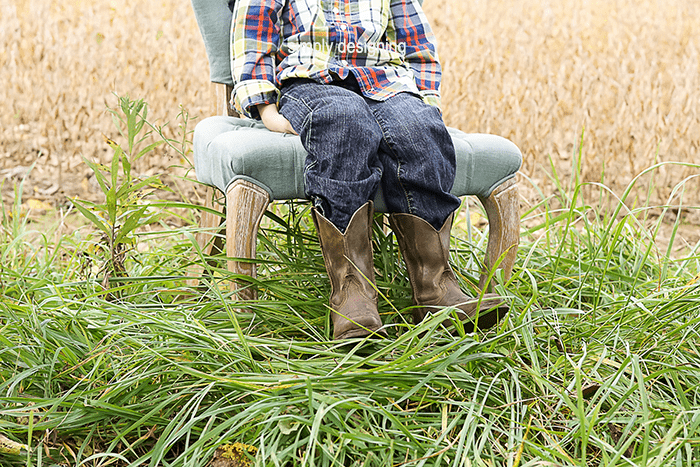 Take Lots of Photos
As I mentioned before, I set my camera to snap three photos in a row. So you can imagine that we came away from this with a lot of photos. A lot. But this was a great way for us to capture the basic image without risk of someone's eyes being shut!
With digital cameras, it is easy to just delete what did not turn out well. So snap away and you are sure to end up with a few good ones.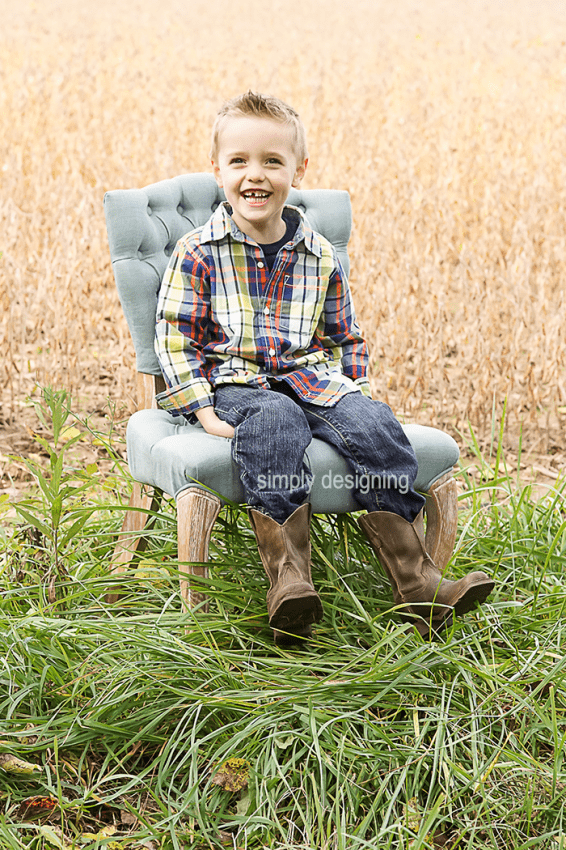 Capture their personalities for the best family photo NOT a perfectly posed photo
Don't stress about getting the "perfect" family photo. Let's be honest, my family is not perfect, and it is better to have photos that represent my family then perfect family photos.
The point of family photos is to capture your family, and their personalities, not to create the "perfect family" photo.
Perfect family photos in my book are those that truly capture the essence of your family. Whether you love to play games, tease, tickle, or hug, the perfect family photo captures this essence. So remember that the photos don't all have to be "picture perfect" as long as they capture the essence of your family.
In this photo, my daughter was standing behind me giving me bunny ear and it got my tired son laughing hysterically! I captured his great smile and laugh and fun personality, even if the photo isn't perfectly posed.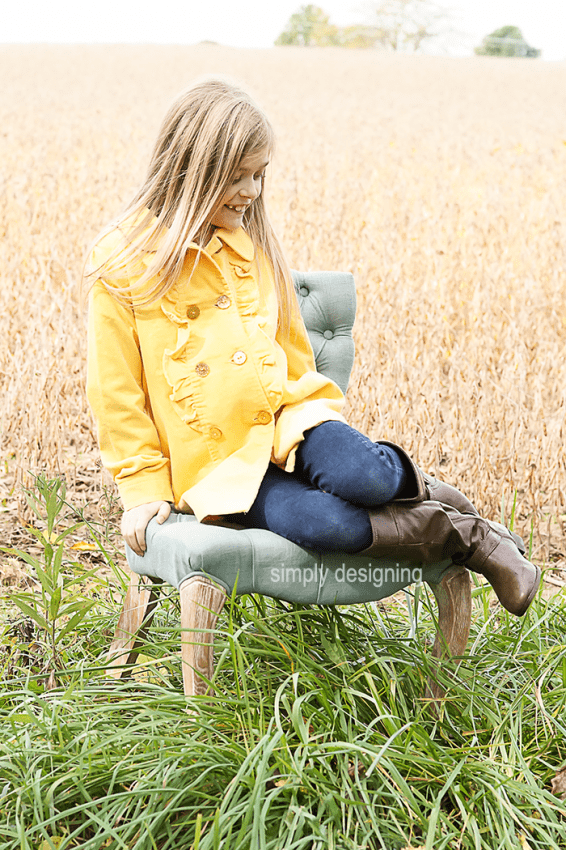 Know When To Call It Quits
I wanted perfect family photos and it would be easy to let that stress get in the way of actually getting good family photos. Remember to be kind and patient. And if your children won't cooperate, take the photos anyway and you will have a great time looking back on the family photos where your children utterly rebelled!
And quit before everyone is sick of taking photos or you risk never getting your family to happily take family photos ever again!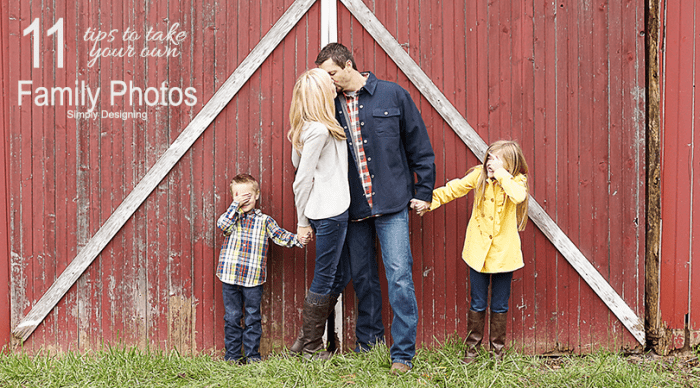 Have Fun!
There is no reason this can't be a fun experience! In fact, looking back over the last several years of photos, my husband had the most fun and has the best smile in the photos we took ourselves this year!
When someone else isn't trying to pose and watch you, it often allows you to just be you and the best family photos come when your family is just being themselves!
Bonus Tip - How to Edit Family Photos Yourself
Be prepared to edit your photos. I am not talking about crazy amounts of editing, I am talking merely tweaking. The photos we took were taken in the morning light, so the light was a little bit cool for my taste. So I quickly imported my photos into Lightroom and warmed them up just a little bit! I highly recommend using Lightroom to edit photos quickly and in bulk! You can purchase Lightroom HERE.
For these photos, I did not add contrast, vibrance or saturation! The lighting was perfect and made our outfits pop. I prefer not to over edit photos, but I do love to tweak them a bit. Believe me, I earned every wrinkle I have and I do not plan to edit those out! But I will fix cool lighting if I need to. These Lightroom Presets are another fun way to edit photos if you want a quick solution!
So I want to know, do you take family photos every year?
Want some other great family ideas?
5 Outdoor Family Ideas for Summer
Family Guide to Visiting French Lick Indiana