Can you believe that Thanksgiving is only a couple of days away? Are you prepared or still scrambling? Well whether you are hosting Thanksgiving, or just starting to think ahead for Christmas and the New Year, today I wanted to share my 5 Tips to Make Holiday Entertaining Easy. I love to entertain, but I am someone who can totally get lost in the details and end up coming up with a plan big enough to stress me out. But over the years I have learned more about my personal hosting style and a few tips to make hosting really easy so that no matter the reason, you can enjoy the season and the people more then stressing about the perfect party. I hope these holiday entertaining tips help your season be a little more enjoyable this year.

5 Tips to Make Holiday Entertaining Easy
A big huge thank you to Better Homes & Gardens for sponsoring this post today. All opinions are mine.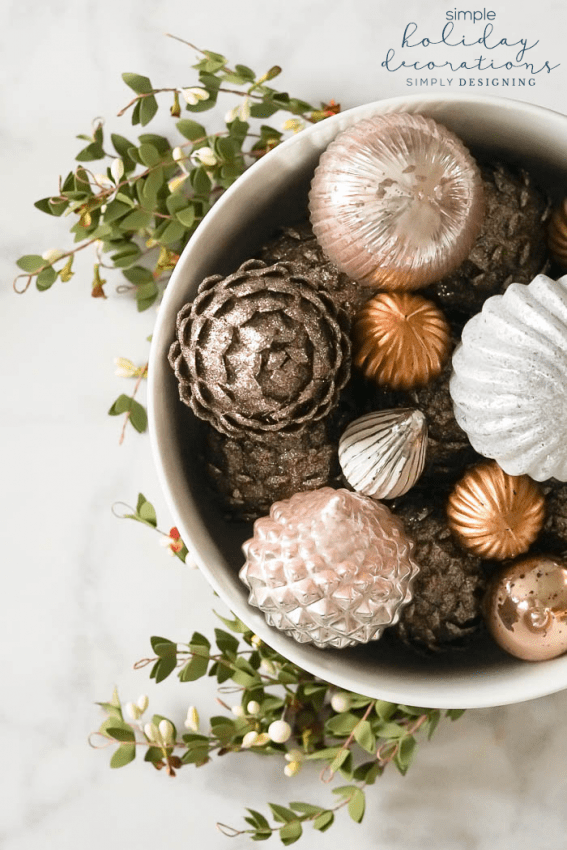 Simple Holiday Decorations
If you are hosting a holiday party, you may want to decorate a bit for the holidays! The best part of this is that you don't need a big budget, or a lot of time! Get out any holiday decorations you already have and get creative. Put up a Christmas tree if that is something you want to do, and then add just a few simple decorations around your home for a simple yet beautifully decorated home. One of my favorite holiday decorating tricks is to take a bowl (I love this large white bowl) and fill it with ornaments!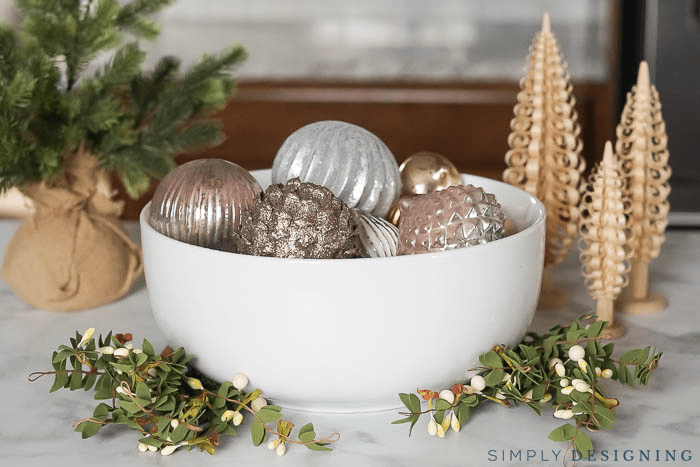 This year I filled my bowl with ornaments that I didn't use on my tree, but if you don't have extra ornaments on hand, you can usually find some pretty cheap! This is the perfect Christmas decoration for the middle of a table, on a kitchen island or on an entry way table! And it only takes a few minutes to put together!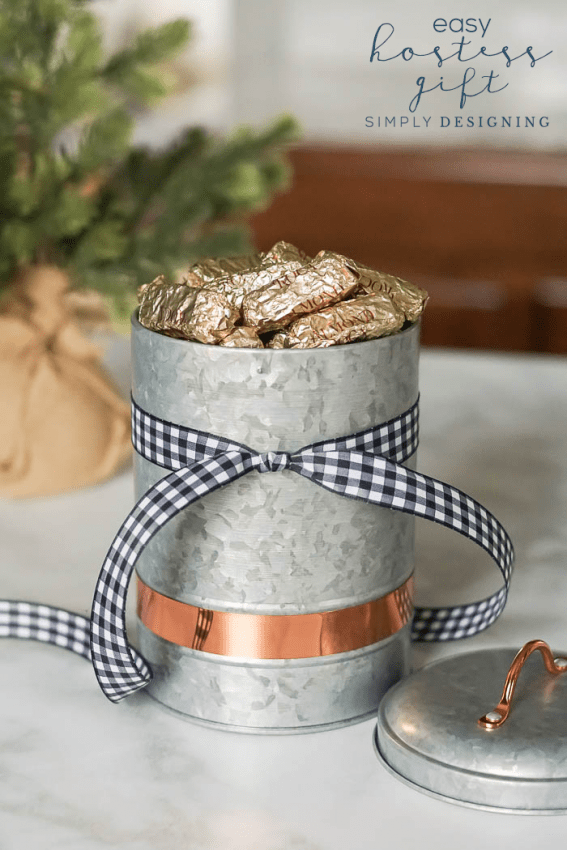 Perfect Hostess Gift
If you are going to a party this year, it is always a kind gesture to bring a host or hostess gift. This year think outside the box, and wrap up some beautiful candy in a stunning tin! I really love this Galvanized Canister from the Better Homes & Gardens line sold exclusively at Walmart. It is such a beautiful container that the host/hostess can use in many different ways and it is easy to personalize what goes into the container for what the person would enjoy best! Chocolates, homemade cookies, or maybe put a scarf or some hot cocoa packets in there! The options are truly endless but it is such a fun and beautiful way to say "thank you" to the host/hostess.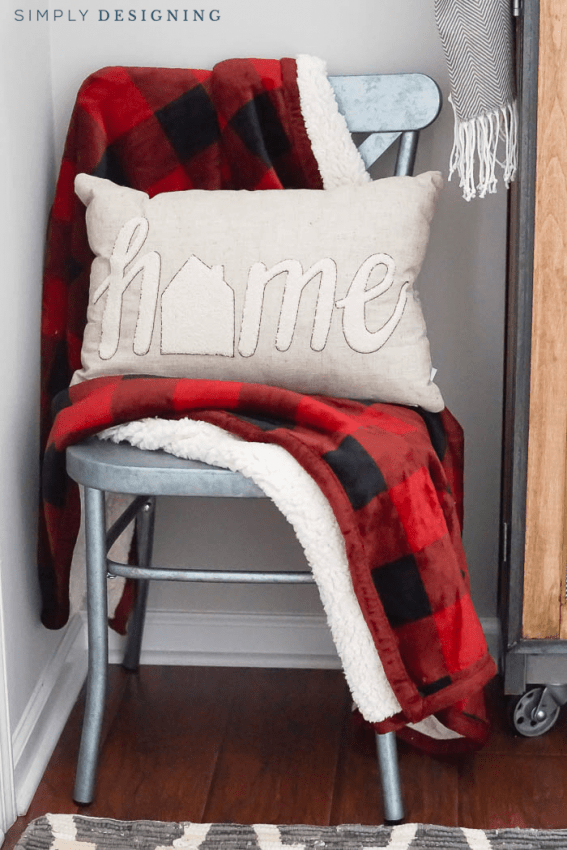 Keep Everyone Cozy
I don't know about you, but I always freeze this time of year! So I love to keep an extra stash of blankets around my house. These are perfect to lend to guests if you are headed outside to roast marshmallows around a fire, if you're sitting on the couch to watch your favorite holiday movies or if you're just sitting around talking. You'll never be able to keep the thermostat at the right temperature for everyone, so you can keep guests cozy and add some fun holiday style with blankets like this Velvet Plush Throw in Red Plaid.

Quick Holiday Appetizers
Sometimes gatherings happen at the last minute, or sometimes you realize at the last minute that you might not have enough food. So I love to keep some extra items on hand this time of year to make whipping out a last minute Christmas appetizer easy, stress free and impressive!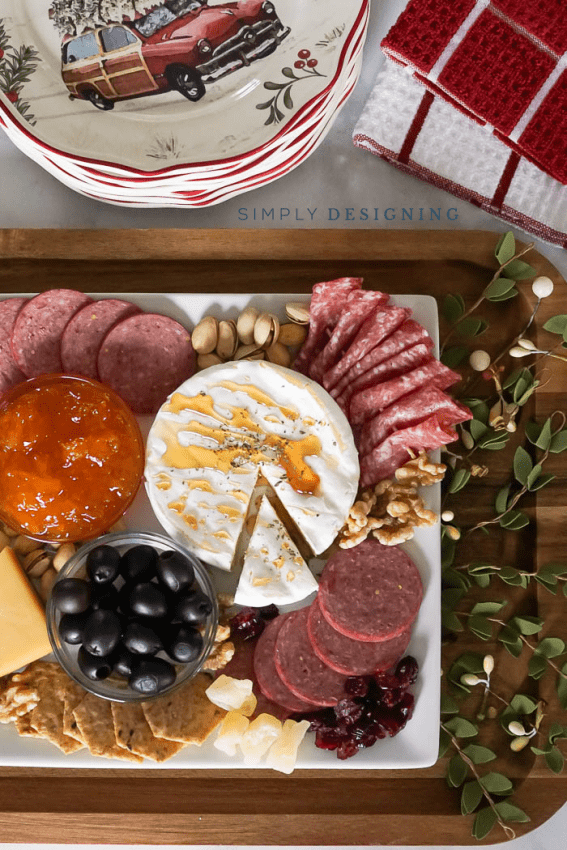 If you keep some delicious cheese, salami, sausage, nuts, dried fruits, crackers and preserves on hand, it is really easy to create a beautiful charcuterie board. I began by layering a beautiful white platter on top of an acacia tray and then added a few holiday greens in there to add color and dimension.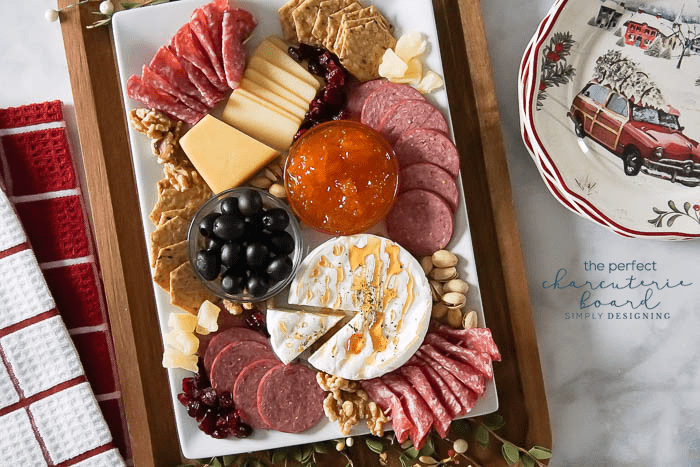 Then I added cheeses, meats, fruits, nuts, olives and preserves to the platter and in just a few minutes I had a beautiful charcuterie board that is sure to wow any crowd!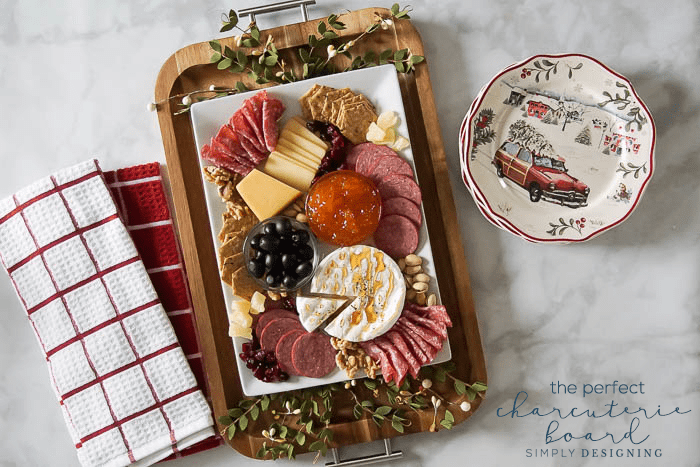 My trick is just to keep these items on hand during the holiday season which is easy since they all keep well for a long time in the fridge, and then I can pull everything out at the last minute if I need to! This is the perfect way to ensure you are always the perfect host or have the perfect appetizer to bring to share at a party. And I love to pull out my cute holiday side plates from the Heritage Dinnerware collection from Better Homes & Gardens.

Go-To Drink Recipe
Having a go-to drink recipe with ingredients on hand is a great way to make sure you have a fun party without a lot of work. Yes you can serve multiple drinks, but I prefer to keep things simple with water and ONE drink option instead. One of my favorite drinks is sparkling pomegranate juice! This is so easy to make and it a crowd pleaser for all ages!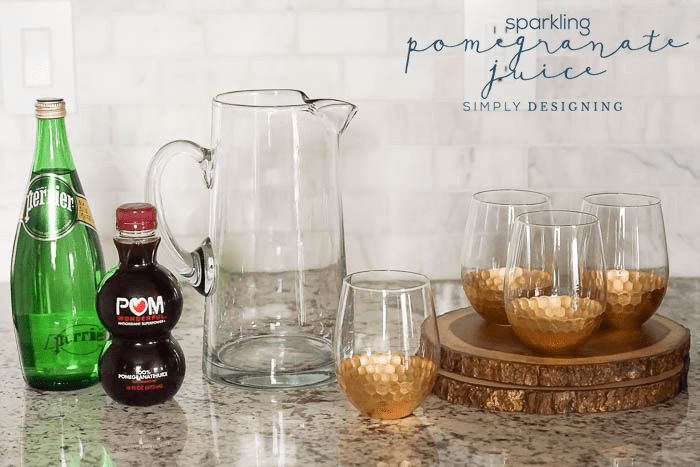 Sparkling Pomegranate Juice
1-2 parts Sparkling Water (no flavor)
1 part POM Juice
Mix together 1 part cold sparkling water and 1 part cold POM juice, stir to combine.
Pour in a festive glass like these Honey Comb Stemless Wine Glasses from the Better Homes & Gardens line found at WalMart.
Add two cranberries and one raspberry to a toothpick and place that on top of the drink for a beautiful touch.
Serving a delicious and special drink like this at a holiday party or gathering adds such a nice and personalized touch to any event and is a great way to make holiday entertaining easy!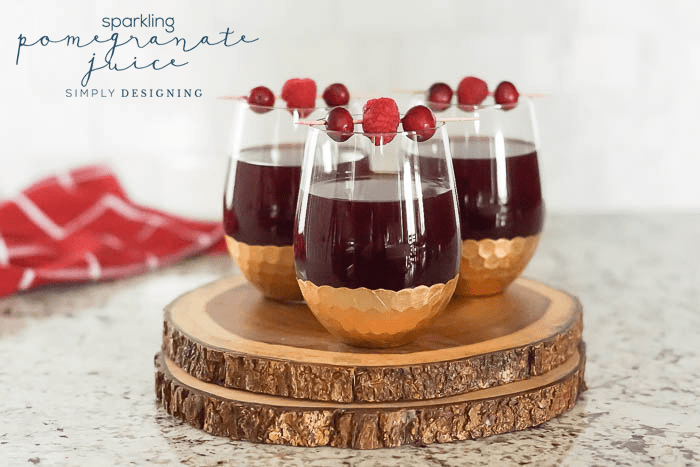 You can watch a video of me making this drink so you can see how simple it really is!
And of course don't forget to keep a couple of festive kitchen towels on hand for cooking and clean up! I found the pretty red and white ones from Better Homes & Gardens at my local Walmart store.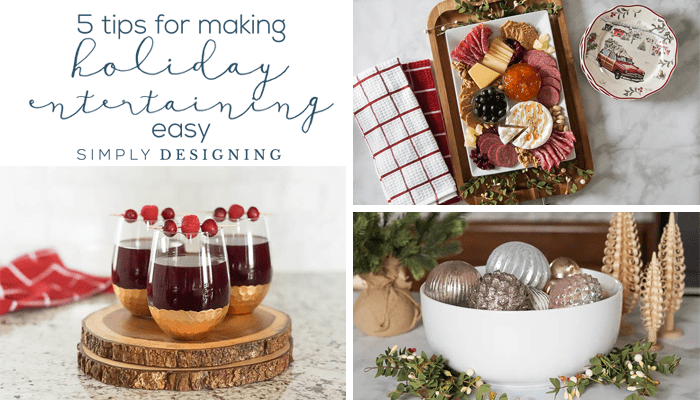 Shop this Post for the Better Homes & Gardens Products that I used here:
Kitchen Towels, Red (found in stores)
More from Better Homes & Gardens BHGLiveBetter Influencer Network: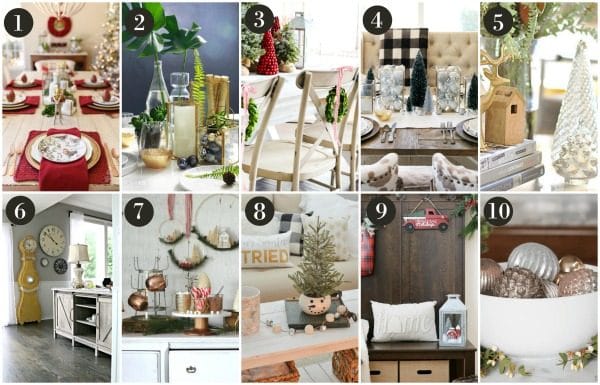 How to Set an Informal Table 2. How to Style Seasonal Entertaining Vignettes | 3. Simple Farmhouse Christmas Tablescape | 4. Modern Christmas Table Ideas | 5. Simple Holiday Decorating | 6. Furniture for Holiday Entertaining | 7. Easy Hot Chocolate Station Ideas | 8. Cozy & Calm Holiday Decorating | 9. Entry Christmas Decor | 10. 5 Easy Holiday Entertaining Tips
And because Better Homes & Gardens and I want you to have a fabulous holiday season, I am giving away a $50 Walmart Gift card to 2 lucky readers!! Woot woot!
If you are on mobile, you will need to click the Rafflecopter link below in order to enter to win.
*Winning entries will be verified. This giveaway is in no way affiliated, administered or endorsed by Facebook, Pinterest, Twitter or Instagram. No information will be disclosed to Facebook, Pinterest, Twitter or Instagram by entering this giveaway. No purchase necessary to win. Odds of winning are based on number of entrants. Winner for prize package will be chosen randomly through Rafflecopter. Giveaway will run from November 21, 2017 at 6:30am EST until November 28, 2017 at 12:00am EST. Winner will be announced on November 29, 2017 in this blog post and the winner will need to respond within 48 hours of announcement via email to claim their prize or another winner will be chosen. Winner must be 18 years of age or older and a US citizen with a US mailing address in order to win. Winner is responsible for paying any necessary taxes on winnings. All prizes will be mailed / emailed / fulfilled by me, via Amazon. Once the order leaves the seller, Simply Designing does not take any responsibility if the prize is not fulfilled due to the shipping company's error or wrong shipping address given. A list of winners may be requested after the giveaway has ended. Please email me with any questions or to obtain additional information at: [email protected]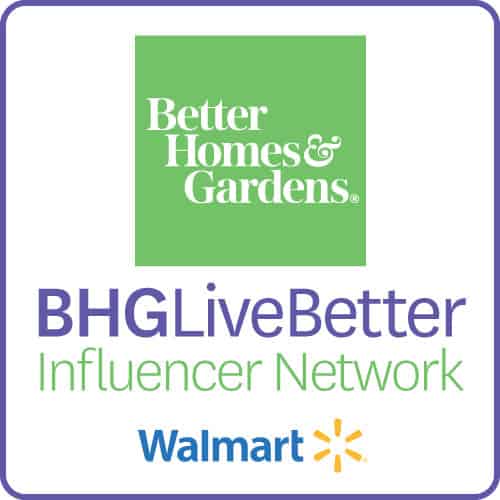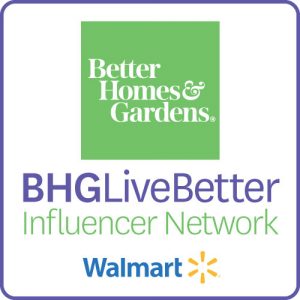 You might also enjoy: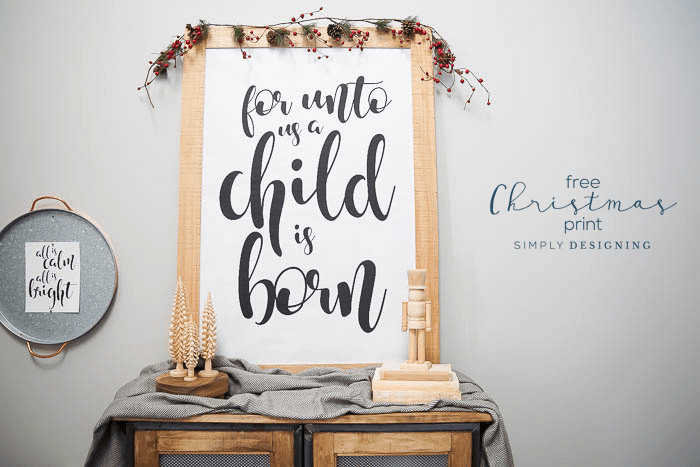 For Unto Us A Child Is Born FREE Christmas Print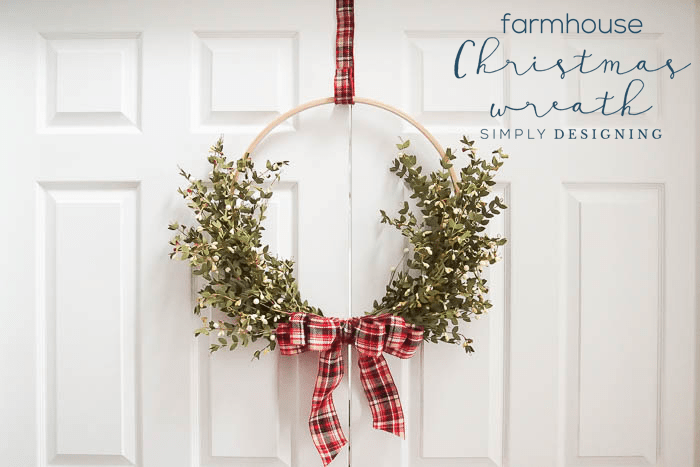 How to make a Farmhouse Christmas Wreath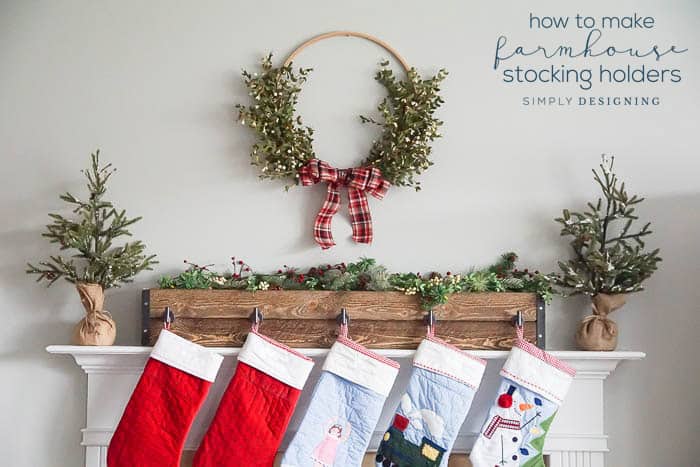 How to make Farmhouse Stocking Holders