I have been teasing you on Instagram about my three fun Christmas Hoop Wreaths that I made but haven't shared with you yet, so today I am really excited to share my Antler Christmas Hoop Wreath tutorial with you! Last year I shared How to Make a Farmhouse Christmas Wreath HERE and it was one of my most popular posts, everyone loves it! And when I was asked to create a few wreaths for an auction at my children's school, I couldn't resist taking that basic idea, but changing it up a bit! So today I am going to share this antler Christmas hoop wreath with you and hope you are inspired to create your own!

Antler Christmas Hoop Wreath
Antlers. You guys, no animals were harmed in the making of this wreath. These are fake antlers.
There. I had to get that out of the way!
Whew. Now we can move on.
I found all of the supplies for this project at Hobby Lobby. But I am sure you can find them other places too.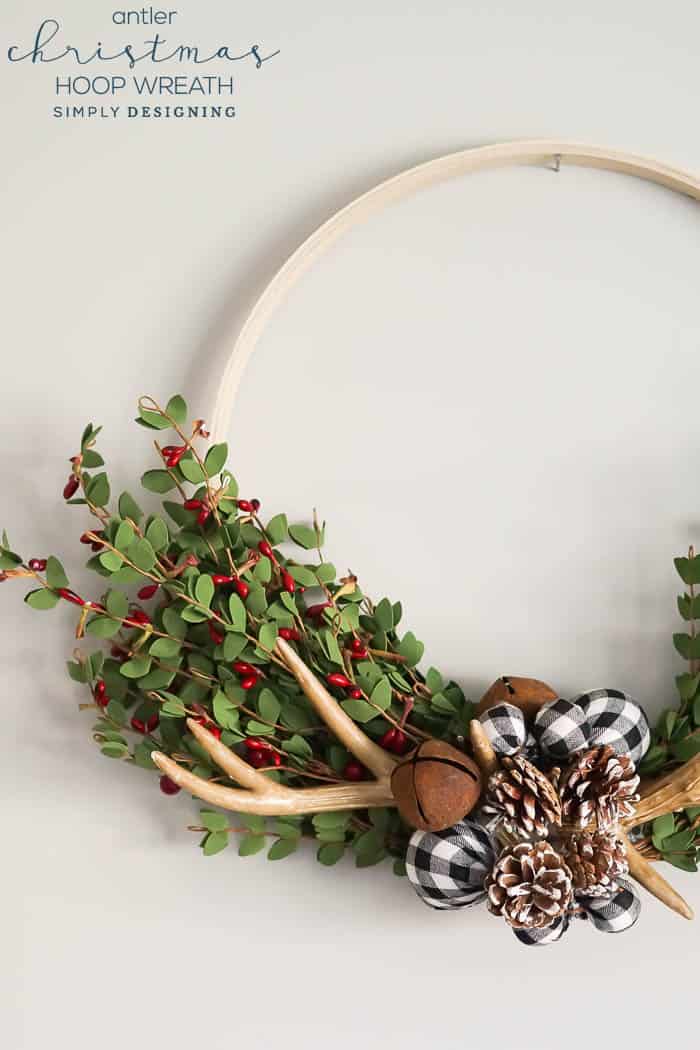 What is a hoop wreath?
A hoop wreath is a wreath built on the base of a hoop. You can use an embroidery hoop or a macrame hoop, or any other hoop you can find!
I love using embroidery hoops because they are easy to find, inexpensive, and the raw wood gives any wreath a beautiful rustic look.
My Fall Hoop Wreath is a great example of using a macrame hoop. You can check it out HERE.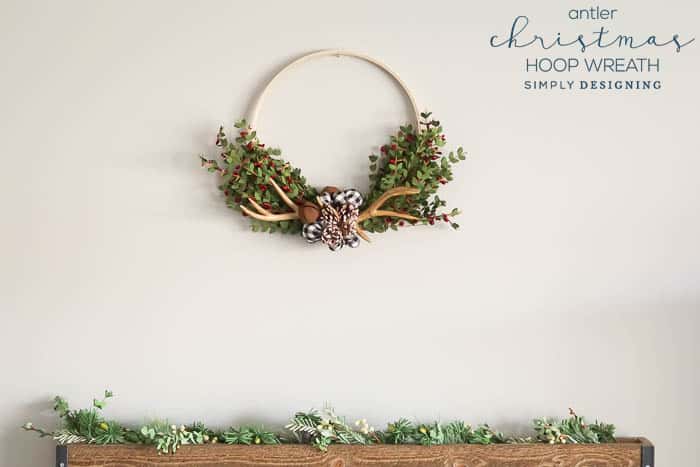 How do I choose what greenery and flowers to put on a wreath?
It is really up to you to pick and choose the type of greenery and flowers you like best for this! I prefer clean lines and simplicity, so I choose a simple green floral pick with red berries on it.
For this antler Christmas hoop wreath I also picked up antler picks and some other fun jingle bell and buffalo check ball floral picks. I found All of this in the Christmas department at the crafts store, but you can also see what's in the floral department.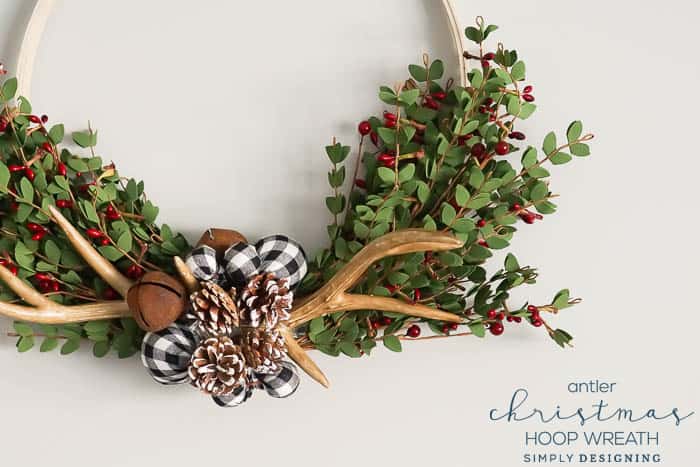 To create an Antler Christmas Hoop Wreath, you will need: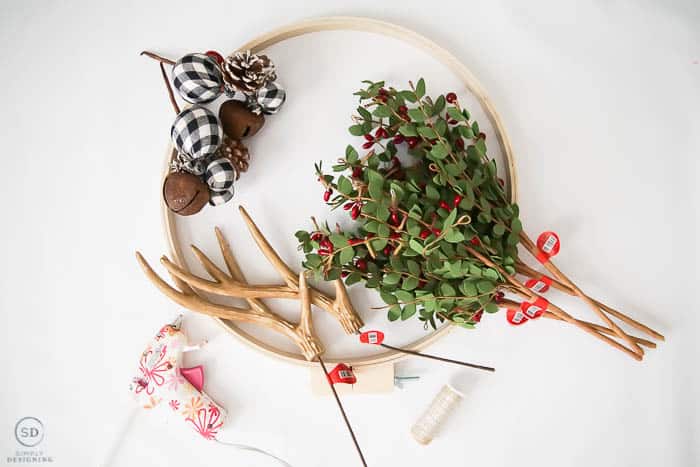 (1) 18" Wood Embroidery Hoop
(10-14) Stems of Christmas Greenery with Berries
(2) Antler Picks
(2) Jingle Bell and Buffalo Ball Picks (or similar)
Gold Jewelry Wire
Hot Glue Gun
Glue Sticks
Scissors
Wire Cutters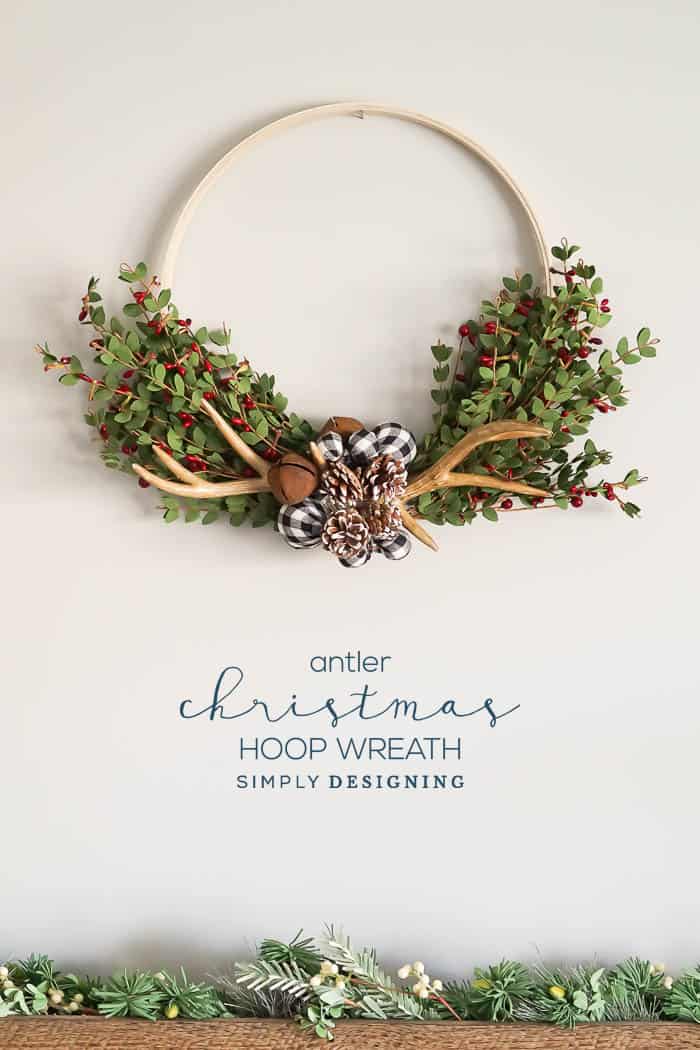 You can watch the video of how to make an antler Christmas hoop wreath below, or scroll down for the text version of it:
You will begin by laying the greenery on top of the hoop. You can use as many or as few stems as you like to make this wreath as sparse or full as you prefer. After the greenery is laid out, carefully bend the greenery stems to fit the curve of the hoop.
You can use hot glue to glue the stems into place beginning at the top and working your way towards the center.
I also wrapped each stem to the hoop using gold jewelry wire. Having both the glue and the wire ensures a good hold. I choose to use gold jewelry wire instead of traditional (green) floral wire because I knew the gold would blend into the hoop better than the green would.
After your greenery is in place, you will want to glue and wire your antler picks into place.
Finally, add your center items (I used jingle bell and buffalo ball picks).
You may want to turn your wreath over and add a little hot glue from behind to ensure a really good hold.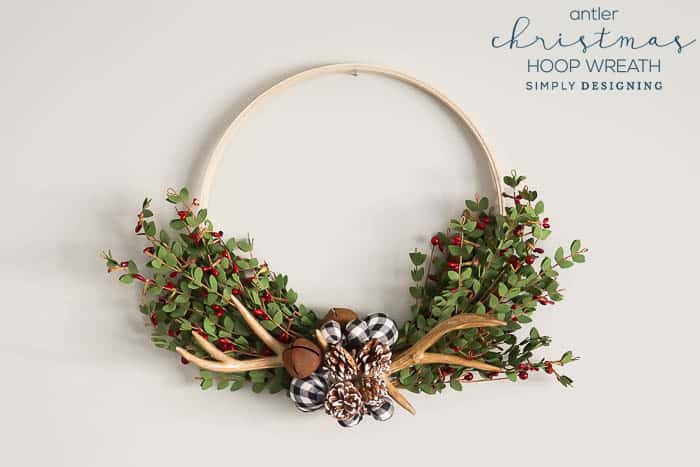 I just love how this antler Christmas hoop wreath turned out! It is so fun and festive and perfect for this holiday season!
You might also enjoy: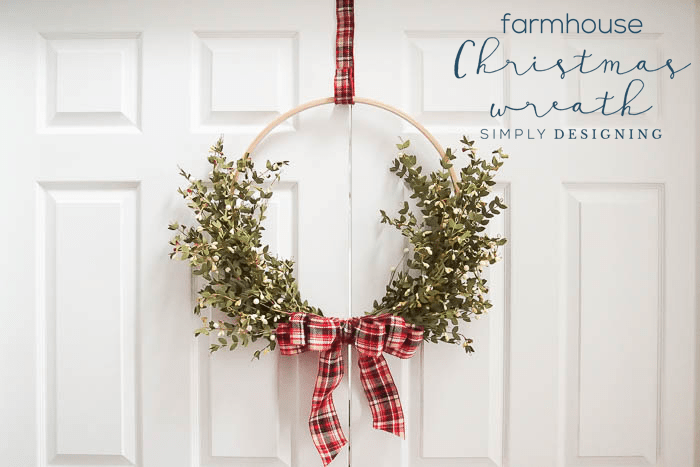 How to Make a Farmhouse Christmas Wreath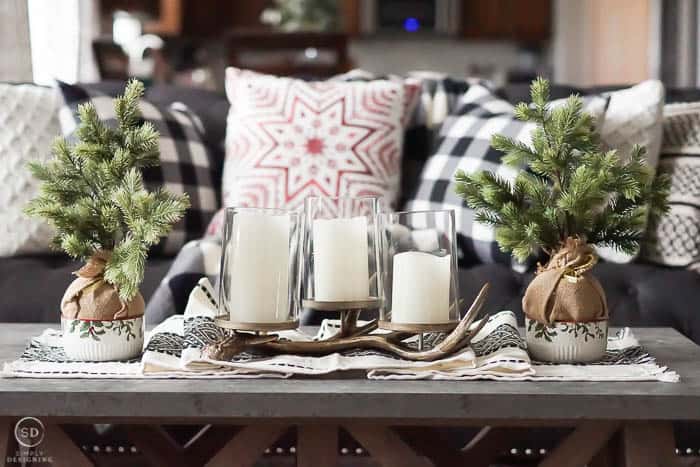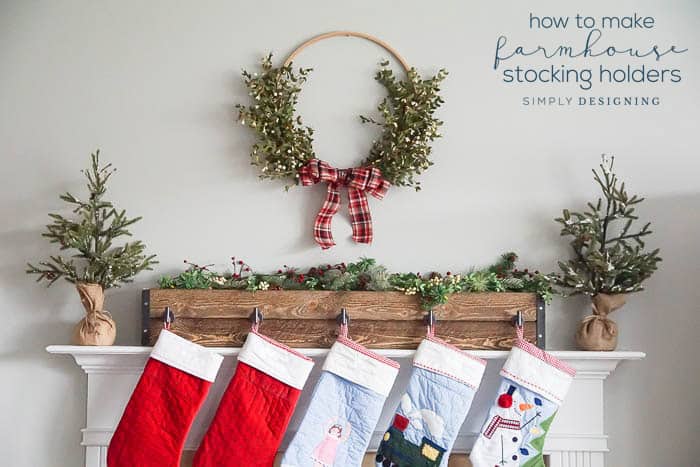 How to make Farmhouse Stocking Holders