This post is part of a campaign with Shutterfly and LooksiSquare.   All opinions are entirely my own.
I can't not believe that it's almost time for graduation!  This May I might be a little weepy as my youngest graduates from preschool.  Oh dear, it is such an exciting and also a sad time.  And for all of you with children graduating from high school...I just can't even begin to comprehend the emotions that come with that!  Whether you have a graduating senior or preschooler, I have a really fun, delicious and easy recipe for you today!  Today I am sharing these really fun Brownie Graduation Pushup Pops!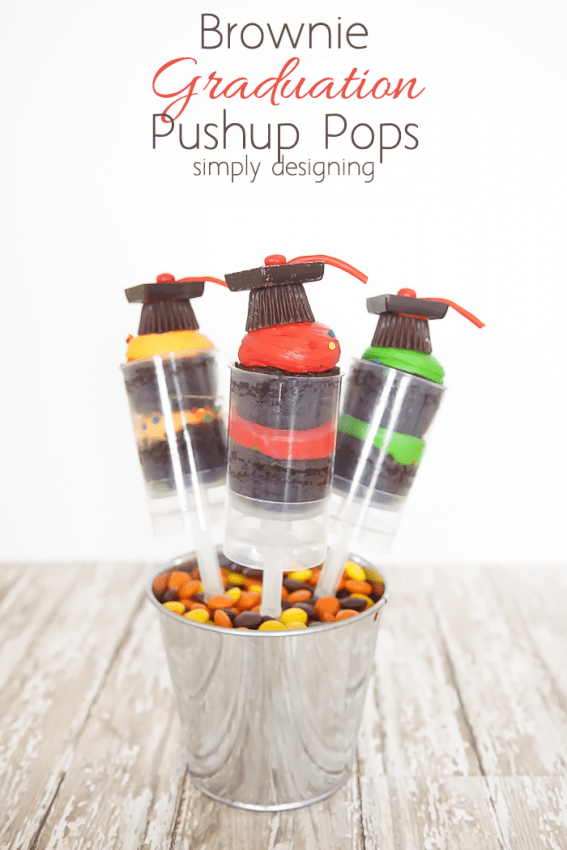 Brownie Graduation Pushup Pops
Aren't these the cutest!?  And of course they are super simple to make (especially if you follow my short cut ideas!)  But they also look really stunning!  And you can customize these to match ANY school colors which I think makes this graduation treat extra fun!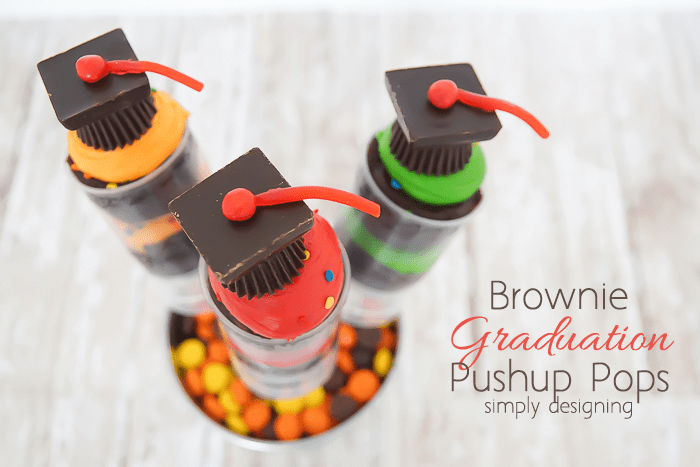 To make these Brownie Graduation Pushup Pops, you will need:
Brownie Bites
Icing, colored
Sprinkles (optional)
Ghirardelli Dark Chocolate Minis
Reese's Dark Peanut Butter Cups, Miniatures
Brach's Cinnamon Imperials
Twizzler Pull and Peels, Cherry
Push Pop Containers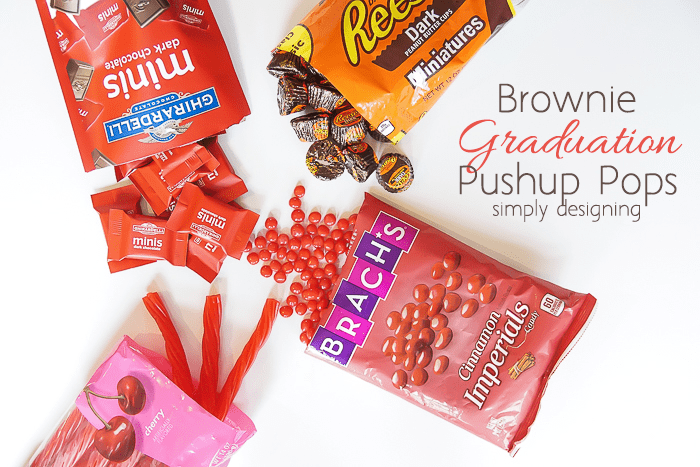 First a few notes about my ingredients.
Brownie Bites - You can simply make brownies and cook them in mini muffin tins or in a pan and use a round cookie cutter to cut them out.  Or, you can buy brownie bites pre-made from the store.
Icing - You can make a simple powdered sugar, butter, vanilla and milk icing recipe and add food coloring in the color of your choice.  Or you can buy canned icing and add a bit of powdered sugar and food coloring to get a thicker constancy and the right school color!  Or you can snag some of the fun colored canned icings available now and just add a bit of powdered sugar to it to thicken it up.
Or...you can skip all of that work all together and see if your local grocery store carries mini brownie bites already iced.
Ghirardelli Dark Chocolate Minis - The regular size works as well, but I think the mini size fits the push pop size better.  And the dark chocolate is closer to black so I think they look nicer then milk chocolate ones.
Reese's Dark Peanut Butter Cups, Miniatures - Again I chose dark chocolate peanut butter cups because the darker chocolate is closer to black and I think that gives more depth of color to the graduation caps then milk chocolate does.  But you can use whichever you prefer!
All of the other ingredients are fairly self explanatory I believe.  Oh and you can snag Push Pop Containers HERE.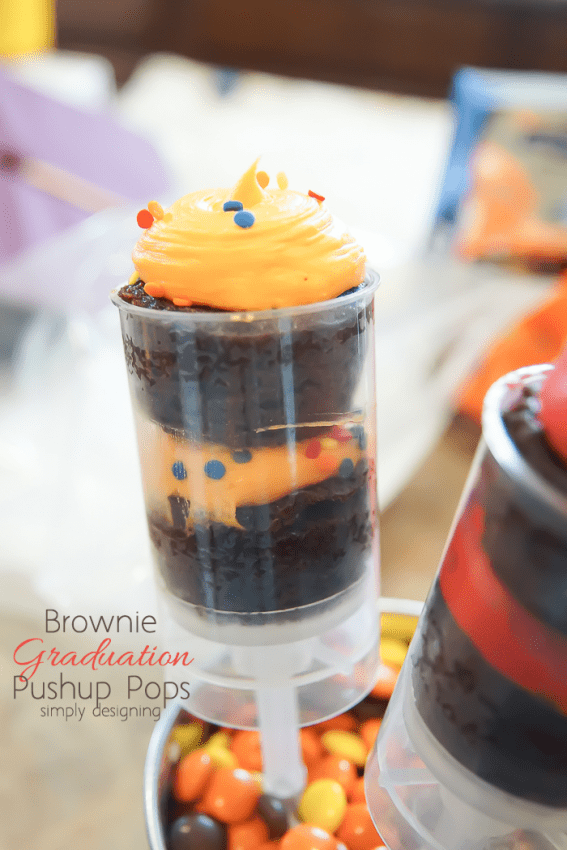 So the tricky part is getting the brownies and icing into the push pop container without smearing icing all over the container.  If you are making your brownies and icing separately, just place a brownie into the container and then pipe your icing into the container after the brownie is in place.
I used two brownie bite per pop and then icing in between the two layers and on top.  Add sprinkles if you like too!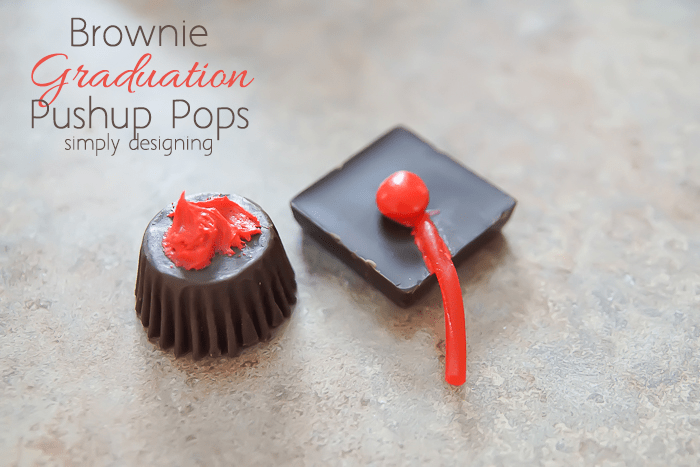 To create the grad caps, I use a little bit of icing to attach a cinnamon candy and a small piece of a pull and peel Twizzler to the bottom of a Ghirardelli mini chocolate.  Then I attached the Ghirardelli mini to a Reese's Peanut Butter Cup.  This created a really cute little grad cap!  I simply placed that on top of my pushup pops and I was done!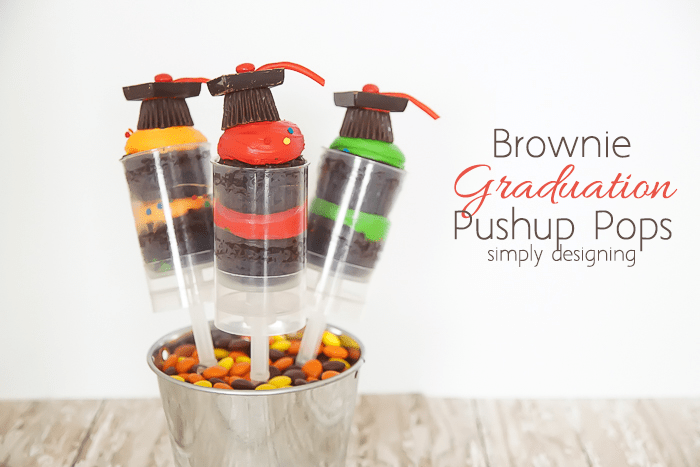 And they are just so cute and quite delicious!  I have a weak spot for brownies with icing.  They are just so rich and delicious.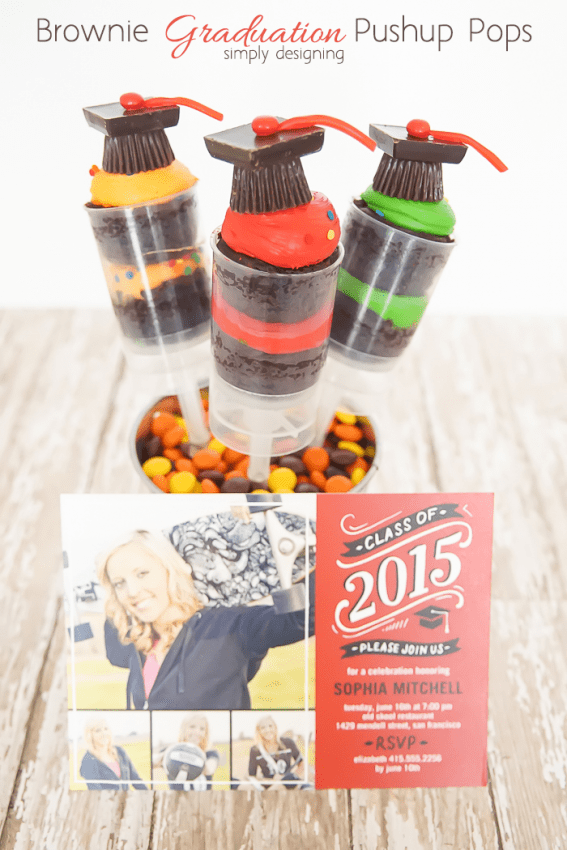 And if you have a graduating senior (or preschooler, or kindergardener) don't forget to order some announcement cards!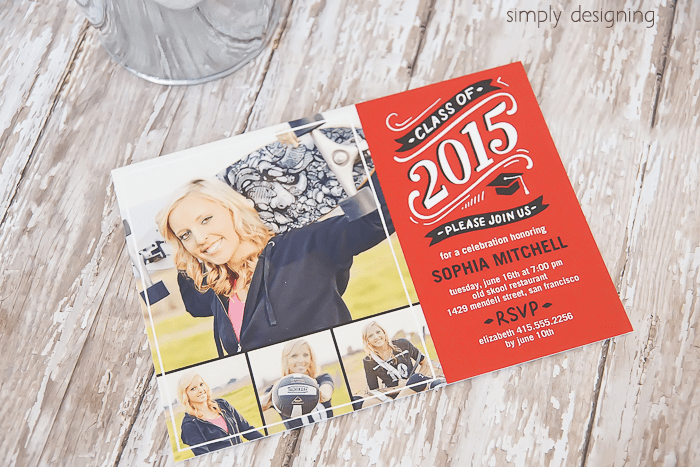 I absolutely love that there are so many more options today then there were when I graduated from high school (and college!)  Yikes those weren't very exciting!  But check out all these really cute options from Shutterfly for cute Graduation Announcements!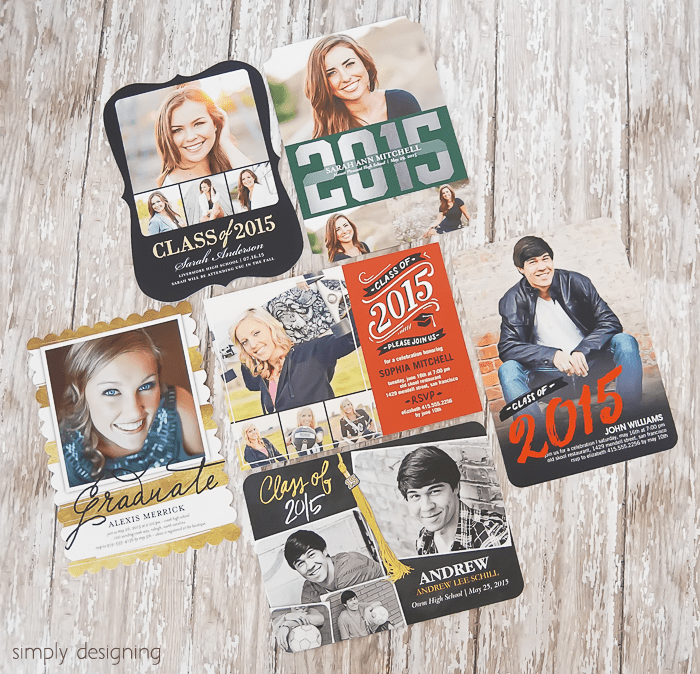 I especially love that you can use custom color pallets to match your school colors!  But the foil-stamped designs might be my all-time favorite!
Shutterfly offers to many beautiful and fun options including flat, ¾ fold and tri-fold designs.  They also offer many different edge options including square, rounded, bracket, ticket and scalloped.  I also love the variety of card sizes offered and the option of printing on the back of the cards!
And guess what!?  Designing your cards just became easier because you can import your grad's Instagram photos to use on the cards through Shutterfly!  How cool is that!?  Designing your grad's card couldn't be easier or more fun!
And these tasty Brownie Graduation Pushup Pops are the perfect treat to make for any graduation celebration this year!
You might also love this Graduation Cap Gift Box Idea: