This is a sponsored post written by me on behalf of The Hershey Company. All opinions are 100% mine.
Every year at the winter school choir and music performance, the choir kids sing a song about an ugly sweater.  Half of the children are supposed to wear an ugly sweater and the other half do not.  Both years my daughter has been in choir she has been asked to wear an ugly sweater.  It is a cute song and the kids have fun singing it.  This year I thought it would be fun to make an ugly sweater and when I found out that Hershey's Kisses Chocolates had cute ugly sweater wrappers this year...I knew I had to combine the two to make an ugly, and possibly tasty, ugly sweater!  (Well, we made ugly shirts, but you get the idea!  This would work on a sweater or a shirt.)  And I just think they turned out really cute...or ugly...I guess you can decide.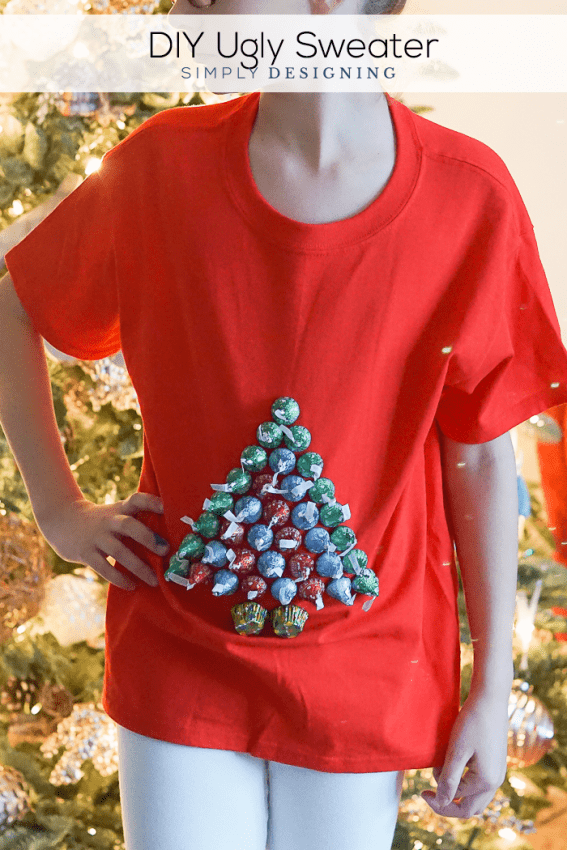 Whether you have an ugly sweater party to attend this holiday season or if you just want to wear one for fun, this shirt, tops it all!  It is cute, ugly and if you get hungry, you can swipe a Hershey's Kisses Chocolate off of the shirt!  It might make it even more ugly if a few Hershey's Kisses Chocolate are missing.  You could even be nice and share with a friend. This shirt was really fun and simple to make and while I made it, I know my kids would have had a lot of fun helping to make these too!  In fact it would be a really fun project to get the whole family involved in!  Just round up a few items and spend a fun evening crafting together.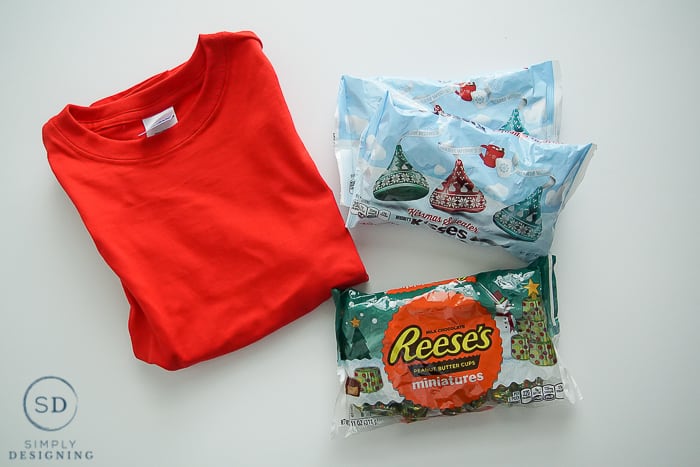 To create your own DIY Ugly Sweater with Hershey's Kisses Chocolates, you will need:
(1) Sweater or Shirt
(1) Bag of Hershey's Kisses Kissmas Sweater Chocolates (available exclusively at Walmart)
(1) Bag of Reese's Peanut Butter Cups miniatures (available exclusively at Walmart)
Low temperature Hot Glue Gun and Glue Sticks**
**Disclaimer: Please exercise caution when using hot glue guns. Completed craft is for decorative purposes only, please do not eat candy included in the craft.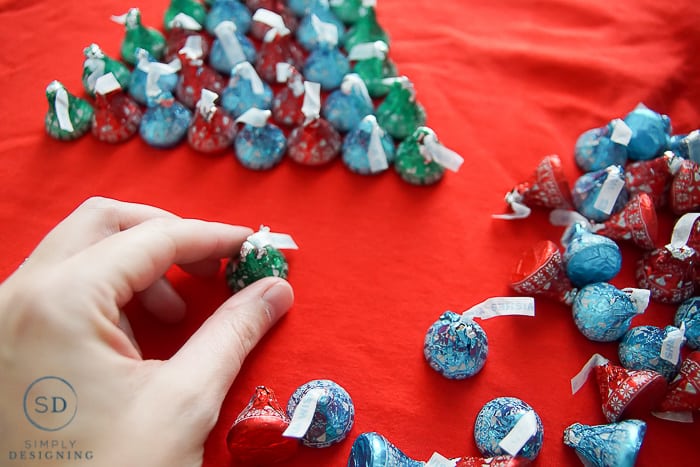 You will begin by laying your tree design out with the Hershey's Kisses Kissmas Sweater Chocolates on your shirt.  I started with one green wrapped chocolate at the top, the next row had two chocolates, then three, then four etc.  I used green wrapped Hershey's Kisses Chocolates along the outside of the tree and alternated blue and red ones in the middle, but you can design this any way you like.  I used 2 Reese's Peanut Butter Cup miniatures as the tree trunk.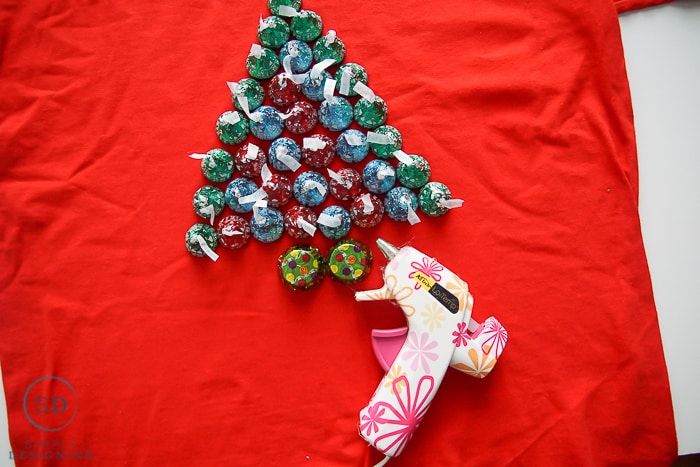 Once I had the tree shape in place, I used my hot glue gun to attach the Hershey's Kisses Chocolates and Reese's Peanut Butter Cups Miniatures to the sweater.  You just need a dab of glue on the bottom of each Hershey's Kisses Chocolate and they will stay on the shirt really well.  It is important to use a low temp hot glue gun as a high temp will start to melt the chocolate.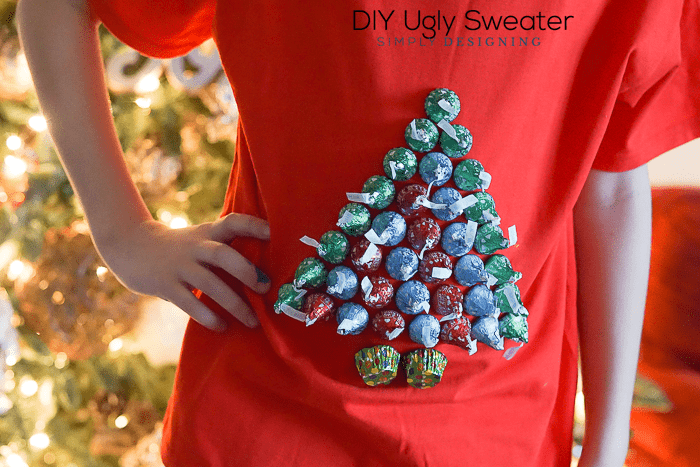 Obviously this shirt is not washing machine safe, so the hot glue will keep the chocolates on the shirt long enough to wear and enjoy. It only took a few minutes to hot glue the candy to the shirt and in no time we had cute, and edible, ugly sweaters! My kids are now ready for their school choir concert or for an ugly sweater party! Come Celebrate with Hershey's!