This post is sponsored by The Home Depot.

Good morning my friends. I am really thrilled about today's post! And I am not ashamed to admit that yes, I have already started to decorate for Christmas! I have a Christmas wreath up, and my Christmas stockings are hung on really fun farmhouse stocking holder that I created and am really excited to share with you today! This project was super fun to create and it really only took a couple of hours from start to finish. I love that I could create these Christmas stocking holders in a morning without even breaking a sweat! With a few tools I already had on hand, and a quick trip to The Home Depot, I had my Christmas stockings hung before dinner! Keep reading to learn more about how to make farmhouse stocking holders!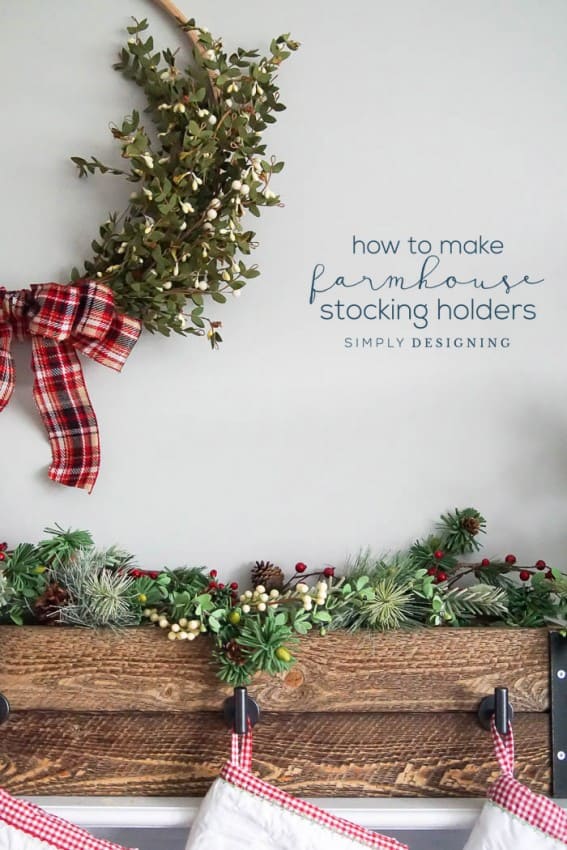 How to make Farmhouse Stocking Holders
The other day I mentioned that I am collaborating with The Home Depot and their Do It Herself (DIH) workshops. And I also mentioned that I was going to create my own version of their Stocking Hanger Box, and so today I am excited to reveal that to you! I took their general stocking box idea, made it a bit longer to accommodate 5 stocking hangers, and added a little industrial and farmhouse touch to it. And the best part is, you can easily take this same idea from The Home Depot and customize it to your preference too! I really love how my farmhouse stocking holders turned out and I hope it inspires you to create something for the holiday season as well.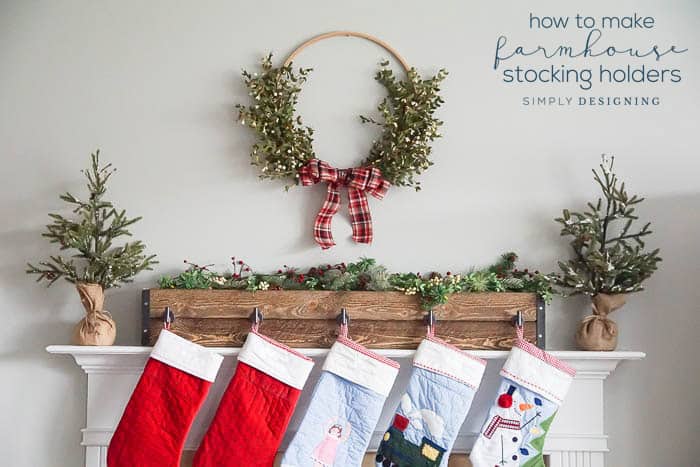 The Home Depot's Stocking Hanger Box is made by using a nail gun to attach wood boards into a box, staining it, and adding hooks to it for the stocking hangers. My version is really similar.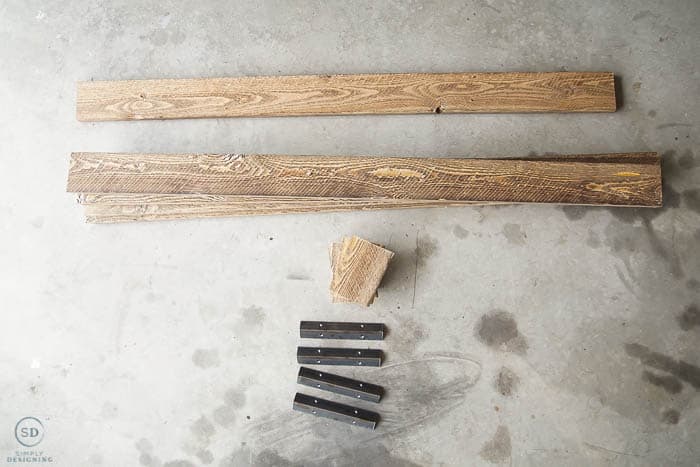 Instead of using wood and staining it, I decided to buy wood that was burned a lovely shade of brown from The Home Depot. I had been eyeing this wood for a while and really love how it looks! This gave the stocking holders a rustic farmhouse look that I just can't get enough of!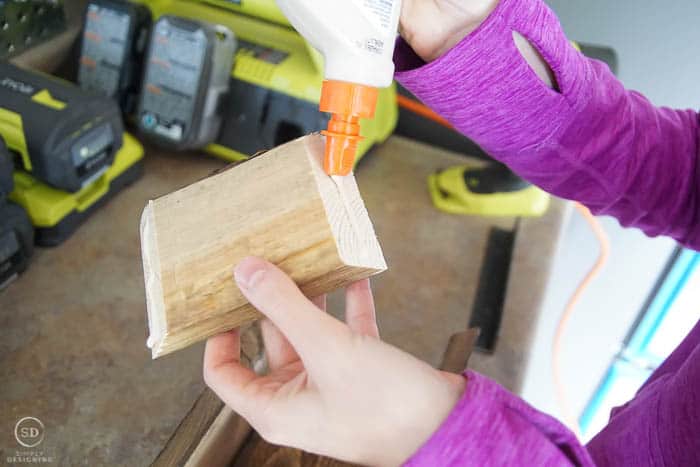 I decided to use two boards tall, and one board-wide. So I cut (4) 4' lengths of this wood with 45-degree angle corners for my sides. And then I cut another length with 90-degree edges slightly smaller to be the bottom piece of this box (the bottom will sit inside of the sides of the box.) Two smaller lengths were cut at 45-degree angles to be the box's sides.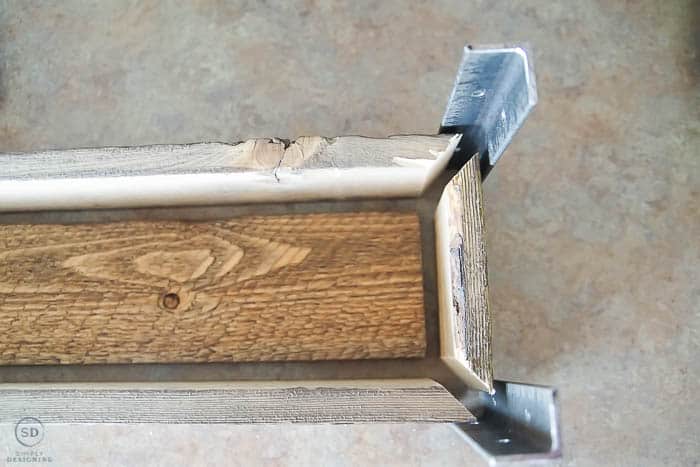 We snagged a piece of steel angle iron and cut it using a compound miter saw and then we pre-drilled two holes in each side. Using ¾" length screws and a driver, we screwed the angle iron around the corners of this box to hold everything in place. And then we used a nail gun to attach the sides of the box to the bottom.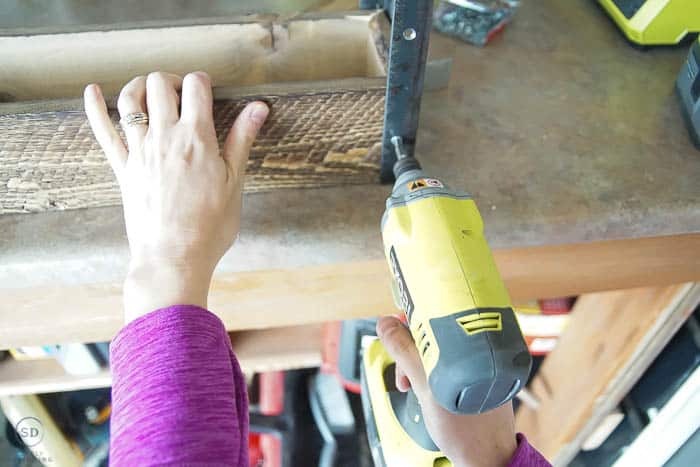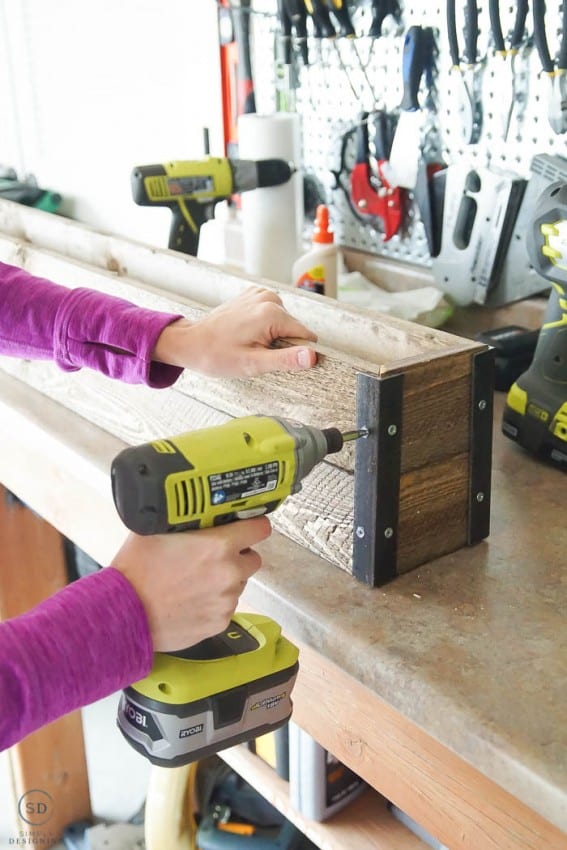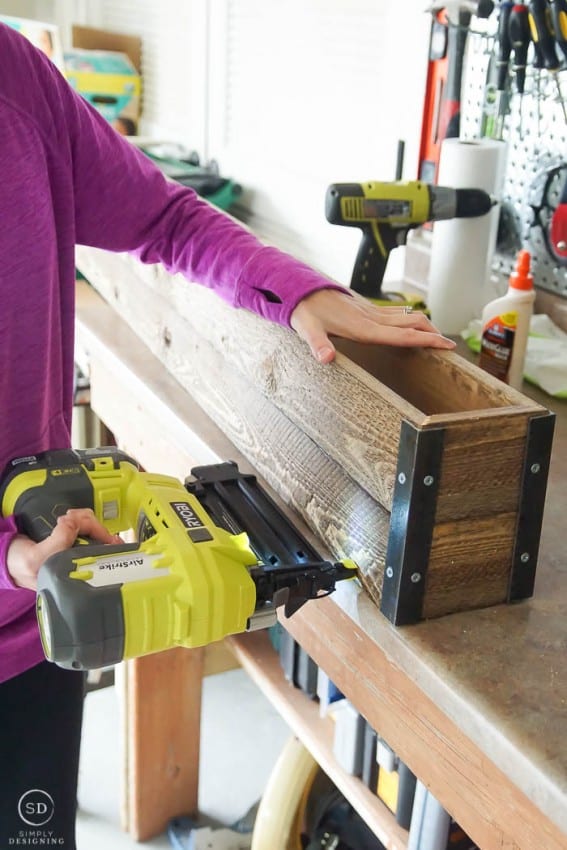 After it was created, we simply needed to screw the hooks that we wanted to use as stocking hangers into place, and we were done!
You can find similar hooks HERE.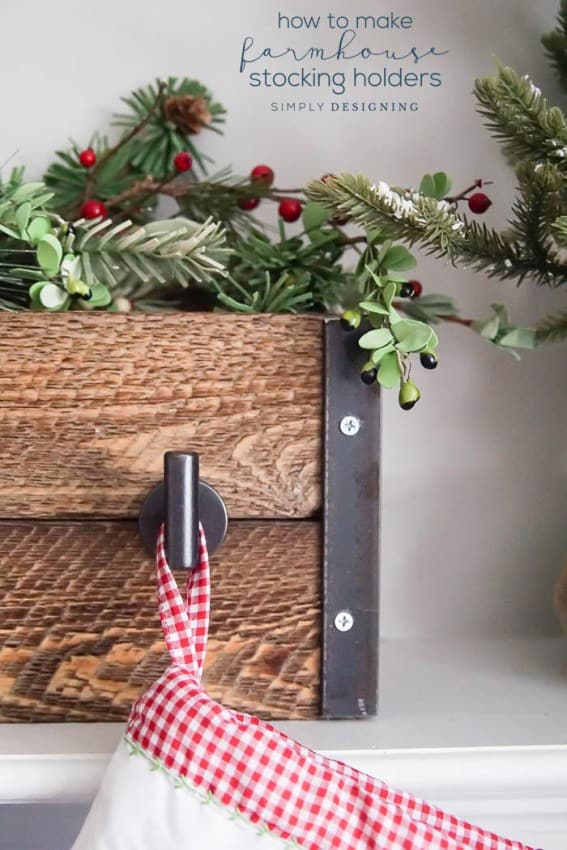 This farmhouse stocking holder is so fun, and such a beautiful statement piece on our family room mantle. I added a garland and some berries into the box that I already had on hand and my Christmas mantle started to pull together!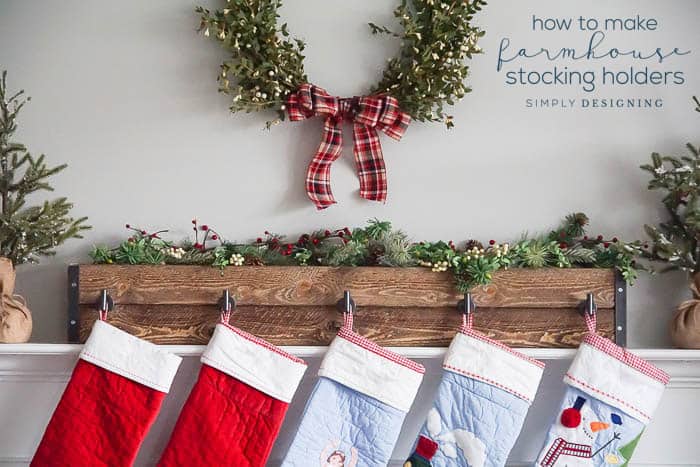 I couldn't wait to hang our stockings, hang my Farmhouse Christmas Wreath, and add a few more decorations to this part of our house. I am not nearly done decorating for Christmas (no, our tree is not up...yet...) but I think this is the first year I have truly been in LOVE with how our Christmas mantle looks and a big part of that reason is due to my beautiful farmhouse stocking holder!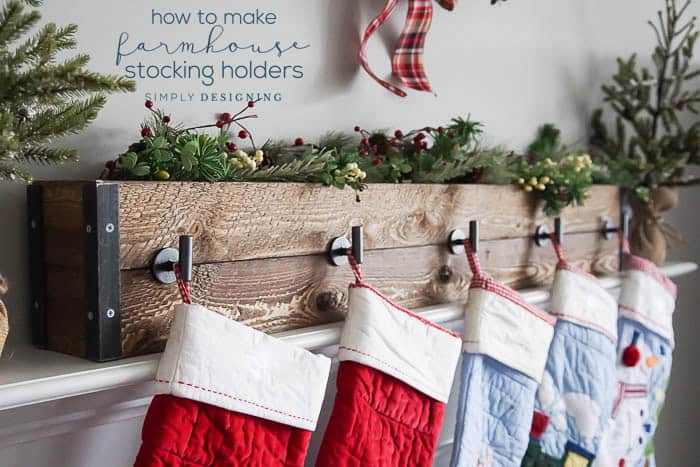 If you want to create your own Stocking Hanger Box at The Home Depot, there is still time to sign up: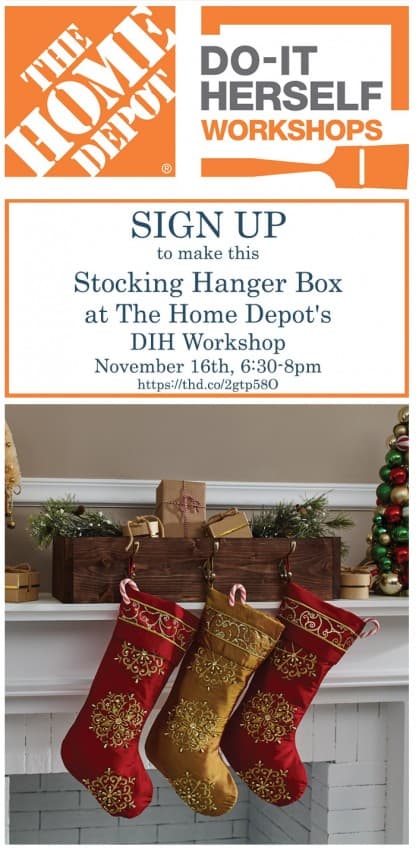 The Home Depot offers workshops for all ages and experiences levels at all of their locations. They offer Do-It-Yourself (DIY) classes, Do-It-Herself (DIH) classes and Kids classes! The classes offer a wide variety of topics from home decor to easy home repairs and even tool demonstrations! You can learn more about the classes offered at the location near you here.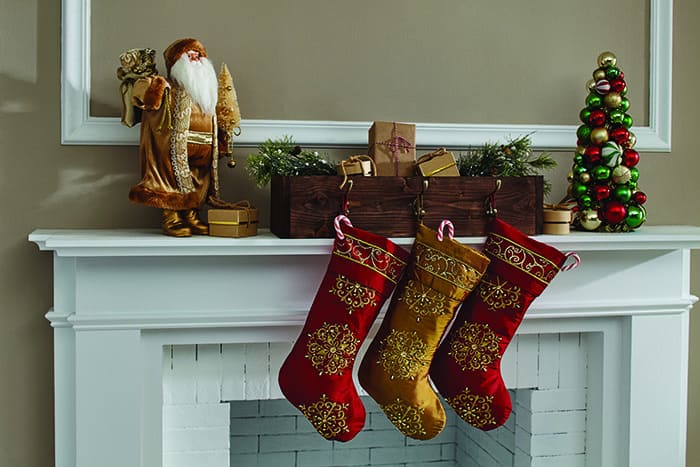 If you have previously attended any workshop at The Home Depot and would like to provide feedback, please feel free to use this form. Your experience and response helps The Home Depot make the improvements you want to see.
I acknowledge that The Home Depot is partnering with me to participate in this Workshops Program (the "Program"). As a part of the Program, I am receiving compensation in the form of products and services, for the purpose of promoting The Home Depot. All expressed opinions and experiences are my own words. My post complies with the Word Of Mouth Marketing Association (WOMMA) Ethics Code and applicable Federal Trade Commission guidelines.
Check out these other amazing Stocking Hanger Box ideas from some of my favorite bloggers:
You might also enjoy: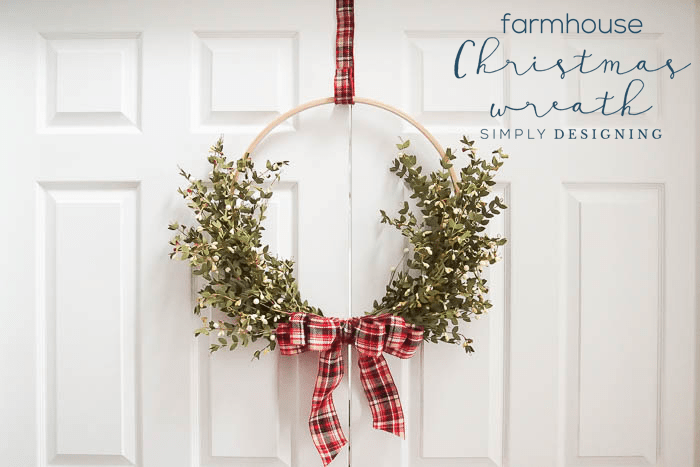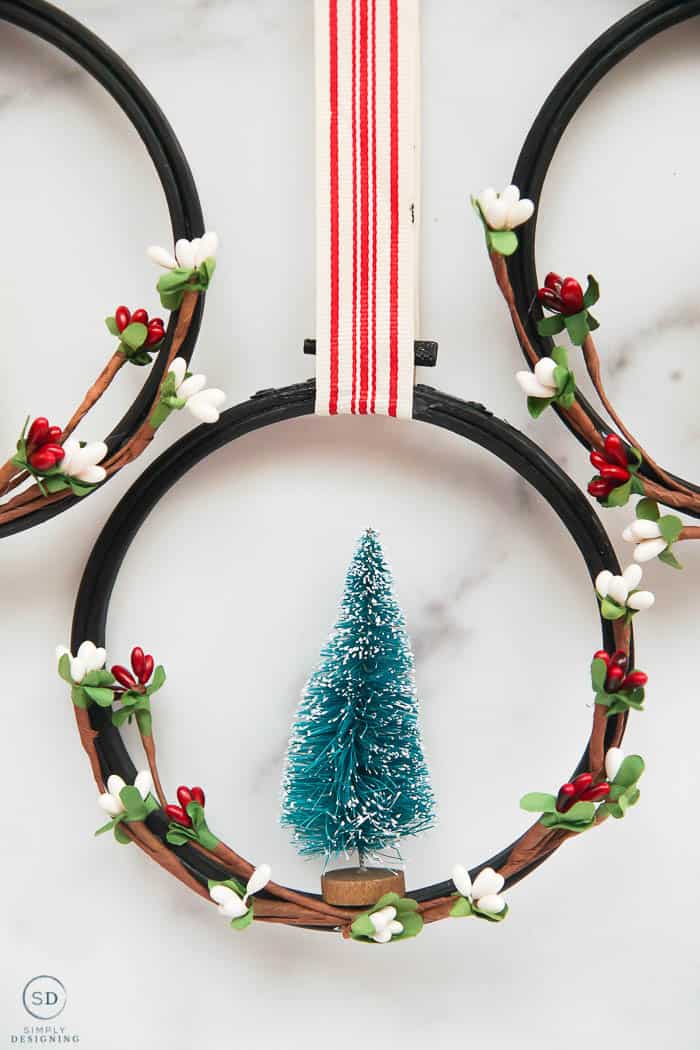 How to make Farmhouse Christmas Ornaments