Today I am excited to share my secrets, tips, and tricks for how to melt chocolate for dipping!
If you have ever struggled to melt chocolate well, you don't want to miss this post!
I love dipping things in chocolate!
Almost anything tastes better dipped in chocolate!
Chocolate-covered pretzels, marshmallows, cookies, strawberries, bananas, raspberries...I love chocolate covered treats!
But not only does it taste good, it is also a simple way to make homemade goodies!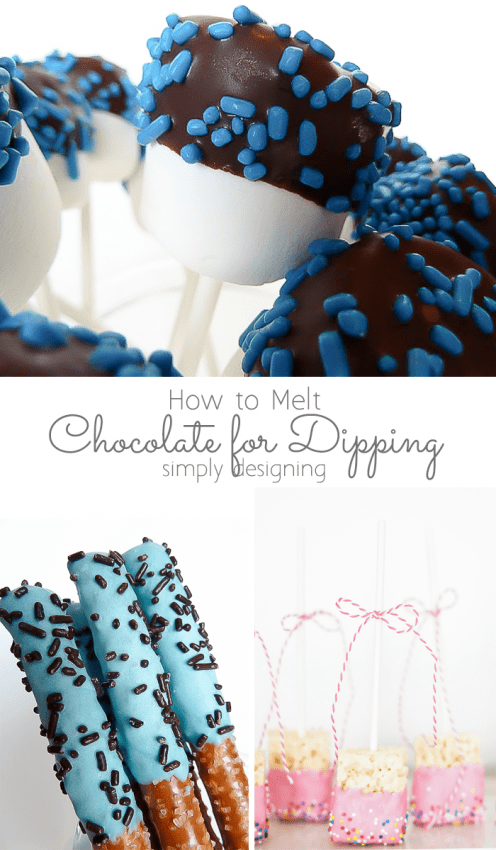 Before you dip, you have to know how to melt chocolate.
It sounds simple, yet I have found, that it can be so easy to mess up!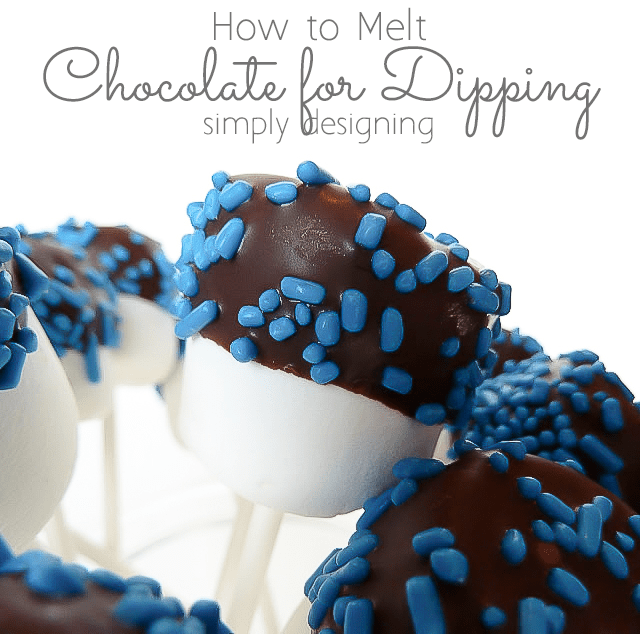 I recently received an email asking for help and advice on how to melt chocolate so I thought I would share all of my hints, tricks, and tips with everyone!
(Affiliate links included for your convenience. If you choose to click on the link and buy something I make a tiny portion of income, but you never pay a penny more. Thank you for supporting my blog.)
How to Melt Chocolate for Dipping in the microwave, a double broiler, or with a special melting pot.
Decide if you are going to use regular chocolate (like chocolate chips) or melting chocolate (like Wilton's melting chocolate.) This will make a difference. Regular chocolate is more difficult to melt correctly. Melting chocolate has more room for error.
Decide how to melt chocolate from these three options:

Melting Chocolate in a double boiler will give you the best results with the least room for error, however, it takes longer and is not always the easiest way. To melt in a double boiler, place a small amount of water in the bottom pan of a double boiler, the water should not touch the top pot. Place the chocolate chips or melting chocolate in the top pot and start heating. Stir frequently until the chocolate is just melted, turn the heat off and dip away.
Melting chocolate in the microwave is quickest, dirties the fewest dishes, and is my go-to method even though it can be trickier.

When melting chocolate in the microwave, place the chocolate in a microwave-safe dish (I use a mug or a

Disposable Dipping Tray

placed on top of a microwavable plate). Be careful, the dish will get hot!

Whether you are using regular chocolate or melting chocolate, set the power to 50% and microwave for 30 seconds at a time.

Stir in between each 30-second interval. This is important! Chocolate can actually retain its shape while being completely melted, so if you go by sight alone, you will overheat your chocolate!

When your chocolate is mostly melted, use smaller intervals, 20 seconds, 10 seconds, 8 seconds. Really. A few seconds can make the difference between melted chocolate and overheated chocolate, so be careful!!!

When your chocolate (or melting chocolate) is almost completely melted, just stir it. Most likely the last couple of chocolate pieces will melt. This is a great way to ensure you do not overheat your chocolate.

You can also melt chocolate using a Melting Pot like this one HERE.
When learning how to melt chocolate for dipping you want to be sure you don't overheat it.
Chocolate is easy to overheat.
The symptoms of overheated chocolate are tricky to spot because they are similar to chocolate that is not yet fully melted.
Overheated chocolate will be thick, chunky and dry.
If you melt overheated chocolate more, it will just get thicker and drier.
There is a fine line between melted chocolate and overheated chocolate so just be careful.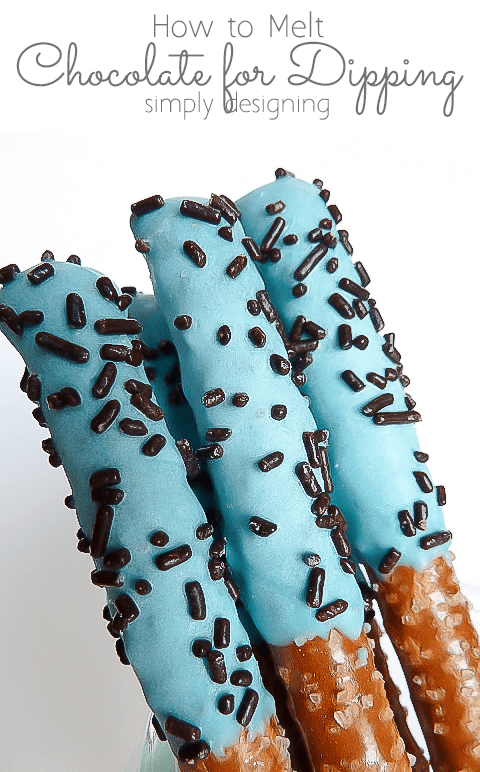 Now you want to you know the real secret for how to melt chocolate for dipping??
Vegetable oil.
Before you melt your chocolate, add a little vegetable oil.
This will keep your chocolate from drying out.
It can also fix slightly overheated chocolate!
Vegetable oil is my lifesaver and I rarely melt chocolate without it! (Don't use this with candy melts or melting chocolate though, just regular chocolate.)
As a fair warning, adding vegetable oil can make it so that the chocolate doesn't harden as quickly or as hard.
It can make the chocolate a bit softer.
So you will only want to use a touch of oil.
I've done it so many times I just kind of know how much to add, but a good place to start is about 1 teaspoon per 1 cup of chocolate chips.
So next time you decide to dip chocolate, melt carefully, stirring frequently, and add a touch of vegetable oil to your chocolate to ensure perfectly dipped treats!
If you love Chocolate, you might also love these recipes too: