This post was sponsored by  KILZ® Complete Coat™ Paint as part of an Ambassador program for Influence Central and all opinions expressed in my post are my own.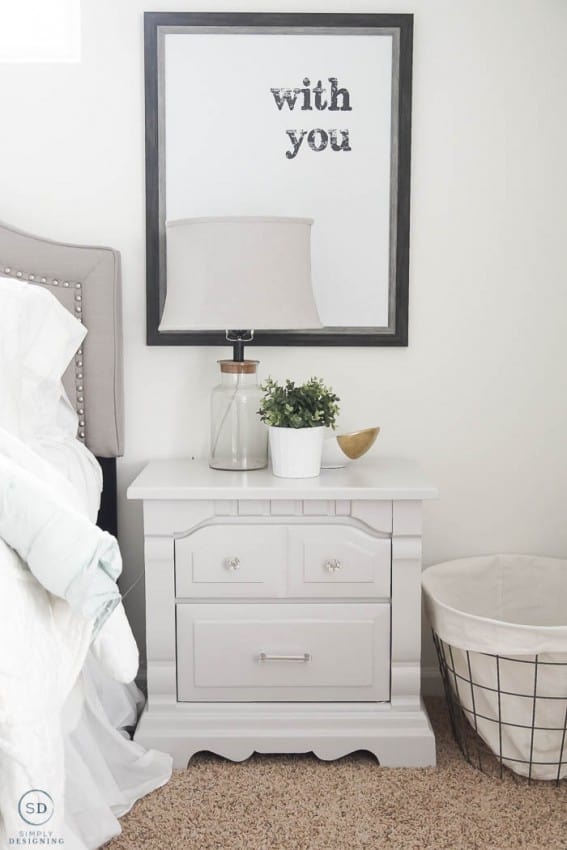 About a month or so ago I shared my Master Bedroom Makeover Plans with you!  And my master bedroom is not complete but I have made some really big progress with it!  I have painted my bedroom white (yes I know, white!), I found new bedding that I LOVE and I repainted my nightstands!  They are now so beautiful and I am excited to share more details about our Painted Grey Bedside Table for our Master Bedroom with you today!
I always love what new life a fresh coat of paint can give to a piece of furniture!  If you remember, we bought these nightstands several years ago and then we painted them in a chippy paint style.  I really loved the beautiful aqua color, they added so much life to our bedroom!  But as our style transformed over the years, I wanted to simplify our nightstands and make them a little less rustic looking.  I wanted to add a bit more sophistication to them and maybe a touch of femininity to them as well.
I feel like at this point I should show you a before photo: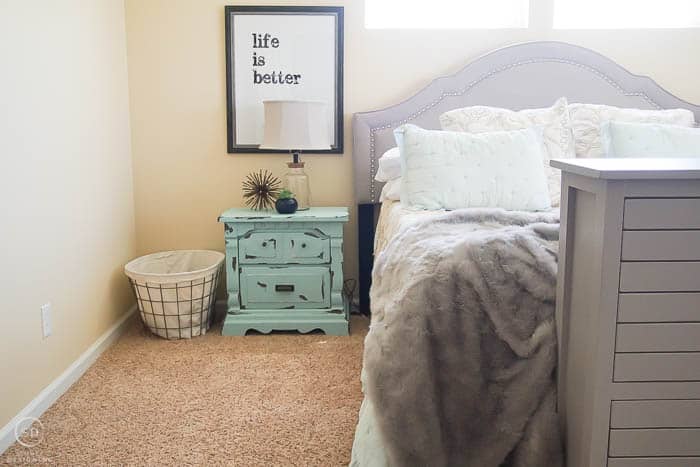 It's fine.
But the after...well I just think it's a bit swoon-worthy!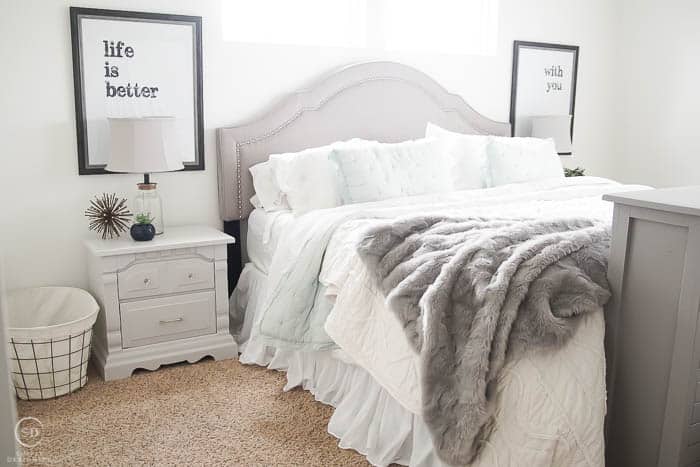 As I mentioned in my earlier post about this, I headed to Walmart and bought a gallon of KILZ Complete Coat Paint in Boardwalk #RK130.  I love that this is a primer and paint in one because any time I can save time on my DIY projects I am super happy!  And because I use KILZ® Primer often and love it, I was really thrilled to be able to try this paint and primer in one!  I know that having the right tools, and good paint, is a key to having a DIY project turn out right!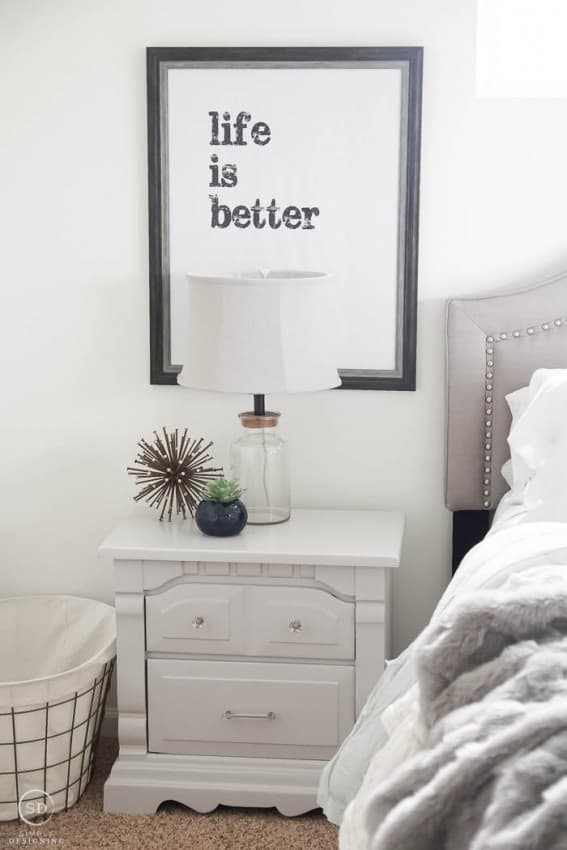 Painted Grey Bedside Table for the Master Bedroom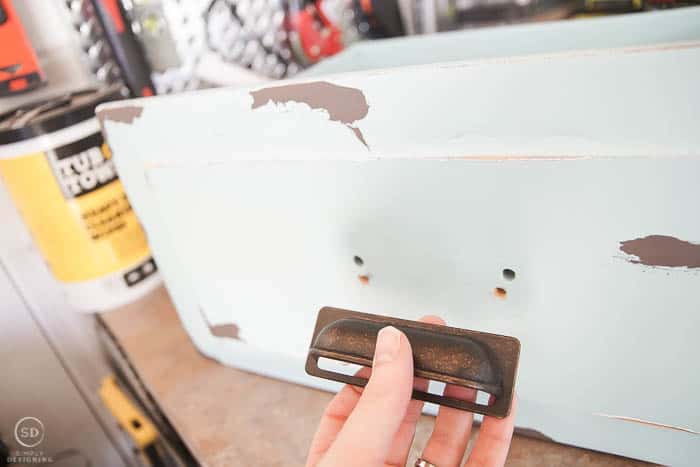 I began by removing the hardware.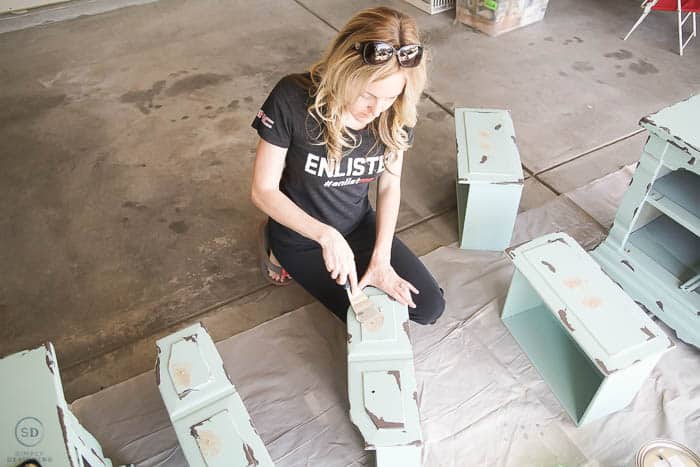 And then I puttied the holes in the doors.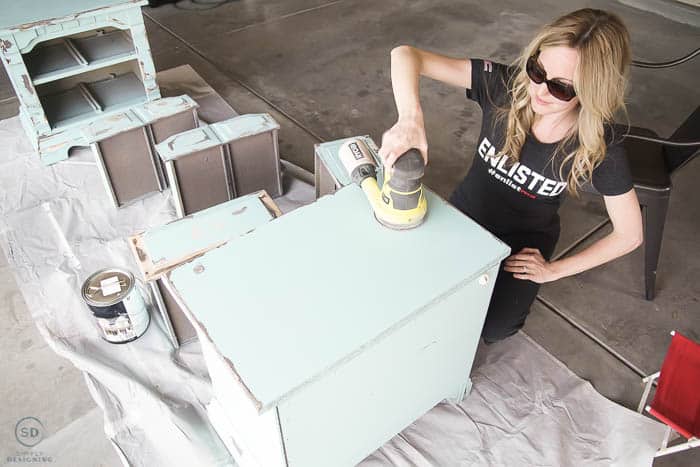 Then I lightly sanded the bedside tables down.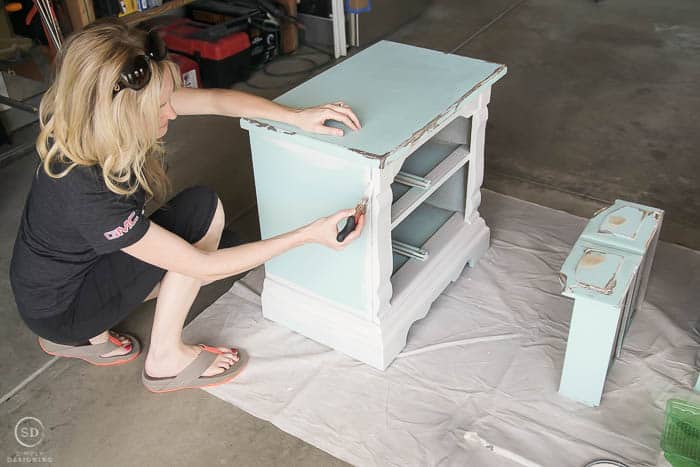 Next I grabbed a paint brush and roller and painted my nightstands!  Two coats of this KILZ Complete Coat Paint perfectly covered the bedside table.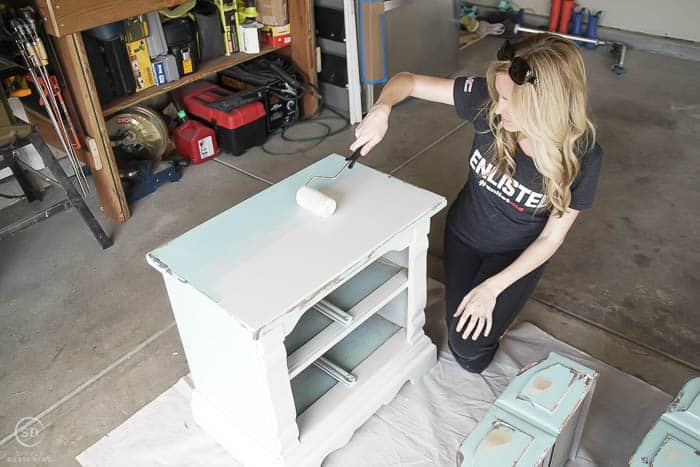 I love how the new paint looks on my nightstands and I really enjoyed using KILZ Complete Coat Paint because it gave great coverage and looks great!  It made it easy to complete my own painting project and helped me transform my nightstands into something new again.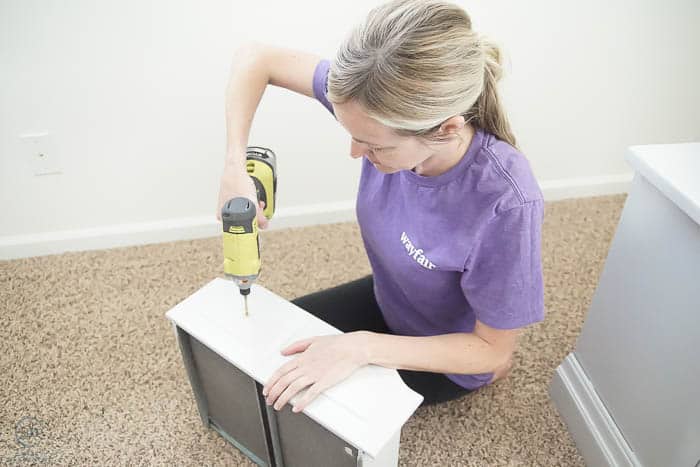 After my painted nightstands were completely dry, I drilled new holes in the drawers for my new hardware!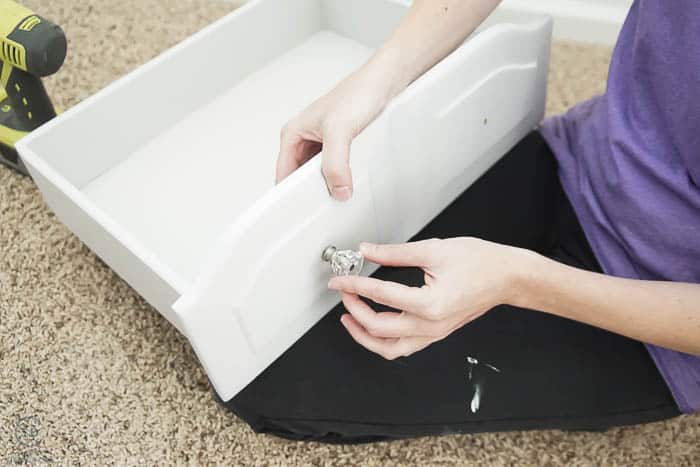 Then I installed new hardware and put the grey bedside table in place next to my bed.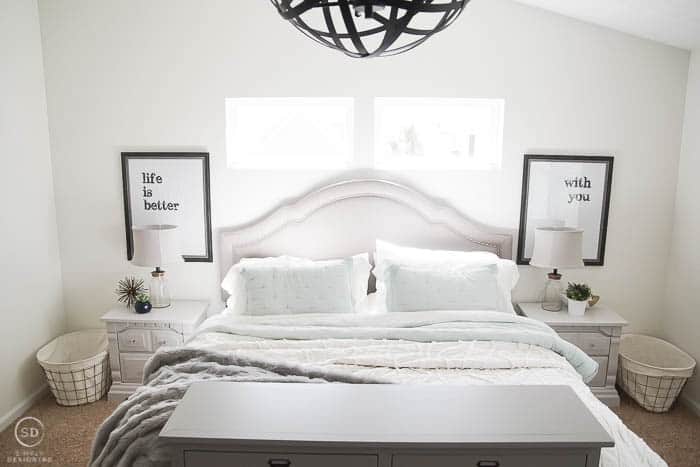 I really love the new look in our bedroom!  It is so bright, light and inviting!  I love how my painted grey bedside tables look in our space.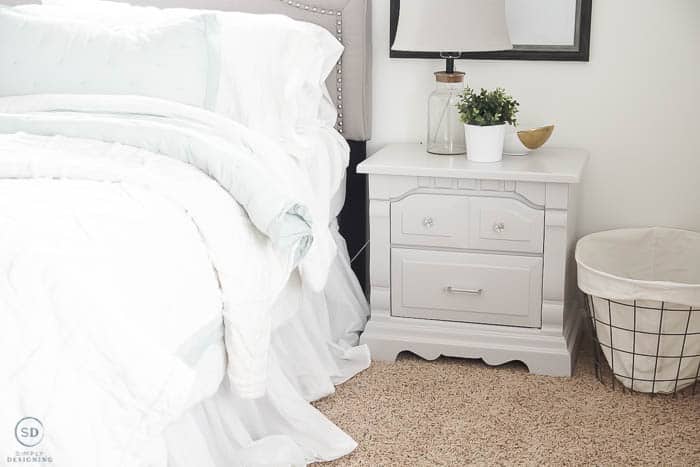 And I love how a little paint can inspired a whole transformation!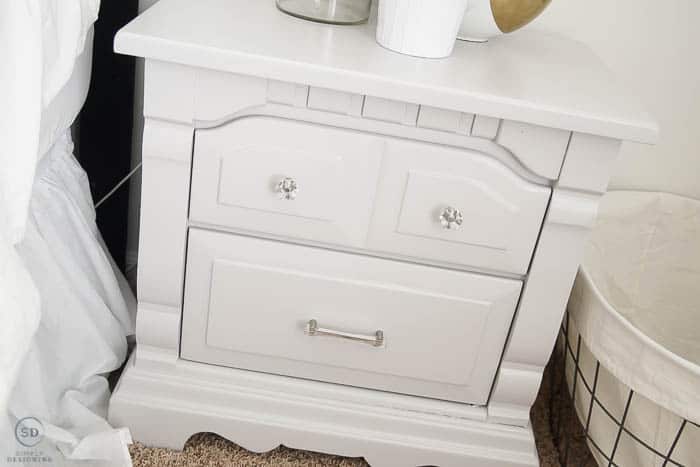 I would love it if you would pin this post if you love it!
Oh and if you love the typography, you can snag my FREE PRINT HERE.

You might also enjoy: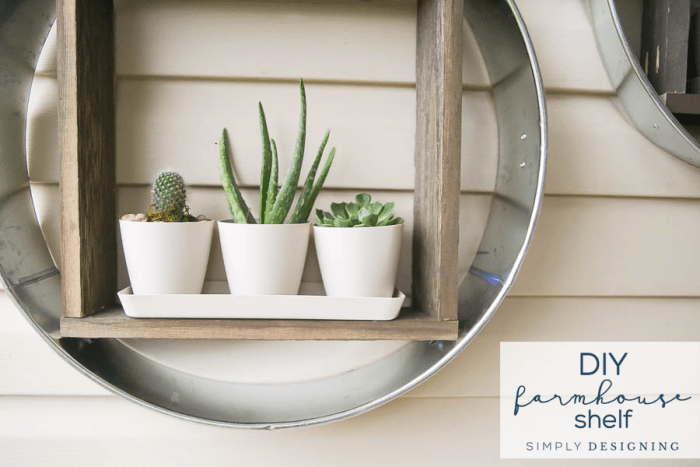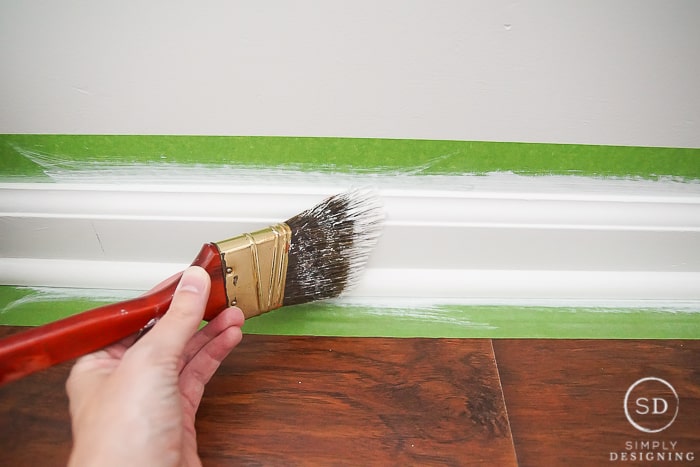 Tips for Painting Baseboards Flawlessly