I love repainting furniture, but I hate sanding it so the other day I tackled a project and I wanted to share my tips with you about how to repaint furniture without sanding! My last painting project involved me painting my shutters and my front door and I just love how it turned out (check it out HERE). And while repainting a child-sized rocking chair was a lot smaller of a project, there were so many cracks, crevices, and tiny places that I knew would be a pain to sand, so I decided to repaint this rocking chair without sanding. Sound crazy? Maybe, but this is a great trick that saved me a ton of time and so I'm sharing it with you today.
A big thank you to HomeRight for making today's post possible. You can see more details about the products I used on the HomeRight Blog here. Affiliate links included for your convenience. By purchasing anything using an affiliate link, I get a small fee, but it never costs you a penny more. Thank you for supporting my blog.
How to Repaint Furniture without Sanding
Typically when you repaint furniture, it is important to sand off any varnish or sealer so that the new paint will stick to it properly. But with something like a rocking chair. sanding would have been a long and tedious project. So I decided to tackle repainting it without sanding.
Here is what I started with, a cute child-size rocking chair: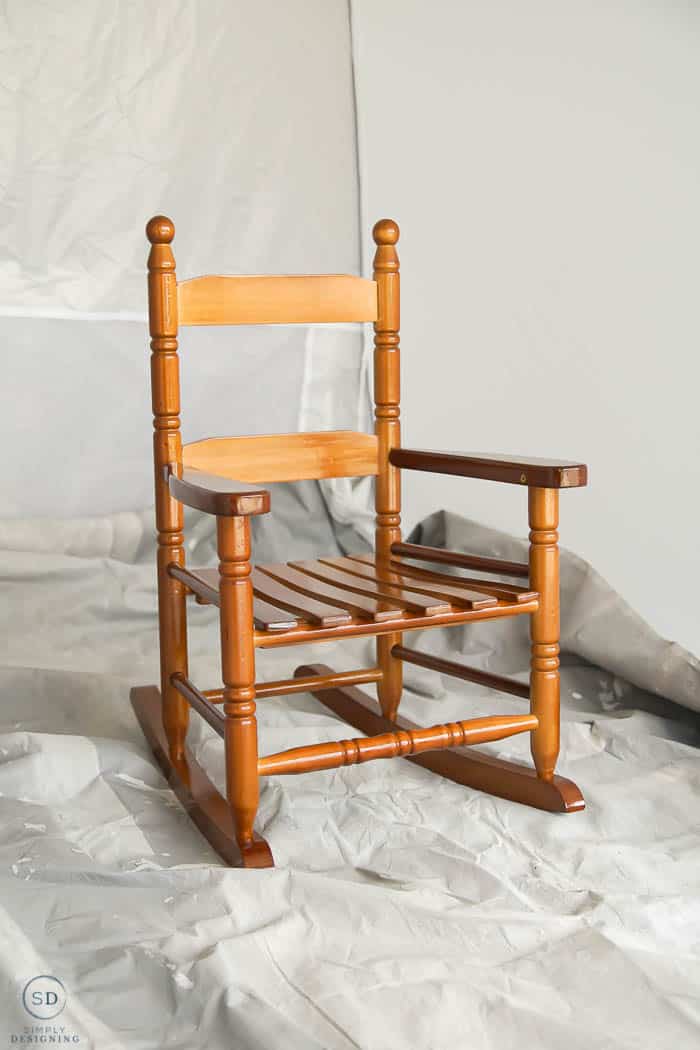 So let's chat about repainting furniture without sanding for a minute ok?
Can you paint over varnished wood without sanding?
Yes. You certainly can. But you do need to prep it properly first. There are a few ways to do this, but we choose to use an oil based primer to prepare our varnished wood for new paint.
The oil based primer will stick to varnished or sealed wood. And then you can paint over it with latex paint. It is a pretty easy process all things considered.
I typically use my HomeRight Paint Sprayer when painting almost any project, primer included. Unfortunately, oil-based paints don't typically play well with any of the paint sprayers I have, so I decided to use a brush to apply my oil based primer, and then spray my latex paint on top.
What kind of paint do you use on wood furniture?
You can use latex paint or oil-based paint. I prefer latex (water-based paint) because clean up is so much easier and I can spray it on using my paint sprayer. But the option is really up to you!
Do you have to sand furniture before painting it?
No. No, you do not. But you do need to properly prep the surface first. Wiping it down with a clean soapy rag is always advised, and you may want to use a deglosser. I choose to use an oil-based paint instead which will adhere to a varnished surface and is a great way to prep for a final coat of paint. (Note: be sure you choose an oil-based primer that is meant for going on top of any surface but under latex paint. Not all oil-based primers are created equal and not all will do the job properly.)
So, are you ready to get going?
Here is what you will need to repaint furniture without sanding:
Zinsser FastPrime, Interior Primer & Sealer in one
Latex Paint (in color of your choice)
If you are looking for a similar child's rocking chair, this one is similar HERE.
How to Repaint Furniture without Sanding
Begin by setting up your HomeRight Medium Spray Shelter Booth. It has a bottom in it, but I still put down a Drop Cloth to protect it from overspray a little more.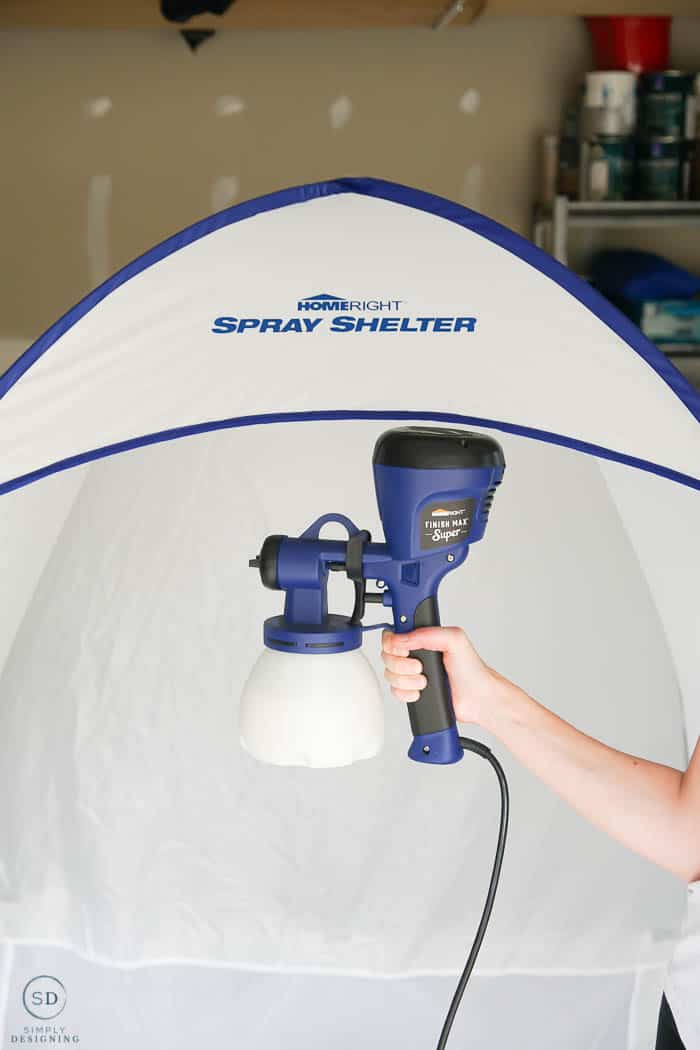 Then you will use your brush and paint the rocking chair with your oil-based primer. Follow all manufacturer instructions and let it dry completely.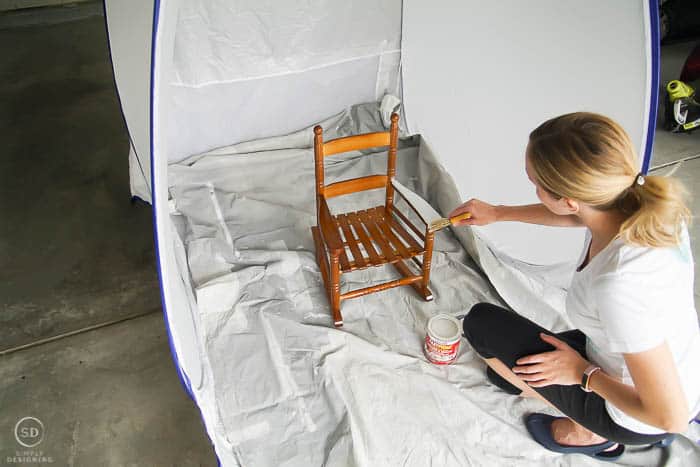 Next, you will thin your latex paint according to manufacturer instructions. Then put it in your HomeRight Super FinishMax Extra and you're ready to spray your furniture!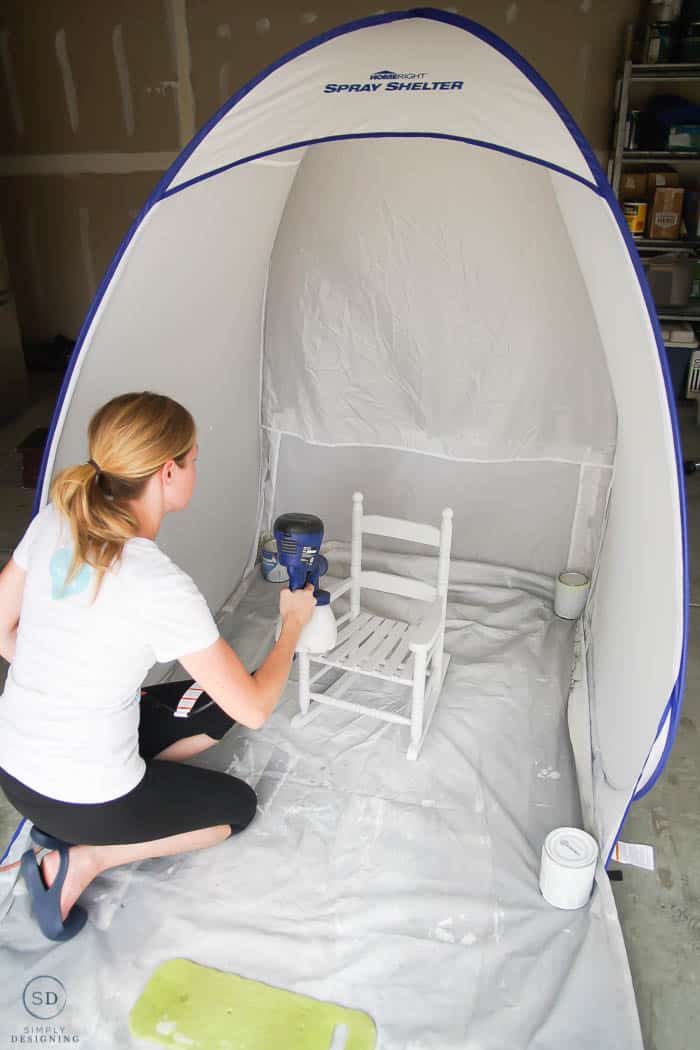 I always like to do at least two coats of paint on every project. Even though there were lots of sides, corners and angles on this rocking chair, the paint sprayer made this super quick and easy to paint!
This paint sprayer is the bomb-diggity-bomb...I really love it so much! It does a great job and it is so fast. I just love how easy it makes painting furniture.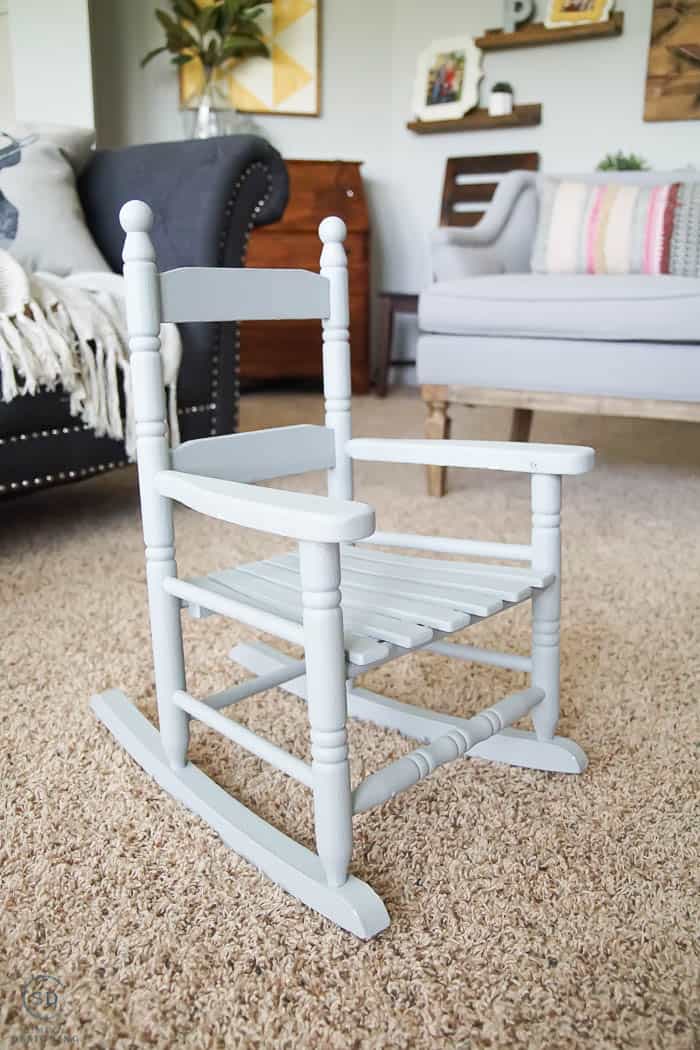 You can wait for the chair to dry and use it as-is, or you can top it with a coat of polyacrylic or polyurethane. I actually like a little wear and tear on my furniture, so I did not choose to coat this with a top coat this time.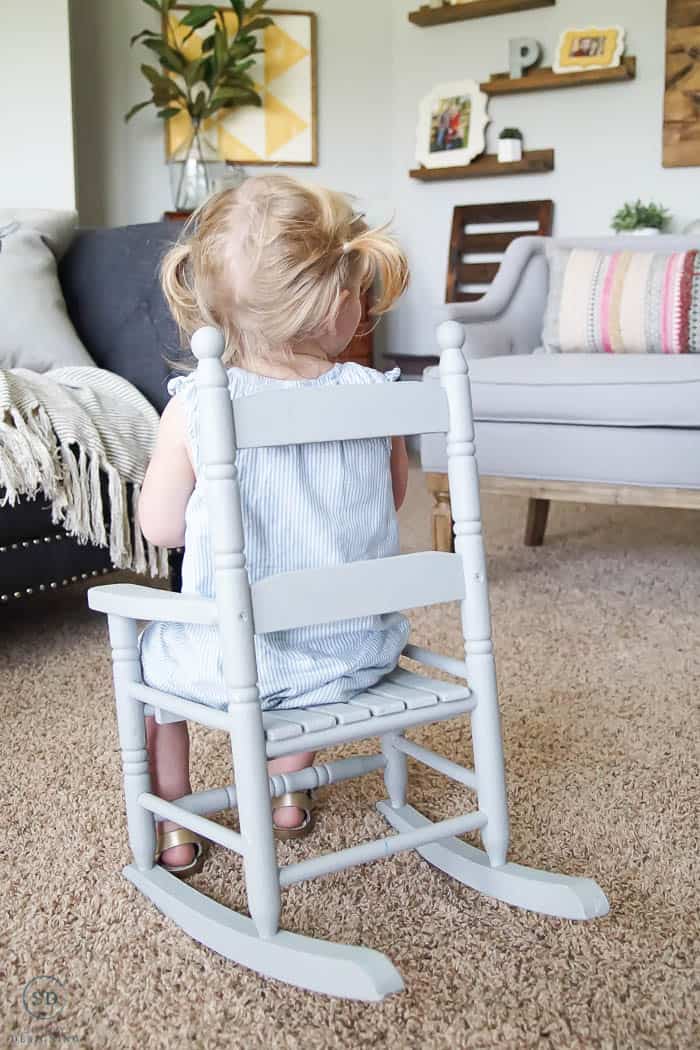 And that's it! When it was completely dry we brought it inside and it is now my daughter's favorite chair!
If you enjoyed this post about how to repaint furniture without sanding, you might also enjoy these blog posts:

How to Paint Shutters and a Front Door

How to Organize a Laundry Room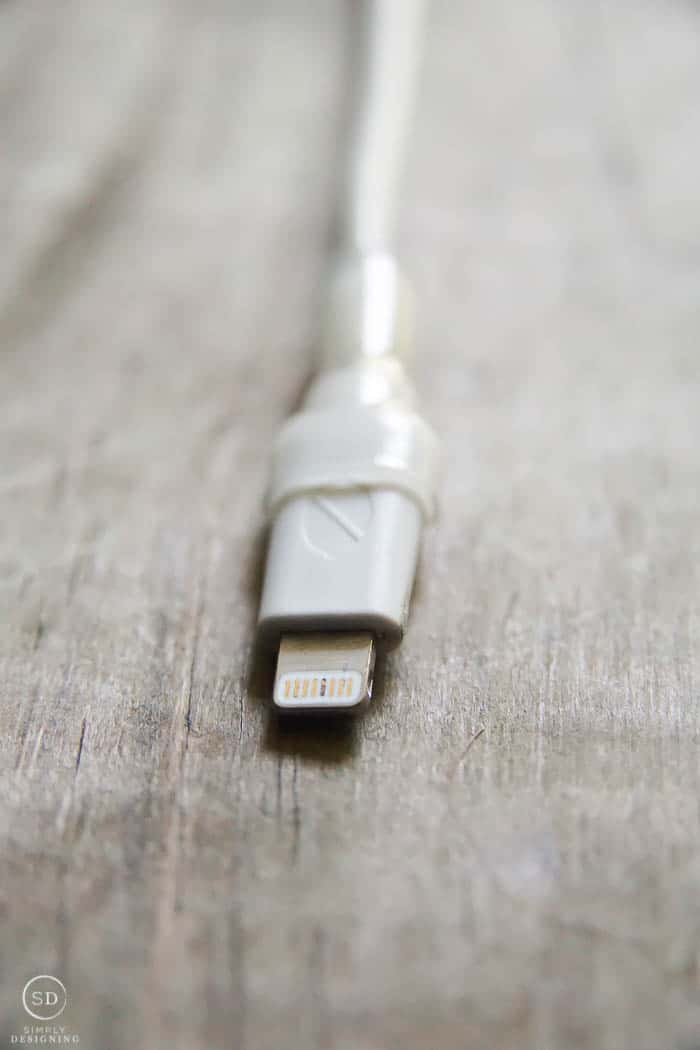 How to fix a broken iPhone charger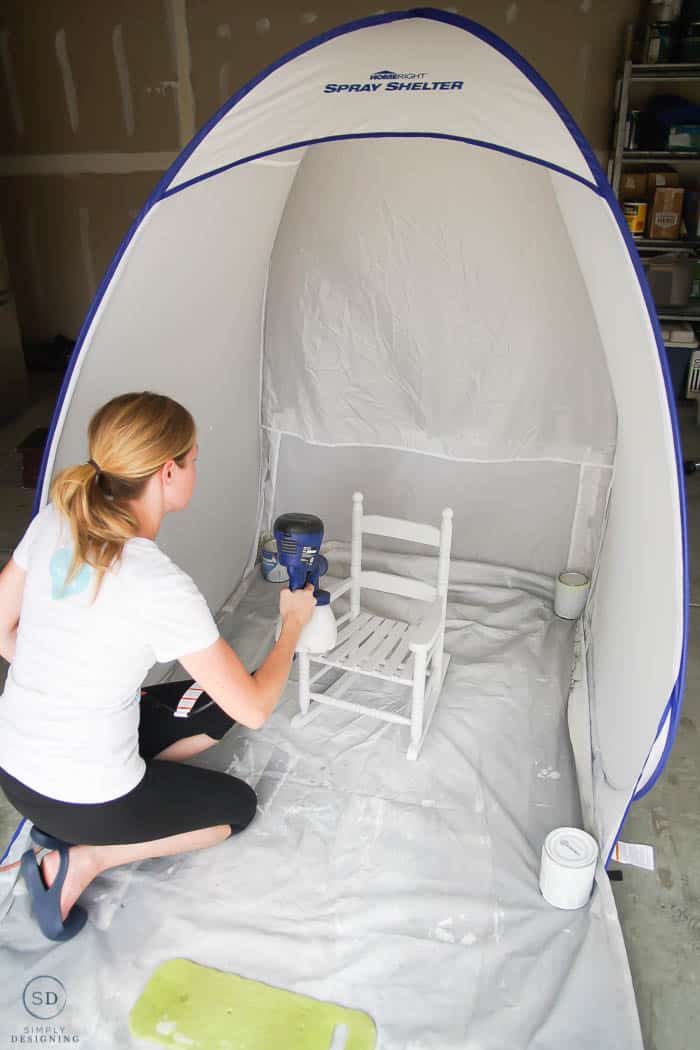 How to Repaint Furniture Without Sanding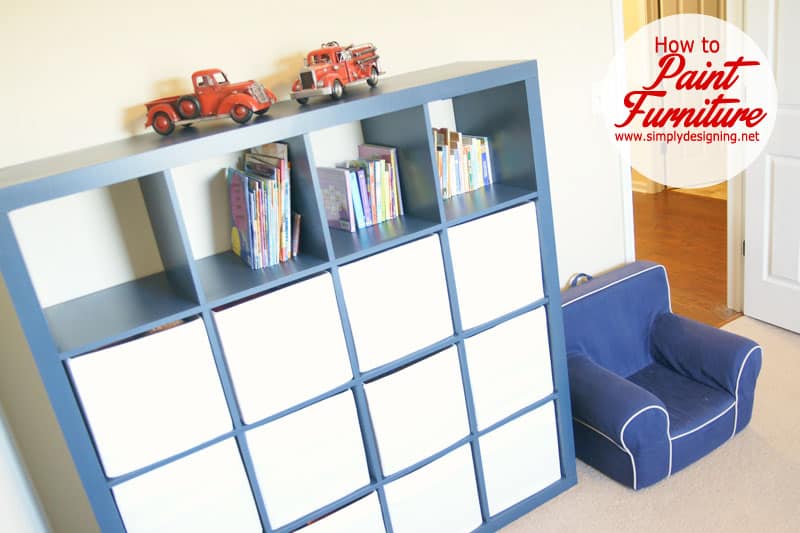 How to Paint Furniture Flawlessly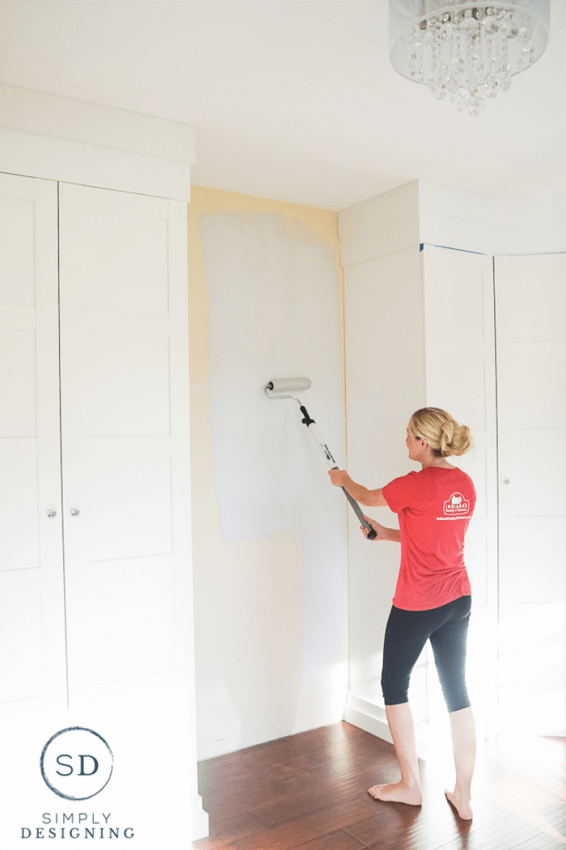 How to Paint Your Room Like a Pro