I have no shame about the fact that I am already decorating for the holiday's around my house.  I love Christmas and I am really excited about some of the fun things I have planned for this year.  I am also really excited about my front entryway that got a Christmas make-over!  Stop back here on Friday to see how I decorated my entryway for the holidays for under $100!  But I digress...anyway...my kitchen table.  I love having friends over for Christmas dinner.  It is one of the highlights of our holiday season.  And this year I decided that I actually wanted to decorate and have a beautiful Christmas table setting for everyone to enjoy, instead of the usual paper plates we use.  I wanted my holiday table setting to be a little bit rustic, and a little bit vintage.  I am really thrilled with how my rustic, vintage farmhouse holiday table setting turned out and I am so excited to share it with you today!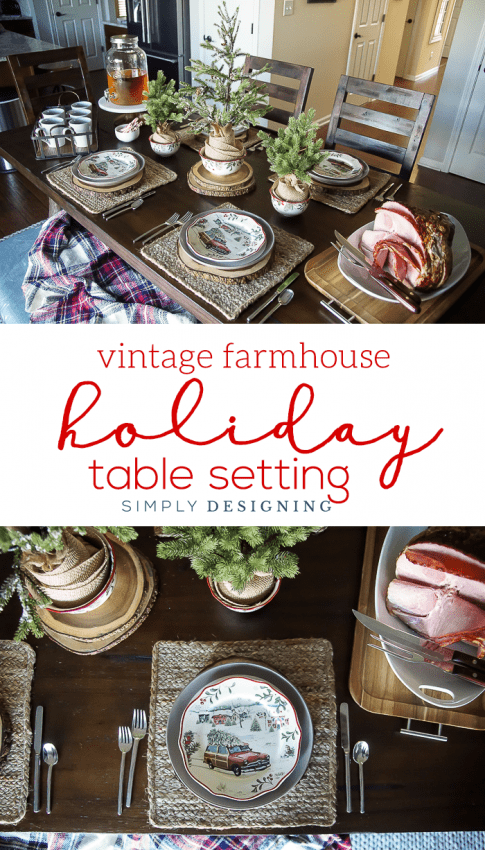 I am really happy to be a part of the Better Homes and Gardens Live Better Network.  A big thank you to them for making this post possible.  All ideas and opinions are my own.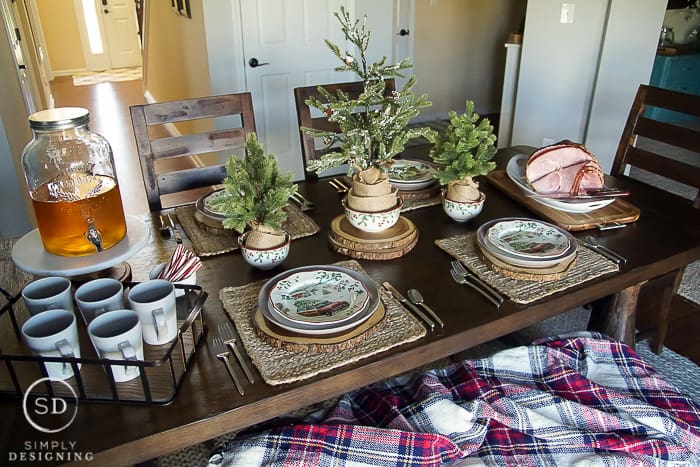 Vintage Farmhouse Holiday Table Setting
I won't lie, I fell head over heels in love with the woodie car salad plate from the Better Homes and Gardens Heritage Christmas Plate Collection.  And my entire holiday table setting is inspired by those plates!  They are a little bit vintage, a little bit rustic and a whole-lot-of good holiday feels, am I right!?  They are amazing!  And with these plates in mind, I designed the rest of my table setting to reflect the rustic feel of the plates and to bring a fresh and inspired feel into my kitchen this holiday season.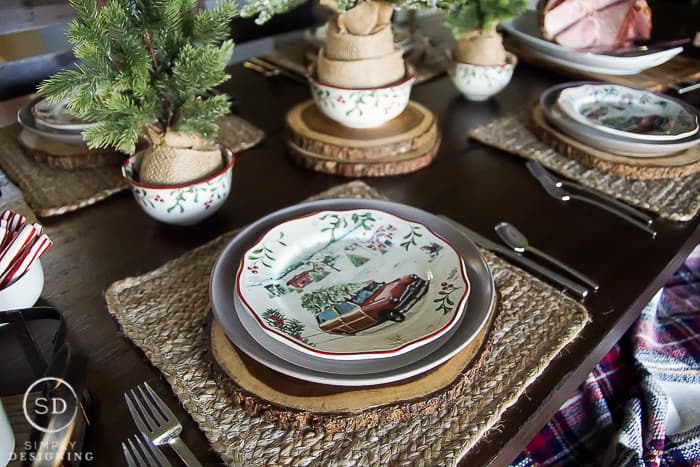 I decided to just buy the woodie car plates and place them on a neutral dinner plate.  I have loved the Better Homes and Gardens Ashmoor plates for a while and decided to finally snag them as I knew they would be the perfect neutral background to highlight the fun holiday car plates and also perfect for everyday use.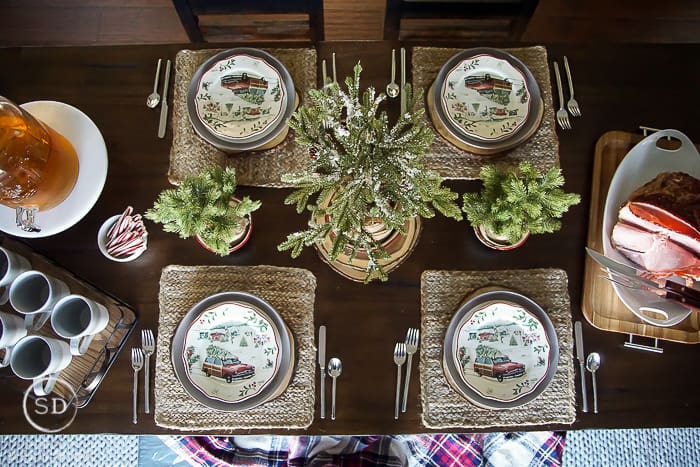 I placed both plates on top of a Better Homes and Gardens Wood Bark Charger.  Can I just say that I have been swooning over these since they came out!?  They are perfect to place under plates but they are also pretty in a centerpiece.  I stacked two wood bark chargers and placed them underneath my tree in the center of the table to add a little height, variation, texture and interest.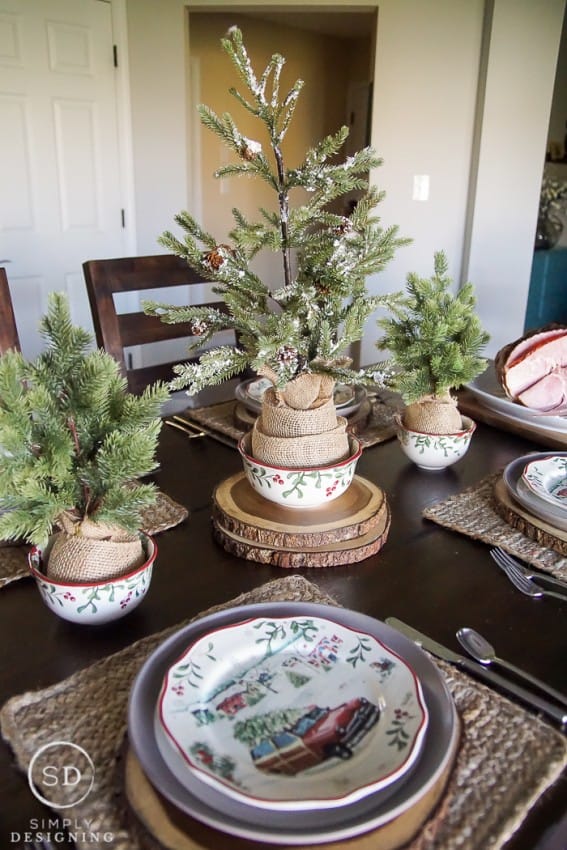 Underneath my plates and chargers are Better Homes and Gardens Jute Square Placemat in Neutral.  I love how these protect my table and add to the rustic and natural feel to the table.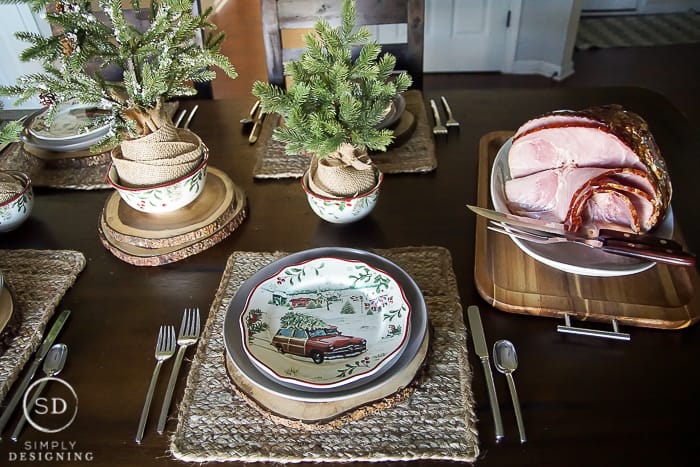 Creating a beautiful holiday table setting is all about layers which is why each place setting has a placemat, a charger, and two plates.  The layers add texture and dimension to the table and add visual interest to the space.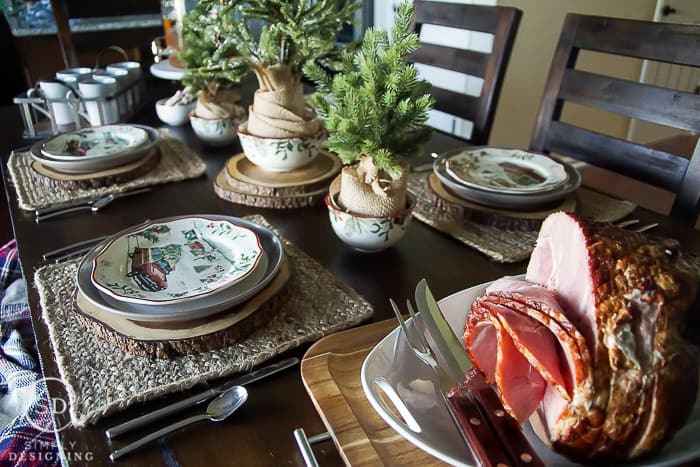 I used two Heritage Christmas Plate Collection berry bowls and a larger serving bowl to hold the Christmas trees in the center of the table and I added a bit of burlap around the trees for another layer of texture.  Using bowls instead of pots to hold plants (real or faux) is a great decorating hack and it helps keep the look of the table consistent with a fun holiday feel to it.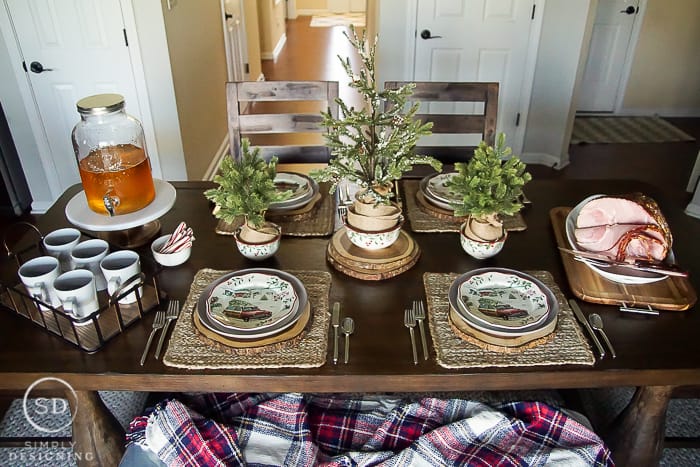 I added a small beverage area to the end of the table (we have a very long table) to keep the drinks close to the dinner.  I placed a Better Homes and Gardens 2-Gallon Beverage Dispenser at the end of the table on top of a Better Homes and Gardens Acacia Wood and Marble Cake Stand.  Pretty grey and white Color-Dipped Mugs by Better Homes and Gardens sit in a fun Better Homes and Gardens Rustic Serving Tray.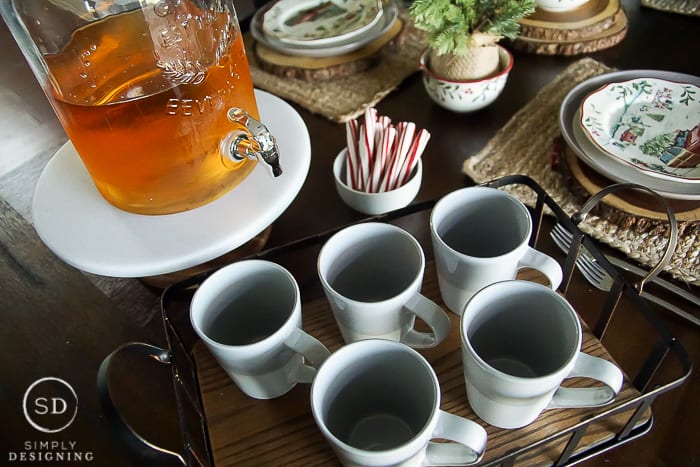 On the other end of the table I stacked this pretty Better Homes and Gardens Porcelain Oval Handled Tray in White on top of a Better Homes and Gardens Acacia Tray.  The porcelain tray is perfect for holding a holiday ham or turkey and is oven safe too!  The acacia serving tray is so beautiful and I love how they look stacked on top of each other.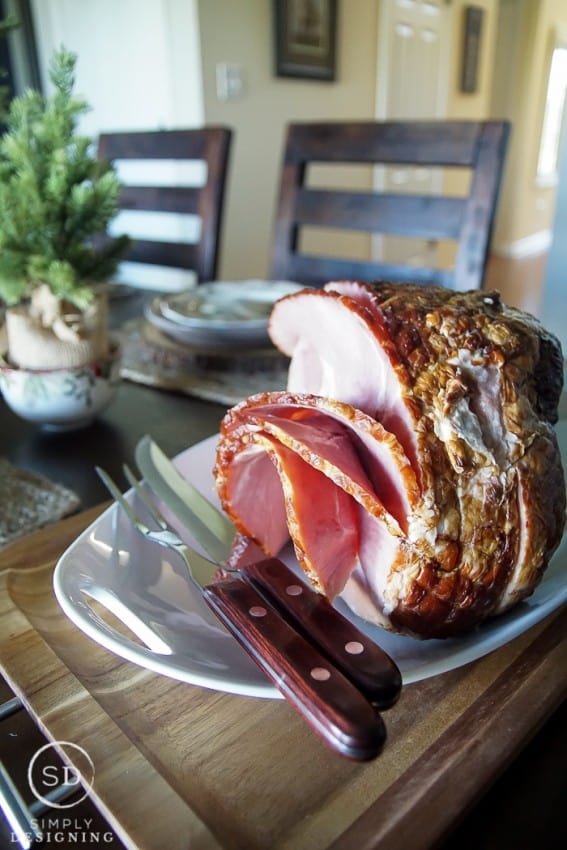 Finally, I added a beautiful plaid Better Homes and Gardens Chenille Throw in Ivory on my bench to add a touch of plaid to my holiday table setting.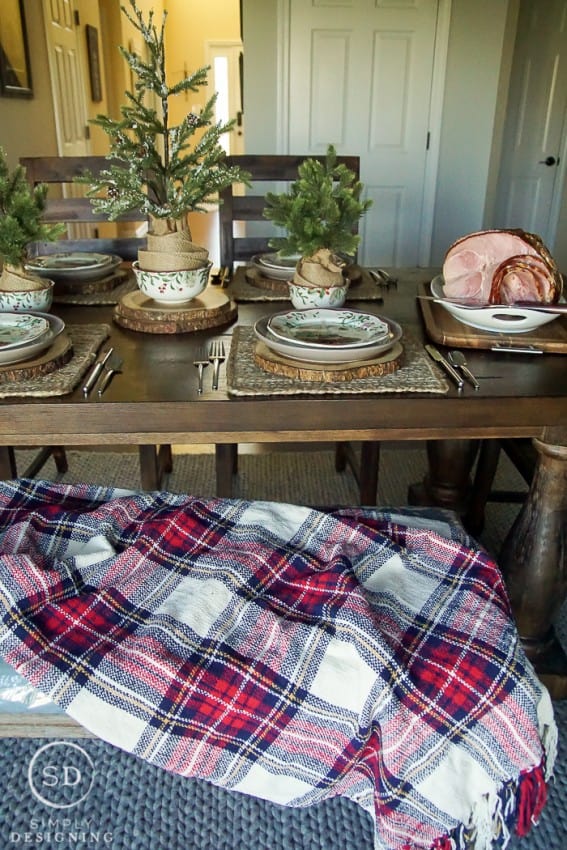 I love how fun my vintage farmhouse holiday table setting turned out!  It has a bit of vintage charm, a touch of rustic and natural textures and a beautiful holiday feel to it!  And it was so easy to create with a few items from the Better Homes and Gardens line of products sold exclusively at Walmart.  Be sure to click the links below to shop this look for your own home.
Here are a few more photos of ny vintage farmhouse holiday table setting: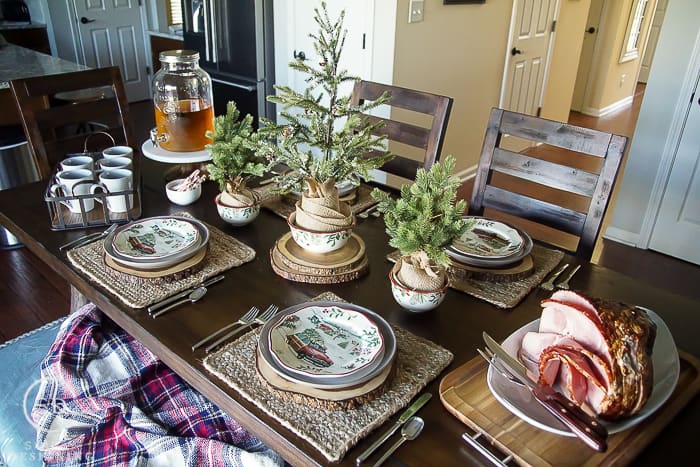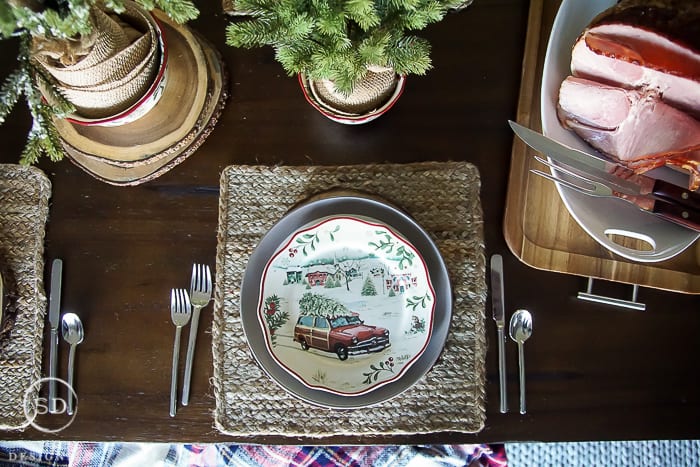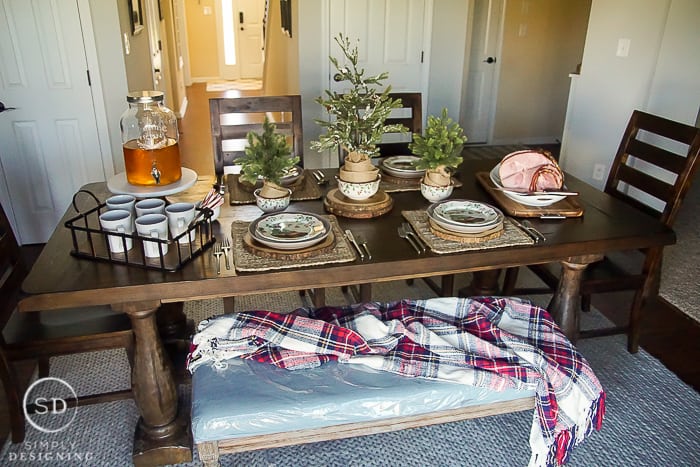 Shop This Look: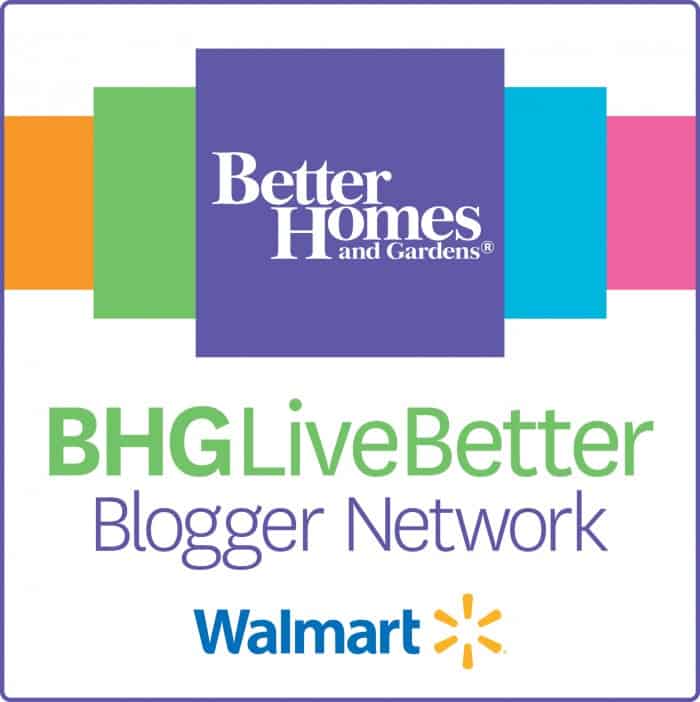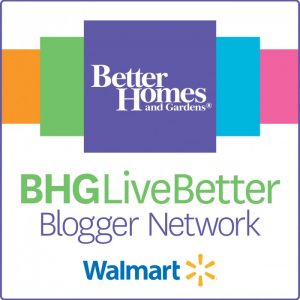 You might also enjoy: