***This might be a good post to direct your hubby or significant other to as a gentle "hint!"***
As some of you know, I have a small floral design business. I don't promote it like I should, but I have a lot of fun designing and creating flower arrangements for weddings, events and for personal use (and to give as gifts!) I have even been known to come up with excuses to buy flowers...it's a slight obsession.
I LOVE FLOWERS!
With Valentine's Day coming up, I wanted an excuse to buy flowers and create an arrangement. The excuse: teacher gifts for my daughter's preschool teachers!
Now being a part of the floral industry, I'll let you in on a secret. You know how roses always seem to double or even triple in price the week of Valentine's Day? I bet you think the florist is just raising their prices to make more money. Well, in reality, it is actually the growers who raise their prices; it's a supply and demand thing. But it means that higher prices from the source do get passed on to you. Sorry.
However, for some reason wholesale clubs seem to get around that. Perhaps they just take a big hit on their flower sales this week and lose money, perhaps they have a fabulous deal with their supplier, I don't know. But for whatever reason, if you go to Costco or Sam's Club, their roses are the same price as they are all year long: about $20 for 2 dozen. No, they are not in a pretty arrangement or a vase, but they are decent quality and look beautiful! And you can't beat that price!
So what then? What do you do with the beautiful roses you (or your significant other 🙂 have bought? You create your own, SIMPLE, EASY, BEAUTIFUL arrangement!
For this project I used:
16 roses (8 per vase) (I used the other 8 in a vase for my kitchen table!)
2 small square clear glass vases
1 large package of decorative floral rocks / gems / stones
1 small package of decorative floral rocks / gems / stones
Pruning shears (do NOT use regular scissors...you will harm the roses)
Container to mix water and floral food in
Step 1:
Mix the free packet of floral food that comes with the flowers as directed with cold water. Not enough water will create too concentrated of a solution and it will cause your roses to die quicker than they should. Too weak of a solution will not give the roses the nutrients they need...you get the point. Follow the directions, don't guess! (And use cold water, not warm. I won't bore you with the details...at least not today! 🙂
http://www.arrangingsupplies.com/mm5/graphics/00000001/crystalclear.jpg
Step 2:
Fill the vases with your decorative floral stones. Then, fill the vases nearly to the top with your water / floral food mixture.
Step 3:
Using your pruning shears, cut the rose stems at a length just slightly taller than your vase. Be sure to also cut off any foliage that will be in the water. Foliage in water = bacteria = dead roses.
Step 4:
Carefully place the rose stems down in between the decorative stones.
Step 5:
You can add a bow (I didn't for these) or just enjoy as is!
Happy Valentine's Day!
***Remember, if you have been featured, please grab my button to place on your blog!! Thanks!***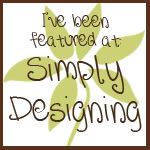 This tutorial participated in the following awesome link parties:
It's So Very Cheri

My Backyard Eden
Blue Cricket Design
The Girl Creative
The Persimmon Perch
Reinvented
Keeping it Simple
Sumo's Sweet Stuff
30 Handmade Days
Somewhat Simple
DIY Show Off
Life as Lori
Fireflies and Jellybeans
Tales from Bloggeritaville
The Shabby Chic Cottage
Remodelaholic
Silly Little Sparrow
A Soft Place
Beyond the Picket Fence
Making the World Cuter

Today's Creative Blog
My Frugal Family
Tip Junkie
Someday Crafts
Skip to My Lou