DIY Floating Wood Shelves are really easy to make! And they are the perfect shelves to build into a blank wall in a small, narrow half bath as I have. They take just a bit of patience because each cut will need to be measured out individually so that these are the perfect fit for your space, but the end result is totally worth it! Keep reading to learn how to make easy diy floating shelves yourself.

DIY Floating Shelves
Recently I shared how we installed a
herringbone tile floor
in our half-bathroom with you (see it
here
)! What I didn't tell you was that we loved them so much, that we decided to do another great project in the same bathroom! I had previously installed a little shelf above the toilet, and it was cute and fine.
But I wanted something bigger, something more substantial, and I wanted an excuse to pull out my favorite Ryobi and Kreg tools and build! So I decided to build three built-in Floating Shelves for my bathroom! In today's post I will share my shelf tutorial.
And oh how these floating shelves make my heart sing! I love love LOVE how these DIY floating shelves turned out!!
The best part about these shelves is that I actually think it makes my tiny bathroom feel bigger! Because my ceilings are high, and I added three shelves and tall decorations, when you walk into the room, the height of the shelves visually leads your eye up so you notice the height of the room. This helps it feel bigger. Which, is a great plus because it is a tiny room!
DIY wood floating shelves are a popular DIY and there are many tutorials on how to create these. I had seen and pinned this inspiration from Desert Domicile over a year ago and used it as my basis for inspiration for these built-in shelves.
Of course, I have to show you a BEFORE picture. See...my tiny little shelf!? It definitely needed to be replaced!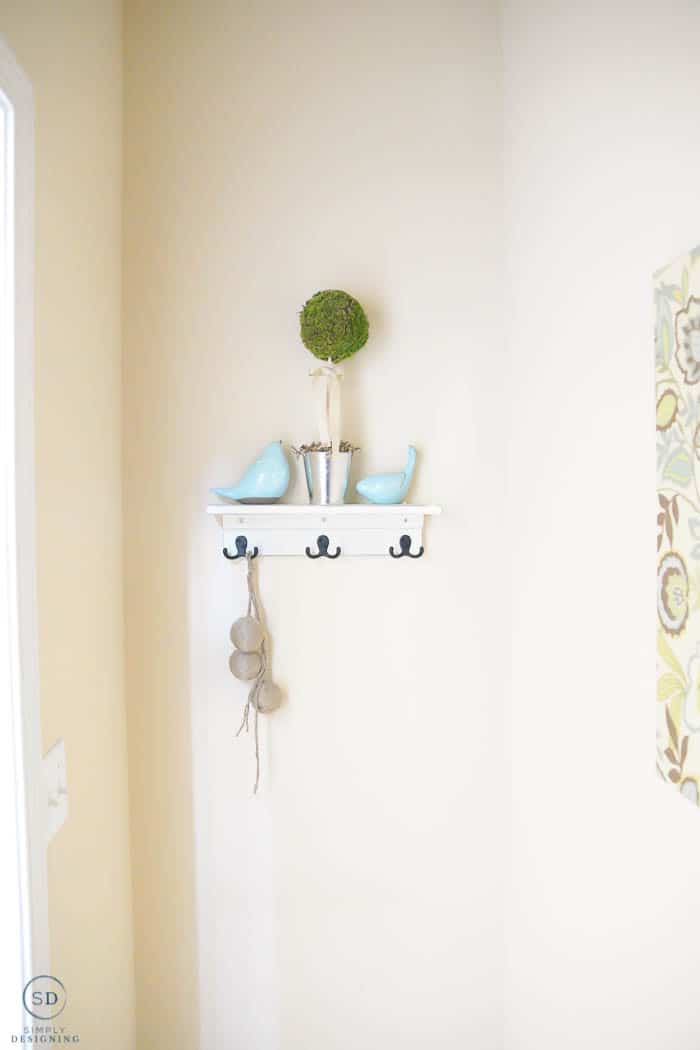 Do floating shelves need studs?
The short answer is no, floating shelves do not need wall studs. If you can attach them to studs, that's great! If not, grab wall anchors and use those to keep them secure to the wall.
How do you attach floating shelves?
There are several different ways you can attach floating shelves to provide adequate shelf support. You can use an angle wall bracket which is very easy, but you will see the shelf brackets so it's not my favorite method, and it won't make them exactly floating since you will see the attachment method. My favorite way is to build a support frame or brace and attach that to the wall first.
Basically, you will screw a board into the back of your wall. Attach it into studs if possible, if not, use drywall anchors. Then you will attach the rest of your shelf to the bracket that's attached to the wall.
Are you ready to get going with this shelf project? Ok, let's do this!
(Affiliate links included in this post to make shopping for and completing this project easier. By purchasing through my links, you never pay a penny more. Thank you for supporting my blog.)
How to Make Floating Shelves
These plans are to create (1) floating shelf that is approximately 32" long by 5.5" deep. You may need to adjust your measurements and quantities accordingly.
Supplies to DIY Floating Shelves:
2" x 3" wood, cut 32" long (or the length of your wall)
2" x 3" wood, cut into (3) 4" lengths
1" x 6" select wood, cut 32" long (or the length of your wall)
1" x 4" select wood, cut 32" long (or the length of your wall)
¼" plywood, cut 32" long (or the length of your wall) by 5.5" wide
(6) 2 ½" Kreg Jig Screws
(2-4) 3" long screws
Stain (I used Minwax Dark Walnut)
Rag for staining
Basic Tools: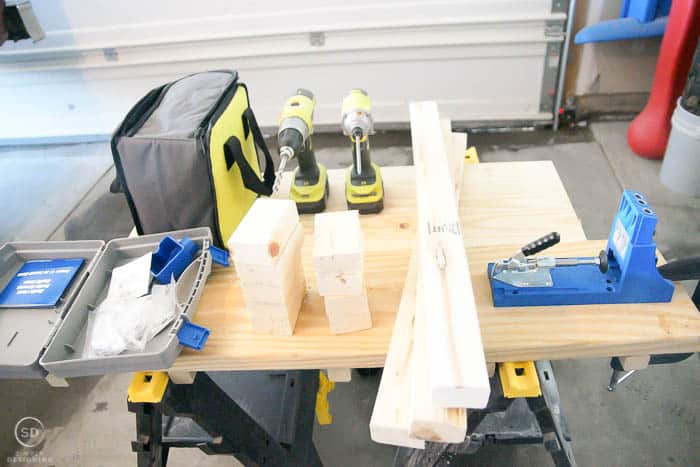 Floating Shelves DIY
See my supply list above for the cut list, to know how long to cut all of your lengths of wood. That is the first thing you will want to do.
After you cut all of your shelf lengths of wood you will start to assemble the wood frame inside your floating shelf.
A note about cutting your wood. Walls are not perfect. Let me repeat that. Walls. Are. Not. Perfect.
Every single cut I made was slightly different because the walls are not perfectly perpendicular so your best bet is to measure twice and cut once, for every single cut you make. A 1/16" difference does matter when you are creating shelves that are the perfect size to fit wall-to-wall, so take your time to measure and cut carefully.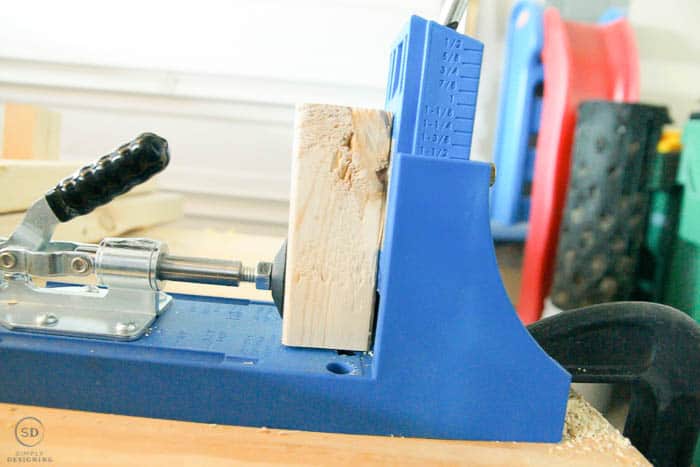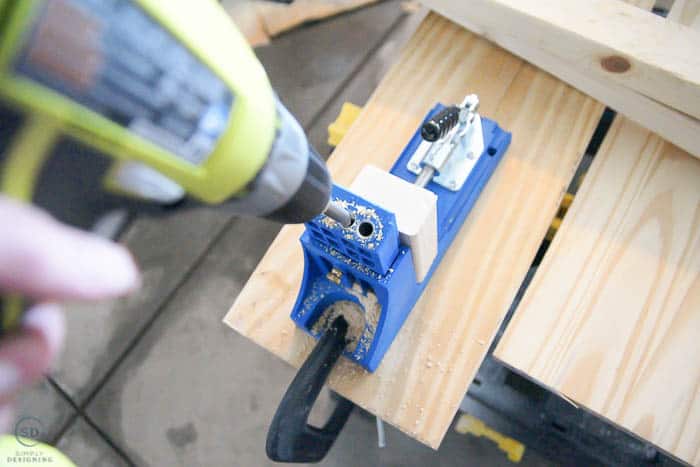 Set your Kreg Jig to 1 ½" and set your drill bit collar to the setting for 1 ½" as well. You are setting both of these to the actual thickness of your wood. And since a 2" x 3" is actually 1 ½" thick (not 2"), both of your Kreg Jig settings need to be set at 1 ½".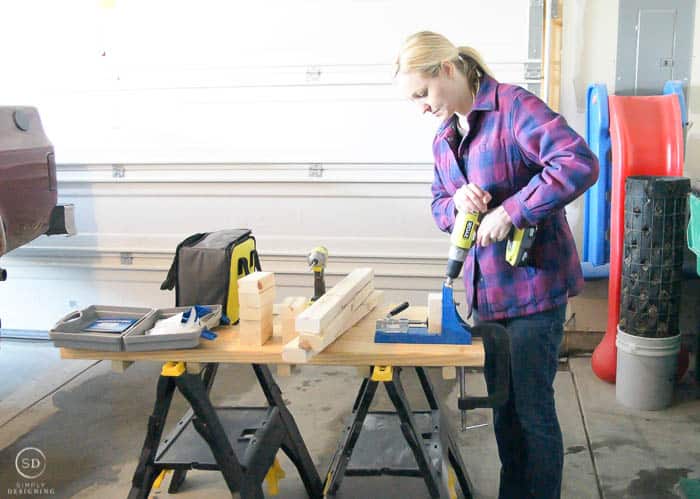 Start by drilling two pocket holes into each of your 4" long 2" x 3" pieces of wood.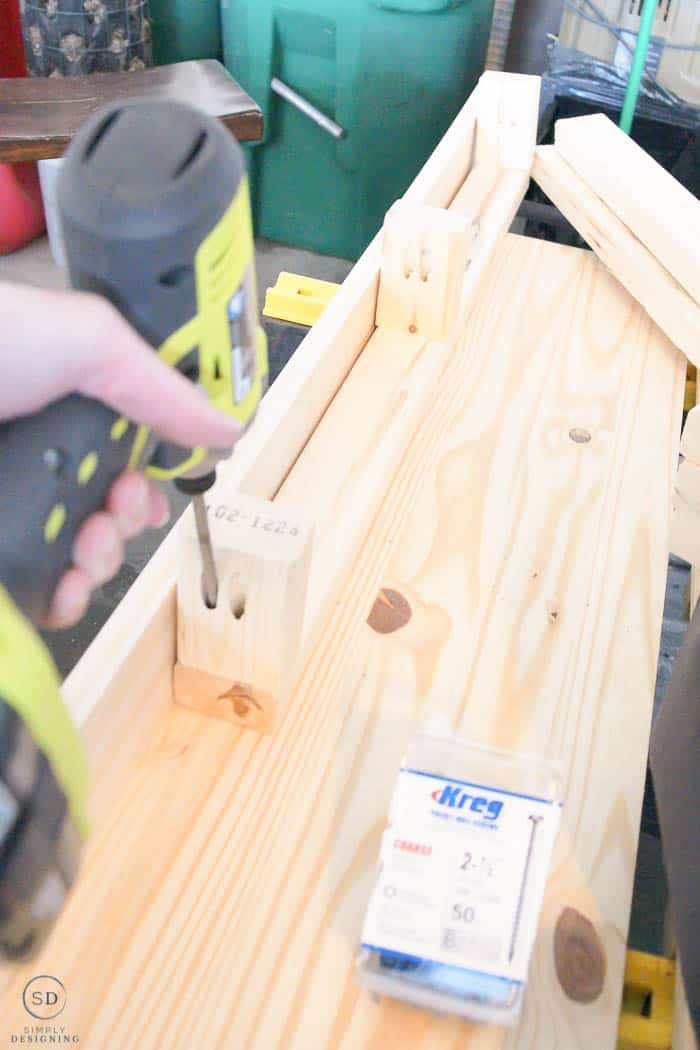 Then you will screw your 4" long 2" x 3"'s into your 32" long 2" x 3". One at each end and one in the middle-ish (no need to measure). You will basically be creating a tall and skinny E. Be sure to line the ends up well, it is a good idea to have a second set of hands if possible, but a 90-degree clamp would work as well.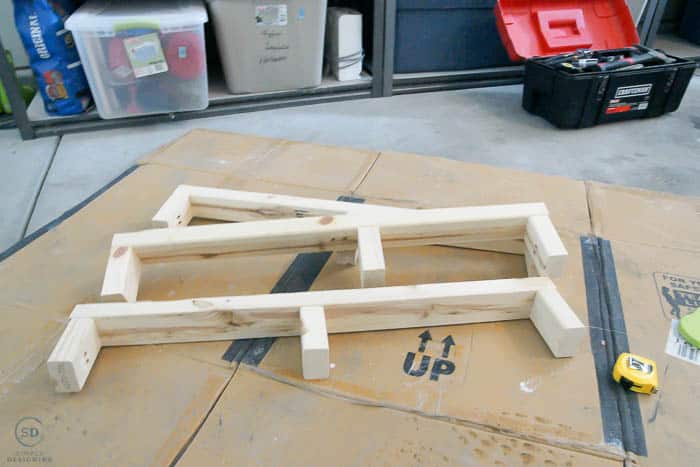 After your "E"'s are assembled, the next step is to use your drill and your 3" screws to attach the shelves into your wall. When we were able to drill into a stud we did, when we couldn't we added an extra screw for stability. I also love using wall anchors for projects like these when I can't find the location of the studs. They help add a lot of stability to the shelves. We used 2-4 screws on each shelf to secure this into place.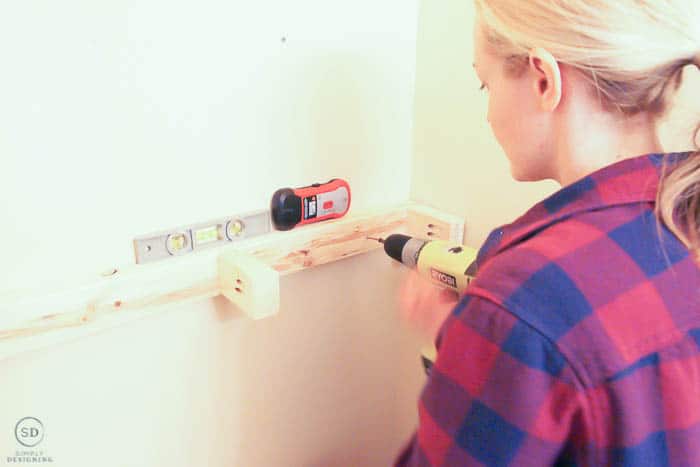 This doesn't look very pretty right now, but these will serve as the mounting plates of your floating shelves. This is what enables you to have a floating shelf with no visual supports.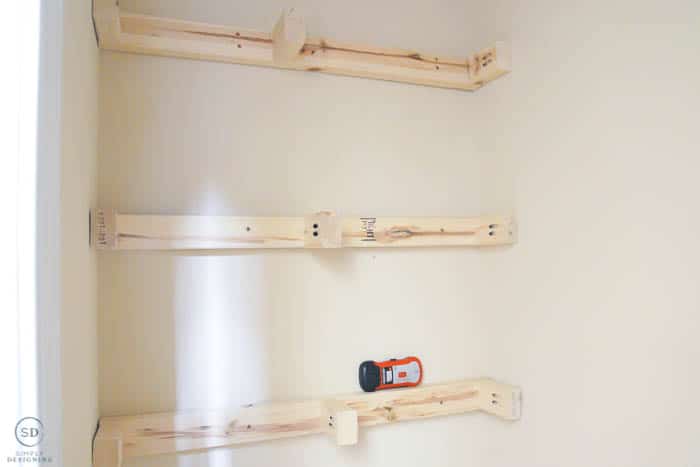 I used a table saw to cut my 1" x 6" boards as well as my plywood.
Always remember to use safety goggles and ear protection when using power tools! Also, be sure to follow all manufacturer instructions and all safety procedures. And of course, use common sense.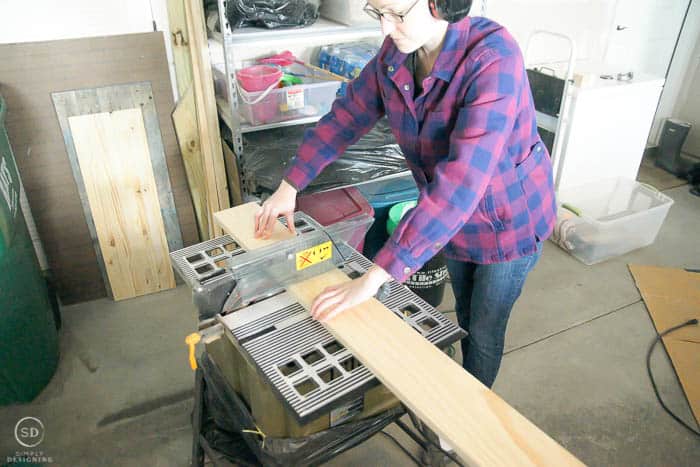 Be sure to sand the rough edges of your 1" x 6", 1" x 4" and your plywood really well and wipe them clean.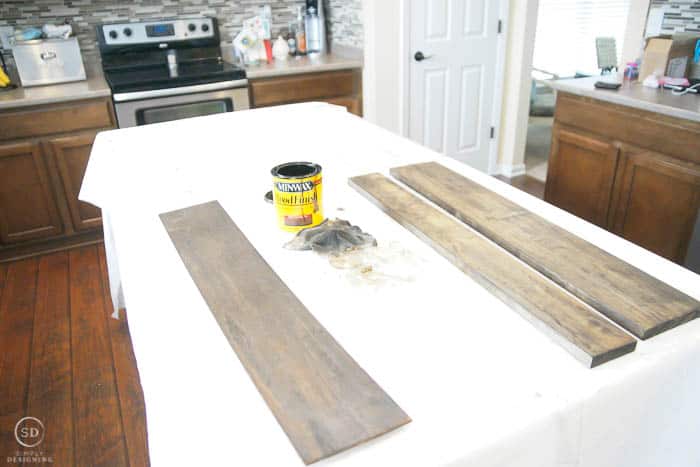 Then apply wood stain to those three boards and let them dry.
Now let's assemble the rest of the shelf. Use your Ryobi AirStrike to nail-gun your 1" x 6" board onto the top of your supports. Nail your plywood onto the bottom of your supports. And finally, attach your 1" x 4" board onto the front of the shelf!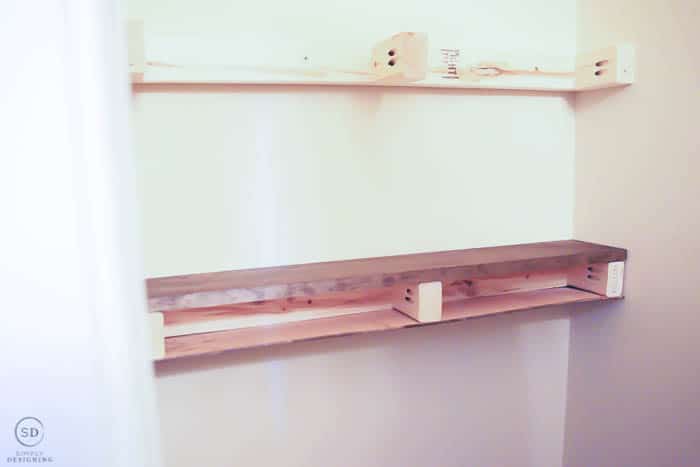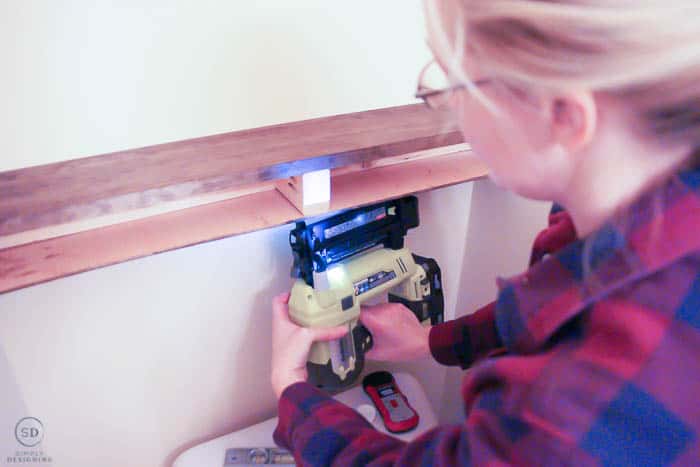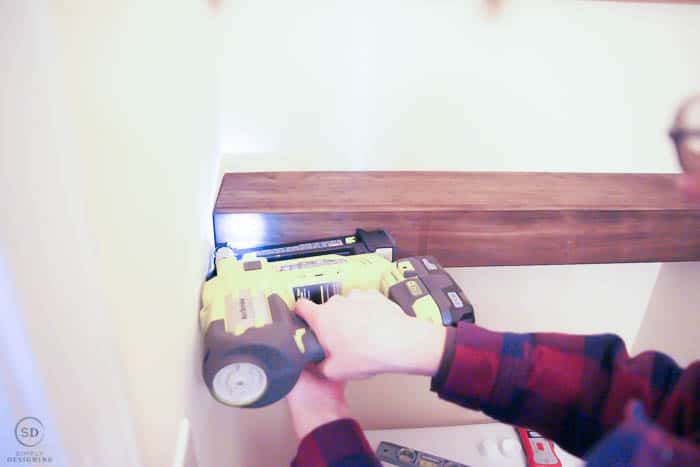 After my DIY Floating shelves were built, I couldn't wait to decorate them! I used a few items I already had at home and I bought a few new home decor items from World Market. Don't you just love that store!?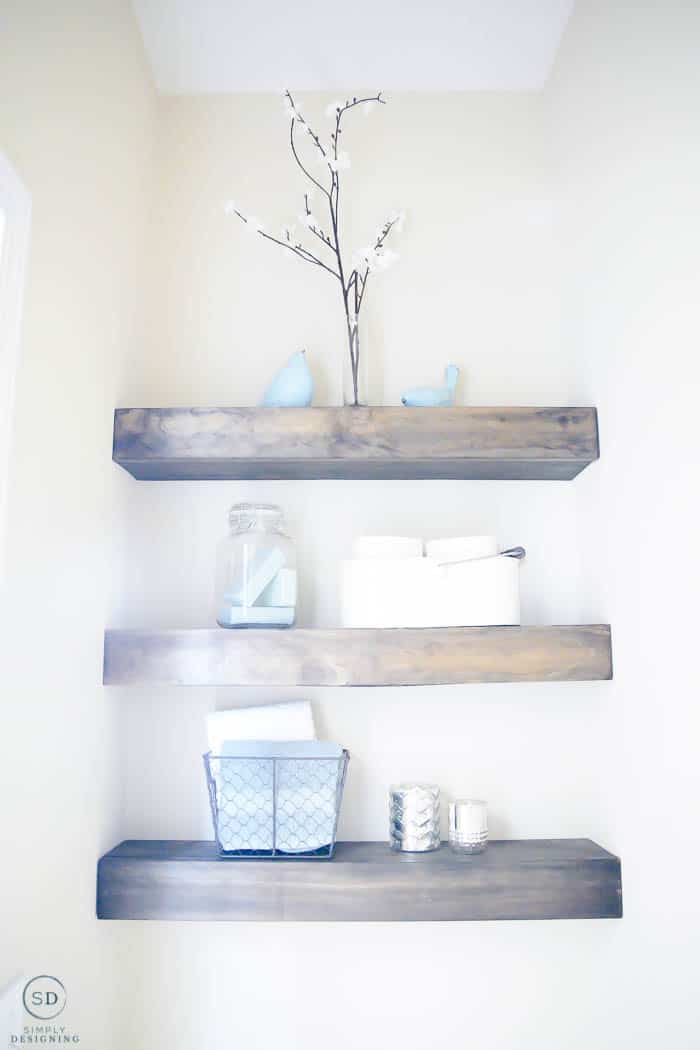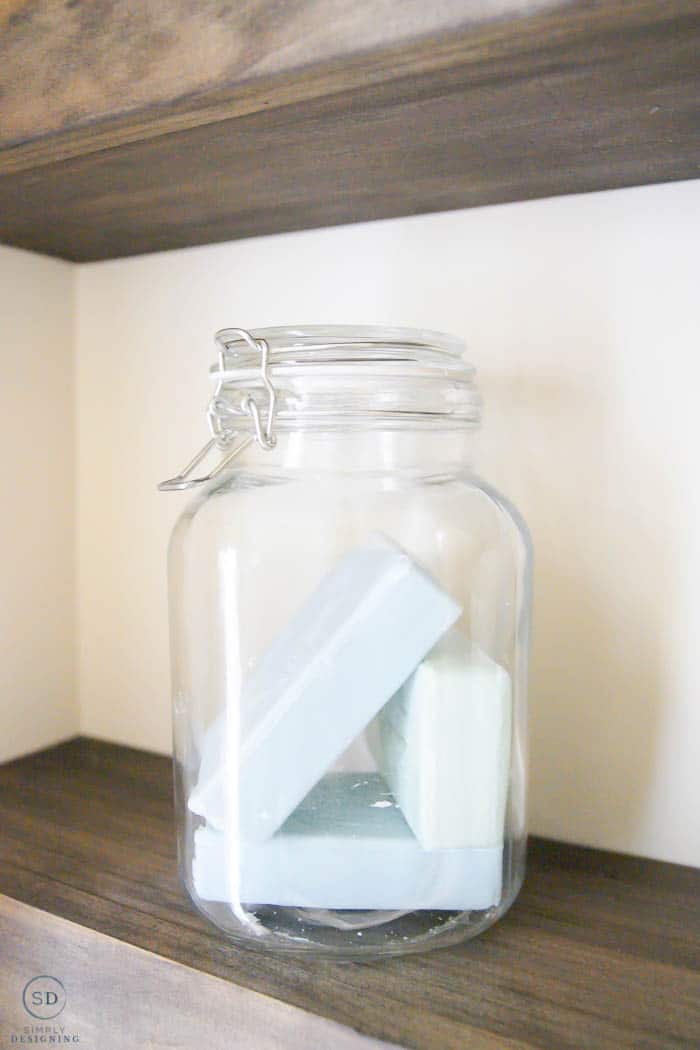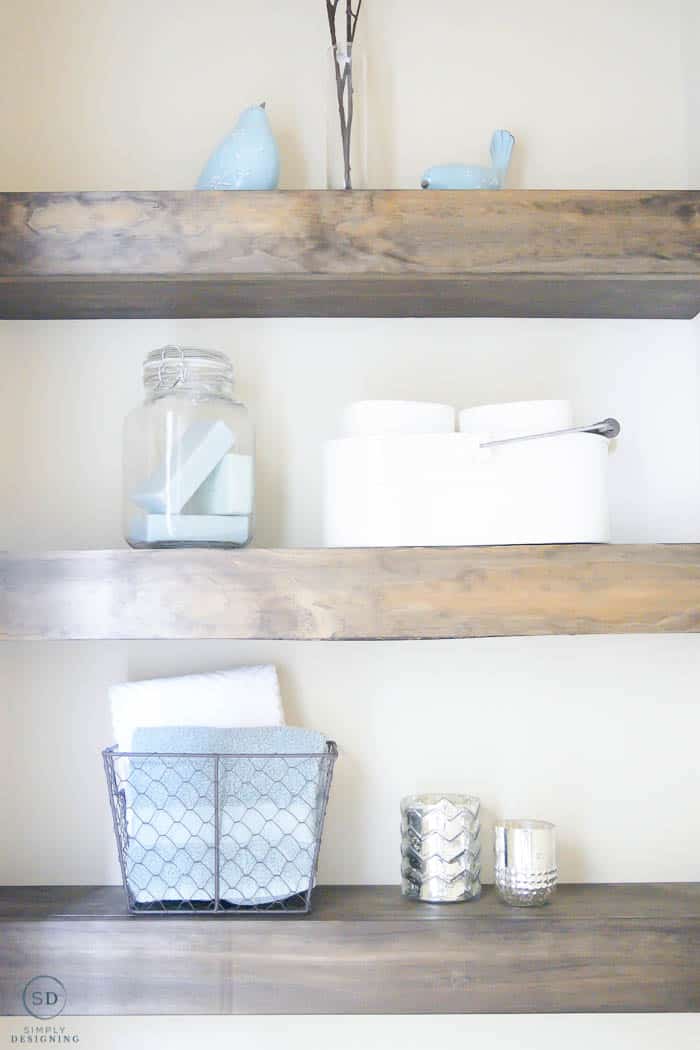 I love that when I'm walking down the hall, or when I open the bathroom door, this is my new view!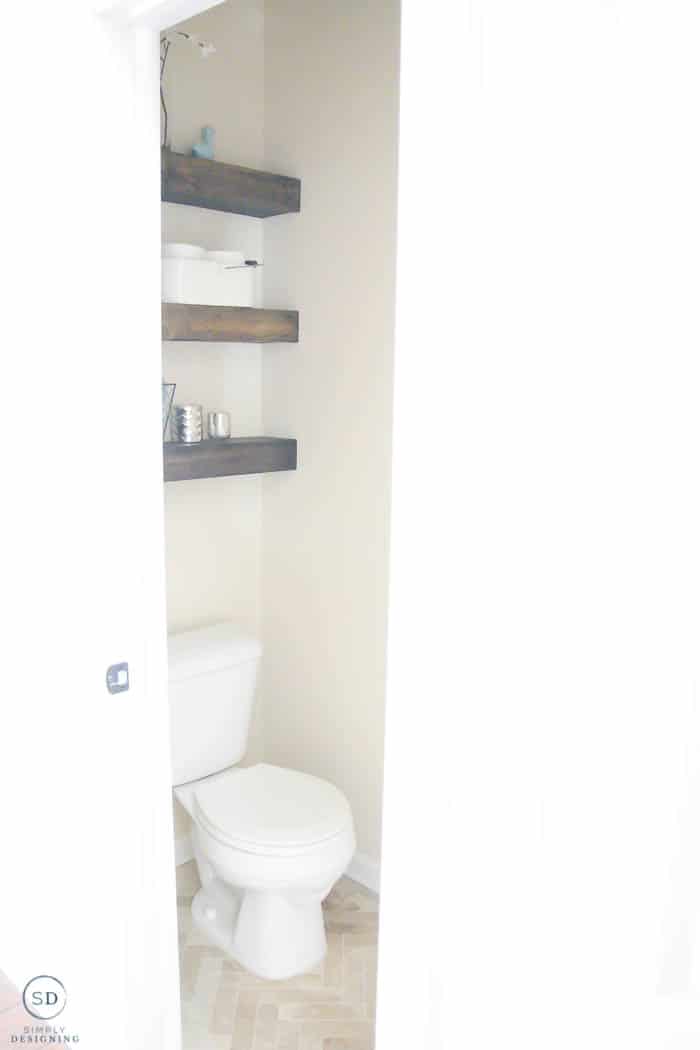 Goodness, these floating shelves turned out super cute!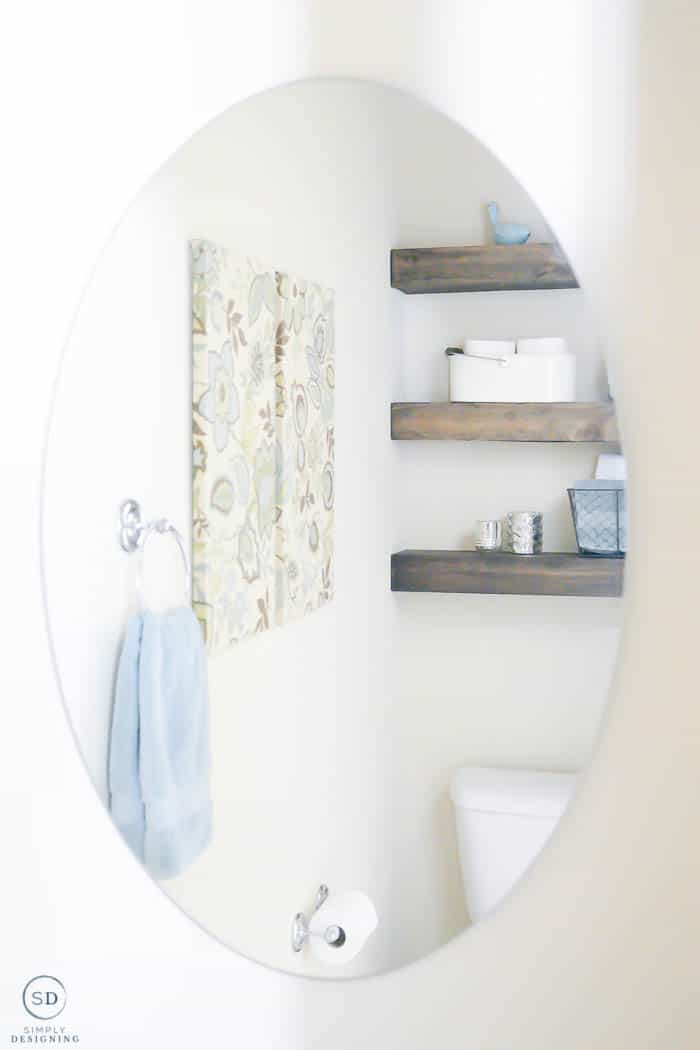 And I am absolutely IN LOVE with how my bathroom has turned out! New Herringbone Tile Floors, new DIY Floating Shelves, and new Decor! I am so excited to have someone over so I can show off my bathroom make-over!! (that's a phrase I never thought I would say 🙂
If you happen to come to my house, please feel free to take a peek at my newly remodelled bathroom! I am so proud of it and I would love to show it off!!
Here are a few other blog posts you might enjoy: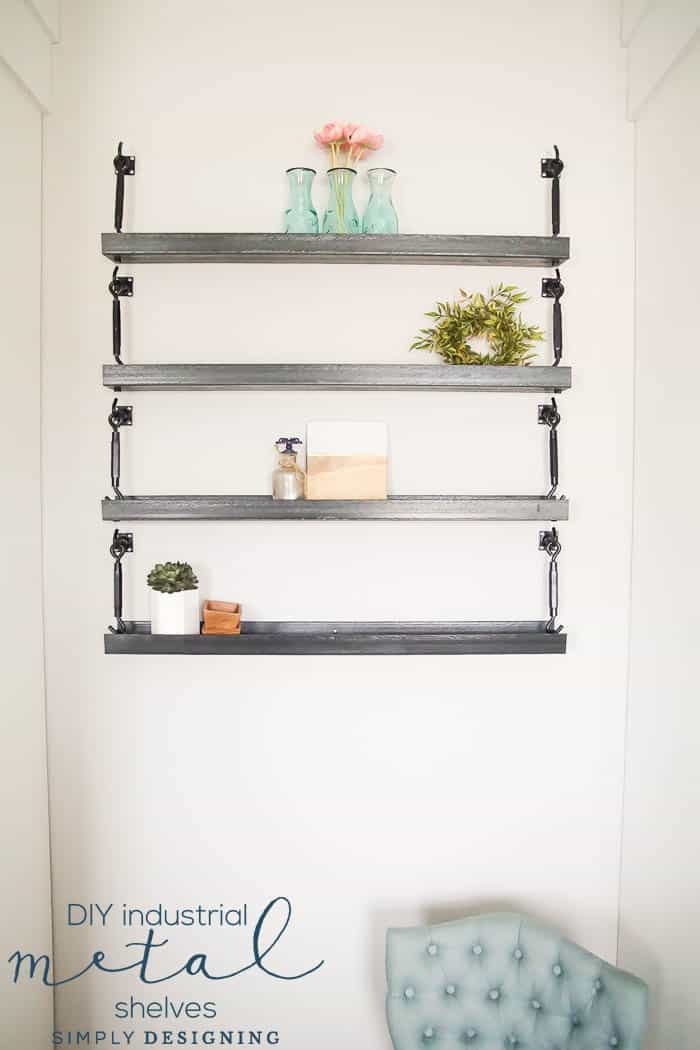 How to make Industrial Metal Shelves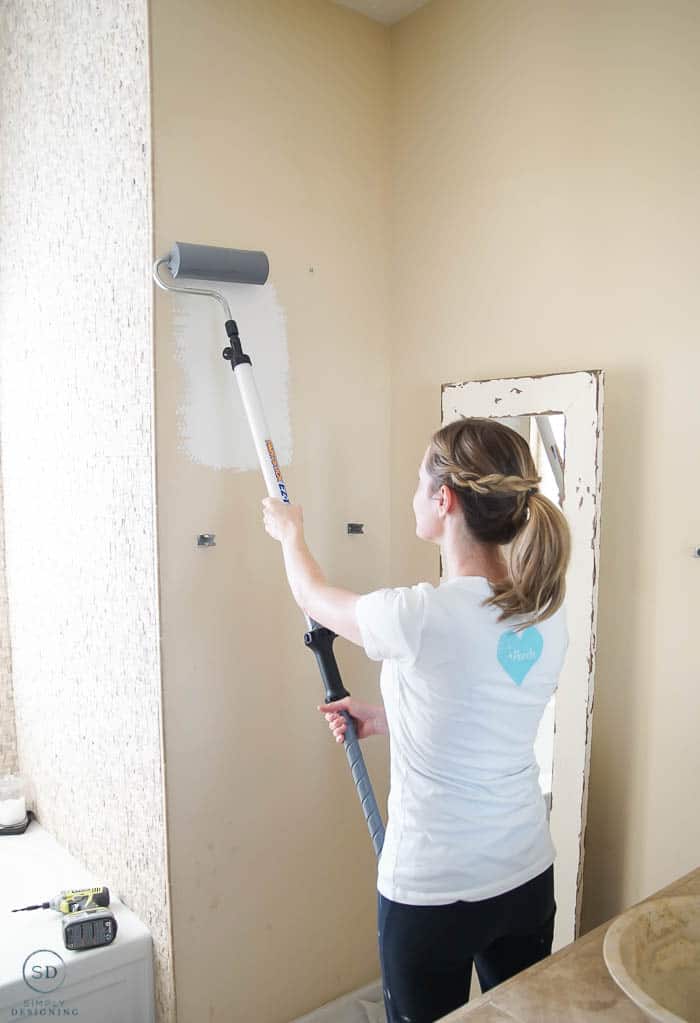 The Best Tips for How to Paint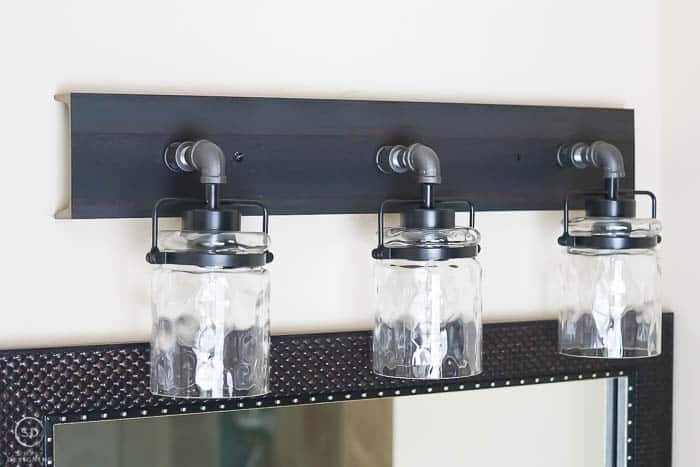 DIY Vanity Light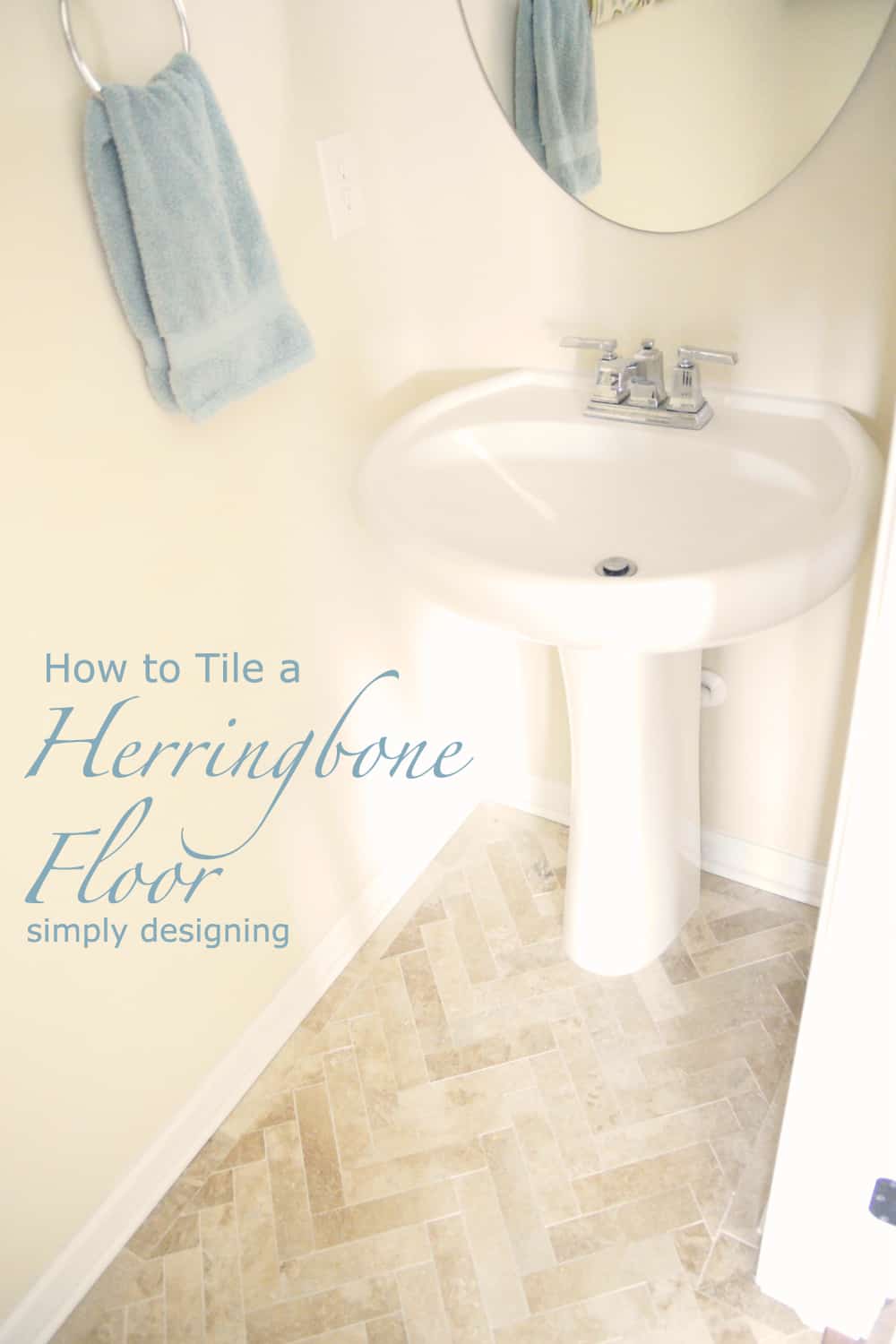 DIY Herringbone Tile Floors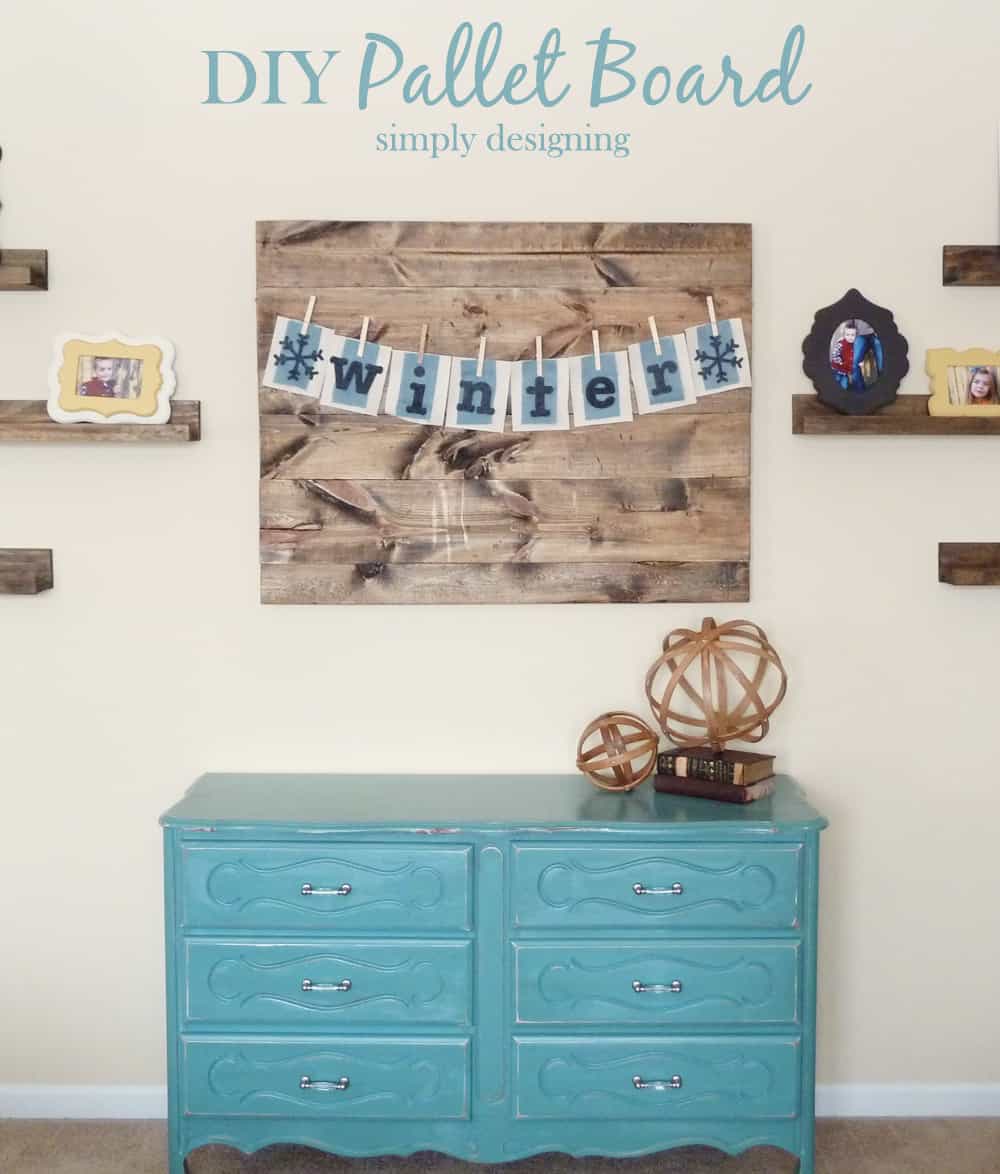 How to Build a Distressed Pallet Board