This post is sponsored by The Home Depot.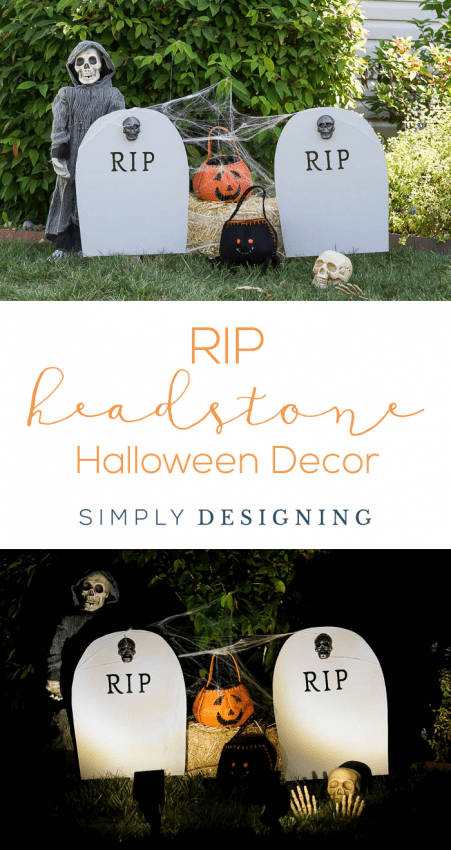 The other day I mentioned that I am collaborating with The Home Depot and their Do It Herself (DIH) workshops. And I also mentioned that I was going to create my own version of their DIY Harvest Yard Sign! Today I am really excited to share my Harvest Yard Sign with you! I decided to keep the Halloween theme going, but instead of a candy corn and a ghost, I decided to make headstones! Oooohhhh! Spooky! Ok they aren't really spooky...but they are perfect for Halloween lawn decor! And they are oh-so-easy to make and super cute too! These are the perfect way to decorate your lawn for Halloween!
DIY Harvest Yard Sign : RIP Headstone Decoration
Aren't they just so fun!? I just love decorating for Halloween and this RIP headstone decoration is just so cool.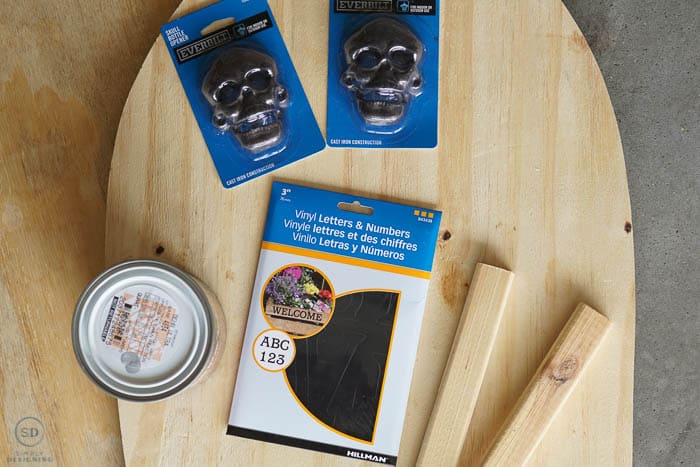 These DIY harvest yard signs are made from plywood, stakes, screws and paint! I added the skull and RIP to mine too! And I was able to create them using tools I already had on hand: jig saw, drill, clamps etc.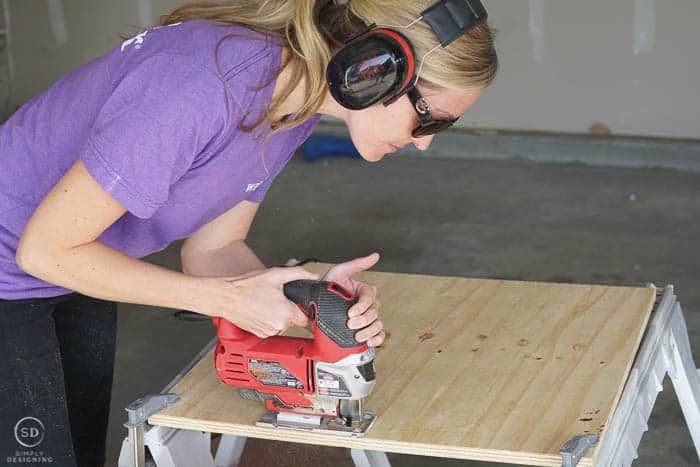 The Home Depot Do It Herself workshop is this week and if you sign up to go to the class, you will learn how to make them too! I decided to put a little twist on the candy corn and ghost though! I followed the exact same instructions though but made the shape of the wood a bit different and then painted them grey.
I cut my headstone shape out of the plywood with a jig saw. Then I sanded any rough edges down. Next I screwed a stake into the back of the headstone. Then I painted both sides of the headstone grey and let it dry completely.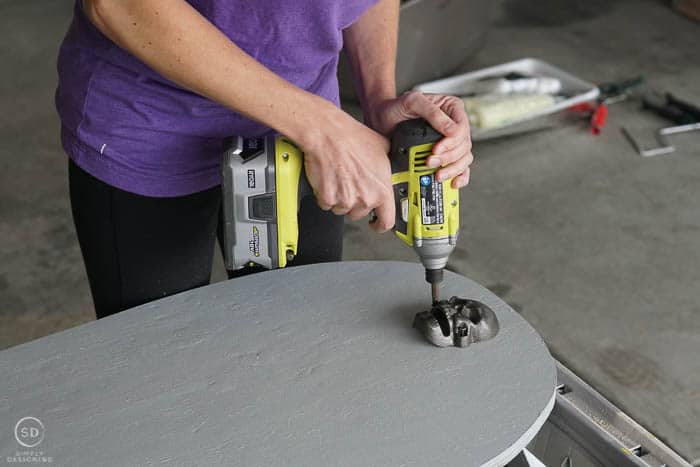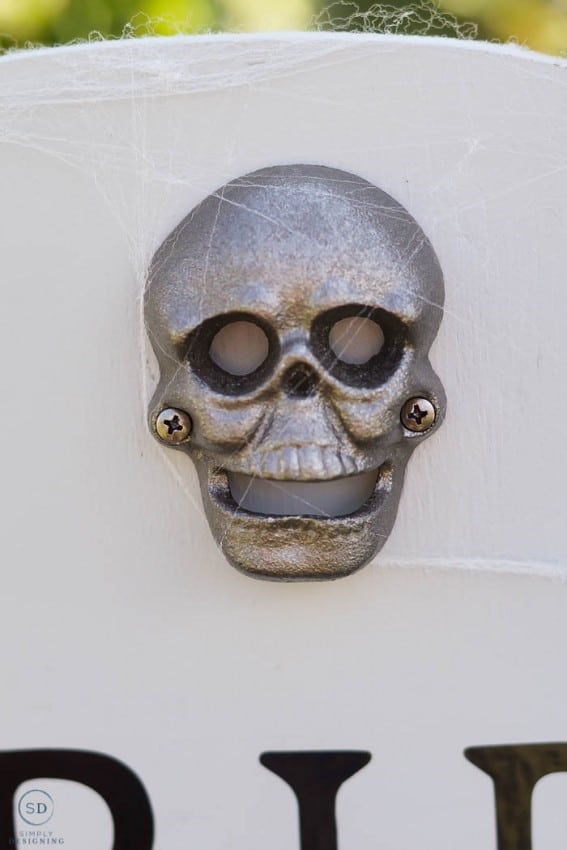 I was so inspired to turn this project into headstones because I found this really really cool skull! Oh my gosh isn't that amazing!? They are actually bottle openers...but they are the perfect way to make these fun headstones! This easily screwed into my headstone using the screws it came with and a drill.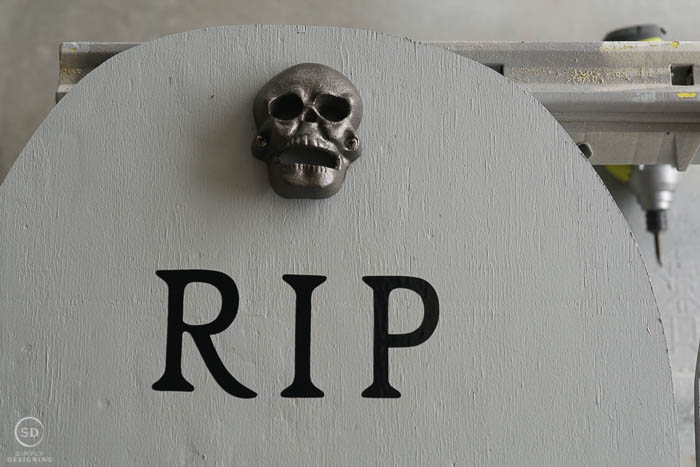 I found vinyl letters near the mailbox numbers at The Home Depot and added RIP to the headstones.
And then I took them outside to set up!
I snagged a hay bale and skeleton bones at The Home Depot too! The little skeleton dude who is standing, we bought at The Home Depot last year (but I saw similar ones there this year!) I added some spider webs (from The Home Depot) and then my kids Halloween bags that we already had on hand. I love how it all looks!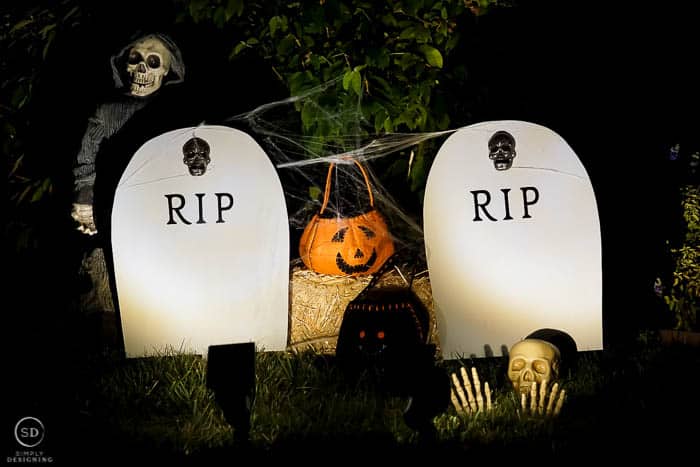 Because I wanted these to be seen at night I added two solar powered lights in front of them.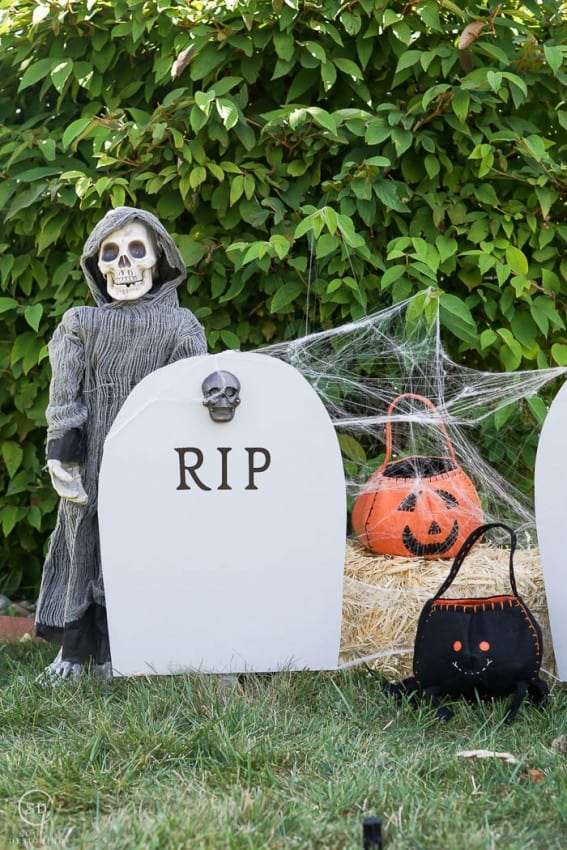 Oh man I love how these look during the day AND at night!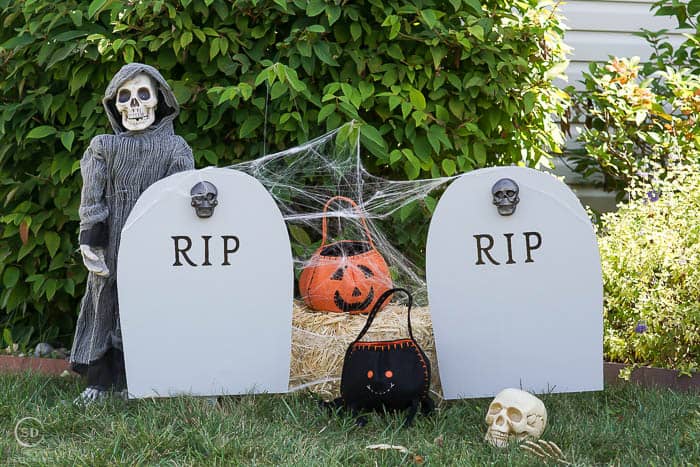 If you want to create your own DIY harvest yard sign, there is still time to sign up: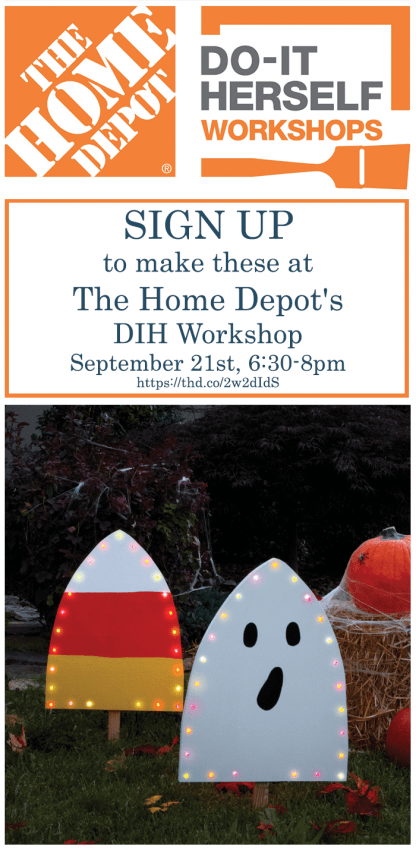 The Home Depot offers workshops for all ages and experiences levels at all of their locations. They offer Do-It-Yourself (DIY) classes, Do-It-Herself (DIH) classes and Kids classes! The classes offer a wide variety of topics from home decor to easy home repairs and even tool demonstrations! You can learn more about the classes offered at the location near you here.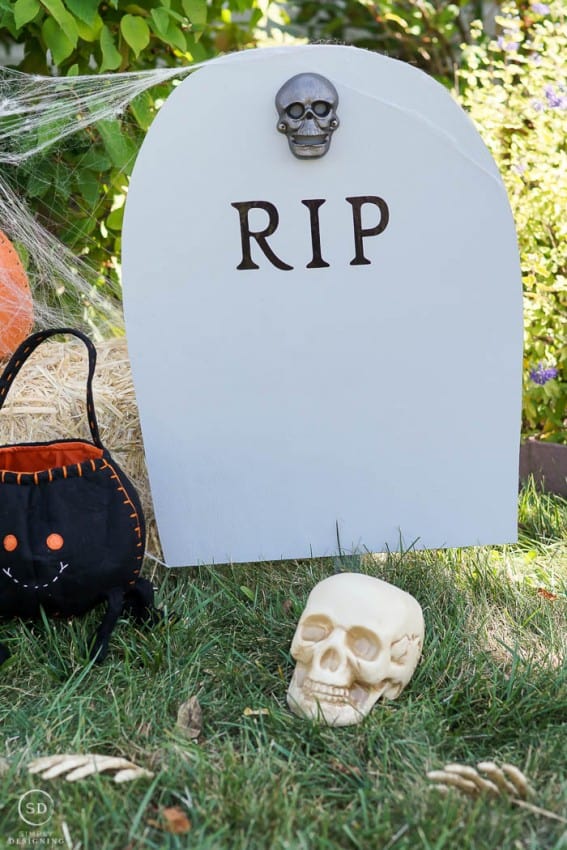 What's super fun about this week's DIY harvest yard sign is that you can totally customize it to be your own! You can make a ghost and a candy corn, a diy headstone decoration, two ghosts, whatever you can dream up, you can build! And it is a great way to spend an evening with some girl friends!
Go ahead and register to hold your spot in this really fun workshop HERE.
If you have previously attended any workshop at The Home Depot and would like to provide feedback, please feel free to use this form. Your experience and response helps The Home Depot make the improvements you want to see.
You should also check out these other versions of the Harvest Yard Sign from some of my favorite bloggers:
I acknowledge that The Home Depot is partnering with me to participate in this Workshops Program (the "Program"). As a part of the Program, I am receiving compensation in the form of products and services, for the purpose of promoting The Home Depot. All expressed opinions and experiences are my own words. My post complies with the Word Of Mouth Marketing Association (WOMMA) Ethics Code and applicable Federal Trade Commission guidelines.
You might also enjoy: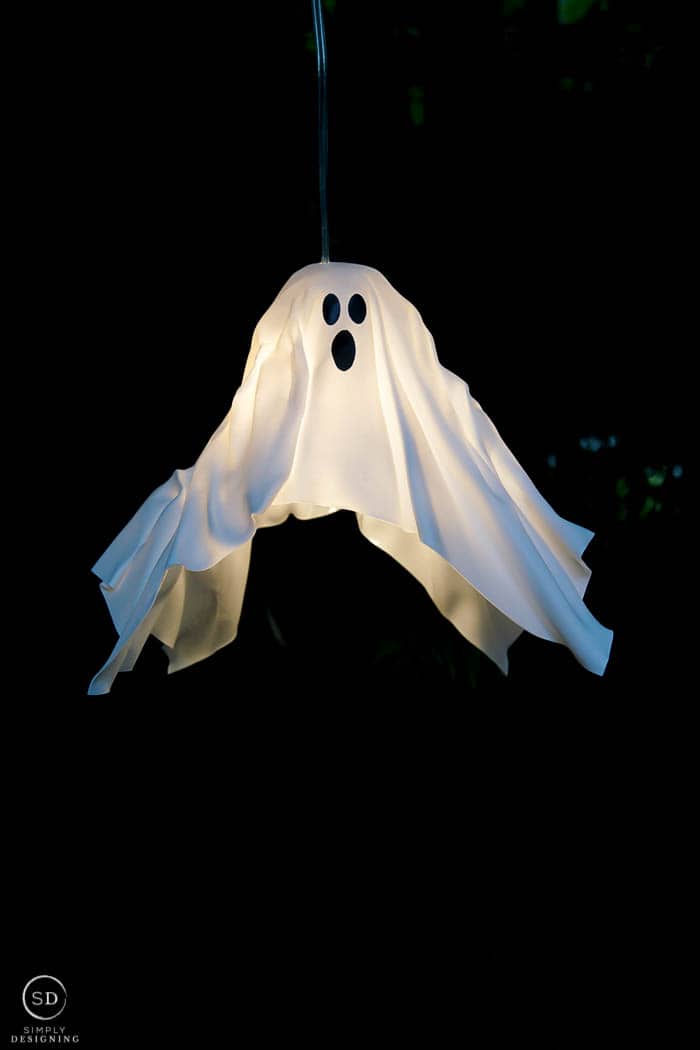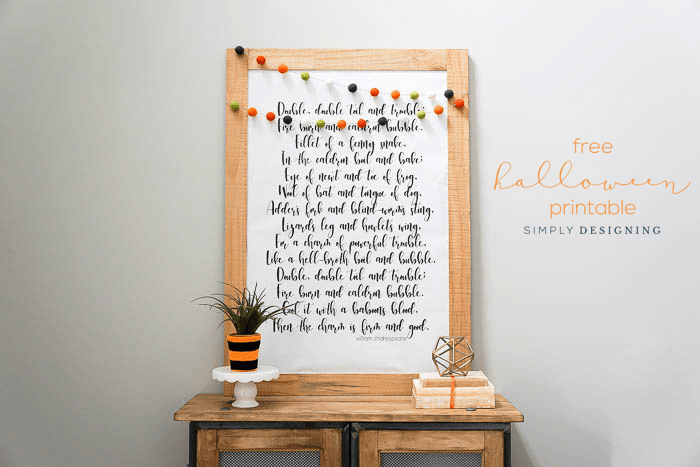 Double Double Toil and Trouble FREE Halloween Printable