I have been eyeing some beautiful industrial light fixtures and so I figured that with a little bit of pipe and a lot of creativity I could come up with a fun and completely unique DIY light fixture.  I ended up with something that fit my kitchen space and my style perfectly and I am so excited to share this with you today!
All of my longtime followers know that over the last year we worked to makeover our kitchen.  I love the transformation that it has been taking and while I still have a few more ideas in mind of projects I want to complete in this room, one of the big things on my list was that I wanted a pendant light over my island.  After several unsuccessful attempts, I finally decided to make my own!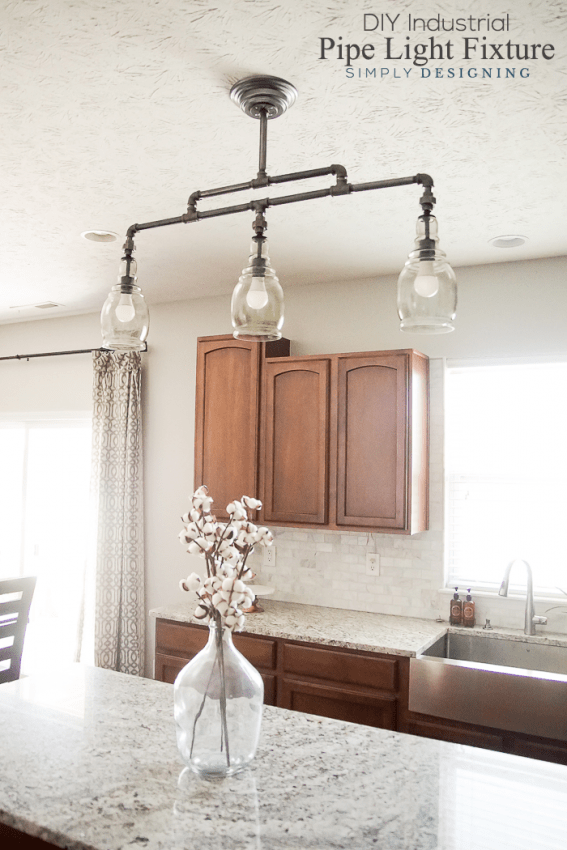 This post is sponsored by The Home Depot.
I will admit that I am super crazy in love with this Industrial Pipe DIY Light Fixture and I gladly show it off to anyone who knocks on my front door.  It just fits my kitchen, fits my style and makes a statement without being too overwhelming in the space.
While I think my kitchen is a nice sized kitchen, it is definitely rectangle in shape.  We have brought home many lights for this space that just didn't fit well.  They were too big, or too small and we struggled to find one that was just right.
But the great thing about making your own DIY light fixture is that you can customize this to fit your space!
If you need it longer, wider or even need it with more (or less) lights, you can totally do that!  This is such a fun project because you can make it your own to fit your space perfectly!  This is one of the big reasons I love doing things myself.
A few Tips for Creating your own DIY Light Fixture:
Start with a plan in mind, know the basic size and shape you want the fixture to be
Decide on materials ahead of time
Try to plan out as much of your product list before heading to the store
Head to the store with your plan, dimensions and product list in hand
Be flexible as you may have to tweak your final size and shape depending on availability of products
Don't be afraid to be bold and create something that is uniquely your own
Ensure that you are only using products, materials, and finishes that are SAFE to use for a light fixture
Hire a professional electrician if you are not comfortable with any of the electrical portions of creating or hanging your own light fixture.  It is very important to always follow local building codes and hire professionals as needed.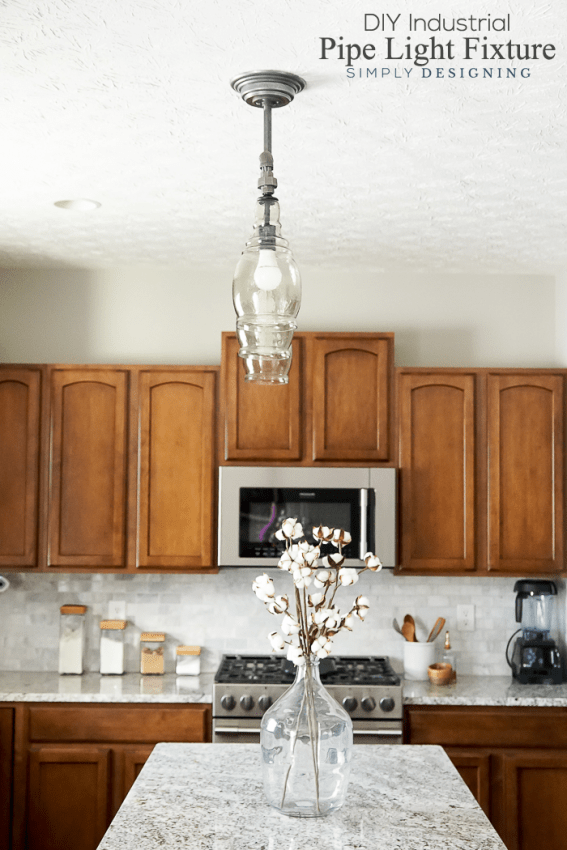 And the really cool thing about this project is that I used pendant lights I bought so I did not need to do any complicated light wiring.  I used pipe pieces to create my shape and then strung pendant lights through it.  So if you don't love this exact glass or light fixture that I chose, find one that you DO love and use that instead!  See?  Another way to customize this project just for you.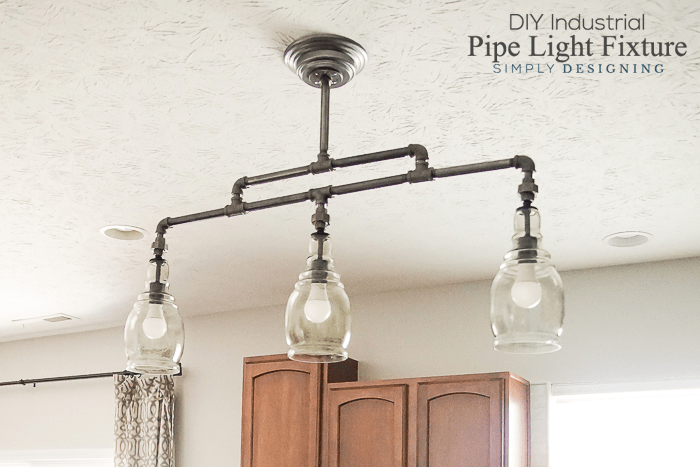 To create this DIY light fixture you will need several items including the following:
(I give links and specifics in the full blog post on The Home Depot Apron blog see link below)
LDR Pipe Decor, Unions
LDR Pipe Decor, Connectors
LDR Pipe Decor, 90 degree Elbows
LDR Pipe Decor, Tees
LDR Pipe Decor, Flange
Mini Pendant Lights
Recessed Light Converter Kit for Pendant Light
Spray Paint
Cree LED Light Bulbs
Gloves
A second set of hands 🙂
I bought all of these items from The Home Depot, and you can snag them online too.
One thing to keep in mind when working with a pipe is that it can get a little messy.  I love to wipe all of my pipes off first with baby wipes or wash them with warm soapy water before assembling them.   If you have a lot of pipe pieces, it can be easiest to just fill your sink with warm soapy water and wash them all at the same time.  Please be sure to let everything dry completely before assembling this!  Sometimes I also wear gloves too because it can just get a little dirty.  The LDR Pipes actually come pretty clean though, so that was really a nice surprise! And while it looks like it could be complicated, it is actually really easy!  Like so super easy!
I walk you through each and every single step of how to make this DIY Light Fixture over at The Home Depot Apron Blog.  Really!  Hop on over and check it out HERE.
I have created several projects before using pipe, but for this project, I used LDR Pipe and loved it! LDR not only sells nice black pipe, but they also sell Pipe Decor Kits!  So if you are new to using pipping, one of their kits might be a perfect way to start!  Their kits come with everything you need to create your own home decor item and they are all so fun.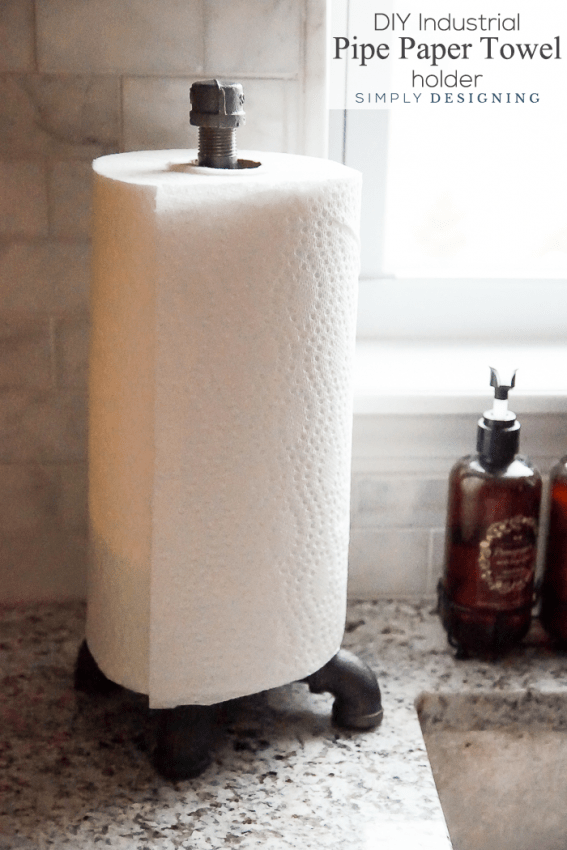 While I was at The Home Depot picking up supplies for my industrial pipe light fixture, I picked up one of LDR's Pipe Decor Kits for a Paper Towel Holder!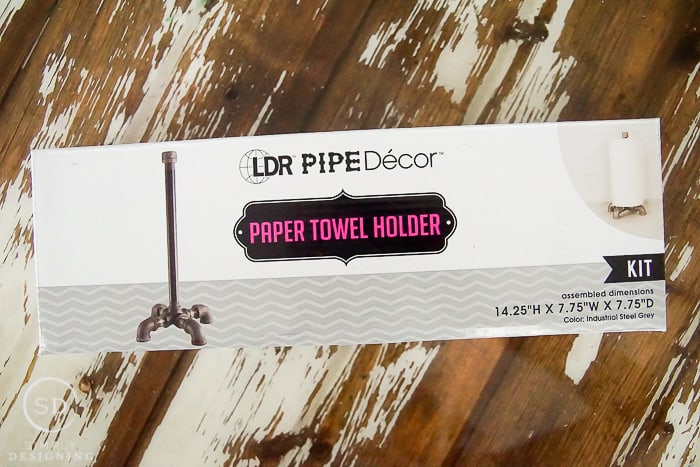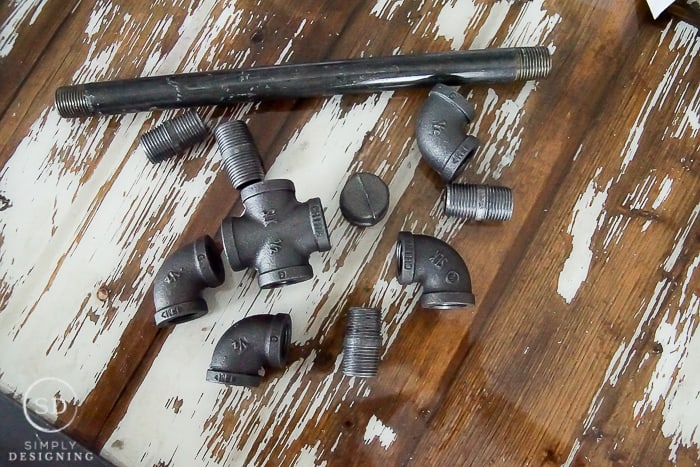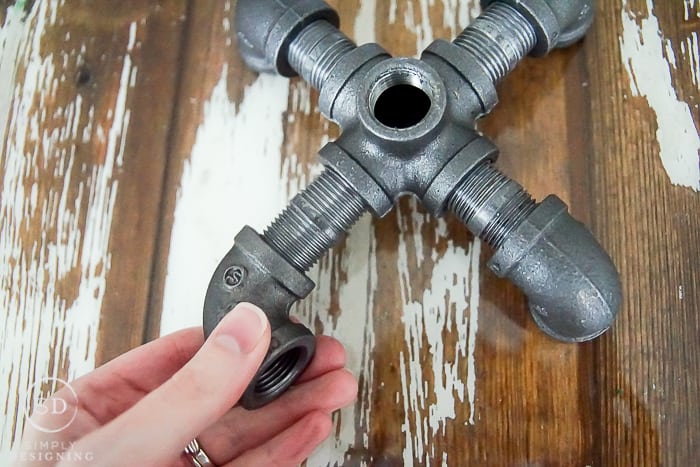 I put this together, by myself, in about 5 minutes!  No tools needed.  I just followed the instructions the kit came with and it went together quickly and easily.
And doesn't it look awesome!?  I just love it!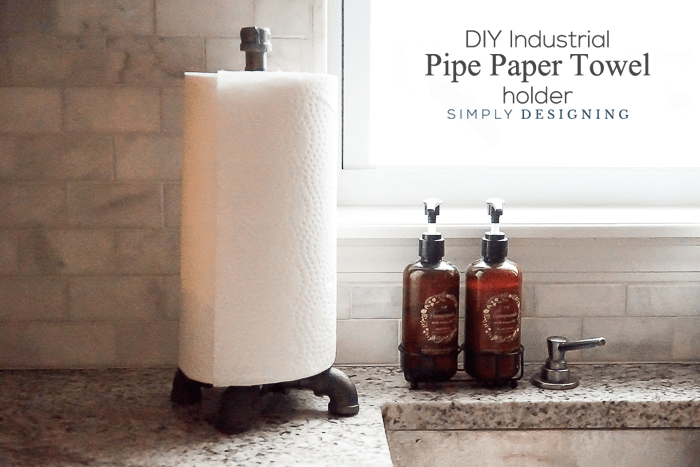 You can also check out more posts about my kitchen HERE. 
I acknowledge that The Home Depot is partnering with me to participate in this Pipe Decor Program (the "Program").  As a part of the Program, I am receiving compensation in the form of products and services, for the purpose of promoting The Home Depot.  All expressed opinions and experiences are my own words.  My post complied with the Word of Mouth Marketing Association (WOMMA) Ethics Code and applicable Federal Trade Commission guidelines.  
You might also enjoy: