This is a sponsored post written by me on behalf of Devine Color for IZEA. All opinions are 100% mine.


In our bedroom we have a chair. I love that chair. I read in it. I feed my baby in it. It is an often used, well loved chair. But for a long time I have been wishing I had a modern end table beside it. Somewhere to set my book or a drink. And so after a lot of stewing and brainstorming I came up with a fun plan to build my own DIY modern end table and chatbook holder. Yes, that's right, this end table also doubles as chatbook storage or any other small book storage, or just a fun place to put some unique decor items. Really the options are so endless! This is the perfect little end table and it fits perfectly in my bedroom next to my cozy little chair! And today I am excited to show you how to make your own DIY Modern End Table and Chatbook Holder.

The great thing about this modern end table is that you can truly modify this to meet your needs. If you need it a little smaller, taller, longer, wider you can totally do that! Just tweak the measurements to fit your space and your needs! If you have something else you want it to hold instead of photobooks, you can tweak the sizes to fit that as well! The options are really endless!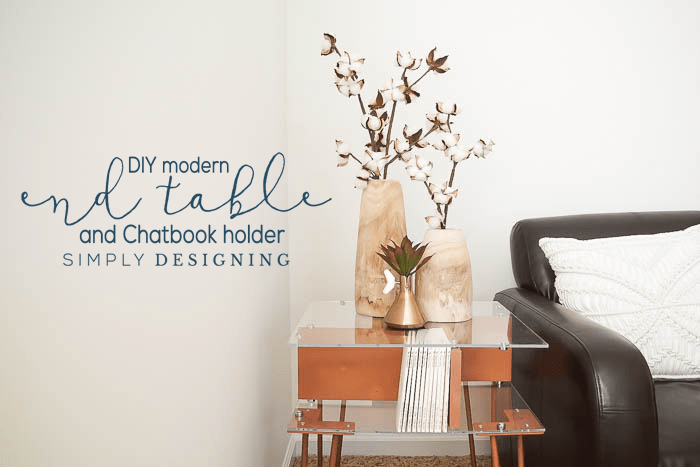 When I was designing this little end table in my head, what I really wanted was something fun, unique, modern and in a color that was different and fun! I was hoping for a metallic but not just any metallic, I wanted COPPER! Yes. Copper! I just adore copper! It is such a warm and beautiful metallic and when I found Copper Spray paint from the Devine Color line at Target, I knew this would be the perfect color for my table!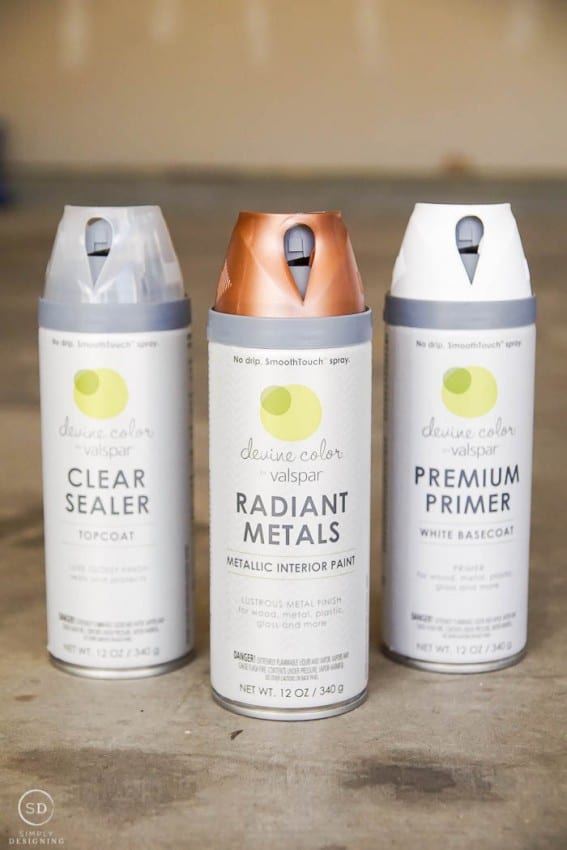 I love shopping at Target and I really love that while I am in the store already, I can quickly grab a can of paint or spray paint from their exclusive Devine Color brand. In my store this is located in the Home Improvement section near the light bulbs and other home improvement items. I chose Devine Metallic Copper for this project and I really do love how it turned out. I also used a Devine Primer and a Devine Clear Coat both in spray paint. And I love how the color choices available work really well with the decor options available at Target.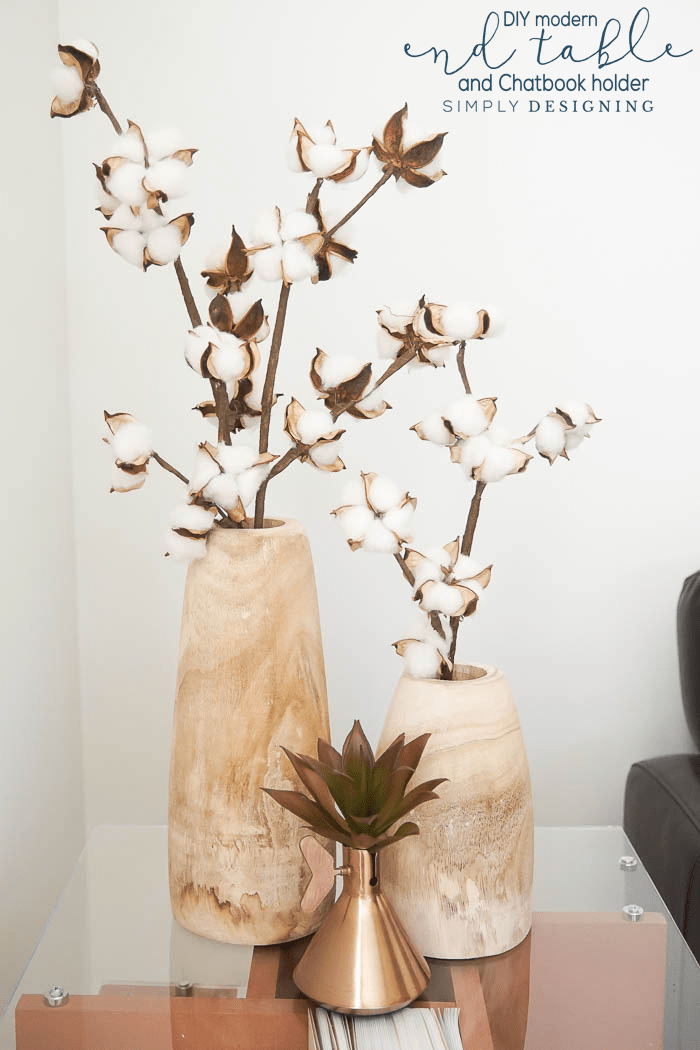 Since I grabbed my paint for this project at Target, I also grabbed two really cool wood vases, a copper candle holder and a succulent as well! I used some cotton stems I already had at home in the wood vases and then placed the succulent into the copper candle holder and it makes my new end table so pretty! I also grabbed a fun macrame pillow to put on my chair too! I love how it all coordinates and looks great together!
DIY Modern End Table and Chatbook Holder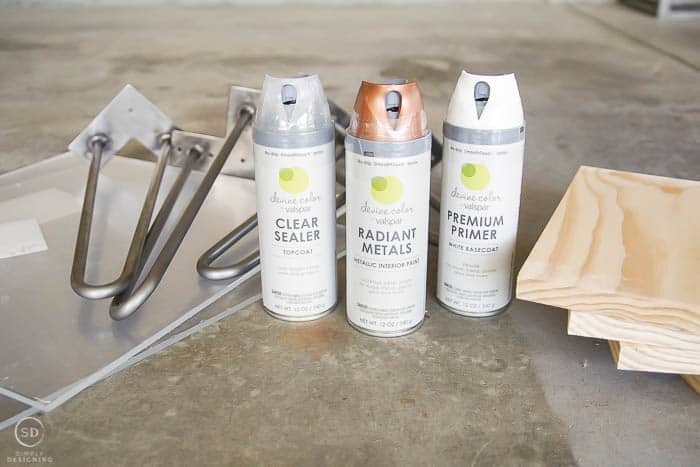 Supplies You Will Need:
(2) sheets 18" x 18" x ¼" Plexiglass (Pro tip: if you can't find it pre-cut in this size, ask the hardware store to cut it for you!)
(4) 16" Hairpin Legs
1" x 6" x 6' Wood Board
(16) ¼" x ¼" Chrome Spacers
(8) ½" Screw Post
(8) #8 1 ¼" Wood Screws
(12) #8 Lock Nuts and #8 ¾" Screws
Wood Glue
Nail Gun with Brad Nails
Compound Miter Saw
Electric Sander
(2) cans of Devine Color + Target Metallic Copper Spray Paint
(2) cans of Devine Color + Target Primer
(1) can of Devine Color + Target Clear Coat
Instructions: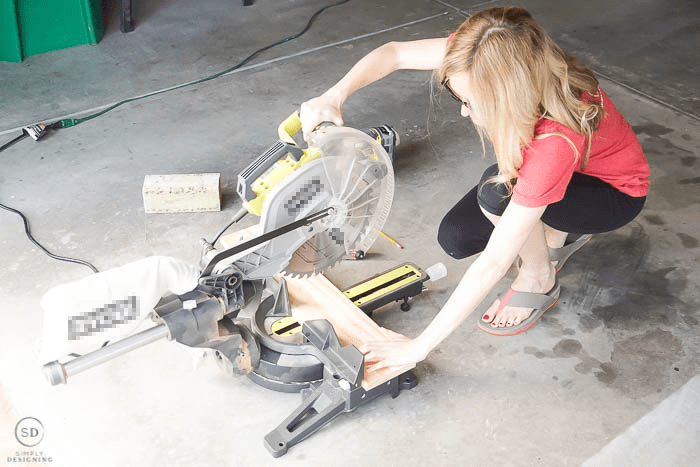 *Remember to always follow manufacturer instructions when using any tools or supplies. Please wear and use appropriate safety gear and follow all safety guidelines, especially when using tools.
First we used our compound miter saw to cut the wood into (4) 11 ¼" lengths.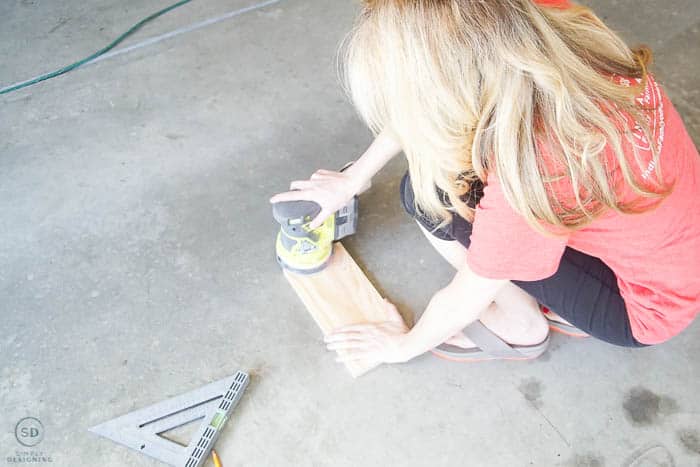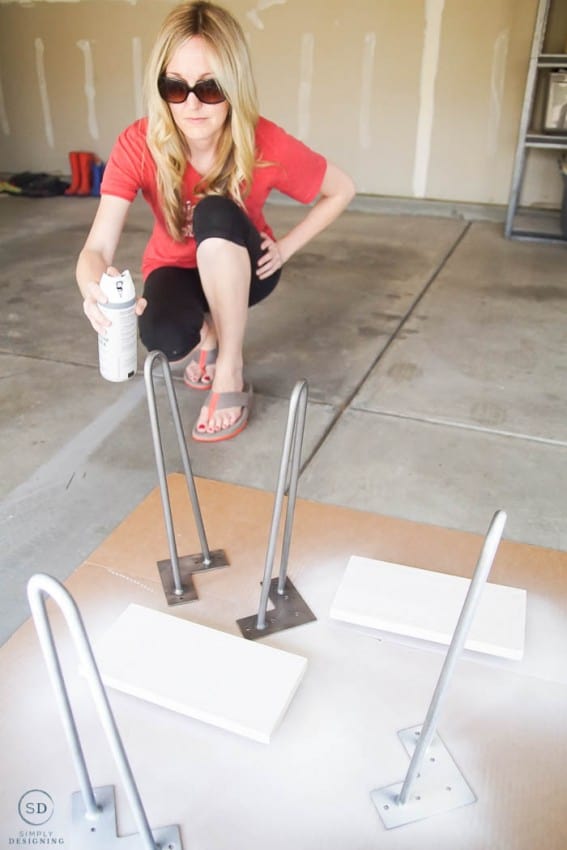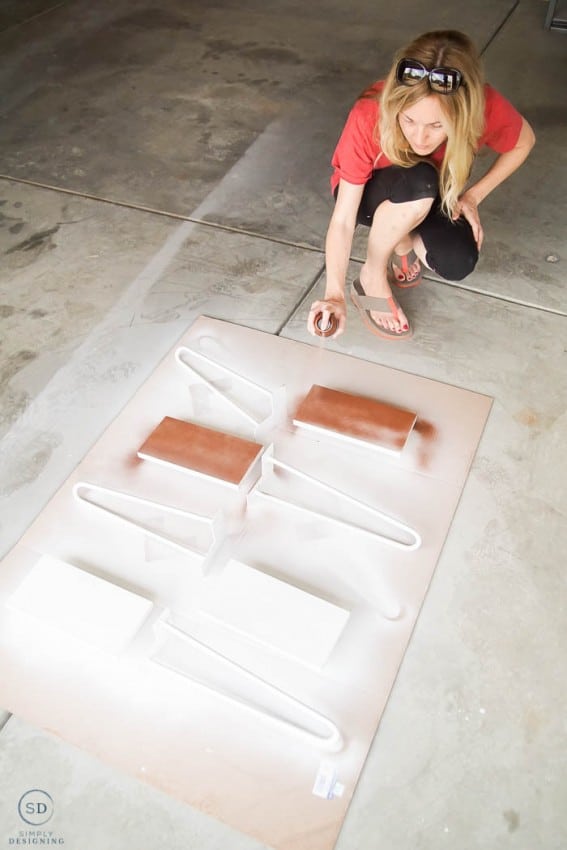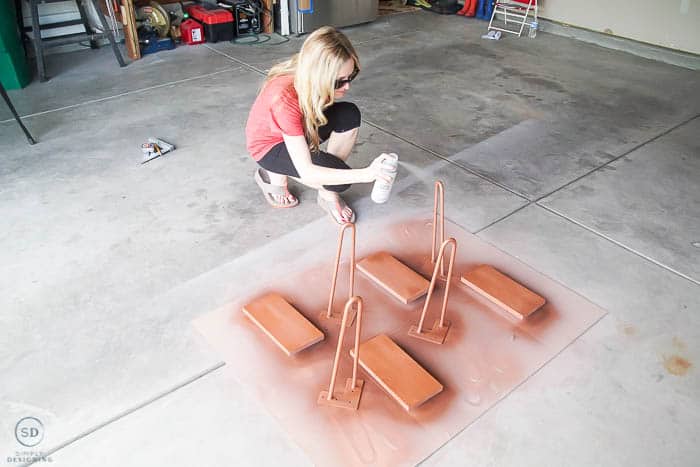 Then we sanded, primed, painted and clear coated the boards. We followed all the recommended application and dry times on the back of the spray can. We also primed, painted and clear coated the hairpin legs at the same time.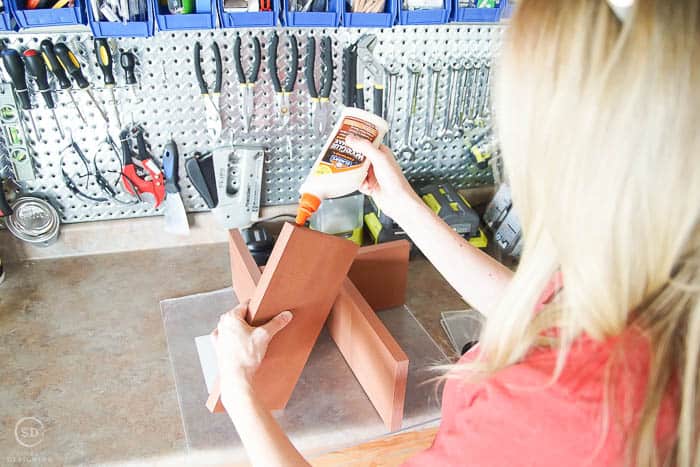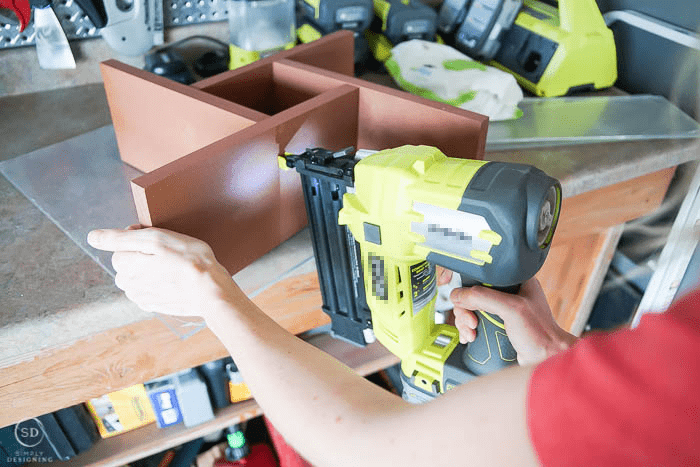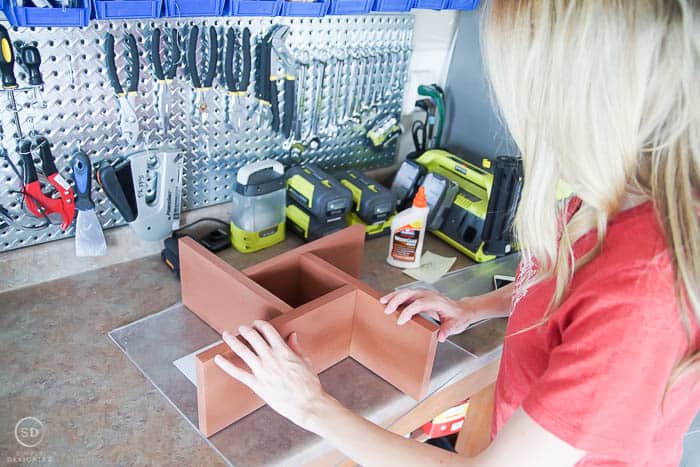 After they were dry, we used wood glue and a nail gun to attach the wood boards together as shown in the image.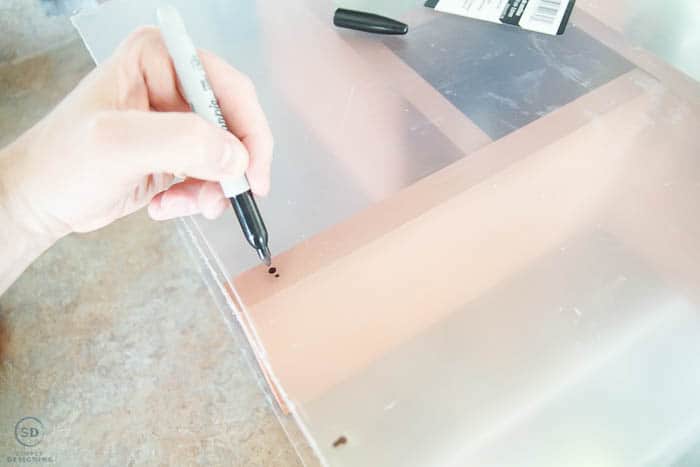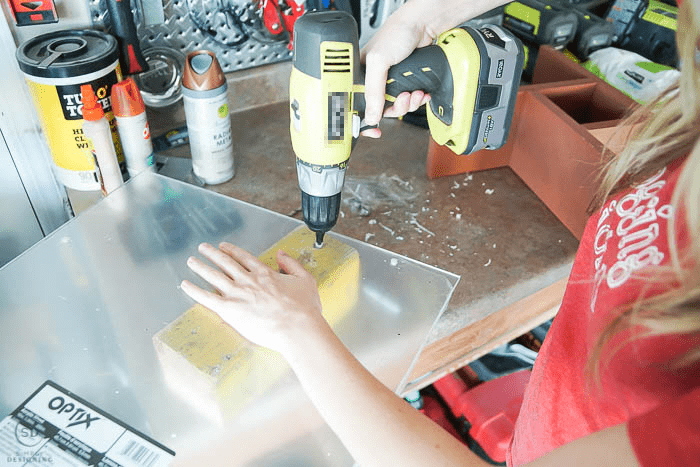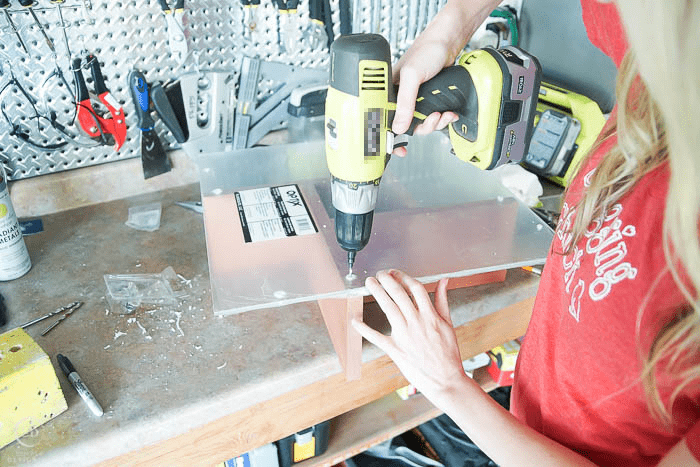 Then we used a countersink drill bit to drill 4 holes in the top and bottom of the plexiglass in order to attach the wood boards to the plexiglass pieces. We also added 4 additional holes for the bookend pieces in both pieces of plexiglass. And 12 holes for the hairpin legs only on the bottom piece of plexiglass. (Pro tip: go really slow when drilling through plexiglass, if you go too fast it can melt the plexiglass and if you try to push the bit through too hard, you can break the plexiglass.) We also drilled pilot holes into the wood using a bit smaller than a #8 screw in order to avoid splitting the wood.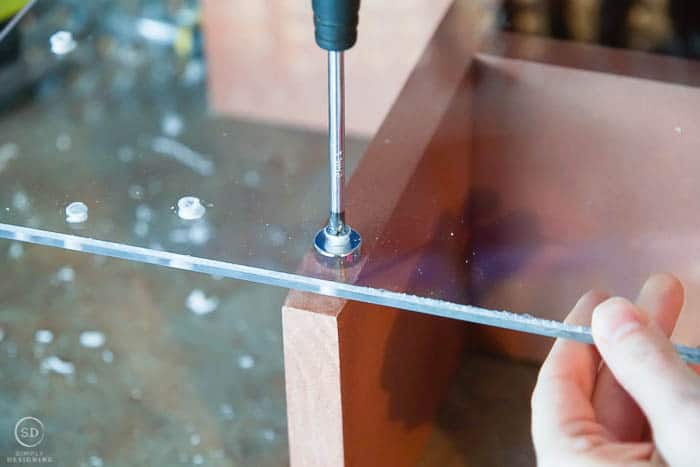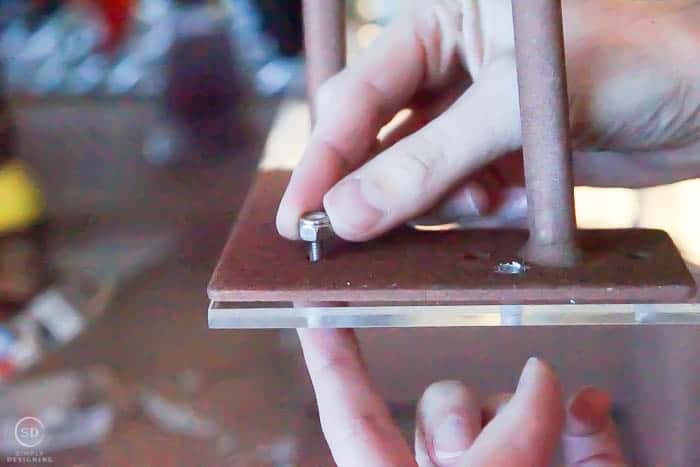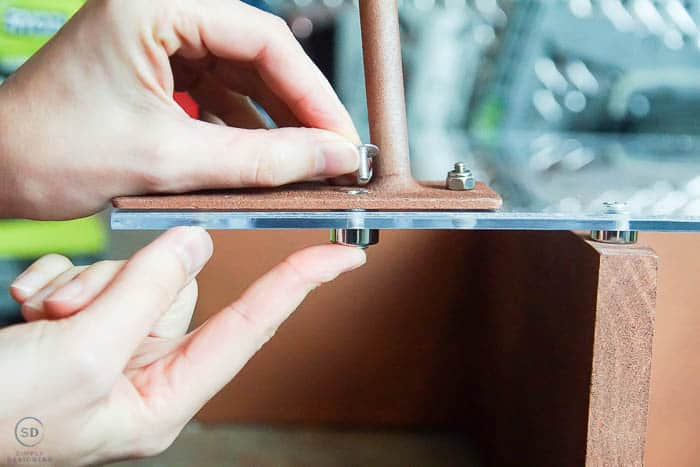 At this point we attached the plexiglass to the wood using #8 wood screws and chrome spacers. Then we attached the legs to the plexiglass using the #8 screws and lock nuts. We attached the bookend spacers using the screw posts. (The point of these screw posts and spacers is to help keep the books from falling out the end without being too obvious, like an invisible bookend.)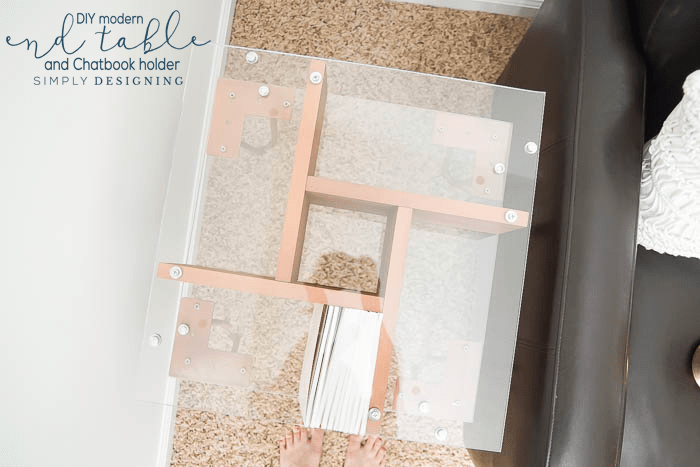 I love how this table looks from the top down.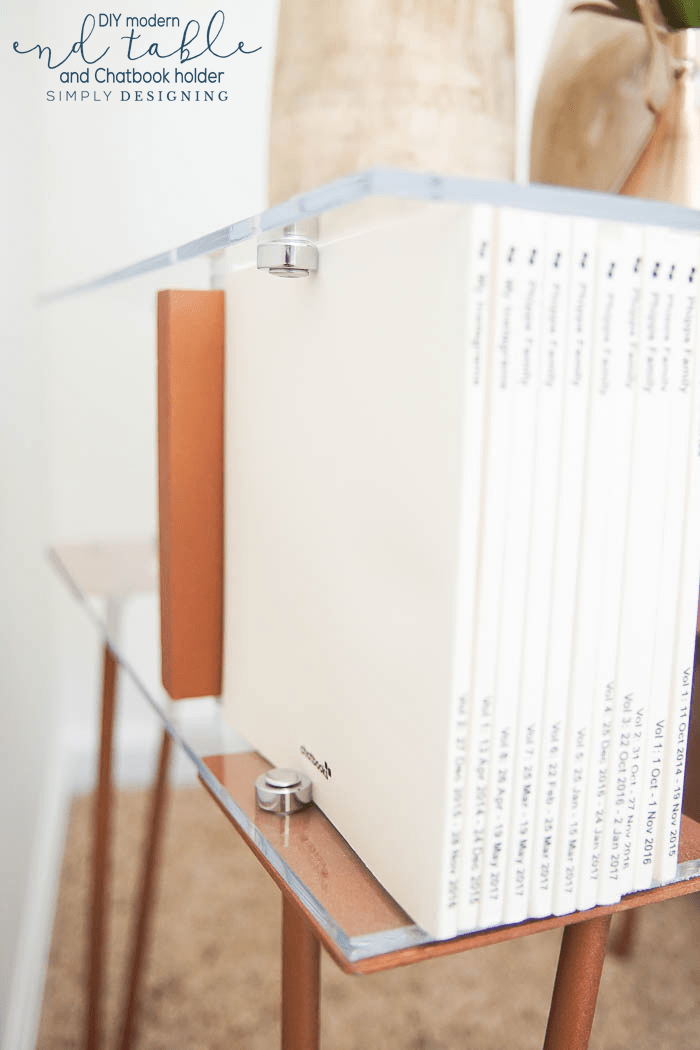 And I love how the little "invisible" book ends keep our photobooks perfectly in place!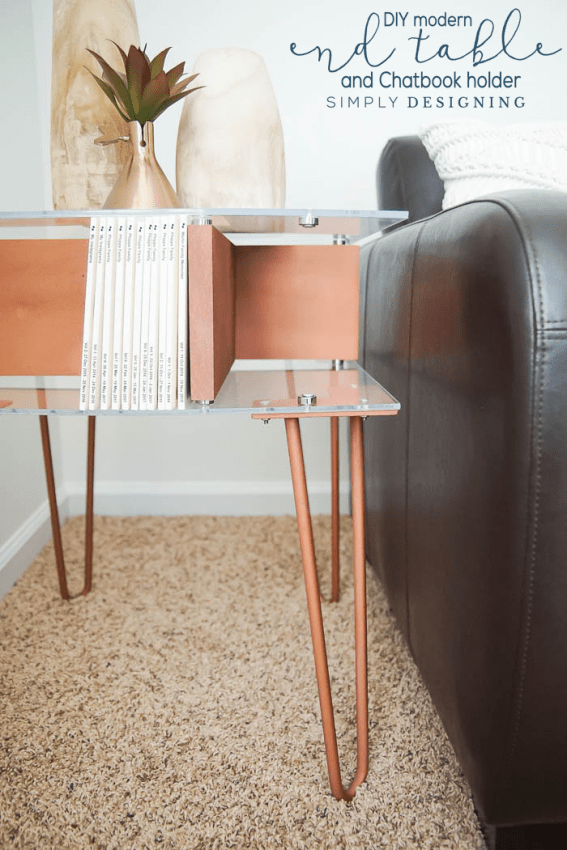 And that's it!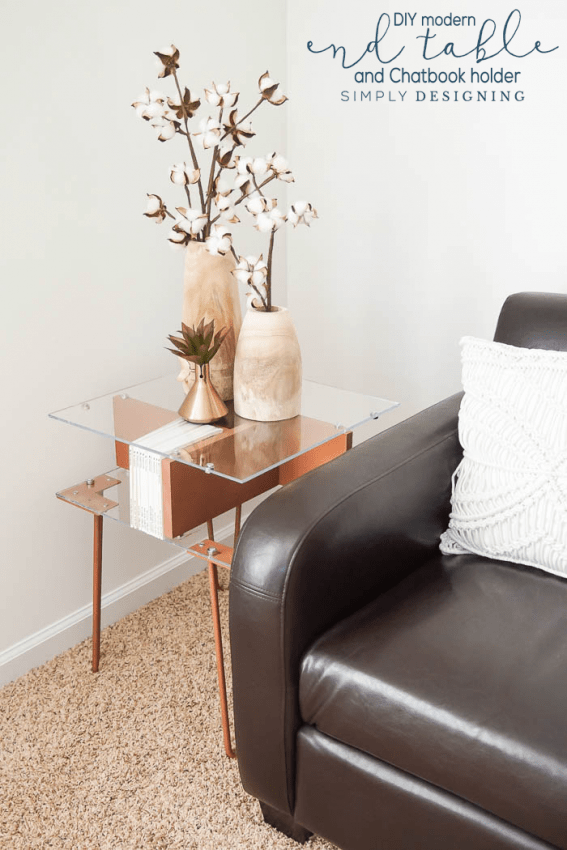 We brought it up to our bedroom and decorated it with a few fun items we found at Target!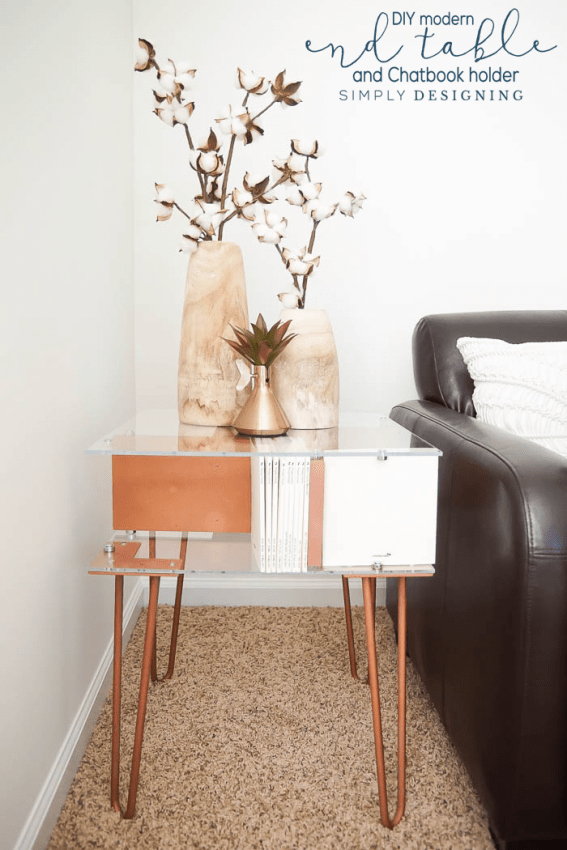 It is the perfect modern end table to place by our chair! And I love that it's the perfect chatbook holder too! For more great ideas you can check out Devine Color on Instagram.