With much sadness I took down my I Love You print that I had up for Valentine's Day in my foyer.  I actually think this print would be perfect to use all year long, but I was itching to replace it with a print for St. Patrick's Day!  I love that I have a fun space in my foyer with a large frame that I can change artwork out seasonally.  I often get overwhelmed by decorating for different holidays or seasons, but my kids love it when I do!  So I decided that my cute Industrial Cabinet with a large frame on top of it, is the perfect spot to add a touch of holiday decor.  So this year I have made it a goal to design and giveaway seasonal or holiday printables to fit this space!  I love that I am able to share these prints with you for free!  This St Patricks Day Print was so fun to design and I really just love how it turned out!  So keep reading and be sure to snag your free copy below.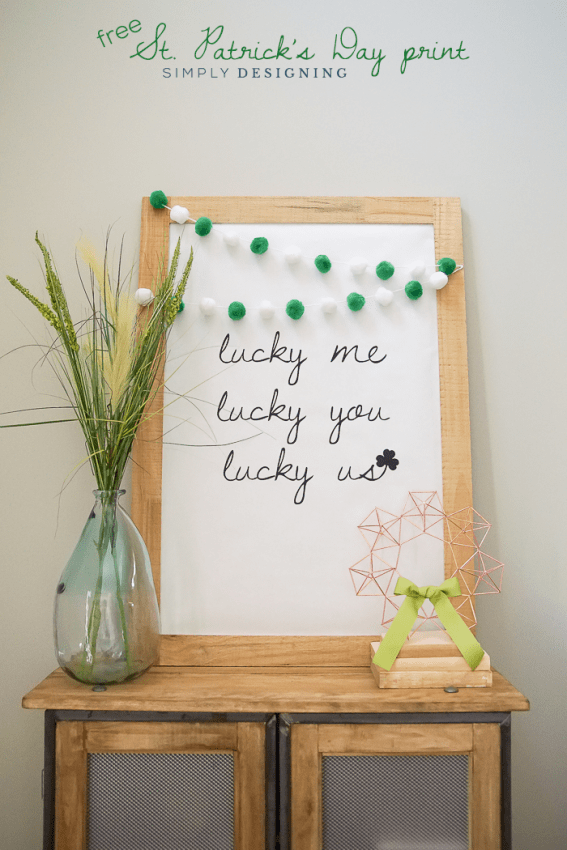 Large St Patricks Day Print : Love Me Love You Love Us
After a bit of thinking and brainstorming with a friend, I decided that "lucky me, lucky you, lucky us" would be a perfect saying to use on my St Patricks Day print.  I don't know if I have seen it somewhere else, or if I came up with it myself to be honest...but I knew it would be cute and fun.  And I love that it is a way to give a nod to St Patricks Day without going over the top.  I added a cute little shamrock to the end of "us" and it is perfectly simple, modern and beautiful.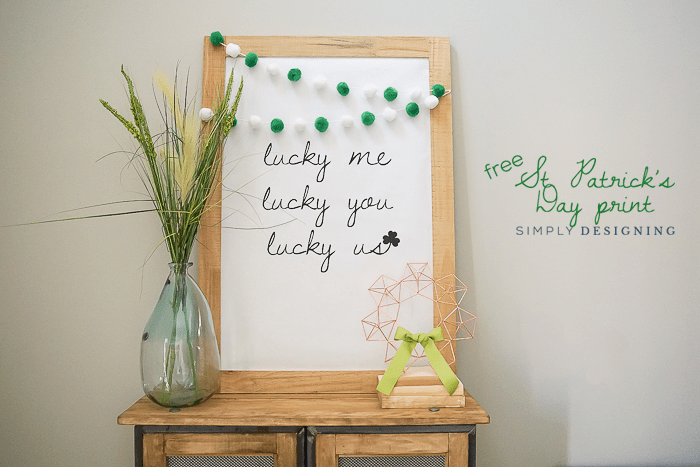 I hope you love it as much as I do!  Because I am giving it to you as a free print!  I designed this as a 24" x 36" print, but you can ask your print shop to size it up or down if you need to to fit your frame.
Because this is an oversized print, you can ask your print shop to print it as an architectural print (for black and white prints only) and it should only cost a few dollars to have it printed.  Mine was under $5 to print!  So this is a fun, unique and inexpensive way to decorate your home.
I am giving the print away FOR FREE!  Yes it is true.  For a limited time I am allowing you to download this printable completely free for personal use only.  So snag it while you can!  Please note that this is for personal use only.  Thank you.
When you click the link below you will get a pop up to join my email newsletter.  This free printable is only available for those signed up to receive my newsletter.  Once you sign up, you will get an email almost immediately with access to my printable library.  Thank you for your support.

You might also enjoy: