I can't believe that Christmas is nearly here! Shesh it has come quickly this year! And with the holidays, there are always holiday parties to attend or host. I love creating fun, but easy appetizers or plates to share when hosting or attending a party. Sweets are abundant this time of year, so I love bringing a savory dish, something with a little substance to it, to help offset the cookies and sweets that are sure to also be served. My whole family loves cheese, summer sausage and crackers so this year I decided to create an easy holiday charcuterie board that is a cinch to put together and is a crowd pleaser. This would also be perfect appetizer to take to a New Year's Eve party. And I especially love that you can customize it, in this case I shaped it like a Christmas tree and everyone thought it was so cute and clever! It is really so easy to put together and it is sure to wow any crowd. So keep reading to see how I put together my easy holiday charcuterie board.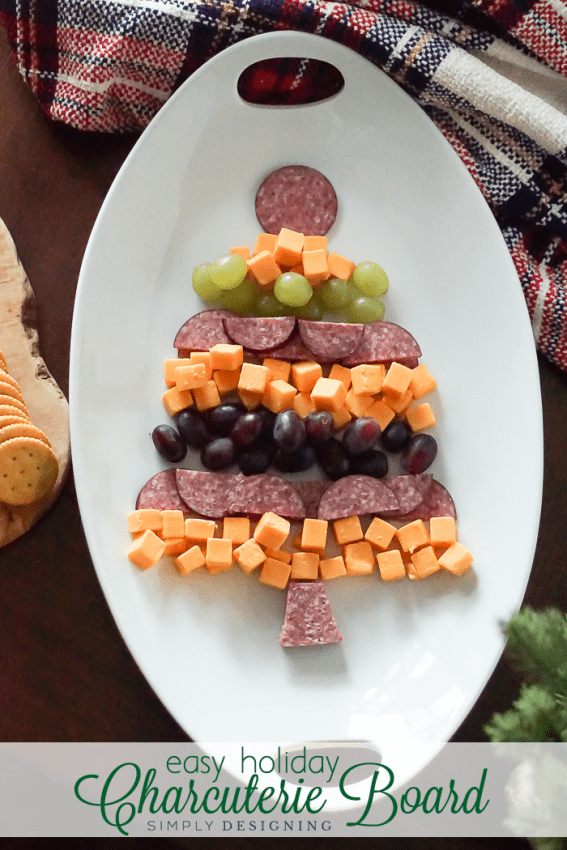 Thank you Johnsonville for making this post possible today.
The key to hosting a successful holiday party is to keep things simple. Truly, it is. I used to go all out for parties and gatherings, but I found I was simply exhausted afterwards. I ended up burnt out and didn't want to host anything anymore. So the last few years I have vowed to keep things simple so that I can enjoy the event and not spend all my time in the kitchen. I often turn to convenience foods to help make food prep easier and less stressful. But that doesn't mean it will be any less impressive or delicious. Johnsonville Summer Sausage is one of my favorite things to add to a charcuterie board and makes for a delicious appetizer with very little prep work. And Johnsonville Summer Sausage can be kept without refrigeration which makes it easy to keep on hand even if my refrigerator is full of other holiday foods.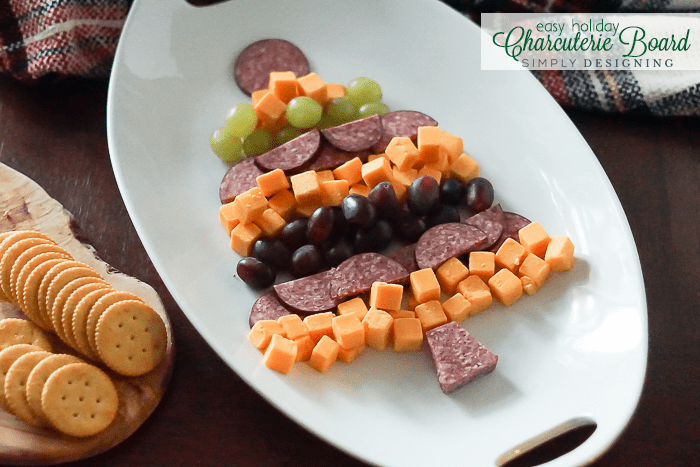 To create your own Easy Holiday Charcuterie Board, you will need:
Johnsonville Summer Sausage
Cheese Cubes (any flavor, I used mild cheddar)
Grapes (your choice, I used red and green)
Parsley or other herb for green touches if desired (I decided not to add this to my plate but you can if you like)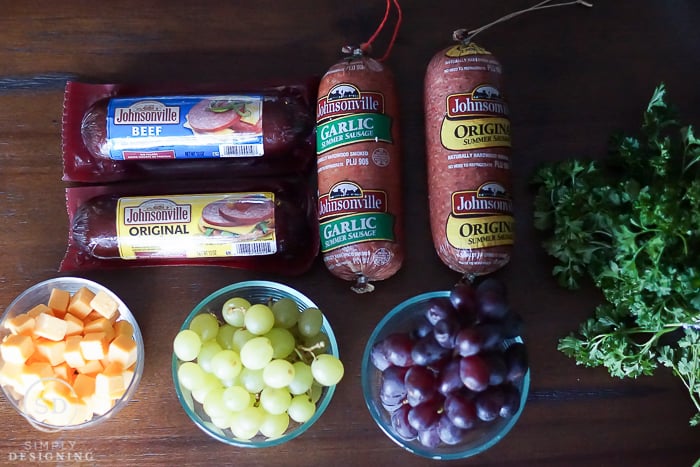 You will also want a large platter or wood cutting board to put this on.
Begin by removing the grapes from the stem. Then wash and dry the grapes.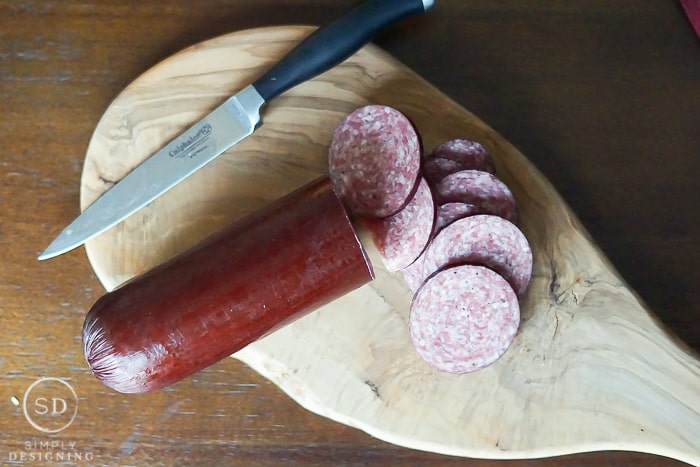 Cut your sausage into slices and then in half. I cut one piece into a tree trunk shape for the bottom of the tree and also left one piece whole to place at the top of the tree.
You can buy a block of cheese, but if you can find cheese already cut into cubes it will make your party prep a lot easier. This is one area where convenience is completely worth a little extra price in my opinion. If you can't find cheese cubes, consider buying thick slices from the deli and then cut the slices down into cubes. (If you ask, they can cut your slices of cheese as thick as you want! If you have them cut a few slices at about ½" - ¾" thick they will be easy to cut into bite sized cubes.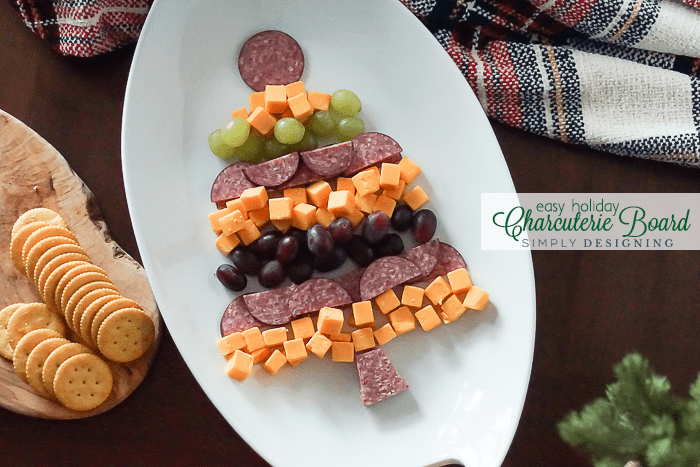 Simply begin at the top and lay your charcuterie board foods onto your board. Place them in a triangle shape if you like. Add a full circle of summer sausage at the top of the tree and a piece cut like a tree trunk on the bottom.
Serve with your favorite crackers.
And while we are talking about hosting holiday parties, do you want to know how I decorate for holiday parties? I don't. I take advantage of my already decorated tree and mantle and I don't stress or worry about adding additional decorations to my house, and neither should you!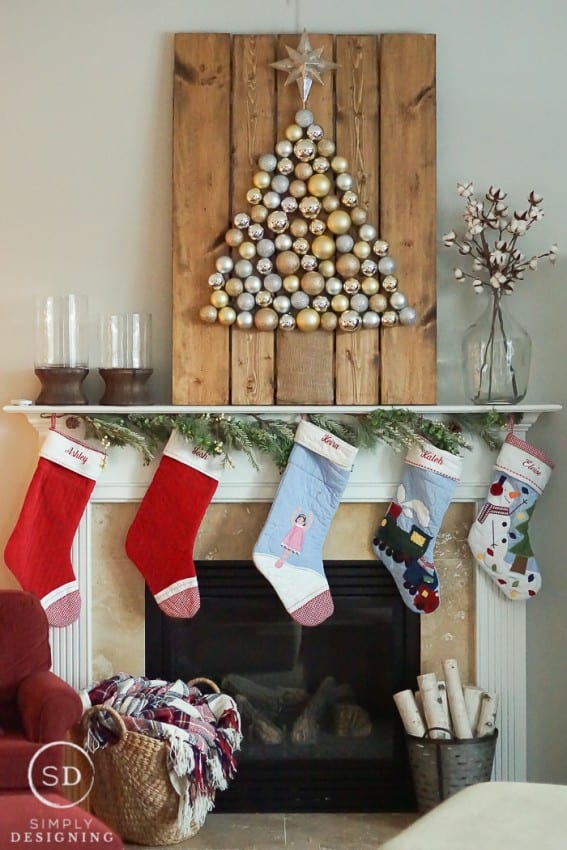 Because let's be honest, Christmas decorations are just plain pretty!
Visit www.summersausagestory.com to get more recipe ideas perfect for your holiday entertaining.
This is a sponsored conversation written by me on behalf of Johnsonville. The opinions and text are all mine. Comments submitted may be displayed on other websites owned by the sponsoring brand.
You might also like: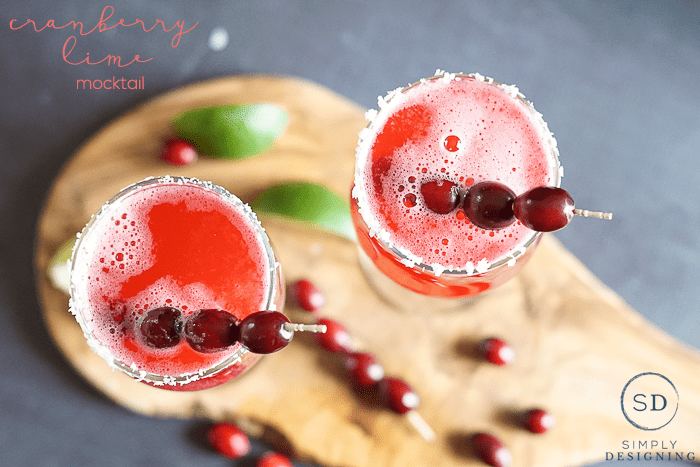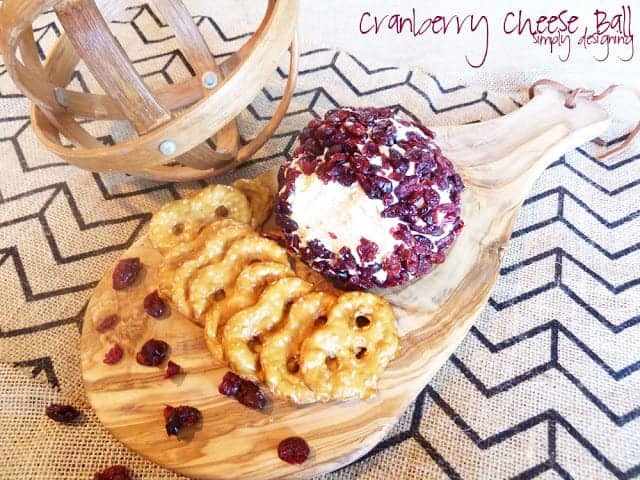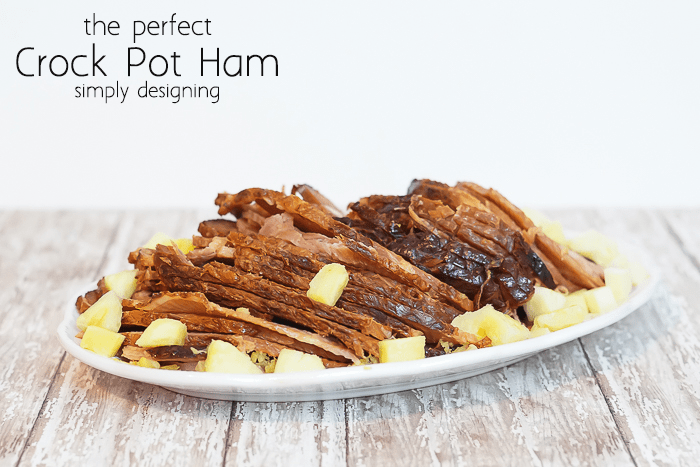 How to Cook the Perfect Slow Cooker Ham