I am absolutely thrilled that the Downton Abbey DVD is coming out and so, to celebrate, I created this English Tea Charcuterie Board to have a wonderful girl's night in with my teenage daughter (Don't worry, we invited my husband too). Keep reading for all the details on my charcuterie board and also how to get your hands on the Downton Abbey DVD today.

Downton Abbey Inspired English Tea Charcuterie Board
I want to be upfront and tell you that this is not necessarily a completely authentic English Tea Charcuterie Board. But it does have many things you could find at a traditional English Tea along with a few things that I knew we would just enjoy eating too.
We also made ourselves yummy peppermint herbal tea to enjoy with our scones and muffins and yummy food. If you prefer, you can make a more traditional tea like Earl Gray, Black Tea or English Breakfast Tea.
I do want to take a moment and share what is typically served at a typical tea, however, afternoon and high tea are different. So I want to break them up for you.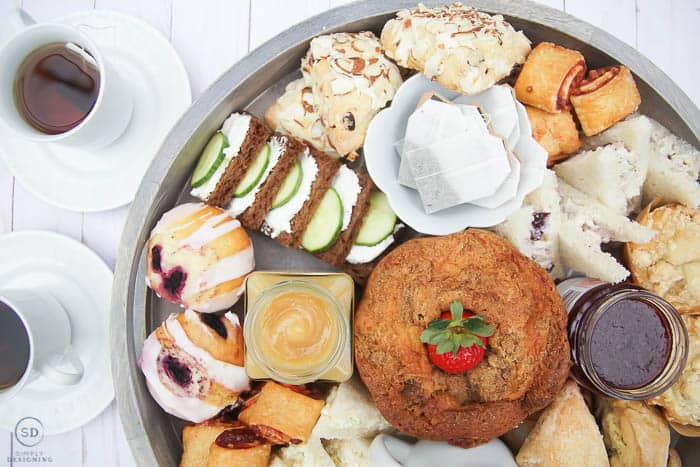 What is served at afternoon tea?
Afternoon tea is generally accompanied by light foods such as:
scones
small sandwiches
marmalades
lemon curd
butter
clotted cream
cakes
tarts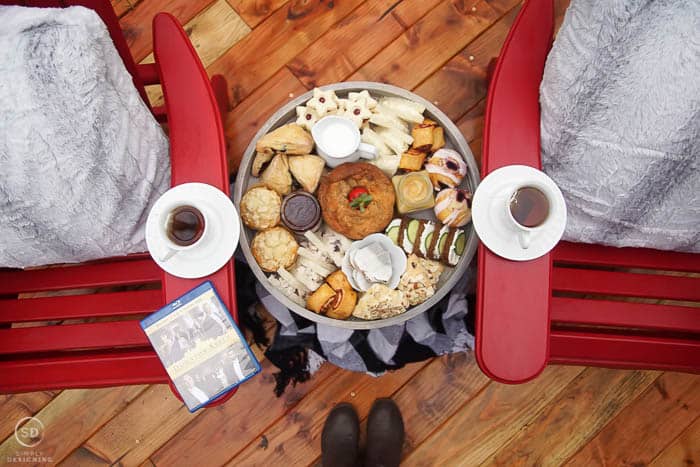 What is served at high tea?
High tea is generally accompanied by heavier foods such as:
meat pies
fish dishes
crumpets
vegetables
casseroles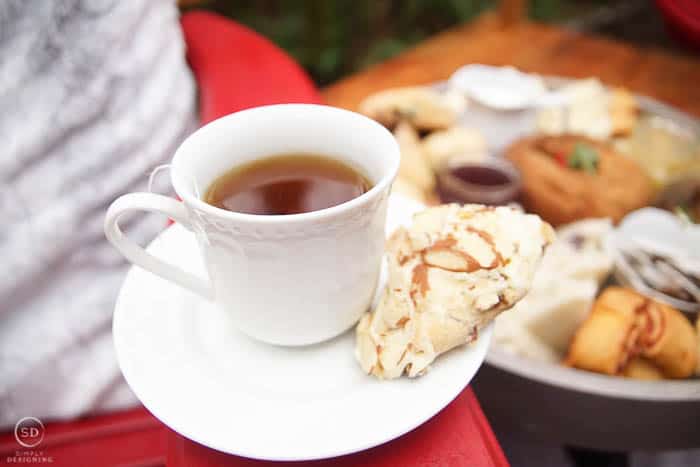 High tea is often more of a dinner course, as opposed to afternoon tea which is more of a light snack.
I decided to re-create more of an afternoon tea for us to share while we watch the new Downton Abbey DVD and man was it delicious!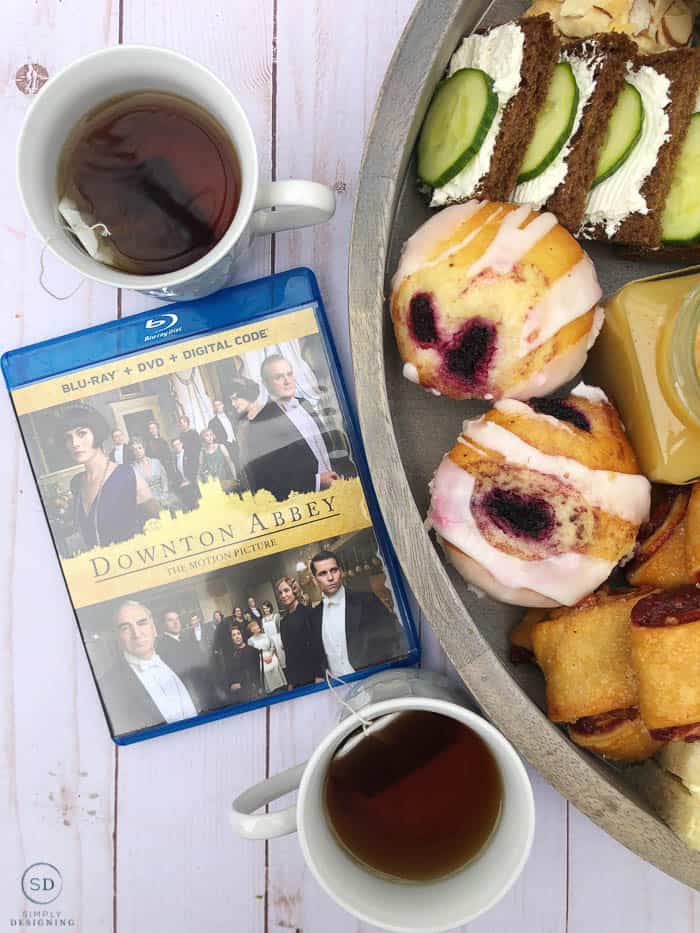 Downton Abbey DVD
I watched the entire Downton Abbey series with my husband, but my teenage daughter has not seen it yet. Even though the DVD is an expansion from the series, I knew she was still going to love the movie.
I am personally excited that all of the characters that I grew to know and love are back together for a movie.
And honestly, I just love Downton Abbey! I looked forward to watching every new episode when it was airing on tv, and now I am looking forward to enjoying this movie over and over again. I just think Downton Abbey is the perfect combination of family, love, drama, intrigue, and a tiny bit of scandal!
I love that this series values family, acceptance, and love while still being human and relatable.
Gosh, Downton Abbey just makes me so happy!
And the best part is that you can purchase your own Downton Abbey DVD now! Head to Walmart and purchase the new release of Downton Abbey DVD today! You can also snag it at Walmart.com too.

What is on a charcuterie board?
A typical charcuterie board is a collection of smoked and cured meats like salami, ham, and sausage combined with a selection of cheeses and other tasty foods like nuts, olives, marmalades, jams, and spreads.
Those types of charcuterie boards are so fun and so delicious! But I love making themed charcuterie boards too.
In fact, I used my charcuterie board the other day to create a great
Sheet Pan Chicken Fajitas
spread! Gosh, it was so yummy.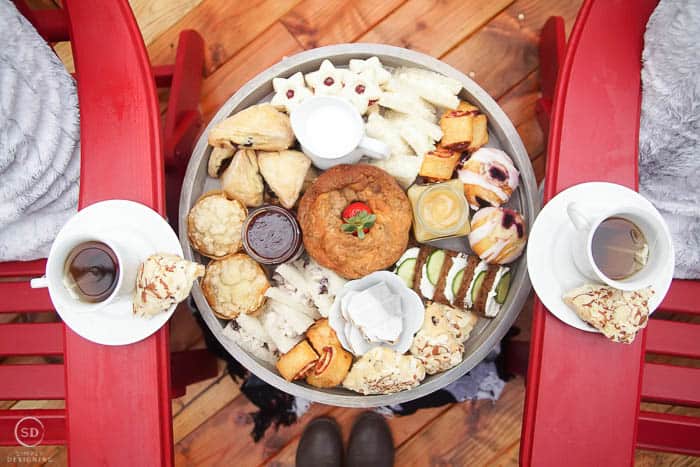 How do you make a simple charcuterie board?
Making a charcuterie board is one of the most simple ways to feed a group, make a simple dinner or serve as a hearty appetizer. Here are some tips for assembling it:
Choose your platter wisely. I have used both rectangular platters and round platters. I prefer my round platter.
Choose a platter with sides if possible. Sides allow you to pack the board full of food without the risk of anything falling off.
Start in the middle with your main or big food items if you have one. It could be a big wheel of cheese or a cake, like on the board I am making today.
Add anything in containers next like jams or spreads. Space them evenly around your board, or put them in a row.
Fill in the larger spaces with your other charcuterie foods like your meats, cheeses, and crackers alternating items so you have a variety and balance of color and texture on your platter.
Fill in additional small spaces and cracks with smaller items like fruits, dried fruits, nuts etc.
Today we are making an English Tea Charcuterie Board that is perfect to serve with afternoon tea or at your Downton Abbey DVD viewing party!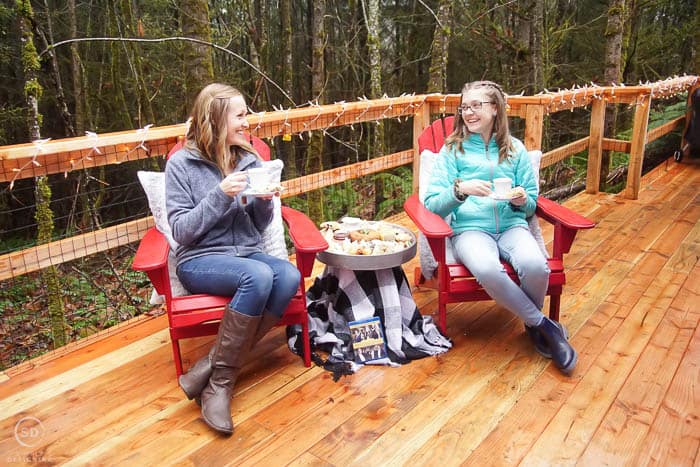 Here are all the details:
English Tea Charcuterie Board
This charcuterie board was probably my favorite charcuterie board I've made! Although I do love this charcuterie board here too.
I love how full and festive and impressive they look while still being really simple and easy to put together, often with very little prep work.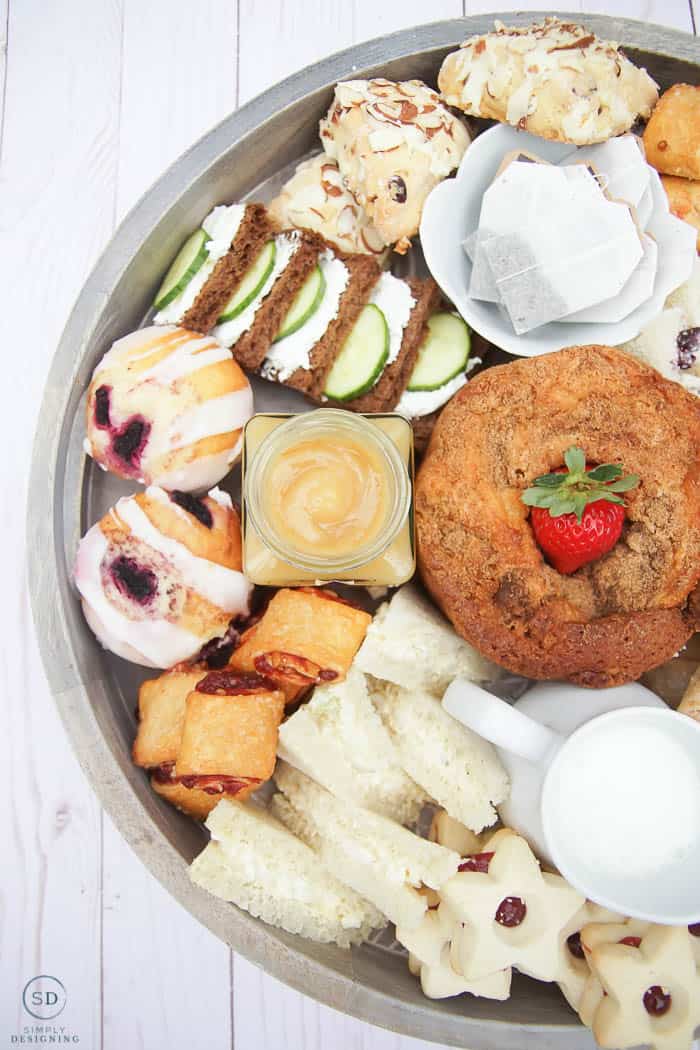 What supplies do I need for an English Tea Charcuterie Board:
Large board or platter (I have an 18" round board I love to use for this)
Lemon Curd
Jam
Scones
Muffins
Egg Salad Finger Sandwiches
Chicken Salad Sandwiches
Rye Brean with Cream Cheese and Cucumber Slices
Shortbread Cookies or other small cookies
Coffee Cake or other cake of your choice
Other Pasteries
Tea Bags
Milk or Sugar (if desired for your tea)

How to Make a Charcuterie Board
I love to begin assembling my board in the following manner:
Put the round cake in the middle (I added a strawberry in the middle for added color and visual appeal, but this is not necessary.)
Place the lemon curd, jam, milk, and tea evenly spaced around the cake.
Make and add your finger sandwiches in between the above additions and out to the edge of the platter. I cut the crust off the bread and added egg salad and chicken salad on the sandwich then cut into triangles.
Next, I cut my rye bread into rectangles and spread on cream cheese and added a slive of cucumber. I placed these on my board next.
Then I filled in the rest of the spaces with muffins, scones, and cookies.
I love to make my charcuterie boards full so you can layer and fill your board as full as possible!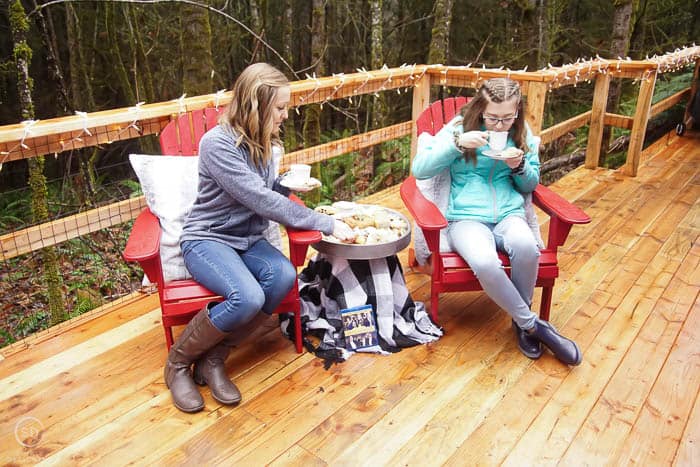 Once my cute Downton Abbey Charcuterie Board was created, we made some tea and bundled up for an outdoor family viewing party!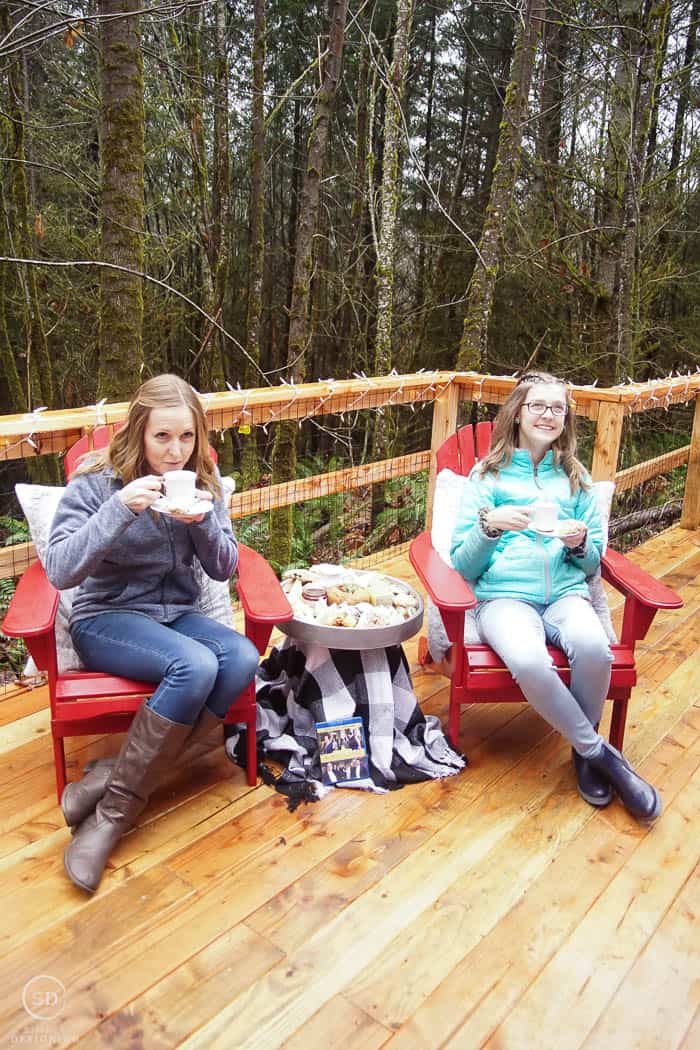 I love our new red Adirondack chairs on our deck, they are perfect for sitting outside and watching a movie on our tv. And I love that the weather in the PNW is nice enough to be able to do this.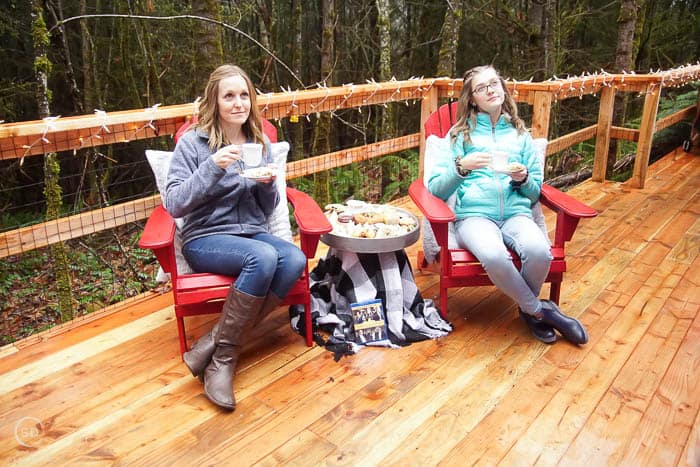 The peppermint tea kept us warm and the charcuterie board kept our bellies happy with lots of yummy foods.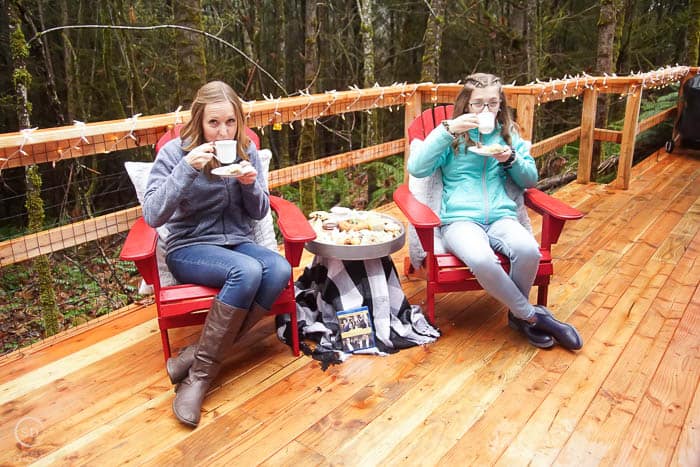 Oh man, this is seriously the best way to watch a new DVD! I may need to do this for every movie we buy from now on. A themed charcuterie board and an outdoor movie night! So so fun! And so delicious.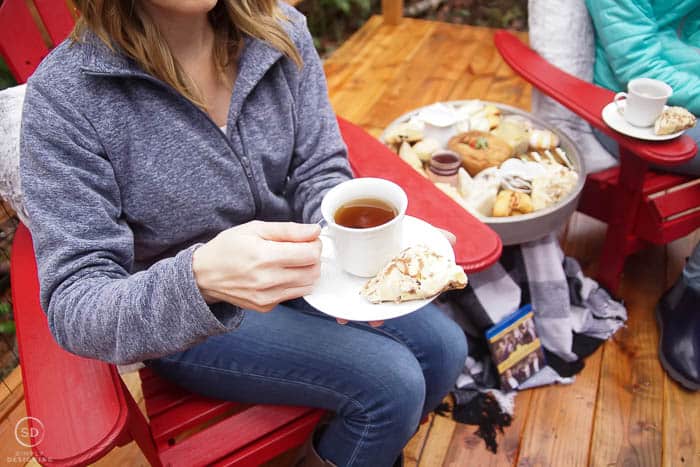 I would love to know if you recreate something similar for your friends or family to share!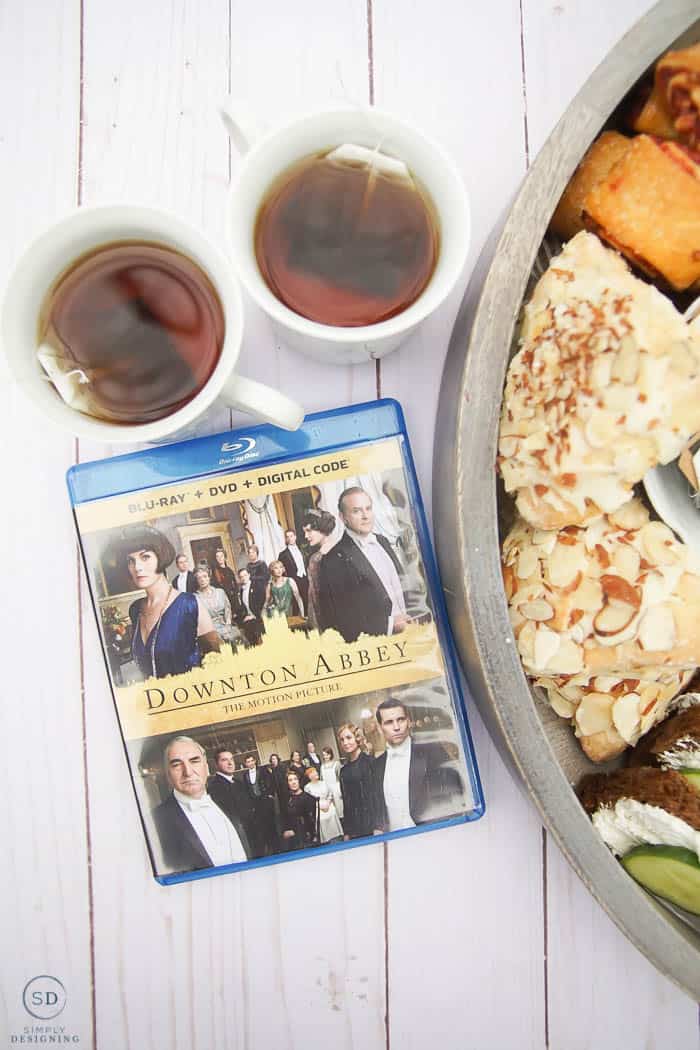 This post is part of a social shopper marketing insight campaign with Pollinate Media Group® and Universal Pictures Home Entertainment , but all my opinions are my own. #pmedia #DowntonAbbeyAtWalmart http://my-disclosur.es/OBsstV
You might also enjoy these posts: