Did you see my post yesterday!?  I finally revealed my amazing new shower!!  If you missed it, be sure to hop on over HERE to read all about it and see the amazing photos!  I shared our whole process for tiling our shower including our stunning before and after photos!  But today I am so excited to share how we put the final touches on our shower with today's post: how to install new shower fixtures!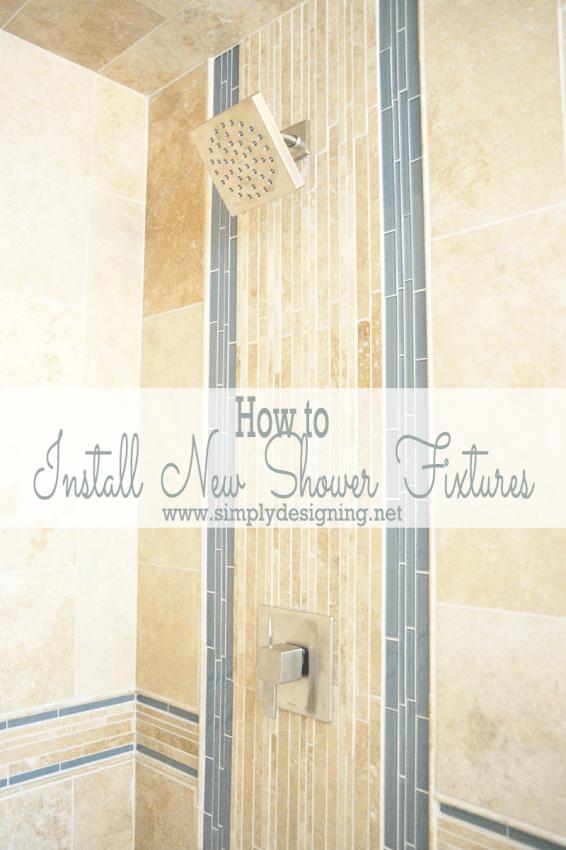 First of all, a huge thank you to Moen for sending me their incredible 90 Degree line of products to update and upgrade our bathroom!  I am a HUGE fan of Moen!  Their products are amazing (we have Moen in our downstairs bathroom here and in our kid's bathroom here).  They are incredibly sturdy, very well built and beautiful!  Everything a good bathroom fixture should be!  And even though we chose the 90 Degree line for our bathroom, if this isn't your style, there are so many options available to suit everyone's preference!
Instead of a typical tutorial, I decided to do a video of this project instead!!  So click below and watch my 3 minute video to see
How to Install New Shower Fixtures
Isn't it so easy!?  In about 3 minutes I showed you how to install new shower fixtures, and the entire project took no longer then 10-15 minutes to complete!  But by simply replacing our shower fixtures we have completely transformed our bathroom!
Here is a close-up of our shower head!  Isn't it so beautiful!  We love the clean lines and the modern style.  Our remodeled bathroom will have a modern spa-like feel to it and so these perfectly complimented the style we are going for.
And their LifeShine® finish guarantees that the finish won't tarnish, corrode or flake off!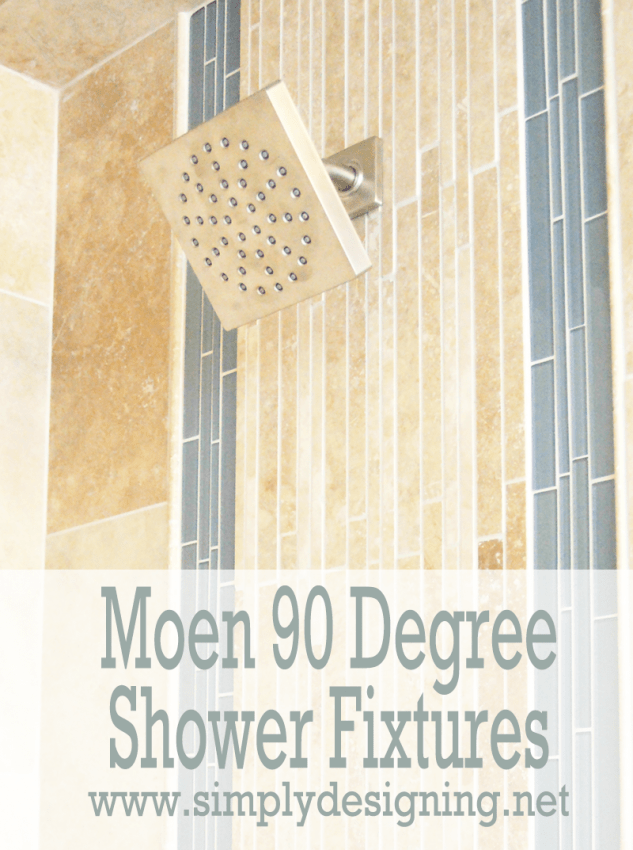 And here is a close-up of our new 90 Degree Posi-Temp® control!  It is so smooth to turn!  I love the Posi-Temp® feature because it helps regulate water temperature.  Which means if someone flushes a toilet in the house, your shower water will remain the same temperature!  And if you have ever had this happen to you, and have been startled by either freezing cold or scalding hot water, you know that this is actually an amazingly important feature!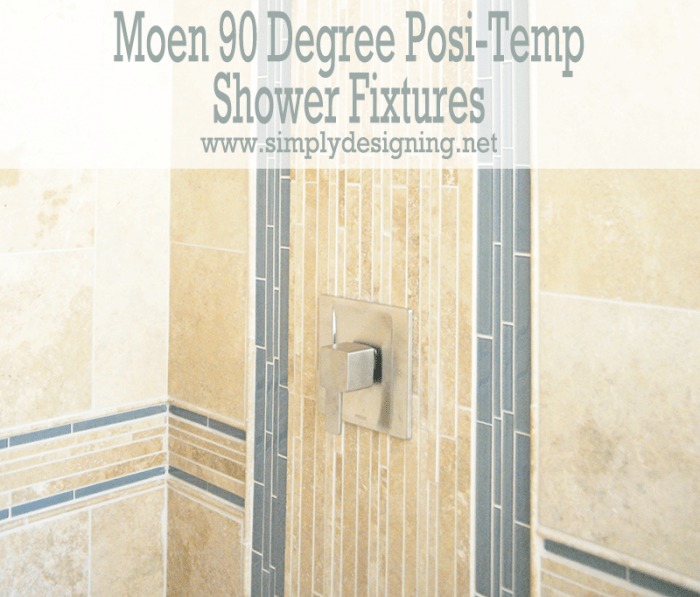 For this portion of our project we used: Moen 90 Degree Posi-Temp Shower Fixture, in Brushed Nickel
And as a sneak peak...we will also be installing Moen's 90 Degree Vessel Faucets, accessories and a grab bar in our bathroom soon!
I can't wait to finish up our master bathroom and share the rest of our process with you!
Check Out Our Master Bathroom Remodel Series:
Part 1:  Master Bathroom Inspiration
Part 6:  Installing Moen Posi-Temp® Shower Fixtures
Part 7:  How to Install Radiant Heated Tile Floors
Part 8:  Install New Tile Counter Tops
Part 9:  Install a Tile Accent Wall
How to Install a new Shower Door
How to Install new Bathroom Mirror Frames (in about 10 minutes!)
DIY Framed Mirror with Hidden Jewelry Organization
Please note that I am not a professional.  I am just sharing what worked for us.  As always please use all proper safety precautions and read and follow all manufacturer instructions.  Please note that I am not responsible in any way for any outcome if you try this yourself.  I am not liable for any injury or additional cost or expense incurred.  I always recommend consulting and hiring a professional if needed.  And always be sure to check with local building codes to obtain all permits needed for any DIY project.