Mother's Day is literally right around the corner!  Can you believe it!?  When I talk to a lot of my friends about it, I am amazed at the variety of what they think are the best gifts for Mother's Day!  Some love flowers, some love a meal, other's want to be pampered with a day at the spa and some love jewelry.  I love how all of my friends want and hope for different things.  And I truly hope that every mother I know gets exactly what she wants on mother's day and is loved and celebrated beyond belief.  Because all of you mothers, grandmothers, aunts, sisters and best friends are amazing!  I think at the end of the day, the thing many mother's cherish most are the homemade cards our kids make and the hugs and kisses.  But let's face it, a delicious Mother's Day Breakfast in Bed doesn't hurt either!  Yum!  So today I want to share my ideas for How to Make the Perfect Mother's Day Breakfast!

A big thank you to Better Homes and Gardens for sponsoring this discussion today and for inspiring me to think about how we can love on our mom's and wives this mother's day!  Affiliate links are also included for your purchasing convenience and while you will never pay a penny more, it helps to support my blog.  Thank you.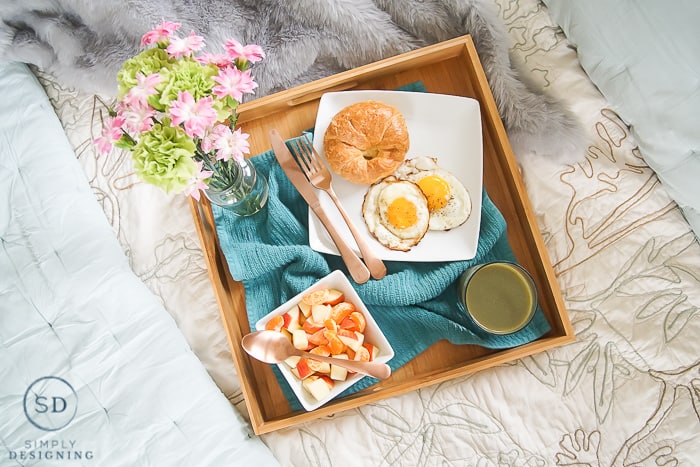 How to Make the Perfect Mother's Day Breakfast

Plan the Meal
Planning the meal is most important!  I think a well-rounded breakfast is the best way to go.  It doesn't have to be fancy or hard to make, but hitting a few food groups is a sure-fire way to knock breakfast in bed out of the park!  I love the idea of serving eggs (or another protein of choice), a croissant (or other yummy bread or pastry), fruit and a delicious drink or smoothie!

Don't Forget a Drink
You get extra points if you can get vegetables into the breakfast menu too!  I love any sort of green juice, but making a yummy smoothie would also be a wonderful treat and is a great way to add extra fruit and veggies to your morning!
Here are a few recipes for some of my favorite smoothies:

Prepare the Tray
Place the prepared food onto pretty dishes and then onto a serving tray so you can easily bring it up to your mom or wife in bed.  I really love this beautiful Laminated Bamboo Serving Tray from Better Homes and Gardens.  It is nice and big but not too bulky or heavy to carry.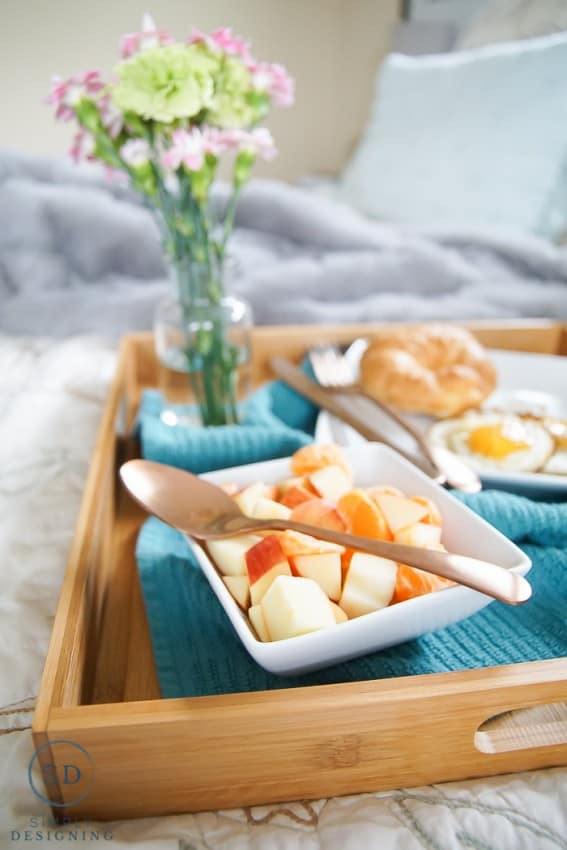 I used these beautiful white Square Porcelain dishes from Better Homes and Gardens found exclusively at Walmart to put the food on.  And I also added some beautiful new silverware from Better Homes and Gardens that is sold exclusively at Walmart stores, not online, but is so incredibly pretty!
Don't forget to add a napkin to the tray too.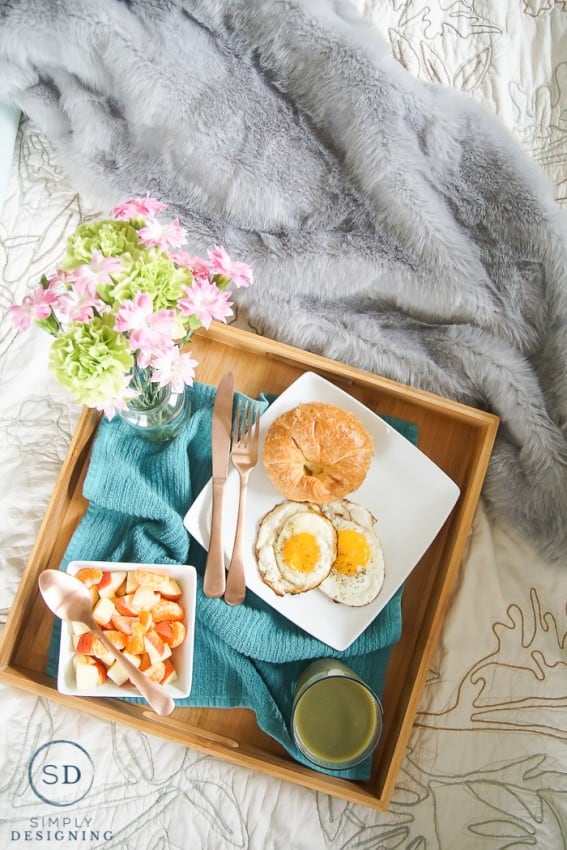 Add Flowers
Add a few fresh flowers to the tray for an added beautiful touch!  The flowers are so pretty and act as another little mother's day gift for the special woman in your life.  You can buy flowers or you can cut a few from outside.  Put them in a small vase or even a glass and add them to the tray for a beautiful touch.

Deliver It
Deliver breakfast in bed whenever you think the perfect time would be.  Bonus points if you let your mom or wife sleep in a little bit!  And you get even more credit if you deliver breakfast in bed with a hug and a kiss!
I love Mother's Day and hope that you spoil the wife, mother or special woman in your life on that day.  And if you are a mom, wife or woman, I hope you get spoiled on this special day!  Hugs!