Last week I tackled a space that had been unorganized and undecorated for quite some time and so today I am excited to share my tips for How to Organize a Laundry Room with you!  A couple of years ago I did a Laundry Room Make-Over and we removed our ugly wire shelving and put in other shelving which made a big difference in the space (read all about it here).  Since that time, we got a new washer and dryer and painted the room.  This space had so much potential but over the years, it ended up a bit of a hot mess and so it was time to organize my laundry room for once and for all.

How to Organize a Laundry Room
Let's take a look at the whole space before, ok?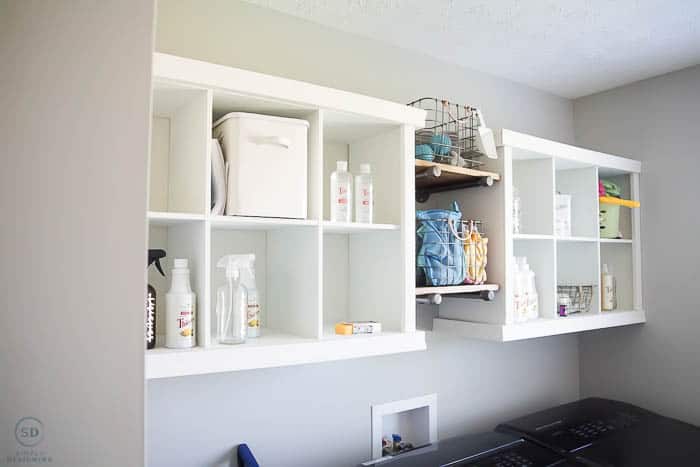 On one wall (above the washer and dryer) I have shelving that is really quite functional, but over time more and more things just got thrown on the shelves and it was still functional but wasn't at all pretty.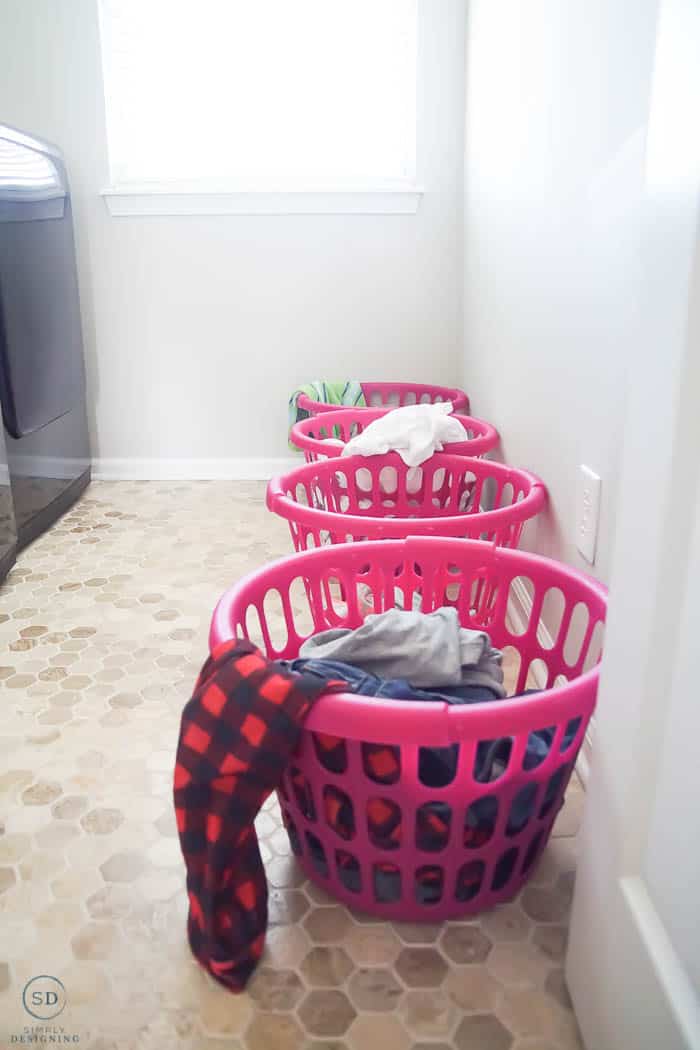 On the floor opposite the washer and dryer, I had laundry baskets on my floor.  These are used for sorting dirty laundry.
I love having laundry baskets that my kids can easily use to sort their own laundry.  My kids do not have laundry baskets in their rooms, but they are asked to put their laundry in the correct bin when they get undressed every day.
Easy in theory, am I right?
Anyway...these baskets are accessible and functional, but really not very pretty.  Plus I sort of hate having things just sitting on my floor so I had long dreamed of getting these off of the floor somehow, but never did it.
And of course, above the laundry baskets is this big huge wall with zero decoration on it, so that was something I wanted to fix too.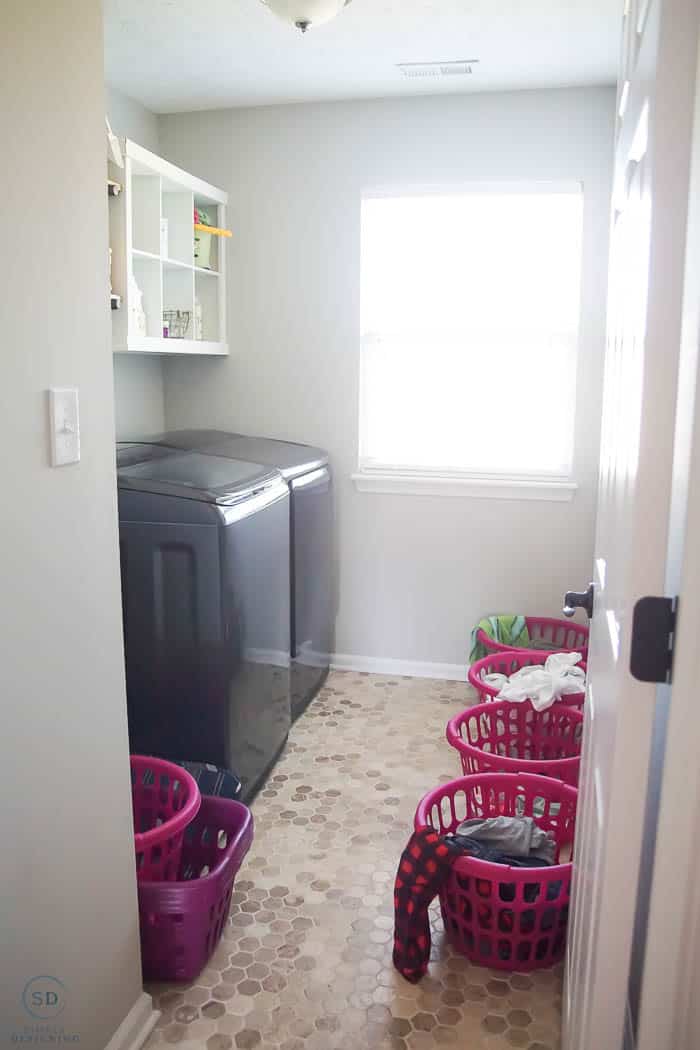 So the big goal for this room was to get it ORGANIZED and PRETTY while keeping it FUNCTIONAL.
Totally do-able, right?
Well, it was totally do-able, with a little creativity and some phenomenal products from Better Homes & Gardens sold exclusively at Walmart.
A big thank you to Better Homes & Gardens at Walmart for sponsoring today's post.  All opinions and ideas are mine.  Affiliate links are included in this post for your convenience.  If you make a purchase through these links, you will never pay a penny more, but I receive a small commission for it.  Thank you for supporting my blog.
How to Organize a Laundry Room
Now that you've seen all the before photos, let's take a look at what we did to organize and decorate the laundry room.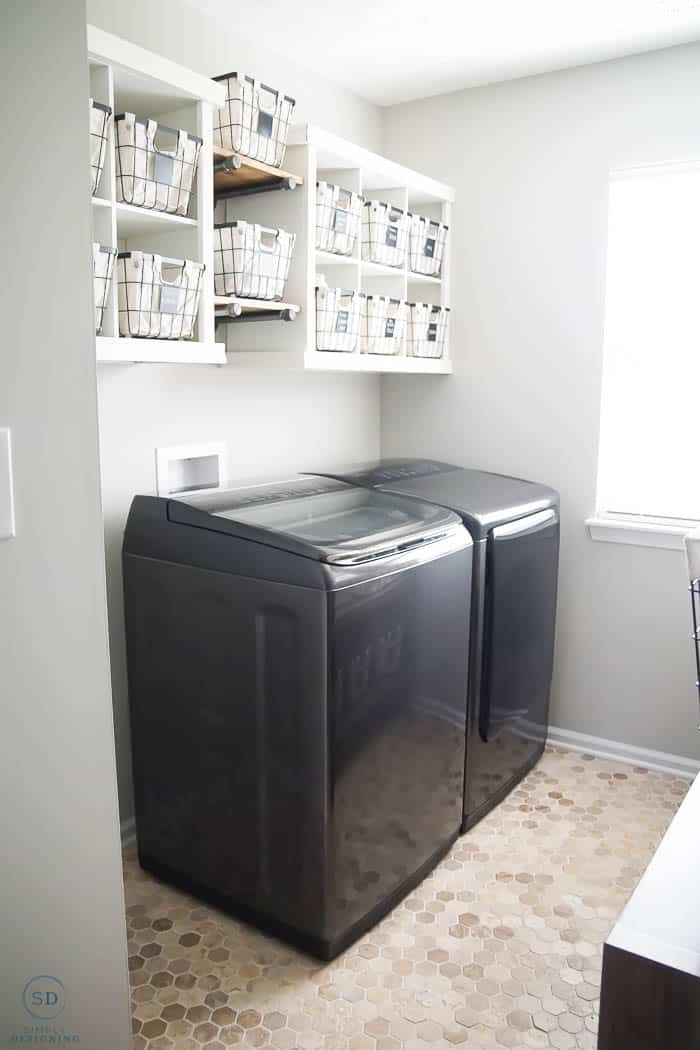 Organize a Laundry Room with Baskets
The wall with the shelving needed help and after a lot of time spent thinking about what I wanted to do here (new shelves, cabinets with doors and about a million other ideas crossed my mind), I ended up realizing that if I just put baskets in my cubbies, my space would look and feel organized in no time.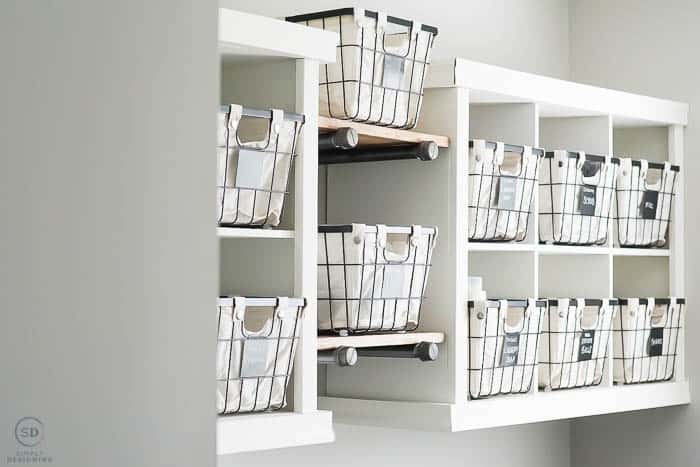 So we cleared everything off of the shelves, purged a few things we really never used, and picked out the cutest baskets for these shelves.  These wire baskets are the perfect size for these shelves and I love the little chalkboard tag on the front!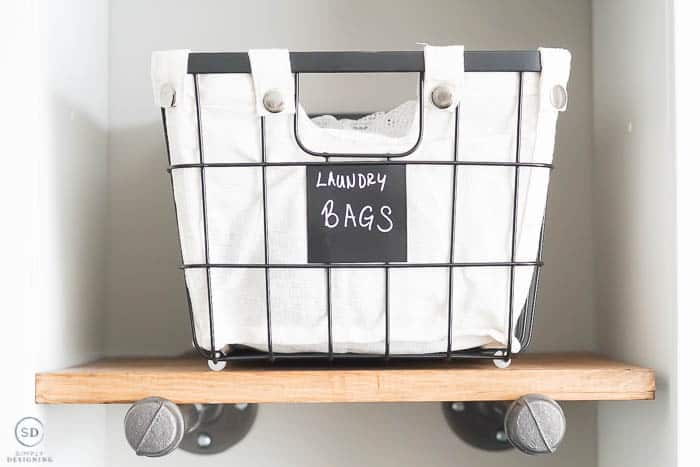 This made labelling and organizing super easy and these baskets are perfect for organizing my laundry soap, house cleaner and other laundry room essentials.  And I ended up ordering (19) of these beautiful baskets because I had a lot of shelves and I wanted them all to match.
Organize a Laundry Room with Raised Storage
On the wall opposite the washer and dryer, I removed my plastic laundry baskets from the floor and found a fun solution to get them off the floor and add additional storage!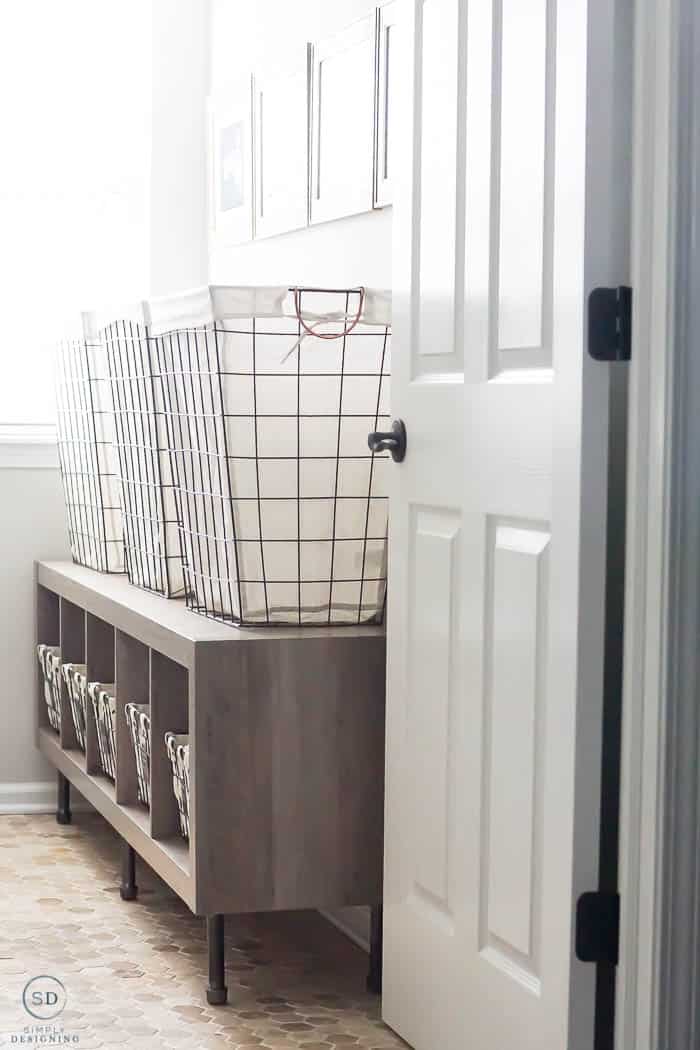 We assembled a 5-cube storage organizer from Better Homes & Gardens found exclusively at Walmart and set it on its side so it was long and not tall.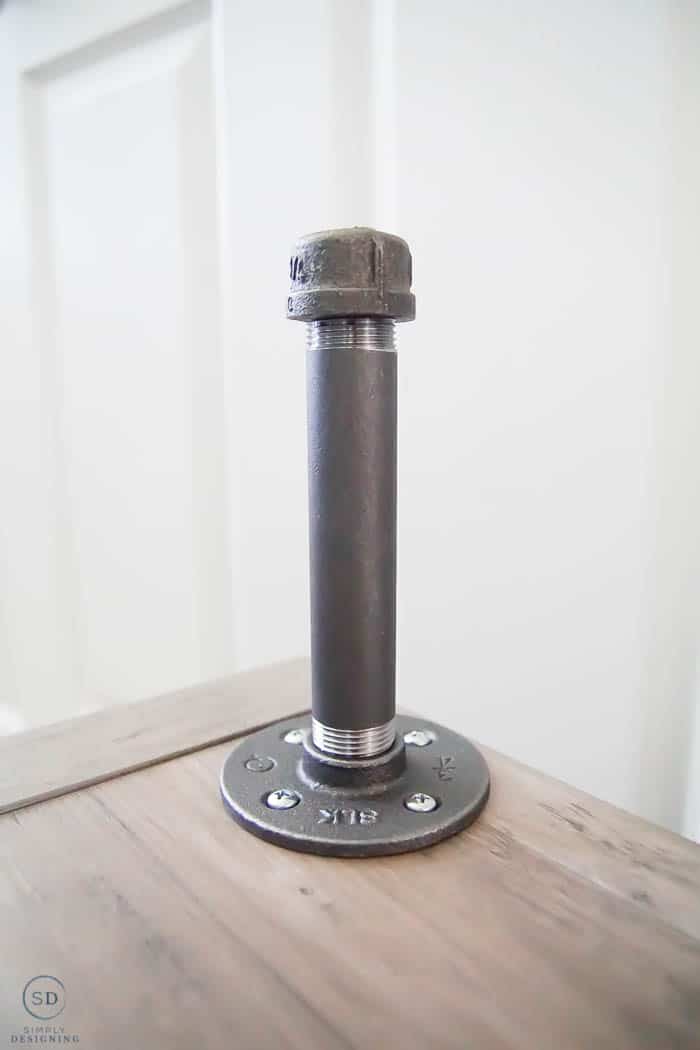 Then we took a black pipe nipple and on one end attached a floor flange, and on the other end attached a pipe cap.  Then we used self-tapping screws to attach these to the long side of the storage cube as legs.  We did two legs on each side and two legs in the middle, so 6 legs in total.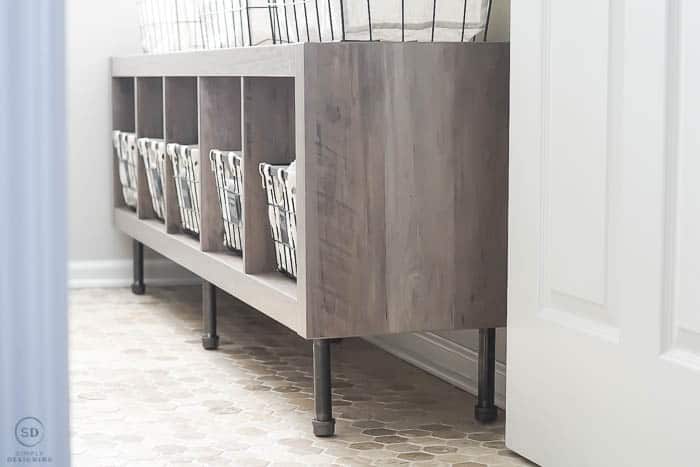 We turned the storage cube around so the legs were down and we placed this into our laundry room.  Oh oh oh isn't she so pretty!?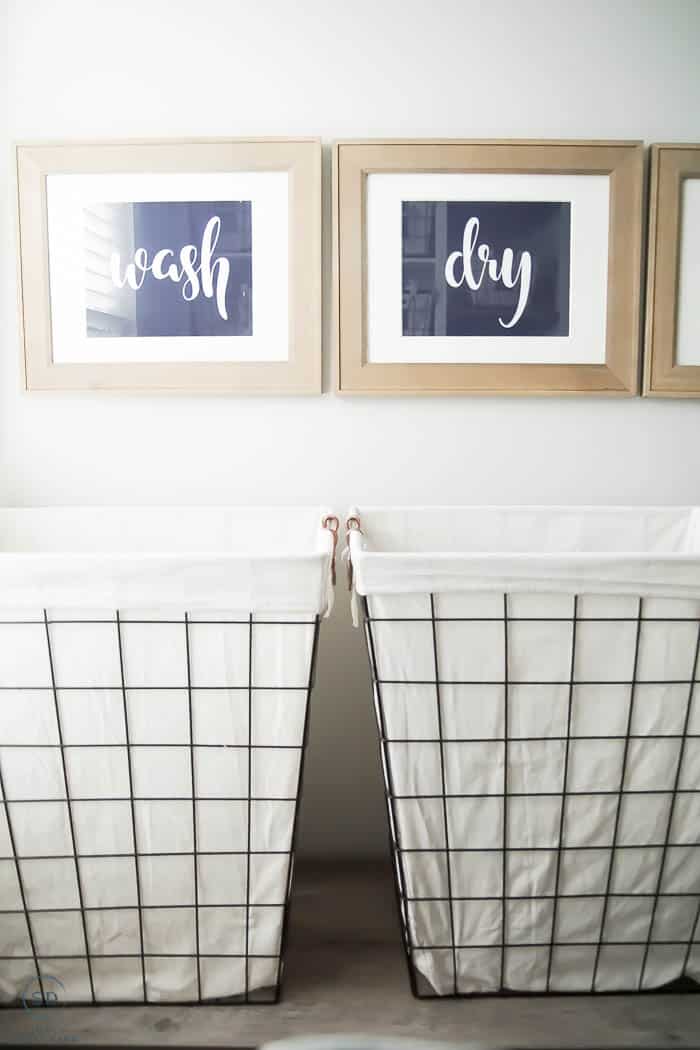 This storage cube added additional storage AND a raised place to put laundry baskets.  Functional and pretty.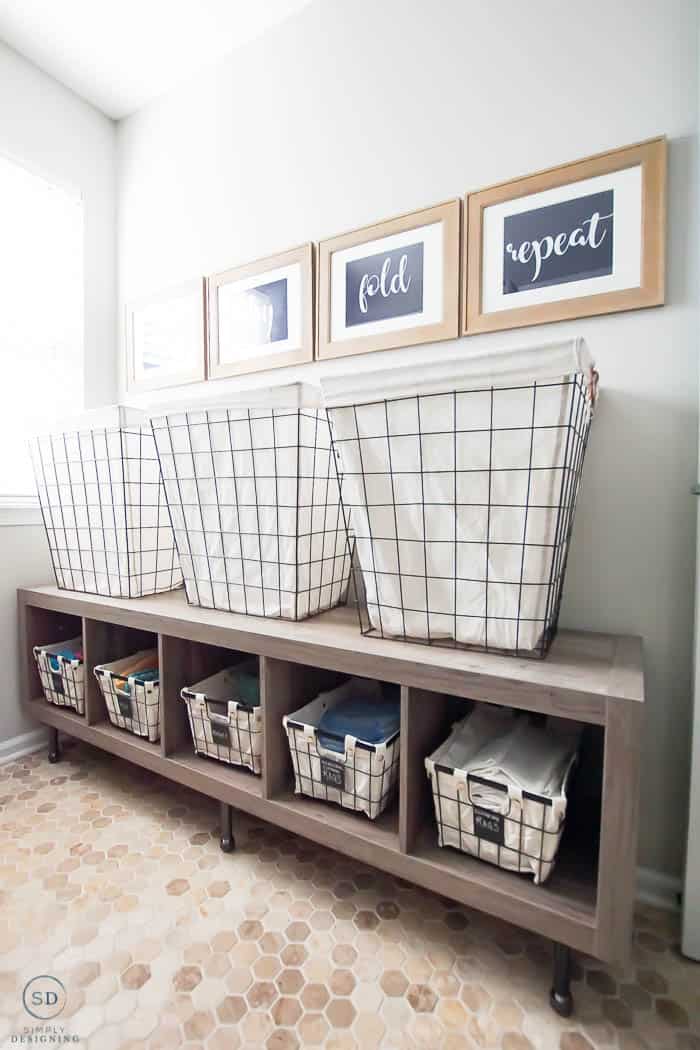 I decided to use (3) rectangular wire laundry baskets with liners on top of the storage cube for dirty laundry sorting.  My kids can easily throw their white laundry, colored laundry and towels into these three baskets and all I need to do is put it in the washing machine to wash.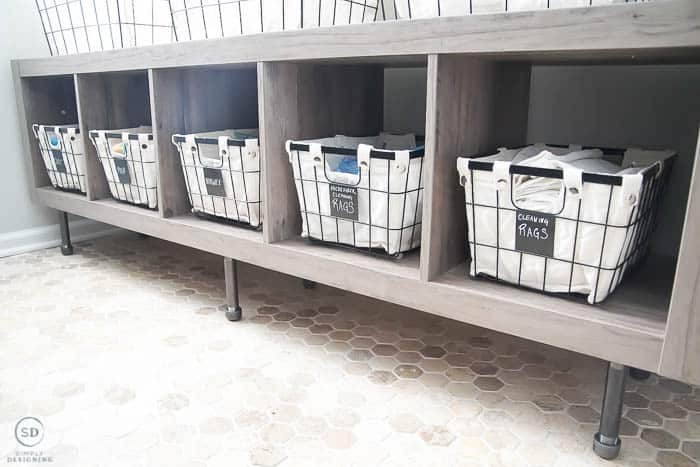 In the storage cube, I added (5) more wire baskets and decided to put soft cleaning supplies in these since they would be easily accessible for our children.  Yes, I make my kids help clean the house, and it is easier if they are able to reach some of the supplies themselves.
I have baskets for different types of cloths, floor mop covers and dusting covers.  I love how easy this will be for my children to find what they need when it is their turn to clean a portion of our house!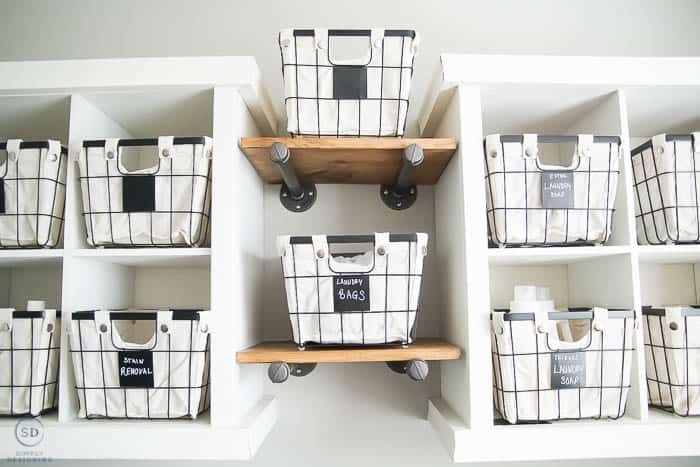 Organize a Laundry Room with Labels
I used a chalk marker to write on all of the baskets what was in them which will make everyone's life so much easier when they are looking for something or need to put something away.
Giving everything a place is the best way to organize any space.  And ensuring everyone in your home knows where everything goes, is a sure way to keep it organized!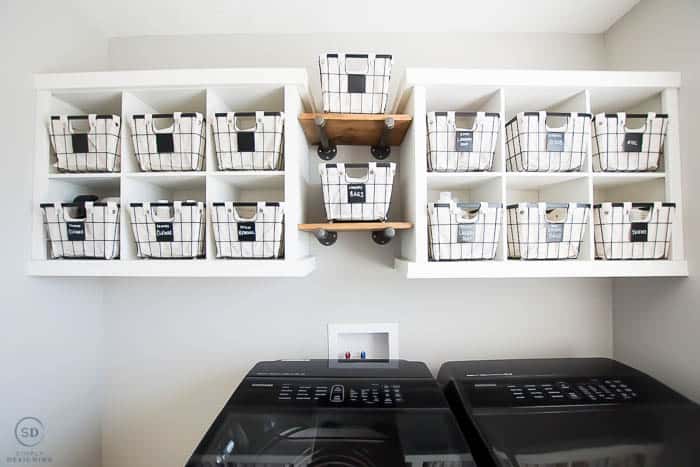 And if you look really closely, you will see I have a few non-labelled baskets.  That is because they are currently empty.  Weird, right?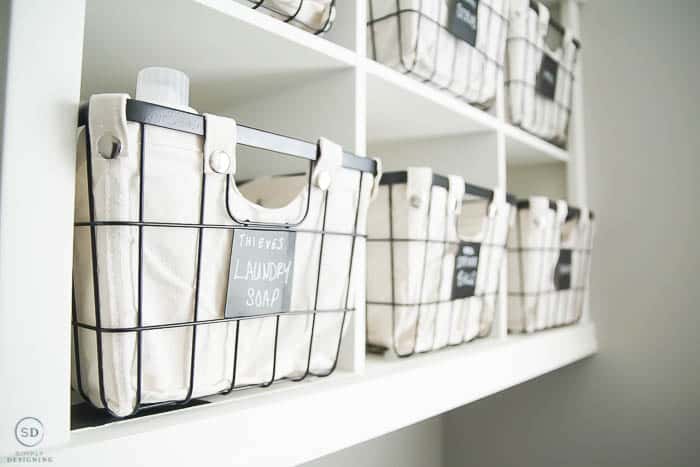 But don't worry, I already have a plan to keep our extra batteries and light bulbs in these for easy access.  I just need to dig them out of their currently unorganized cabinet and bring them up.
Yup, it's true folks, I have a cabinet that needs some major love and organization...but that is a project for another day.  Today I am staying focused and only chatting about how to organize a laundry room.
Add Wall Decor to your Organized Laundry Room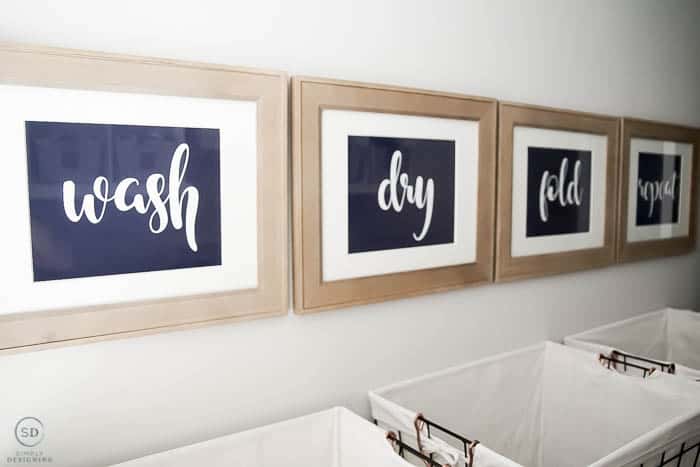 And then we hung (4) rustic frames on the wall and I designed custom laundry room prints just for this space!
Wash.  Dry.  Fold.  Repeat.
Yup.  I do a lot of that.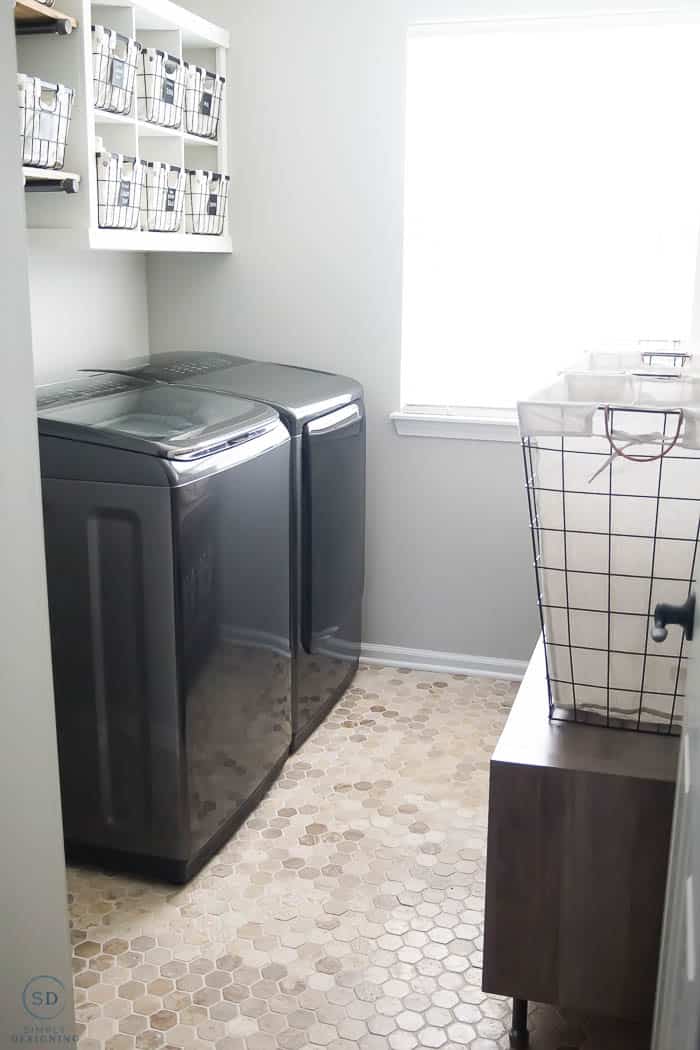 I just love how my laundry room turned out!
Today, I am just relishing in my clean, neat and organized laundry room!  And I am certainly enjoying how pretty it is too.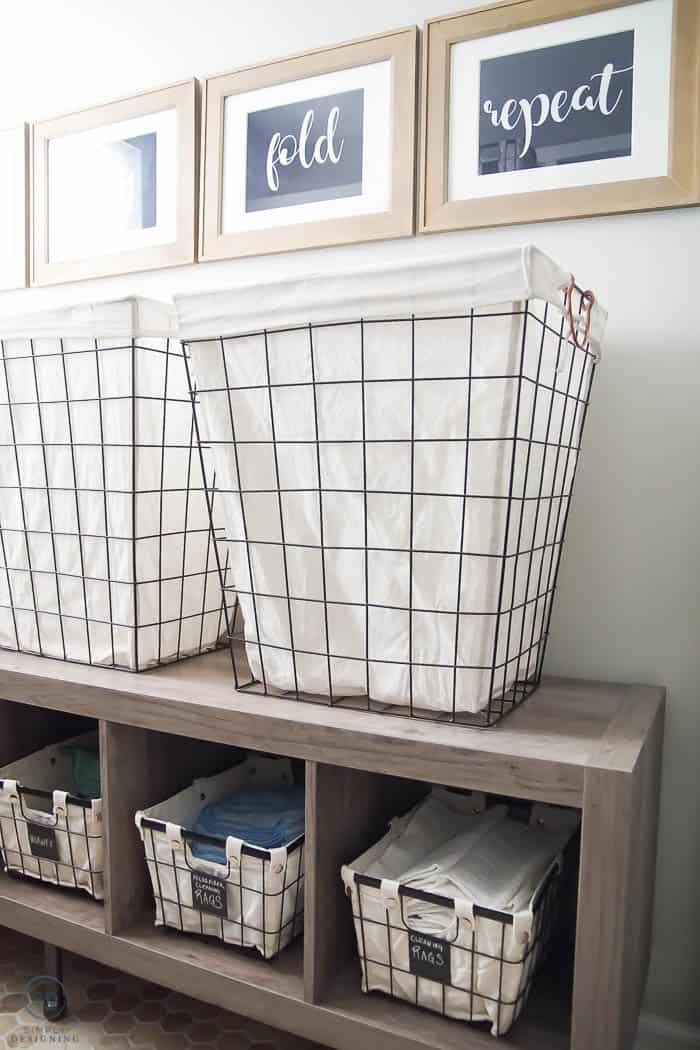 Will it make me want to do laundry...probably not.  But at least when I am in there, it will make my life easier and more beautiful.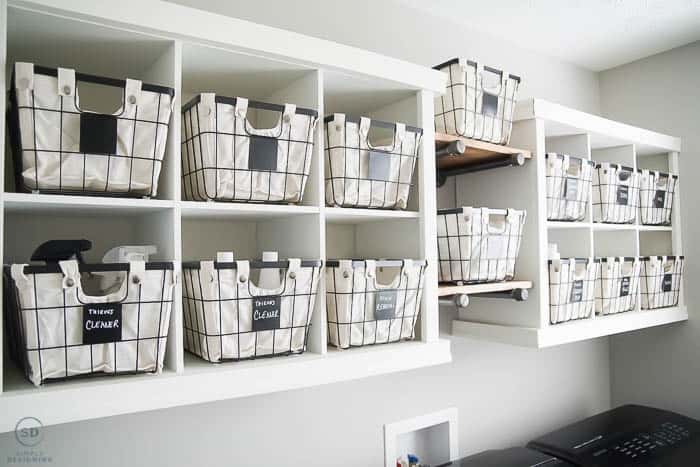 And don't worry, I've got you covered with the FREE LAUNDRY ROOM PRINTS.  I designed these and am sharing them for free.  Woot woot!
These laundry room prints are the perfect want to help create beauty and decor in your organized laundry room.
Print your FREE Laundry Room Prints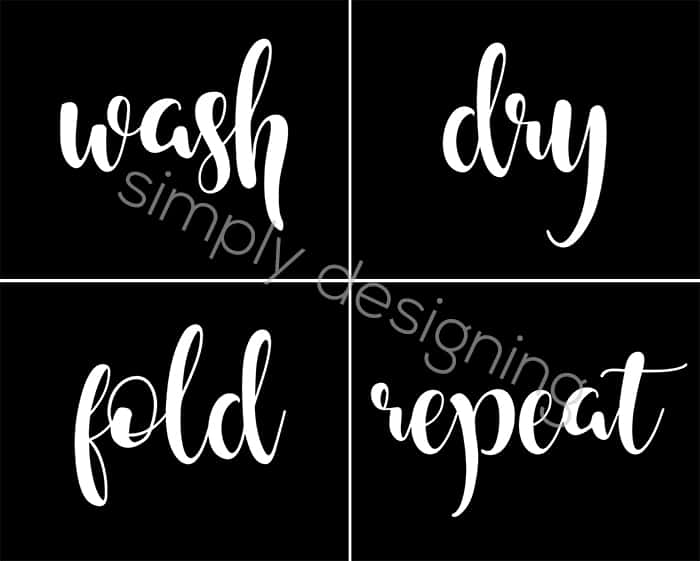 To download this free print, simply click the link below and sign up to receive my weekly newsletter.  You will almost immediately be sent an email with a link to my printable library and the password you need to access it!  Every week when I send my newsletter out, I resend the password so don't worry, you only need to subscribe once to get all the insider access to my free printable library!  
Please note that all printables are for personal use only and only for those signed up to receive my emails.  If you would like to share the file with someone, please send them to my blog!  Sharing of files in any manner is strictly forbidden.  Any commercial use of these files or the design of these files is strictly forbidden without prior written approval.  You may not sell any part of these images, use them to make anything to sell, or in other way engage in any commercial activity with part or all of these images.  You may not recreate your own for commercial use either.  But please print and use these for your personal use!  If you are looking for a commercial license, please email me at [email protected]  Thank you!

Shop this look to Organize a Laundry Room Today:
(6) ¾" x 6" Black Pipe Nipple
(6) ¾" Black Pipe Floor Flange
(6) ¾" Black Pipe Cap
(24) Self-Tapping Screws
Driver
Chalk Marker
FREE Laundry Room Prints  (see above to download these)
If you enjoyed this post about how to organize a laundry room, you might also enjoy: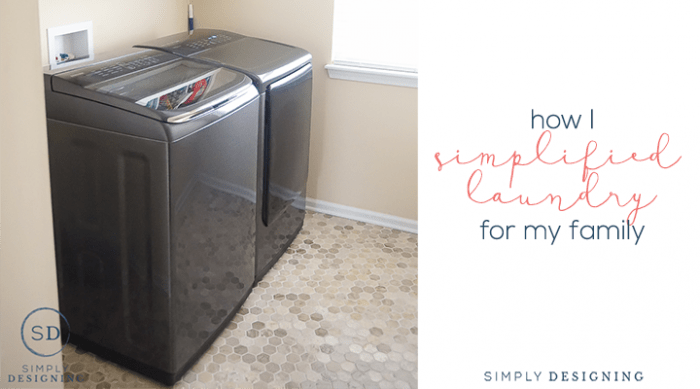 How I Simplified Laundry for my Family