It is spring which means it is time to get out into your yard and so today I am really excited to share my tips and tricks for How to Plant a Tree! Recently I shared How to Pot a Plant here, and while I love doing that to add flowers to spaces like a patio, Planting Trees, bushes and landscaping around my entire home has been so much fun and is truly my favorite way to really update the exterior of your home. Keep reading for all the details and step by step instructions.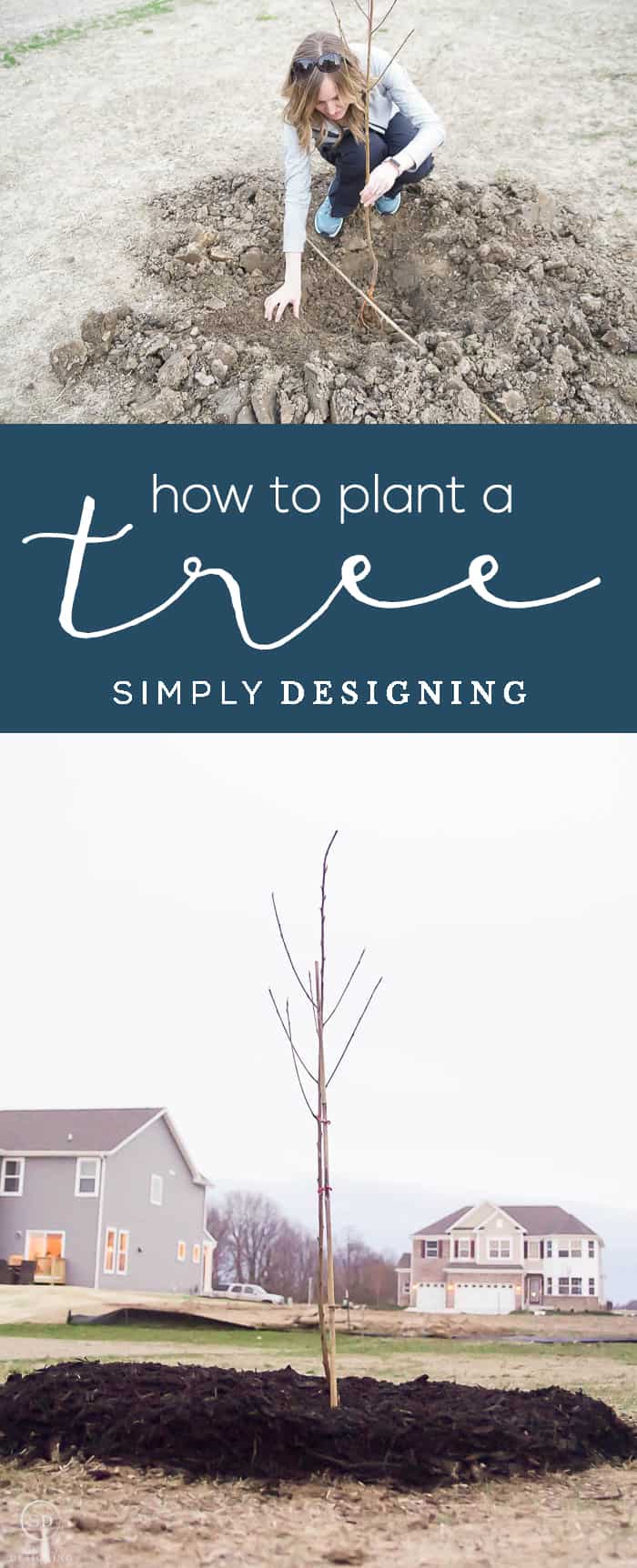 A big thank you to Arbor Day Foundation for sponsoring today's post about How to Plant a Tree. All opinions and ideas are mine. Affiliate links may be included in this post for your convenience. If you make a purchase through these links, you will never pay a penny more, but I receive a small commission for it. Thank you for supporting my blog.
How to Plant a Tree
The best time to plant a tree is in the spring or fall, which means right now is the optimal time to get going on improving your yard!
But just because it is time to plant trees, doesn't mean you are able to run out to the store and buy a ton of them. Trees can be pricey.
How to plant a tree and save money.
When we first moved into our home almost 9 years ago, the builder planted an obligatory tree in the front of the yard, and one on the side too (but that was only because we were a corner lot).
We knew right away this just wouldn't do. We both grew up in places where trees were abundant, and so we were desperate to add more trees to our yard, but we just didn't have the budget to buy a bunch of trees at our local nursery.
So we turned to the Arbor Day Foundation! I don't remember how I found them online, but I soon learned that you can purchase bare root trees from them at a fraction of the cost that local places were charging.
We ordered several trees and have spent the last, almost 9 years, watching them grow!! I am honestly so sad to be leaving them with our move because they have grown and are beautiful, amazing trees.
While it is easy to hit up your local nursery or big box store for trees and other plants, if you have a little patience, trees from the Arbor Day Foundation can be a great way to save money on trees!
So when the Arbor Day Foundation asked if I would like to receive a tree, plant it, and share about it on my blog, because I already had a great experience with their company, I happily said yes!
Why buy a tree from the Arbor Day Foundation?
The Arbor Day Foundation is a non-profit conservation and education organization dedicated to making the world greener and healthier.
Their website will help you choose trees that will thrive in the location where you live and they will be shipped to you at an ideal time to plant them (spring or fall). All you need to do is plant them!
They have great tools on their website like a Tree Finder and a Hardiness Zone lookup to make selecting a tree that will thrive in your location easy.
And if you join as a member, you can even get 10 free trees (we did this 9 years ago).
You can landscape your entire yard with Arbor Day because they sell trees, shrubs and bushes too!
Shipping is a flat fee of $9.95 or free with an order over $60 (as of 4/23/2019). But go HERE and save by using code: SIMPLY10 (Using this code will cover the shipping costs of $9.95, or on purchases over $60, you can get free shipping and $10 off the total order!)
The Arbor Day Foundation guarantees that their trees will ship in good, healthy condition and that they will grow, or they will replace it within one year.
And the prices REALLY can't be beat! Once we get into our new home, I plan to place a few orders with Arbor Day for trees, shrubs and bushes!
Find out more HERE and remember to save by using code: SIMPLY10
Things you may want to know about planting an Arbor Day Foundation tree.
Arbor Day trees will arrive as a bare root tree. This means that the roots are bare, not in soil. But don't worry, they have been dipped in a hydrating gel prior to shipment so the roots will stay healthy and moist.
Because bare root trees aren't confined by tightly packed soil in a container, they don't have as long of an acclimation period when planted so they can get off to a great start and often outgrow their containered-counterparts for the first few years.
Your trees will ship and arrive in a state of dormancy. That means there will be no leaves on the tree. Don't worry, your tree is healthy, it is just dormant! Planting a tree while dormant is the best way to plant or replant it.
Do not use fertilizer, pot soil or chemicals on your new tree. Simply use the soil already in your lawn and plenty of water.
If you are worried about animals or wildlife, you may want to put up a small fence or chicken wire around your new tree.
How to select a tree to plant.
Head to The Arbor Day Foundation HERE
Enter your zip code in the tree search box or the hardiness zone lookup tool
When your zone appears, you can browse popular or recommended trees for your area
You can browse by type, category, tree name, or try the "Best Tree Finder" tool to find the most ideal tree for your home
Add all the trees, shrubs and bushes you want to your cart and then check out! Remember to use code: SIMPLY10 to save! (Using this code will cover the shipping costs of $9.95, or on purchases over $60, you can get free shipping and $10 off the total order!)
What kind of tree did we plant?
As some of you know, we have sold and moved out of our house here in Indiana and will be moving across the country soon. So we were happy to be able to bless another family with this tree before we left town!
This sweet family hasn't been in their house too long and is still working on growing grass, planting trees and landscaping their yard.
The wife had always wanted a peach tree, so I was super happy to be able to help them get and plant a Golden Jubilee Peach tree in their backyard.
This tree came dormant from the Arbor Day Foundation and was about 3'-4' tall. It is a perfect peach tree for our climate because it can withstand colder winters.
And in 3-4 years, it will yield peaches for their whole family to enjoy!
Save on trees, shrubs and bushes at The Arbor Day Foundation HERE and use code: SIMPLY10 to get FREE SHIPPING or on orders over $60, free shipping and $10 off your order!
Ready to plant your new tree?
Here is a short video showing the process: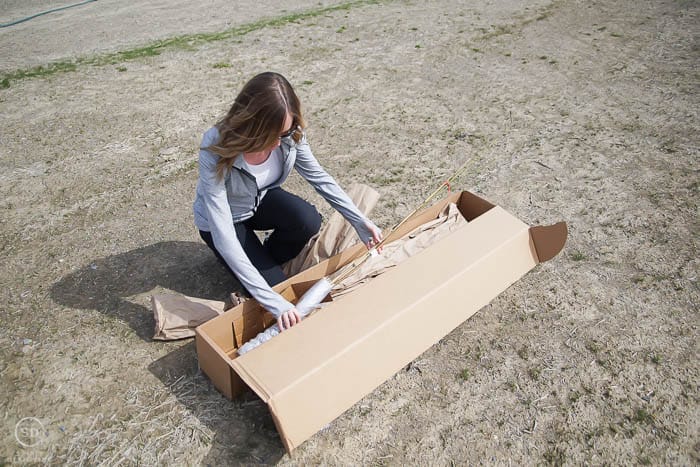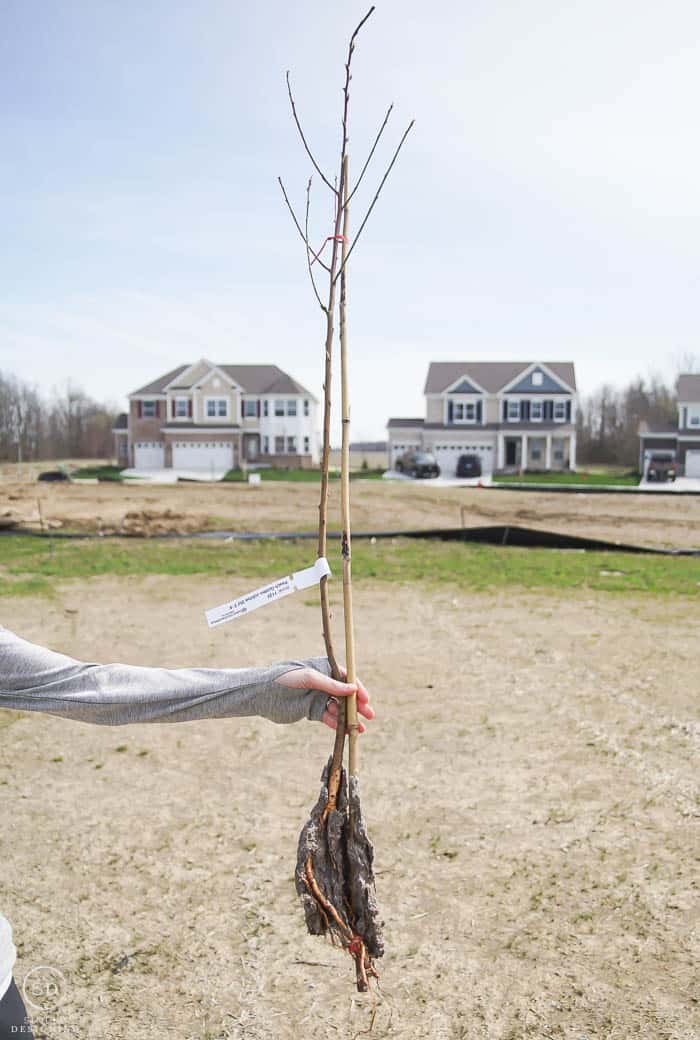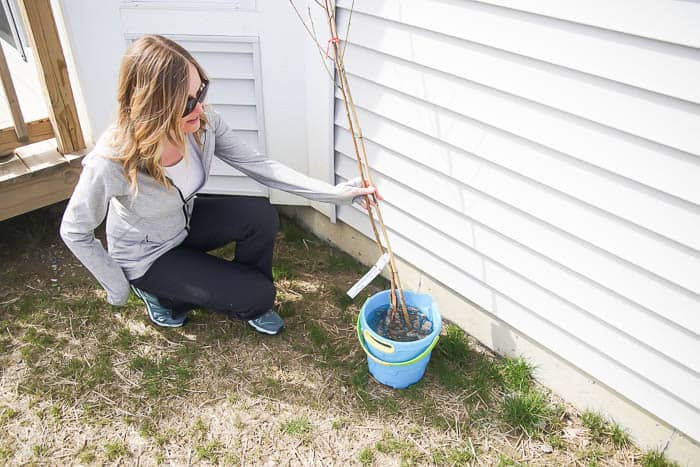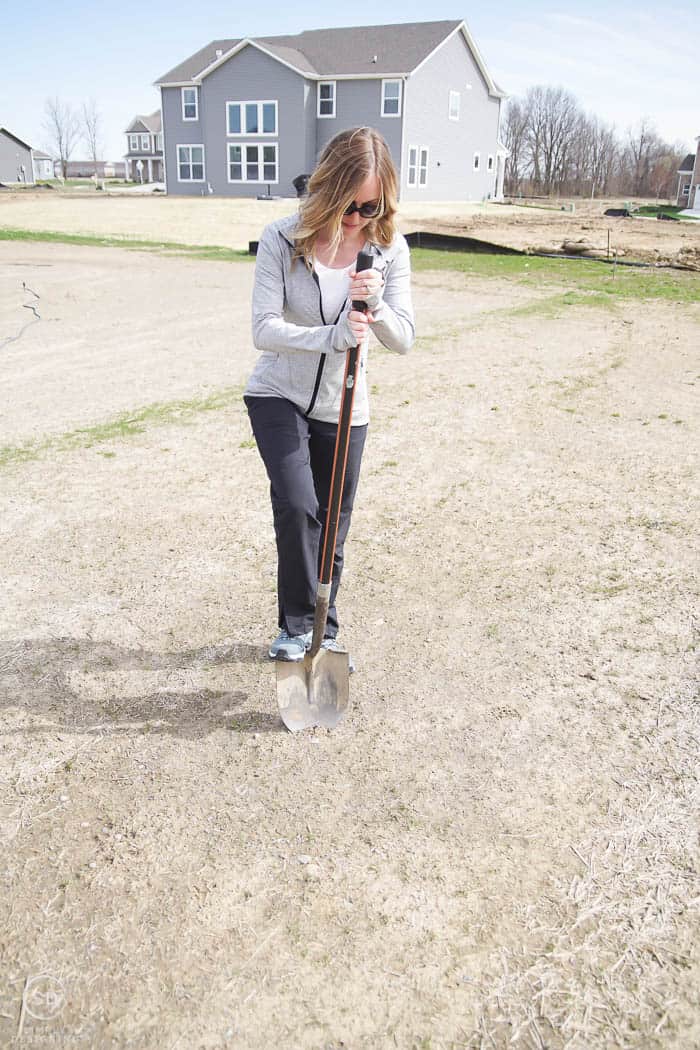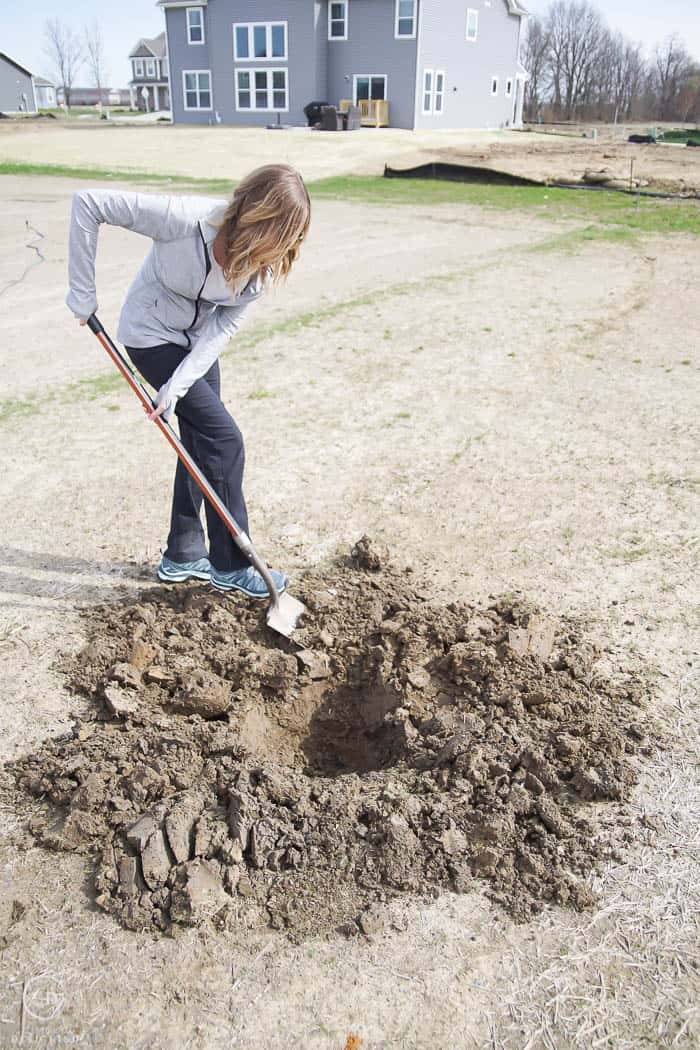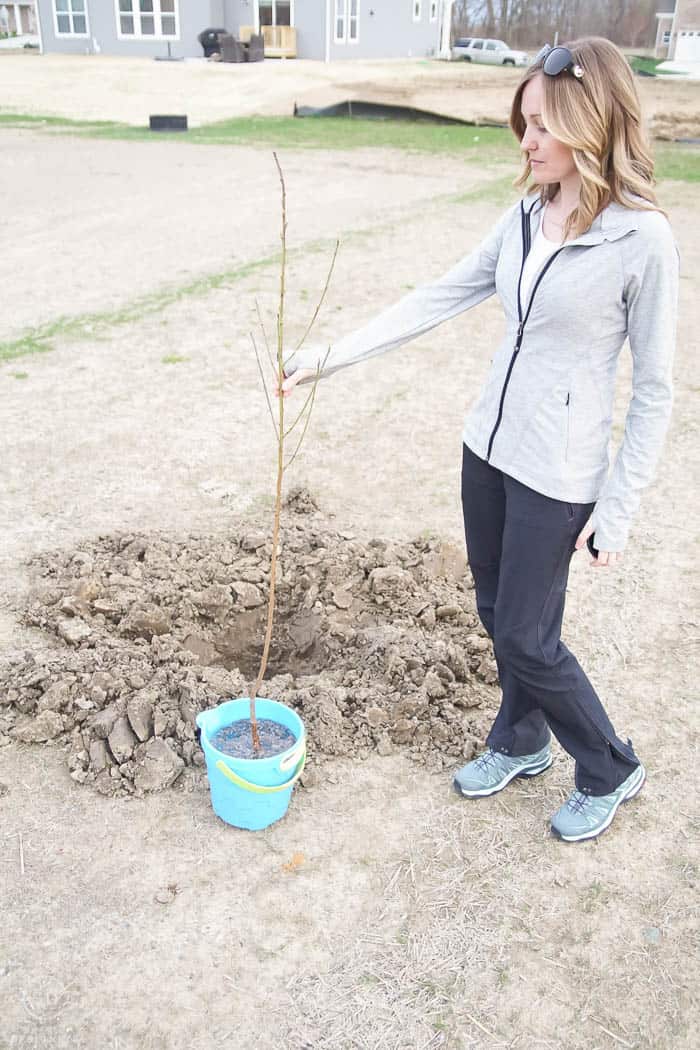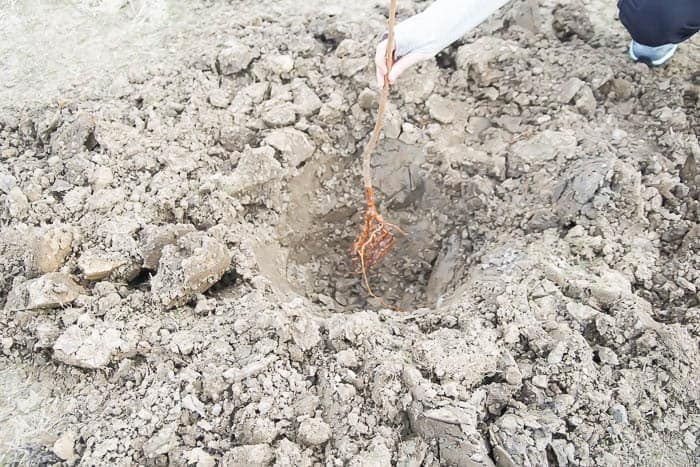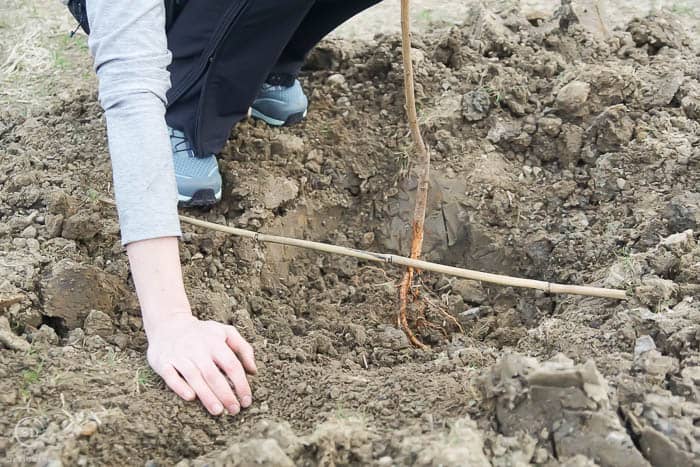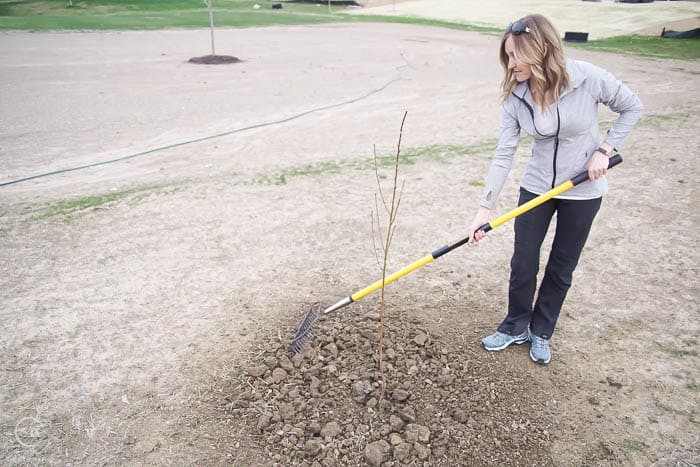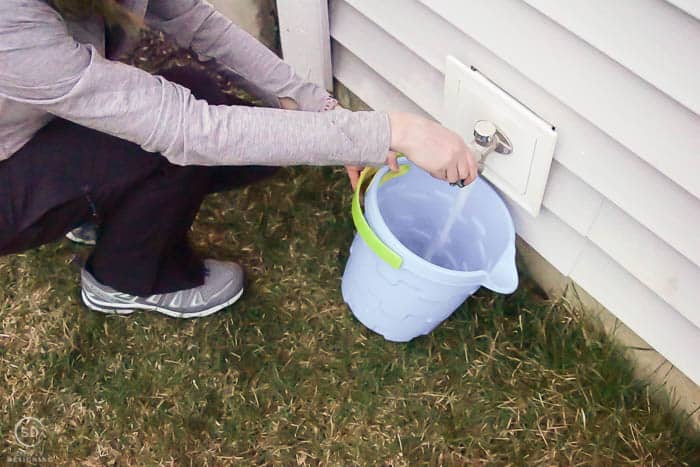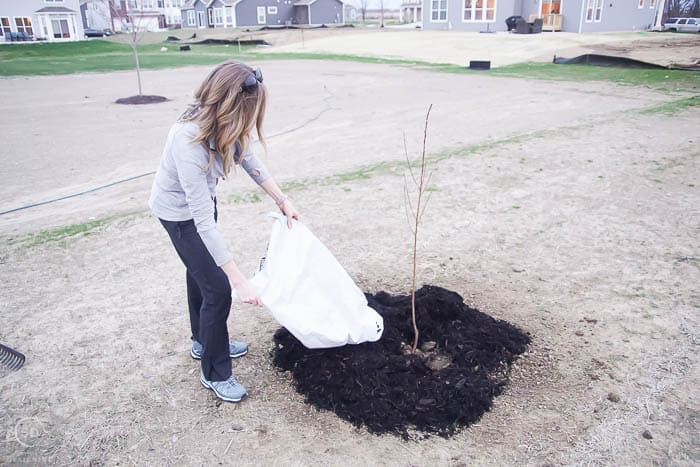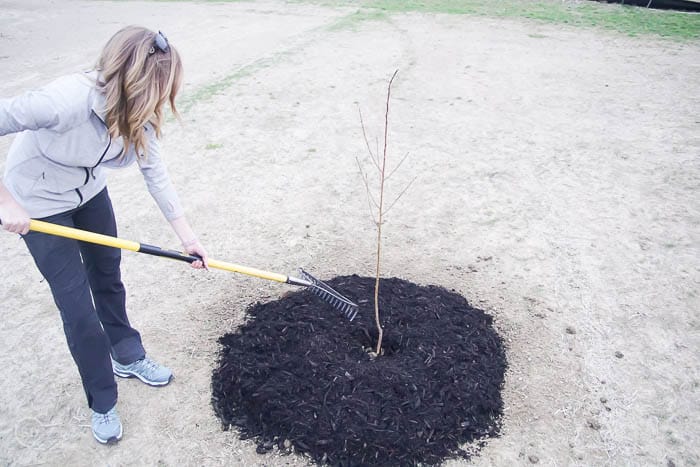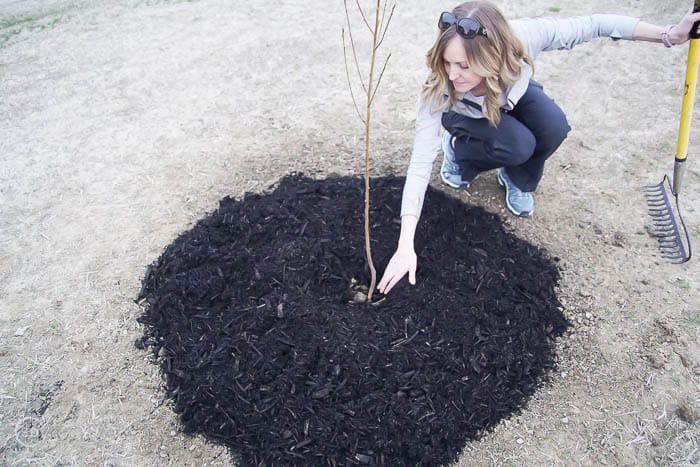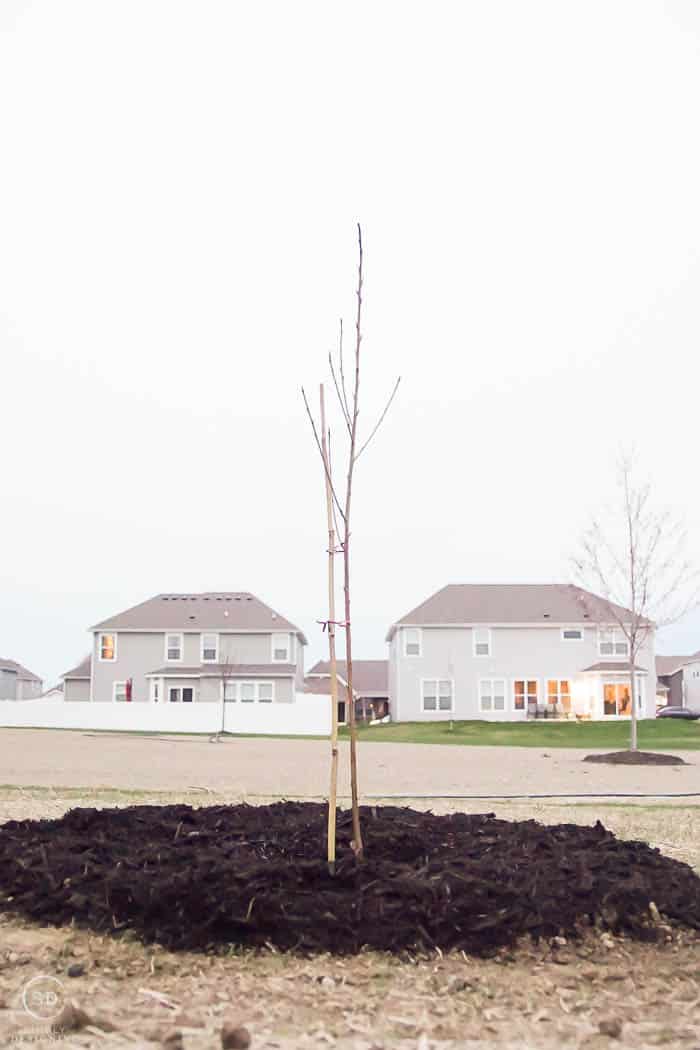 How do you plant a new tree?
Ensure that you plant your tree at the ideal time. Typically spring and fall are the best times to plant a tree. In the spring, make sure you plant after the frost is gone through late spring.
Plant your tree within 5 days of their arrival. If it is not possible, your tree should be heeled in.
Unpack your tree, carefully removing all packing material from around the roots.
Untangle the roots.
Soak the roots in water for 3-6 hours.
Dig a hole wider then you think, clear the grass in a 3' diameter around where your tree will be planted and turn the soil in this area too. Dig only as deep as your roots are tall.
Plant the tree so that the roots are below the surface of the ground, but not by too much. Gently fill the hole back in with soil ensuring that it is filled in completely, but not packed down.
Water the tree.
Spread 2" deep mulch around the base of the tree in a 3' diameter, but not touching the trunk of the tree.
Water the soil and mulch around your tree often. It should be moist but not soggy. For the first year, water about once a week during dry weather.
BONUS: If you are worried about wildlife, use chicken wire to create a fence around your tree. If you are worried about high winds (as we get in Indiana) you can reuse the wood stick that came with your tree as a stake to help support it until it has firmly taken hold in your yard.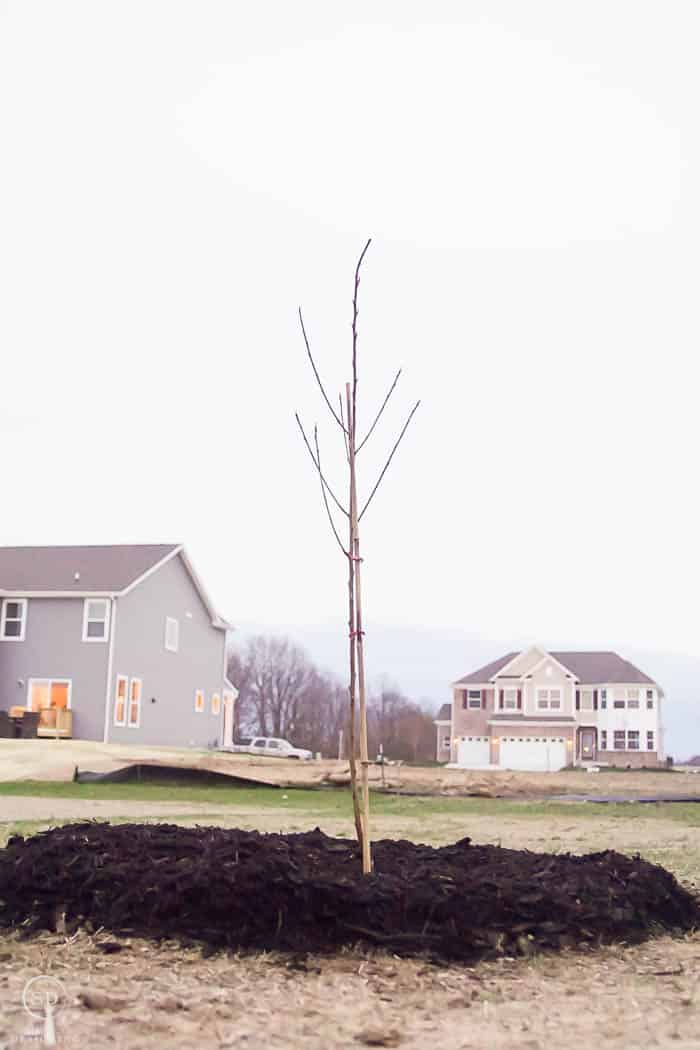 If you enjoyed this post about How to Plant a Tree, you might enjoy these posts too: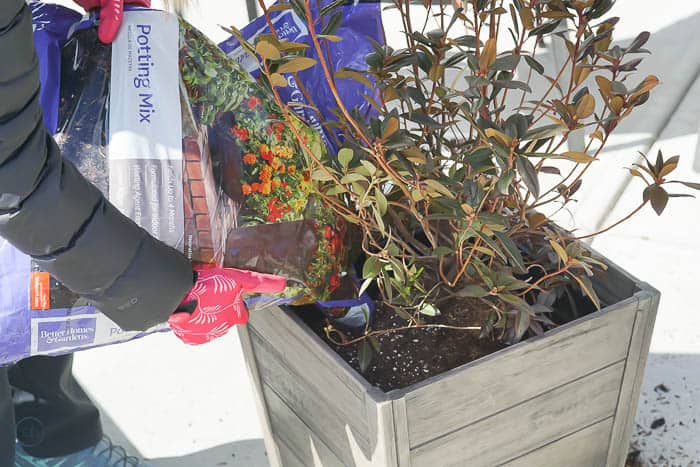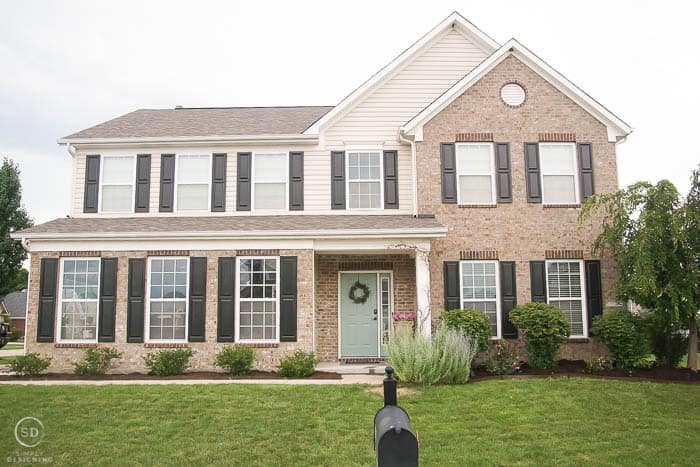 How to Paint Shutters and a Front Door