I usually don't do a lot of decorating for Valentine's Day, but when I decorated for Christmas, I found a beautiful frame with a pretty chalkboard style holiday image in it. I loved it so much I snagged it and enjoyed it in my foyer during the holiday season. I decided that I wanted to keep the frame in place seasonal prints in it throughout the year. I don't always do a good job at decorating for every season, but I think maybe if I focus on just one area, I could succeed at it! So my foyer it is! I still absolutely LOVE my IKEA Hack Cabinet I have in my foyer! It is so pretty and so me. And is the perfect place to add a touch of holiday decor without feeling the need to decorate my whole house! So I decided to come up with cute print that I could place in my rustic frame for Valentine's day! I had an idea in mind and in a few minutes came up with the perfect Valentine's Day Print...my I love you printable!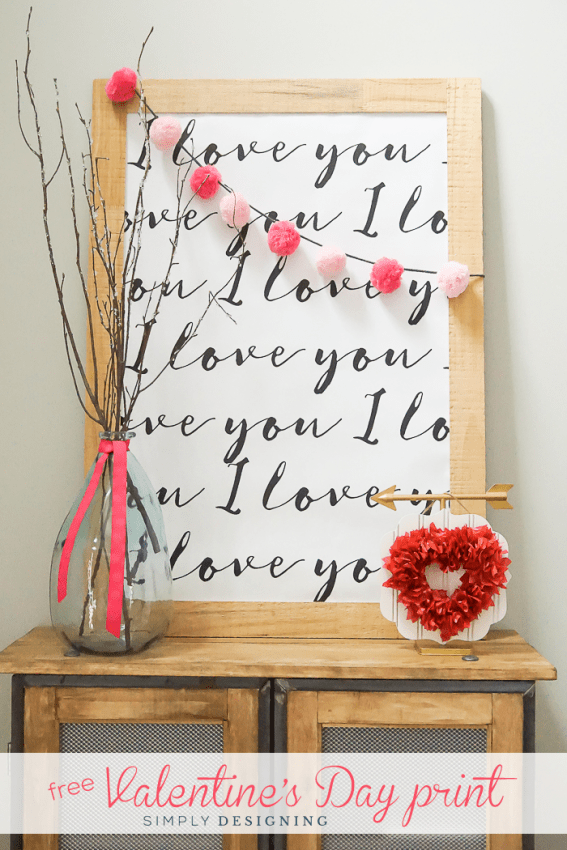 I Love You Printable : perfect print for Valentine's Day
I love how simple yet beautiful this image is! As soon as a friend of mine saw it she asked where I had gotten it, I told her I made it and she begged me to send it to her! So I did of course! And I thought that you might like it too!
And the best part is is that it doesn't cost an arm and a leg to print! Even though it is 24" x 36" in size, many local print shops will do a black and white architectural print for about $3-$5! Seriously. You might need to ask for it to be printed this way, but if they are a print shop who regularly prints architectural drawings or plans, they can print this that way too and it will save you a ton of money! Woot woot! (I am not endorsing any particular print shop, but I know someone will ask, so I got mine printed at Kinkos. It cost under $5 and was done quickly and without a hitch!)
I had it printed, finagled it into my frame, added a few more Valentine's Day decorations and in just a few short minutes, my Valentine's Day decorating was complete! I love my I Love You printable and I love that it is the perfect Valentine's Day printable and decoration! It is easy and inexpensive!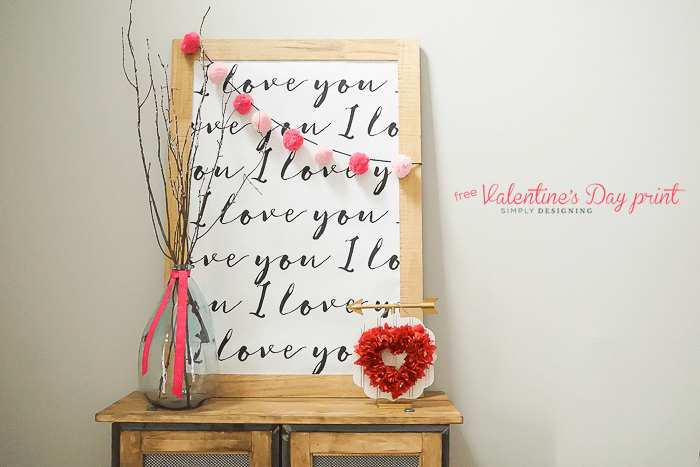 Also, I personally think that this printable would work to have up all year long, not just for Valentine's Day.
And I am giving the print away FOR FREE! Yes it is true. For a limited time I am allowing you to download this printable completely free for personal use only! So snag it while you can! Please note that this is for personal use only. Thank you.