Need a custom DIY baby gate for your stairs because you hate the look of the ones in stores?
As many of you know, we are expecting a little girl this fall! Woot woot!
While the first part of my pregnancy had me constantly worried that something was wrong (2 miscarriages and a stillborn with Trisomy 18 will do that do you), now that I am 27 weeks I am rip-roaring ready to go.
Nesting has finally hit (sorry bank account) and I am ready to get our house prepped for a newborn again!
I have a 9-year-old and a 6-year-old, so my house hasn't been baby proofed in years.
So we have a lot of work to do before we welcome a new little one into our home.
One of my main concerns is our big, long staircase.
In the entry to our home, we have a long, straight staircase that always worries me for little ones.
Because we have hard floors, if they were to fall it would be even worse!
And because the staircase is straight, it is a long fall too.
So the first thing on our baby-proofing to-do list was to come up with a baby gate solution for this area.
Because we have a post on one side and a wall on the other, it is not very conducive to using a baby gate that relies on pressure, they never seem to work very well at this location.
And we didn't want to drill holes into our post.
We also wanted it to look amazing and go with our house.
So we decided to build our own baby gate!
And I just love how it turned out!
So today I am sharing all the details of how to make an industrial-style DIY Baby Gate!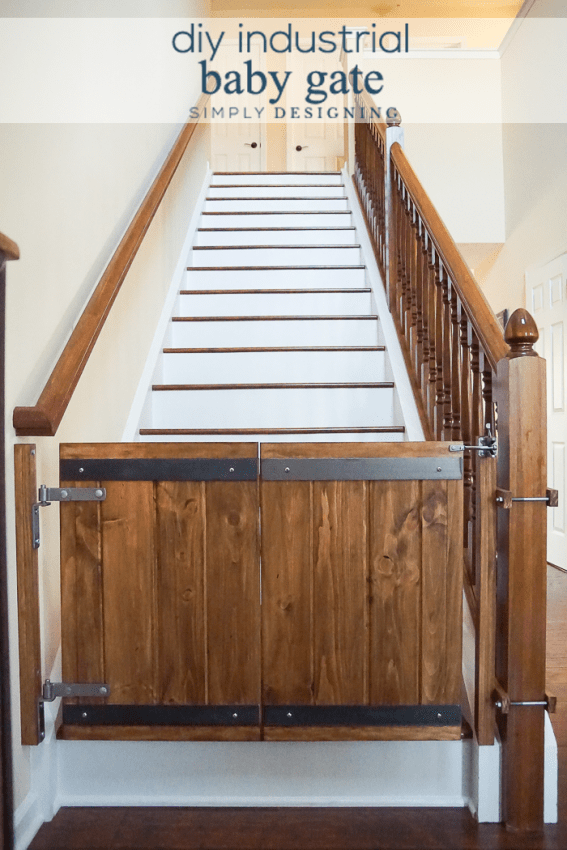 A big huge thank you to Elmer's for making this post possible. All ideas, photographs, text and opinions are mine.
This custom baby gate project took a little thought and planning but in the end it turned out amazing!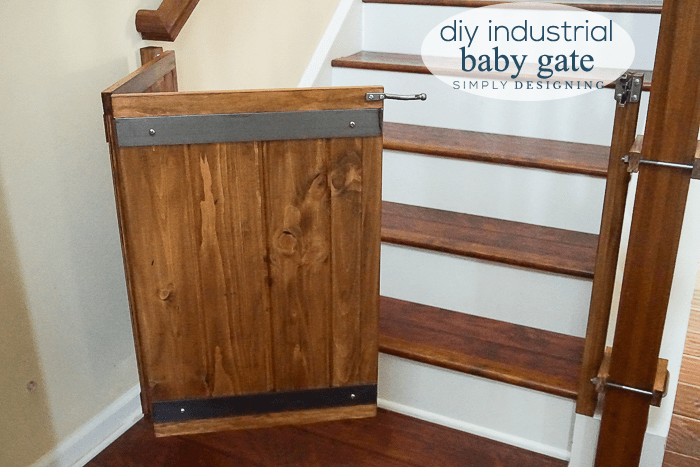 Here are a few things we considered when designing and making our DIY Baby Gate:
Our stairs are really wide, and we didn't want a baby gate to take up a huge portion of our entryway when it was open.
We wanted it to be able to lay flat against the wall so when we didn't need it, it would be out of the way. However, we have a piece of furniture blocking a large portion of the wall so we would not be able to lay the gate flat against the wall unless it was able to fold somehow.
We did not want to drill holes into our stair railing post.
We wanted it to look like it belonged in our home.
We wanted to add a unique and industrial feel to the baby gate.
All of this helped us to plan the design and execution of our custom baby gate.
You can recreate this for yourself too, but you may need to change some of the measurements to make it fit your space.
Our overall empty space from wall to post was about 44" wide.
We had to compensate for the moulding along the bottom and a railing to account for on the top, so we designed this baby gate accordingly and if you plan to recreate this yourself, you will need to take your measurements carefully and adjust your cuts, lengths, and size accordingly.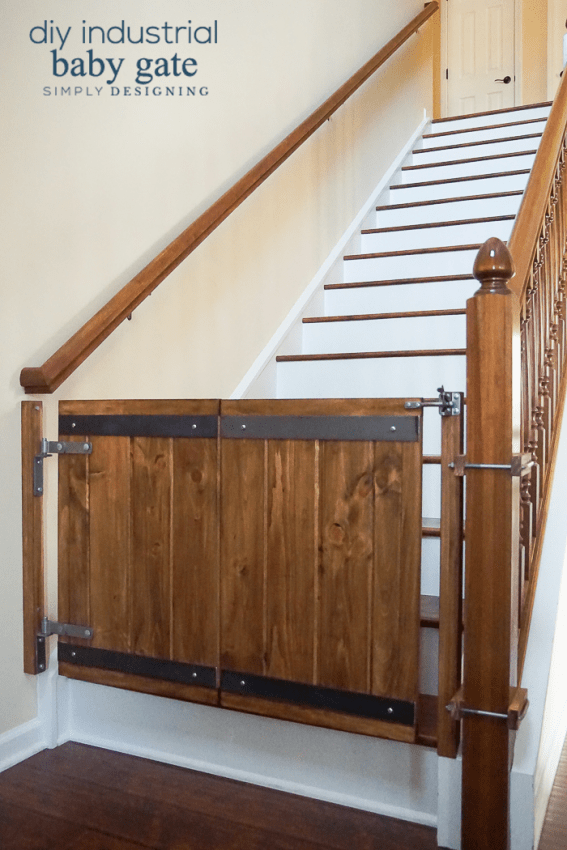 How to make a DIY Baby Gate
Here is what we used to create this (your supply list may differ):
6" Wood Car Siding (This is similar to shiplap except it goes together with a tongue and groove, not an overlapping design like shiplap does. The overall look is very similar though. But car siding is what was available at my local hardware store so we went with that.)
1" x 2" boards for the posts, the baby gate frame, and the post clamps
(2) 5/16" x 1 ¼" Carriage Bolts
(2) 5/16" x 1 ½" Carriage Bolts
(4) 5/16" Hex Nuts
(2) Wall Anchors with Screws or Bolts long enough to go through your post and into the anchor sufficiently to work properly
(1) Gate Latch
(2) 6" Strap Hinges
(2) Hinge Pins
(2) U-Bolts
(2) 3" Door Hinges
⅛" x 2" Flat Iron
Kreg Jig
Kreg Jig Screws
Kreg Plugs
Drill and Driver
Compound Miter Saw with a fine tooth blade and a metal cut-off blade
Table Saw
Nail Gun
Sander, plus 80 grit and 120 (or higher) grit sandpaper
Hammer
Elmer's Wood Glue Max
Stain (I used Cabot Aged Leather stain in Satin, which unfortunately is no longer carried in stock but can be special ordered.)
Spray Clean Coat, satin finish
Rustoleum Hammered Metal Pewter Spray Paint
Rags for staining
Gloves for staining
Tack Cloth
First, you want to see a before picture, right?
These are how long and straight my stairs are!
I definitely will need a baby gate at the bottom and top of these stairs.
Please note that I am sharing how we made the bottom baby gate in this blog post.
The top one is still in the works (but coming soon don't worry 🙂 but we will have to tweak it ever so slightly because the top does not have a post, but it does have a wall.
It will be basically built the same, just a few tweaks.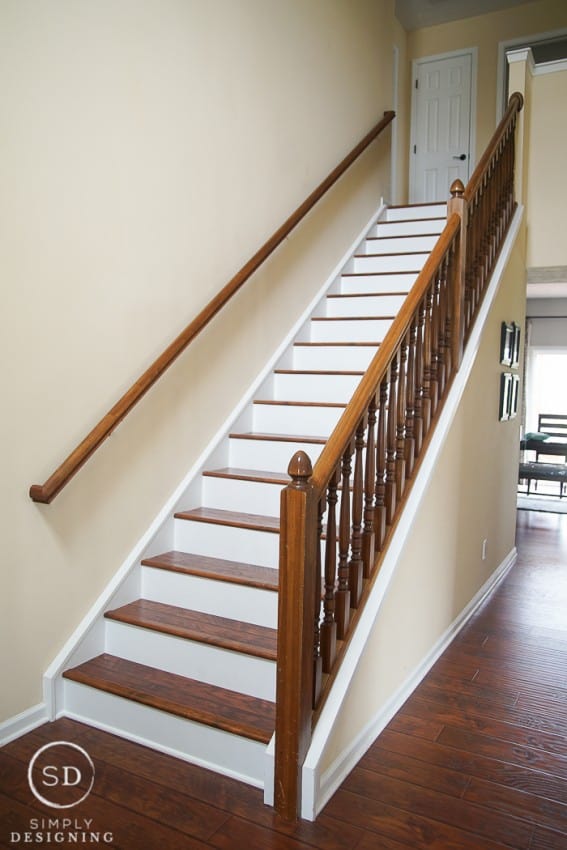 We had our plan in place and off to the store we went to purchase all of our supplies. When we got home we began work on our DIY baby gate!
How to Make a DIY Baby Gate:
We began by cutting (4) 1"x2" boards to about 28" long.
These boards will become our posts on either side of the baby gate.
One set of boards we cut with a flat bottom and the other we cut at an angle to match the angle of the moulding on our stairs because that set would sit on top of it.
We used Elmer's Wood Glue Max and stuck the two boards together so we had an approximately 2" x 2" square post.
We did this for both sets of boards so we ended up with 2 posts total.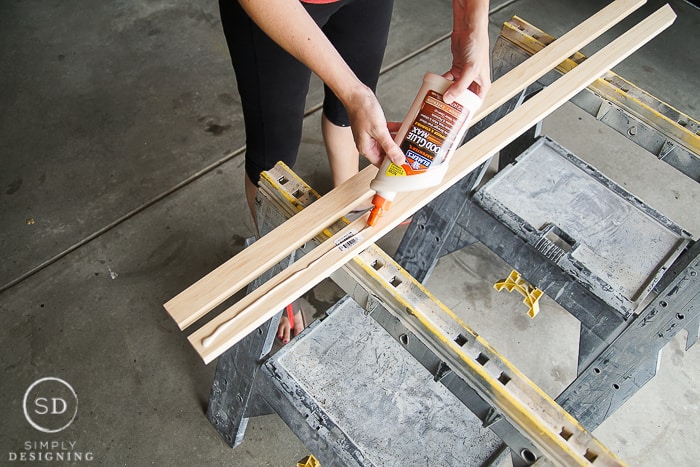 We used our Nail Gun to add a couple of brad nails to hold the post boards together as well.
Then we set these (2) posts aside.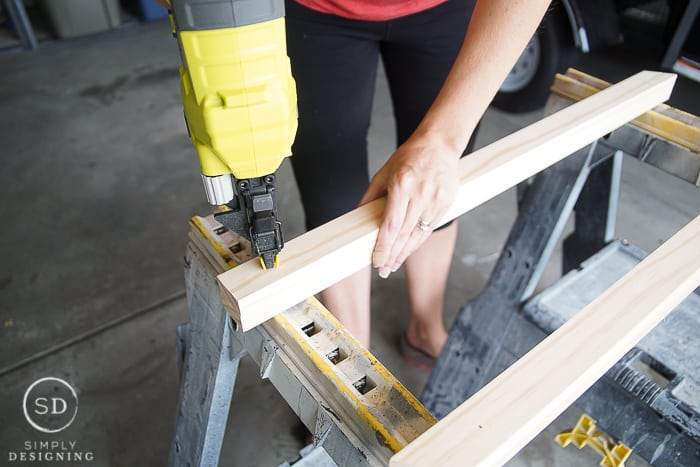 Next, we used a compound miter saw to cut the 6" car siding boards and the 1"x2" boards for the frame.
The overall height of the DIY baby gate is 28", so we cut the car siding boards to 25" lengths (we needed (7) 25" lengths of 6" car siding boards total).
One of the car siding boards we ripped down the middle (so we had a partial piece of car siding on either end of the baby gate) and another one we cut along the tongue directly in the center of all of the boards so that we could turn this into a folding baby gate.
We then cut our 1"x2" boards into the following lengths: (2) 25" lengths (for the sides) and (4) 18.5" lengths (for the top and bottom).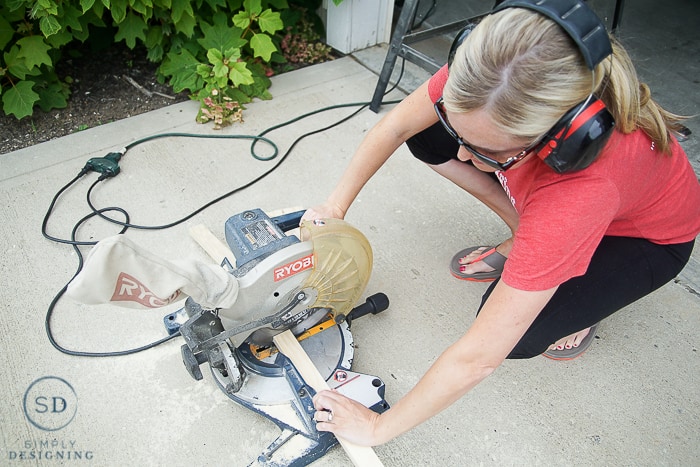 After all of the pieces of wood were cut for the DIY baby gate we laid the boards out to see what they would look like all together.
We used the Kreg Jig to create pocket holes around the outside of the boards to secure the frame and the inside boards together.
You can see where we made the pocket holes in the image below.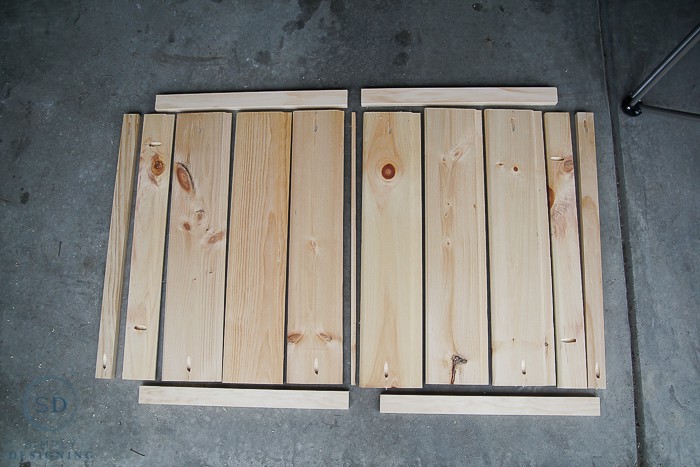 We used Elmer's Wood Glue Max to glue the car siding boards together.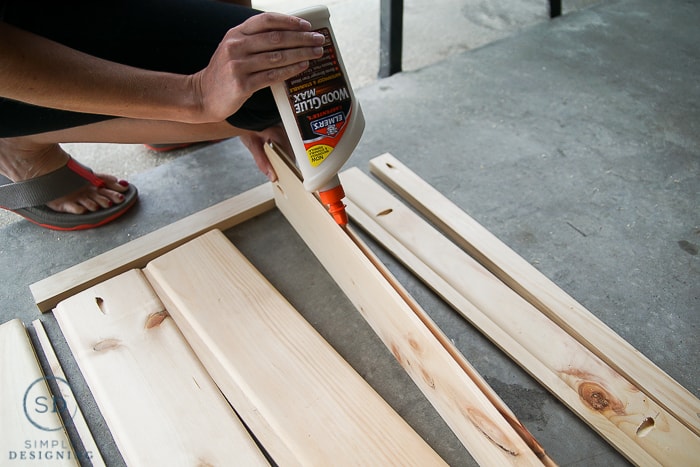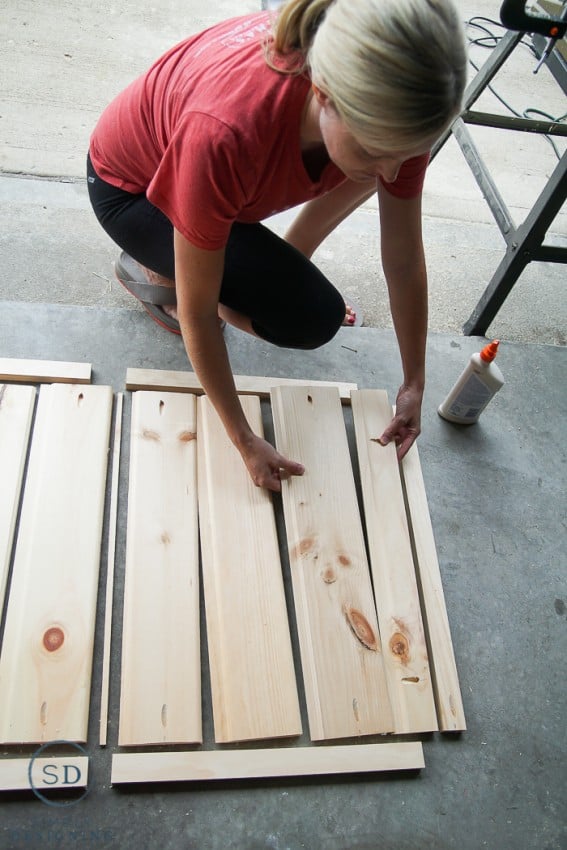 And then we used the pocket holes to attach the car siding boards to the outer 1"x2" frame.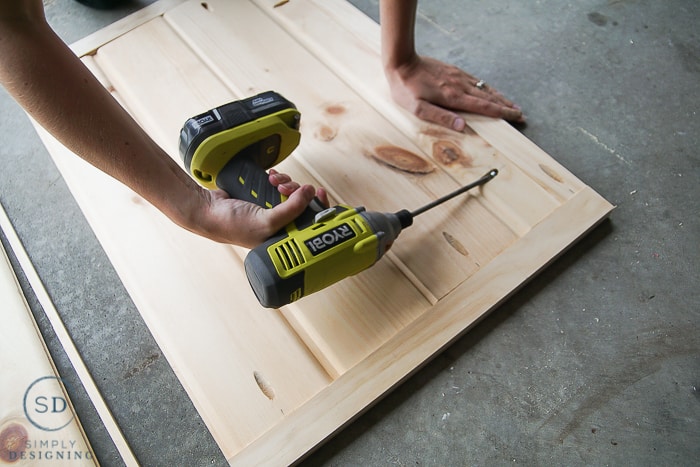 We used Elmer's Wood Glue Max to add wood plugs into the pock holes to keep the custom baby gate looking as clean as possible.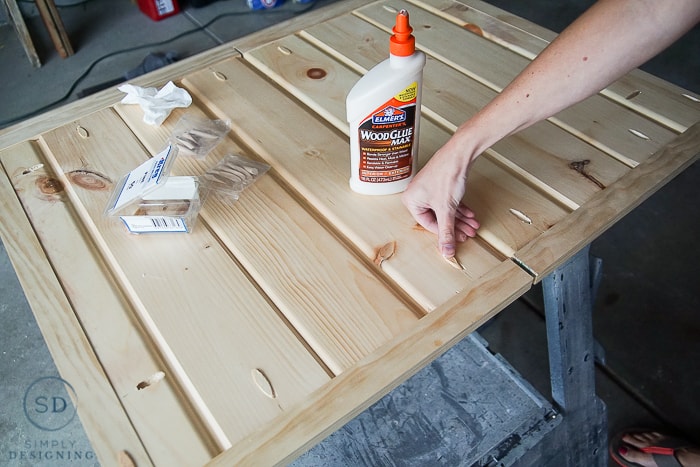 This is a good point to note that you will also want to cut your 1"x2" boards into (4) 5" lengths as well.
Then drill holes into them for where the u-bolt will go through the boards. These will become your clamps.
At this point you will have the door for the DIY baby gate completed, but still in two pieces.
That's ok, we will put it all together near the end.
We used 80 grit and then 120 grit sandpaper (and 220 for extra good measure) to sand the doors, posts, and clamps down.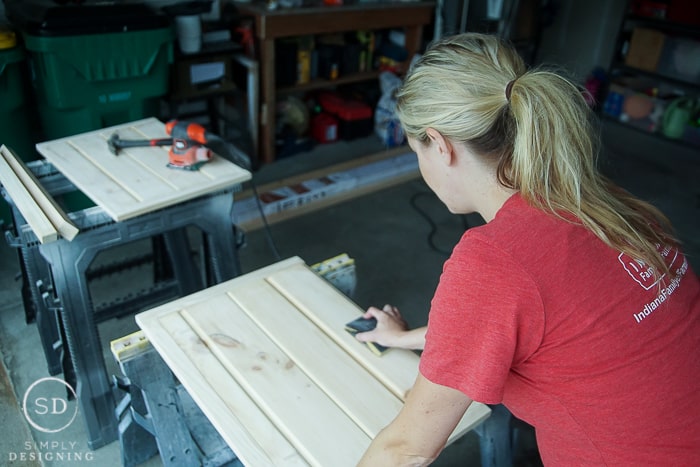 We took a hammer (both ends) to the boards to add a little bit of distressing to the boards.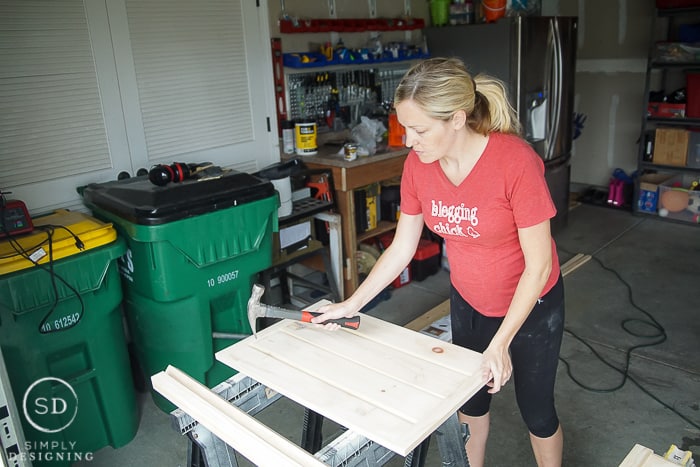 And then we used a Tack Cloth to remove all of the sawdust from all of the wood.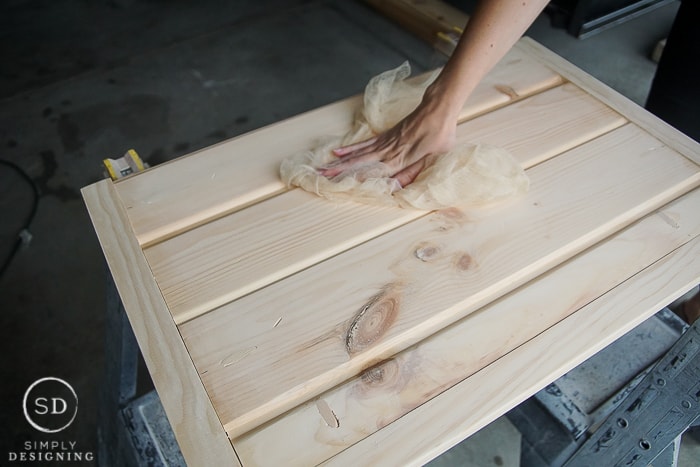 Using gloves and a rag, we stained all of the wood.
I recommend using two coats of stain for the best finish.
Because the stain I used is a 2 in 1, a stain and a sealer, we choose not to do a clear coat on top of the stain.
If you prefer or are using a different stain, you might want to add a clear coat of PolyAcrylic at this point.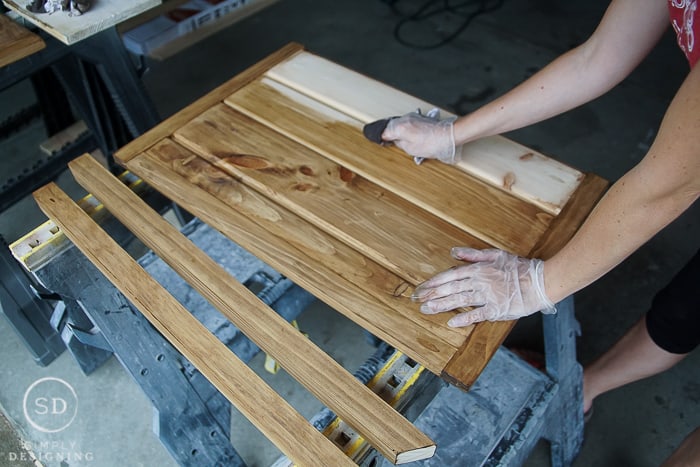 While we waited for the stain to dry, we decided to use Rustoleum Hammered Metal Spray Paint in Pewter to paint all of the DIY baby gate hardware.
We wanted it to at least sort of match and we didn't want it too shiny.
So this was a great paint to use to add some texture to all our hardware.
We did not paint the flat iron but we applied a clear coat to it to help it not rust.
While we waited for the paint and stain to dry, we took the kids to go get ice cream.
No, this is not necessary, but it sure tasted yummy!!!!!!
And it sure beats watching paint and stain dry.
After everything was dry we decided to begin the installation.
How to Install a DIY Baby Gate without Drilling into your Stair Post:
We began with our posts. In one post we screwed the hinge pins (note this angle on the bottom of this post eventually was cut off so it was flat on the bottom). And into the other post, we secured (2) of our clamp boards.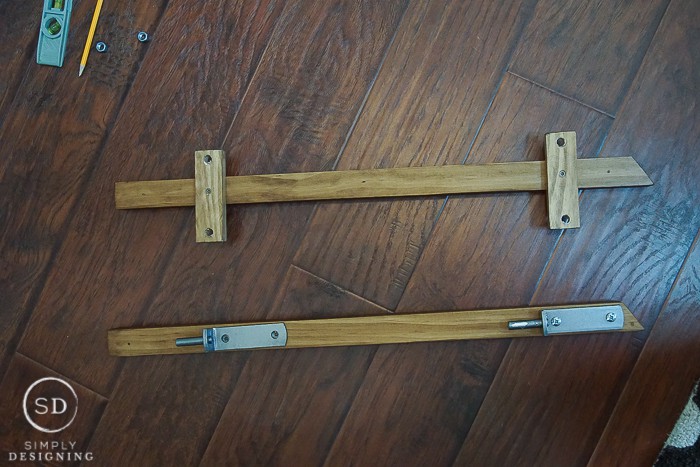 We turned our doors upside down and installed the hinges into the back of the board so that the door would fold.
We cut our flat iron to (4) 18.25"-18.5" lengths using a cut-off blade on our compound miter saw.
This is a measure first cut second thing because you want to be sure these fit exactly on the boards.
Then we drilled holes in the flat iron for the screws and screwed the flat iron pieces into the doors using self-tapping screws.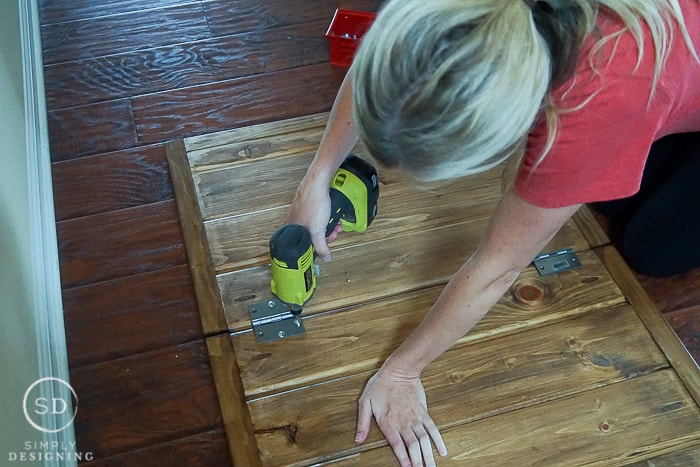 Using the U-Bolts, we attached the clamps and the bannister post to our baby gate post.
This was a great way to securely attach the door without drilling holes into our bannister post.
We also installed the gate latch onto the top of the baby gate post.
The other baby gate post was installed onto the wall using wall anchors and extra-long bolts.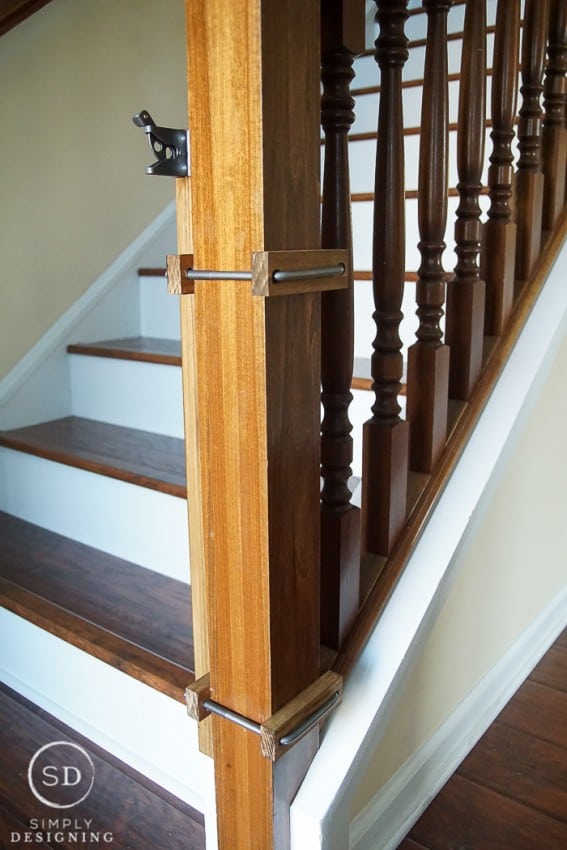 We added the latch to the door.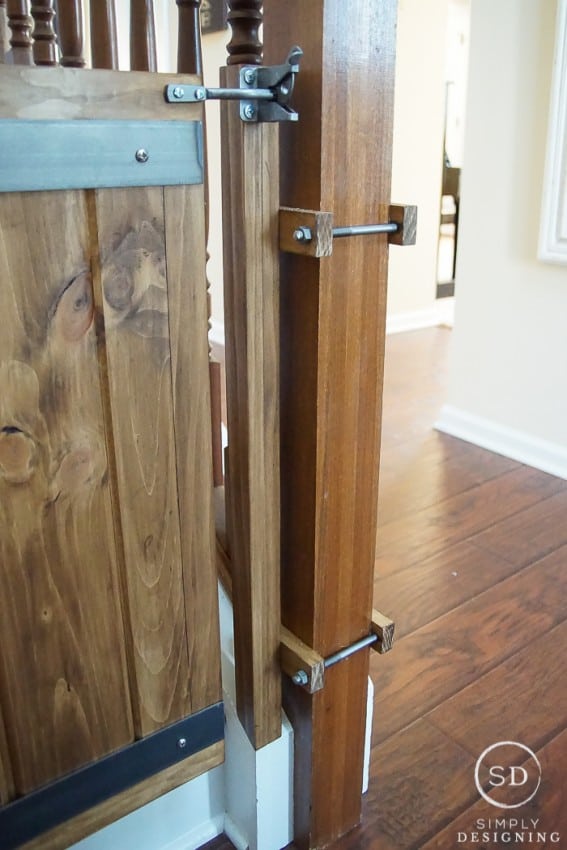 Oh isn't this latch just so pretty?!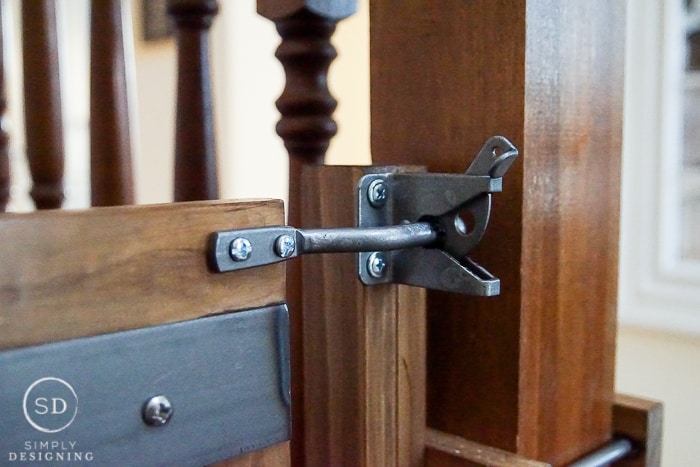 It is easy enough for my hubby, the kids and I to use, but will be difficult for a young child to use.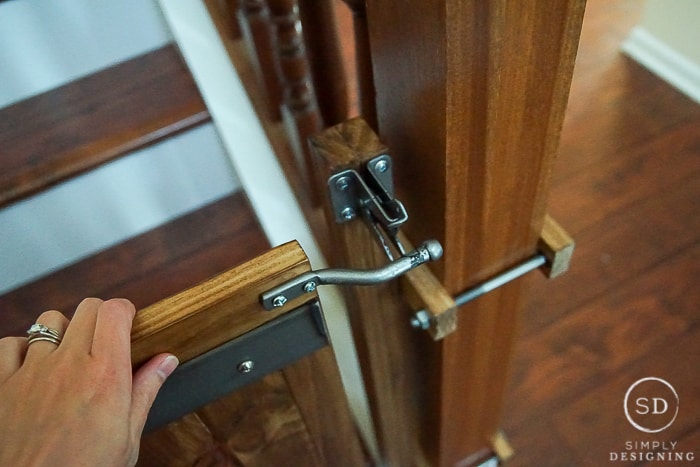 And then we attached strap hinges to the door where they would sit on the hinge pins using carriage bolts and hex nuts.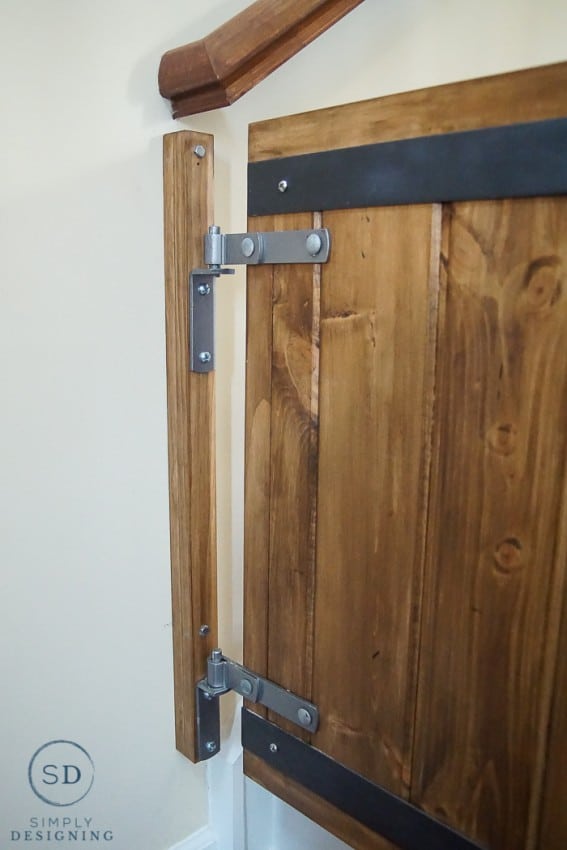 And then our industrial DIY baby gate was complete!!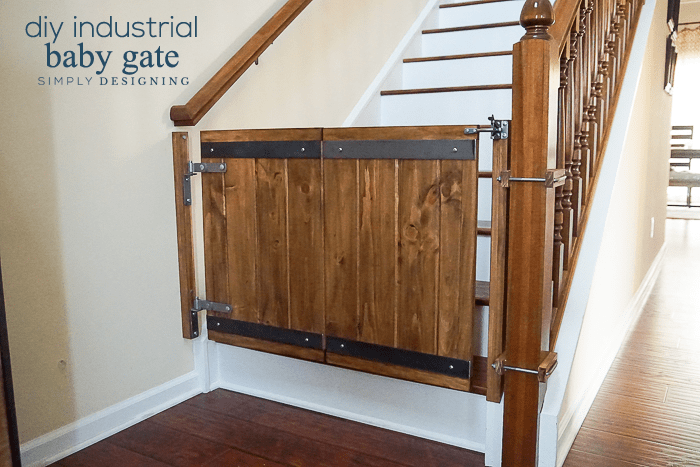 This DIY baby gate is beautiful, unique, fits the space, is secure and works in our home!
I love how with a little bit of work and creativity we were able to come up with a baby gate that works in our space and is beautiful!!
My kids are already practising using it...I find it closed constantly (which is a good thing I guess to get into the habit of, but I also know we have quite a few months to go before we actually need to use this!)
And this would work PERFECTLY as a dog gate or a pet gate too if you want to restrict access to the animals in your home!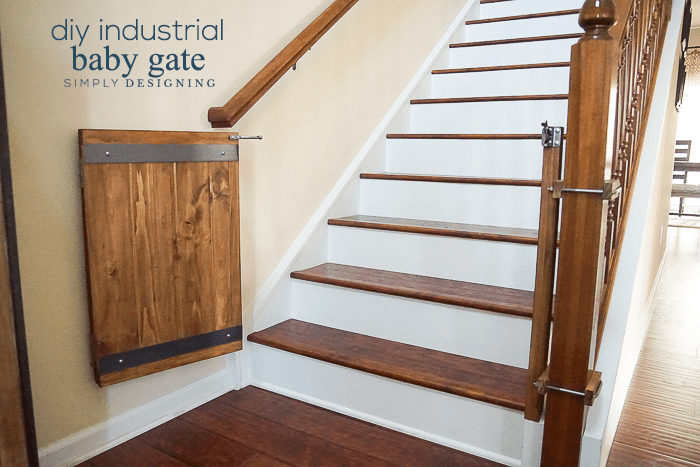 And don't worry, we have another gate coming for the top of the stairs! I promise it will be in place before the baby is born.
Ah. So pretty!
You might also enjoy these posts too: