As many of you know are currently living in a travel trailer and the most common question I get is "how are you doing that?" so today I wanted to share with you all about how are we doing Minimalist Living. These tips and tricks can be used in a regular home, a tiny home, or a trailer!
Keep reading for ALL the details about living small.
Sign up below to opt-in for weekly emails that help you live a more minimalistic lifestyle.
And you can find some super awesome organizational products HERE in my Amazon storefront.
Why should I start minimalist living?
The best benefit of minimalist living is that it will help to clear both your home AND your mind of clutter!
When my home is clean, organized, clutter-free, and minimalistic, my mind is clearer! I am able to think better. I am able to do more. And my stress level is WAY down!
Not only that, I save money and time!
Benefits of minimalist living
These are some benefits of minimalist living that I have personally noticed. Results will vary (obviously)! But I bet you will notice at least a few of these things when you choose minimalist living.
Un-cluttered home
Clear mind
Literally feel a weight lifted off my shoulders (too much "stuff" literally can weigh down your soul)
Able to be more productive
Lower stress levels
Less anxious and worried
More patience
Better sleep
Save money
House is quicker and easier to clean
I live a much more focused life
I really feel so much better and am able to function so much better when I am using some basic principles of minimalist living.
That's why I am constantly striving to live a minimalisting lifestyle. And you can be kept up to date on the latest and greatest by signing up for my email below.
Minimalist Living
About 3 years ago, we sold our home in Indiana and moved across the country to Seattle, you can read about that HERE.
We decided to do something a little crazy and instead of buying a home, we wanted to buy property and build. But in order to do that, we needed to get creative.
The cost of living here in WA is pretty steep and to build a home while also paying really high rent for a small rental was just not in the cards.
So we bought an RV and decided to live in it while we build our home. You can read more about that HERE.
Technically, we bought a travel trailer...but I digress...
We did NOT have time to renovate it. We bought it from the nicest family in Indiana and a couple of weeks later, we towed it across the country and moved directly into it.
This means that I am living in a standard, brown, tiny house with my family of 5.
Eek!
When we tell people that we are living in a trailer, the reactions are varied. Some people tell us that they have thought of doing it, or are thinking of doing it. But most people, just want to know how we are doing it!
So I wanted to answer a lot of those questions I get asked all the time here for you today.
The key to living in a trailer, is minimalist living
You can NOT go into living in a trailer and think that your life will be the same. You will need to pair down, purge, and figure out how to do more with less.
And guess that? There are some actual perks to that including learning to love living with less, not feeling like you need more, not feeling burdened by "stuff" and saving money!
You want to know what though? We have ALWAYS tried to live my minimalist living principles! But it definitely got a bit more extreme when we made the choice to live in a trailer.
How to Live Minimally
It's amazing how little you really need. When you are used to "a lot" of stuff, you think you need a lot, but as soon as you start living with less, you realize how little you really need.
When you make the choice for minimalist living, here are a few things you will need to do:
Purge every space in your house (I will talk about my gentle-purging method soon!)
Organize the things you have left (every item needs a home) Find awesome tools to help you organize HERE.
Whenever you consider purchasing something, ask yourself these questions: 1. Do I need this or do I just want it? 2. Do I already have something that fulfills this purpose? 3. Will I be getting rid of something in order to make room for this? 4. Where will its home be in my house?
Only bring items into your home that you need, you will use, will replace something else, or will bring you joy.
Purchase multi-purpose items if possible instead of items that can only do one thing.
Purchase high-quality items (but still within your budget) that you will love and that will last you a long time.
Repeat as needed!
All of these ideas for minimalist living work both for everyday life and when living in a trailer! So this list can be helpful for anyone! Yay!
There will be an adjustment period, but after that, you won't miss all the extra stuff and minimalist living will become easy to sustain!
Minimalist Living in an RV
When we moved into our trailer, we were very careful to ONLY bring things we knew we would use pretty much daily. Here are a few ways we did that:
Appliances and kitchen tools that are multi-purpose
Converted things to digital instead of physical
Brought laptops instead of full computers
Picked only our favorite items to bring (kids chose their favorite stuffies, toys etc and yes, I had them choose from their smaller items, there are VERY few things they actually miss)
Chose to clothe in layers for varied weather
Chose to bring only a few pairs of shoes (yes this was hard!)
For every item I packed in my trailer, I asked, do I need this? Do I use this daily? Weekly? Is there something else I have that could also fill this need? You should ask these same questions in your own home and if thinking about buying anything.
Choose items you LOVE! You don't need more things, you need fewer things, but you need to LOVE all the things you have a lot! They need to work well and fulfill their purpose (and be pretty if that is important to you too).
We did not bring anything sentimental with us into the trailer. Only things we needed or would use daily/weekly.
We did not bring anything of significant value into the trailer.
If there is a smaller option that would work, we went smaller instead of larger.
One set of sheets per bed and one towel set for everyone
Purchase or trade a few things out IF it makes sense (ie an iron and ironing board took up too much space, but a clothing steamer is a great alternative)
Most of these ideas work for a regular home too!
How to live minimally and save money
The best part about living minimally is that you can save money! It's true!
When you are questioning every item you bring into your home, only bring in items you need and look for multi-purpose items, you simply won't spend as much money!
You won't make runs to Target that go out of control...and you won't splurge-buy things off of Amazon.
You'll be amazed at home much less you spend when you have thoughtful, careful, and minimal purchases.
Minimalist living is great if you are on a budget!
How to live minimally with a family
But is it really possible to live minimally with a family?
Yes, it sure is.
Kids also need way less than you (and they) think they do!
A few well-loved stuffies, a couple of card games, paper, markers, and leftover boxes from online purchases really do make the best toys!
We spend a lot of time at the library and borrow a lot of books so my kids get plenty of reading material without taking up precious space in the long term.
We also spend a TON of time outdoors! My kids love exploring our forest and rock hunting down our street. We ride bikes, go on hikes, walk a lot, and visit parks often.
We value and prioritize EXPERIENCES over THINGS and we feel like this enriches our children's lives better than things ever will.
I will say though that the key to minimalist living with a family, is to get everyone on board with this lifestyle. So make that your first priority before beginning.
You can not do this on your own if there are other people living in your household who are not on board!
How to live minimally: clothes
Clothing is perhaps one of the toughest ways to live minimally in our family. I have a teenage girl. So, that explains a lot. Haha
But we are trying to teach her similar values that we live by:
Find clothing we LOVE, even if it is a little more expensive
Purchase clothing that will last us a long time
Take care of the clothing we have
Purchase fewer items
Look for items that you can mix and match for more looks with less clothing
Think and purchase in layers
Whew! I think that about covers most things about minimalist living.
We have always valued the less is more mentality of minimalism and have tried to constantly purge our home of things we didn't need, use and love.
But living in a trailer for nearly 3 years has certainly made us pair down even more and I honestly don't expect that will change when we move into our house one day!
We really do love minimalist living!
Leave me your questions about minimalist living! I would love to answer them.
If you liked this post about minimalist living, see some really awesome organizational products HERE, sign up for my weekly newsletter below and then check out these posts too: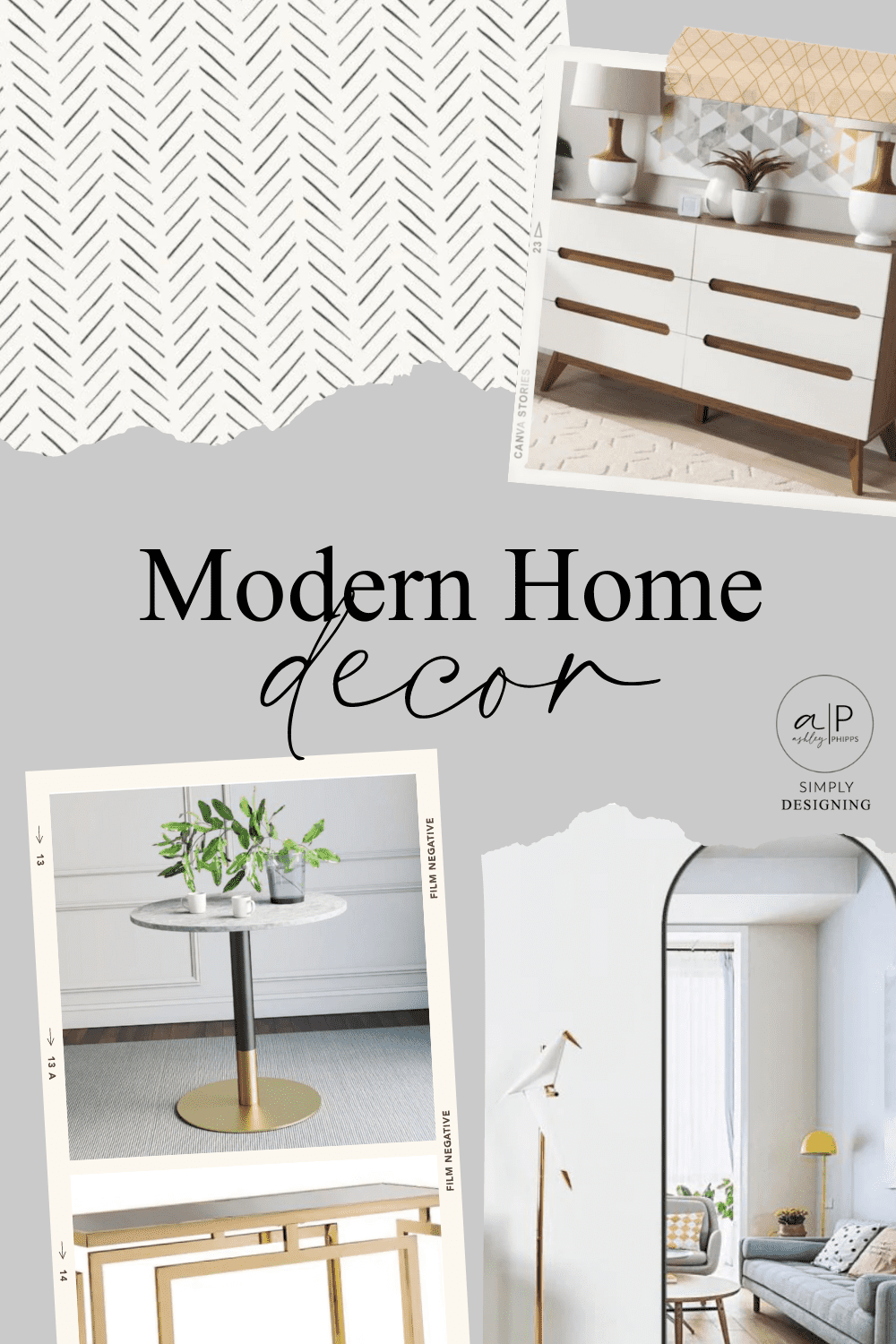 16 Budget-Friendly Modern Home Decor Ideas