Good morning friends!  I have been working really hard behind the scenes here at the Simply Designing house on a really fun, mostly-secret project!  I have wanted to share what we had going on for so long, and I gave a sneak peek over on Instagram here, but mostly I wanted today to be a huge surprise for you!  Today I am really excited because I can finally reveal our plans for our kitchen remodel!  Woot woot!  Yes, we are remodeling our kitchen!  And of course, we DIY'd a lot of it so you know this is going to be a lot of fun.  And I can't wait to share more!  But first...a before photo...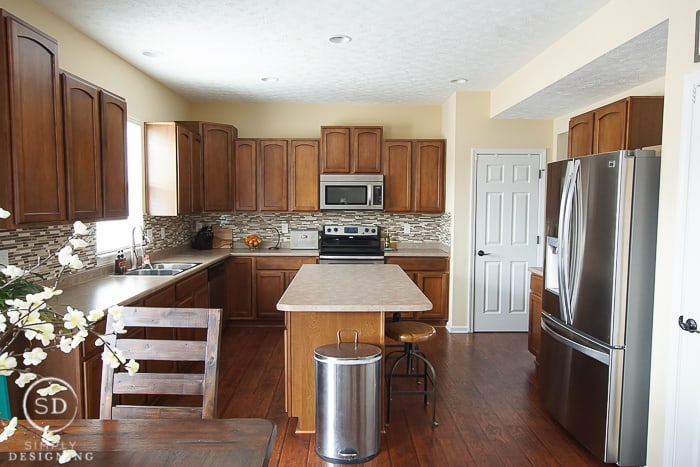 Our kitchen was really quite lovely.  We bought our home as a spec home and while we didn't get to choose anything in it, it was nice.  We had upgraded cabinets and laminate counters.  A few years ago we added laminate wood floors to our kitchen and we also installed our own backsplash.  It was a great way to add a little mini-update to our kitchen.  But this time, we are delving a little deeper and giving our kitchen an entire face-lift!
I am really excited to be collaborating with Frigidaire Professional and Lowe's on this project and could not be more pleased with the results.  This is a sponsored post written by me on behalf of Frigidaire Professional.  All opinions expressed are 100% mine.
Here are our basic Kitchen Remodel Plans:
Things to Stay
Cabinets (most of them)
Floor
Things to Go
Sink
Faucet
Under sink cabinet
Backsplash
Counters
Microwave
Range / Oven
Dishwasher
Refrigerator
Paint
Frigidaire Professional was kind enough to supply us with new kitchen appliances for the remodel.  They supplied us with: a Front Control Freestanding Gas Range, a Built-In Dishwasher, a 2-in-1 Convection Oven or Microwave and a French Door Refrigerator.  All of these appliances are very nice and professional looking while still being reasonably priced.  And did I mention, they are stunningly beautiful!  These appliances are truly meant to elevate the look of your kitchen and I will admit I have loved having these professional-grade appliances in my home!  But don't worry, I will share more on these later too!
In the meantime, learn more about the Frigidaire Professional collection HERE.
Knowing that I would have new, beautiful Frigidaire Professional appliances in my kitchen inspired me to get creative and update the rest of my kitchen!  And of course, we plan to DIY as much of this as we can!  (And I will be sharing all about that soon!)
Our overall goal with our kitchen remodel was to lighten and brighten our space.  Our existing counters were a bit dark and so was our backsplash.  We wanted to make the space feel a bit more clean, light, bright and a bit more "us", so we began by heading to the store to look at a few options.
After heading to Lowe's to look at options, we fell in love with a beautiful granite countertop: Gabriella Blanco.  It is a beautiful granite, full of movement and a variety of color, but it has a white base to it and overall is a beautiful, light granite.  And with the granite, we loved the look of a marble subway tile.  It provided a clean, updated look that I know will look great for years to come.
From there it solidified our plans to repaint our kitchen gray and to change our faucet out to one we had sitting around in order to update the look a bit.
I had been dreaming of having an apron front sink for years and knew that this kitchen remodel would be the perfect opportunity to finally take the plunge and install one.  We fell in love with a beautiful stainless steel apron front sink that was about 33" wide and 10" deep...oh it is the best sink ever...and knew it would be perfect in our space!  A new apron front sink meant I needed a new cabinet underneath that sink in order to accommodate it.
Whew.  It sounds like a lot!  But we were excited to tackle this kitchen remodel.
We decided to demo the backsplash, cabinet, sink and counters ourselves.  We also decided to install the new cabinet, sink and backsplash, and of course, repaint it ourselves as well.  We left installation of the counters and appliances to the professionals.
Besides our Master Bathroom Remodel, this might be one of the biggest projects we have tackled to date.  And it certainly made it tricky to live and use the kitchen while it was constantly under construction for about two months.  However, it was truly worth it in the end!  Eek I can't wait to show you all the details!
In the meantime...here is a sneak peek at the final kitchen remodel reveal...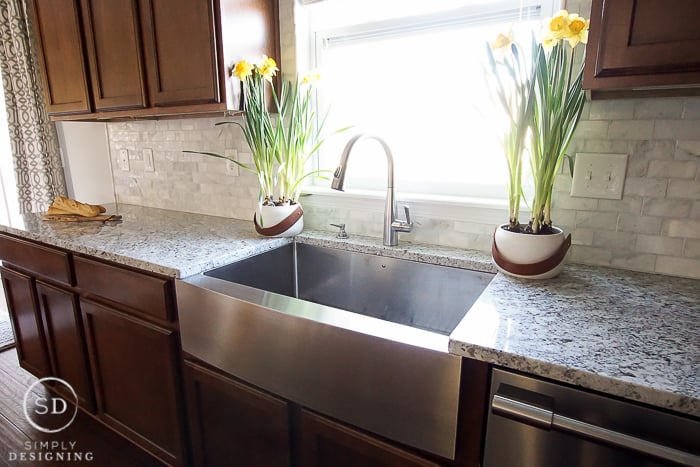 Stay tuned for my full kitchen reveal coming to my blog soon!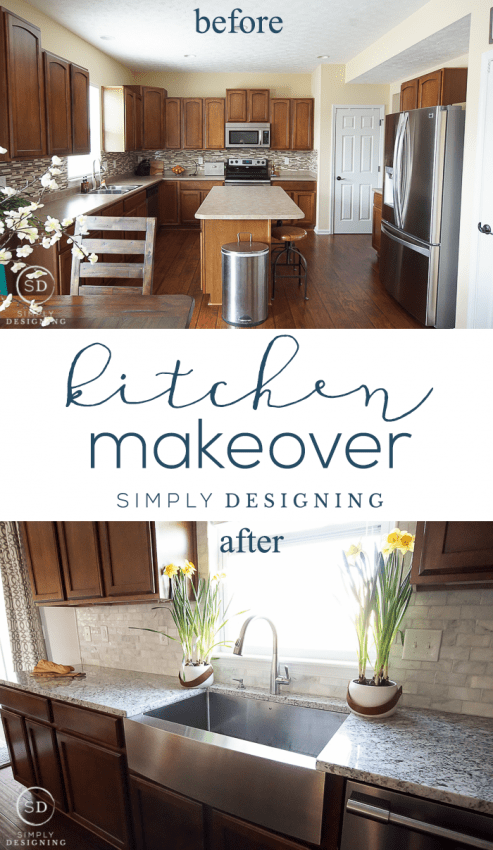 In the meantime, you might enjoy these posts: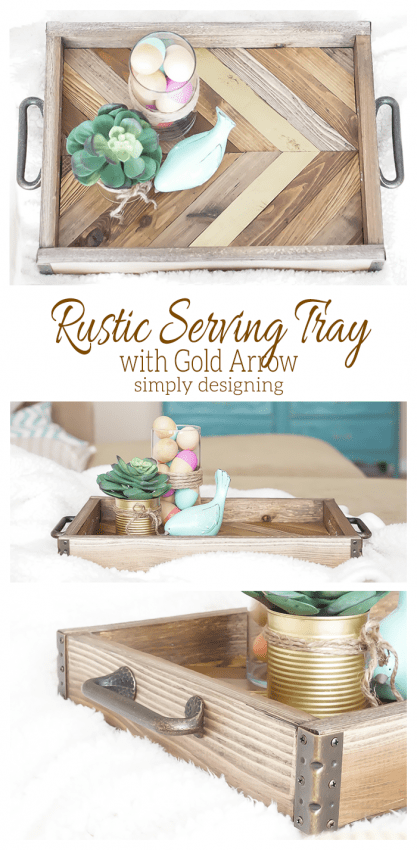 Rustic Serving Tray with Gold Arrow