My son loves karate!  For the last few years he has worked hard to rank up, test for new belts and learn so many things that karate requires he knows.  Over the last couple of years he has received a lot of new karate belts.  A.  Lot.  We wanted to save them because he worked so hard for them.  And we had thought of displaying them, but doing a quick search for karate belt holder, karate belt display, martial arts belt display or even martial arts belt holder yielded results that were very uninspiring in my opinion.  So we did nothing.  But as we recently worked on creating an awesome boy's room for our son, we knew we needed to figure this out so that we could incorporate it into his room.  And it was one random day where the inspiration suddenly came for how to make a karate belt holder easily and in a way that would look great in his industrial style bedroom.  So today I am really excited to share this fun and easy DIY karate belt holder with you!

We created this karate belt display to perfectly fit all of the belts he has received at his dojo.  I know that some dojos or other martial arts belts are slightly different in order, quantity and size.  So I would take a moment, measure the belt width and then adjust these sizes as needed to fit the belts that your son or daughter has or will earn.
This karate belt display does not hold his black belt because he wears that almost daily and so we keep it more accessible by hanging that one in his closet.  However, it holds all of is other belts.  We hung his certificate for earning his junior black belt above the martial arts belt display.  While I wasn't sure I wanted to display his belts in his room, because we found such a unique and fun way to do it, I actually really love how it looks!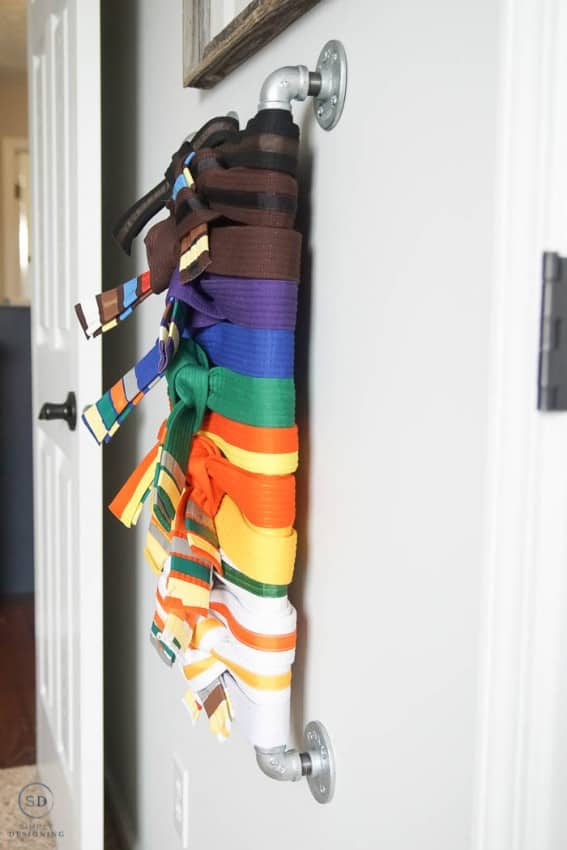 And the best part is is that this is seriously one of the easiest things to do ever!  Anyone can do this!  You just need a few basic items from the hardware store and a drill to get this done!  So, here is what you need to do:
How to Make a Karate Belt Holder
Supplies:
(4) 1" Steel Pipe Flange
(4) 1" Steel Pipe Elbow
(4) 1" x 1" Steel Pipe Nipple
(2) 1" x 24" Steel Pipe
(16) Wall Anchors if not able to mount into a stud
(16) Screws
Drill or Driver
Directions:
You will want to begin by assembling all of your pipe pieces.  I like to take a moment to take all of the labels off of the pipe pieces and wipe them clean first as they are often a bit greasy and dirty.  Although to be honest, and you can see it in one of my photos, I didn't really worry too much about getting all the labels off because you won't see them at all once the belts are on it and for some reason the labels on these are a beast to get off!  Just being honest here folks, this is real life!  Ha!
Then you will put them together.  You will begin with one flange, and screws a nipple into it, then add an elbow.  Next comes the 24" pipe, then another elbow, nipple and a flange.  With the listed pieces you will be able to create two of these bars.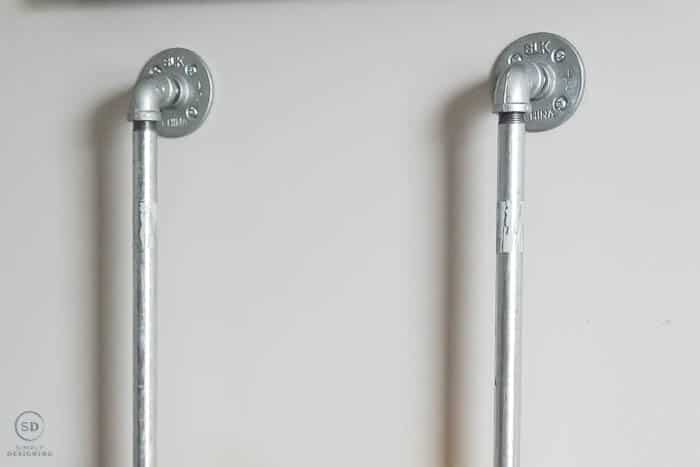 Next you will mark where you want to screw these into the wall.  It is helpful to have a second set of hands so that one can hold the bar in place and another person can mark where the holes are in the flange.  It will make installation easier if you make sure the holes in the flange are square, otherwise if might be hard to screw it in place.  We placed the bars about 12.5" apart on center, but you can modify this to fit your space and your belt length.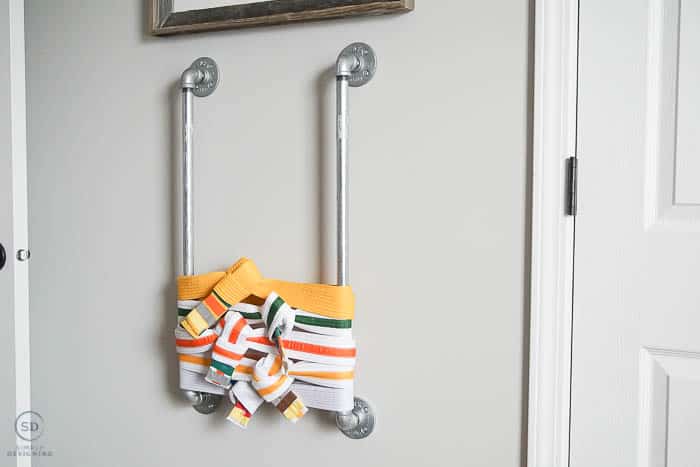 Install the wall anchors in place and then screw the bars into place.  Then tie the belts around the bars.
This project is really pretty simple but provides a really fun and unique way to display karate belts.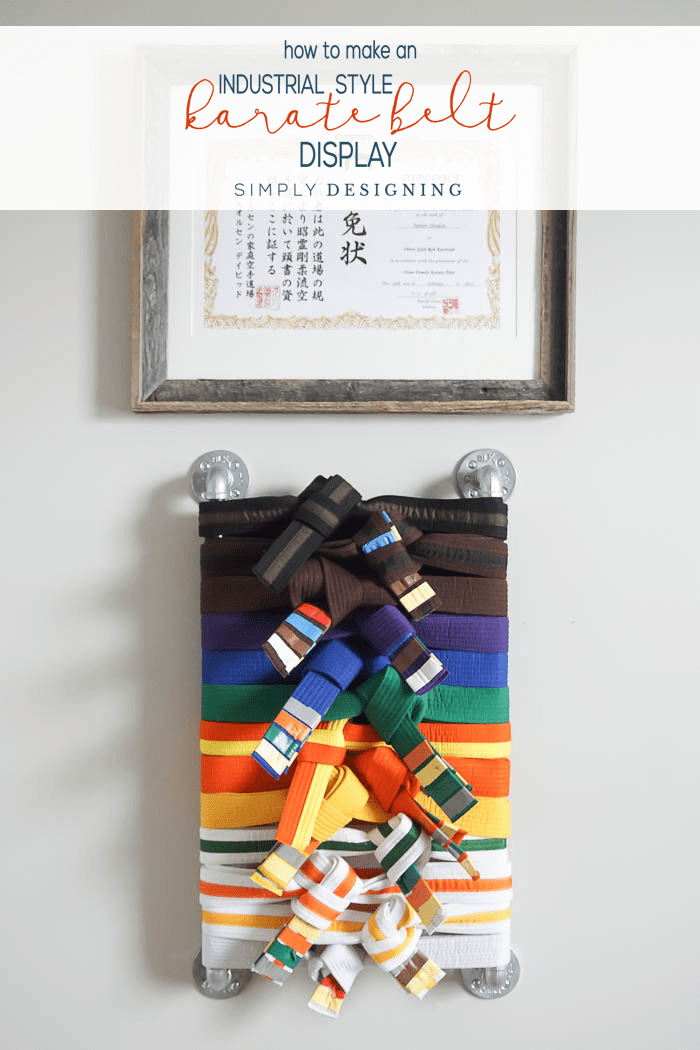 And honestly, I think it looks really great in his room!  But I also think it would be perfect in any boy or girls room to display martial arts belts.  We got the regular steel pipe but you could also make this with black pipe if you prefer.
You might also like: