I was scanning Pottery Barn Kid's Halloween collection the other day and ran into this really cute Mercury Decor Pumpkin, and knew it would be so fun and simple to recreate this at home for a fraction of the cost!  So with just two simple supplies (that's right, only two!) I created this really fun and cute Mercury Jack-O-Lantern!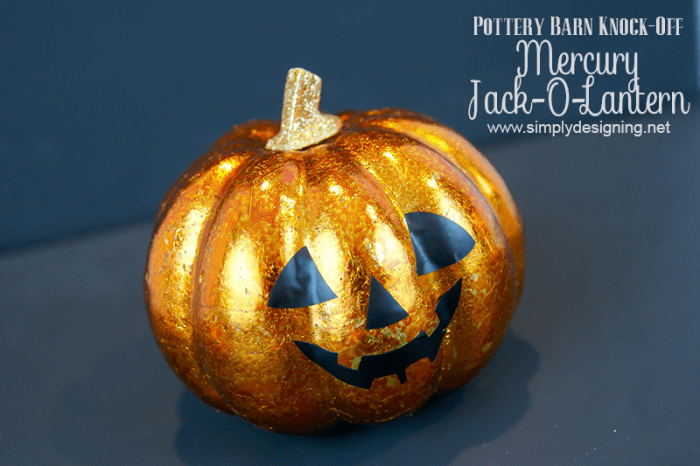 Isn't it just so cute!? I love how it looks!  It is cute, and modern and sparkly.  What more do you want in a Halloween pumpkin!?  The best part was is that this Pottery Barn Knock-Off only cost about $4 to make!  Seriously!  That is way cheaper then the $16 Pottery Barn version.
Today I am thrilled to show you how to recreate this pumpkin, and also be a part of an amazing Halloween Blog-Hop!  You'll find over 110+ other amazing Halloween ideas at the bottom of my tutorial so stick with me to be totally inspired today!
Here is Pottery Barn's original Mercury Jack-O-Lantern: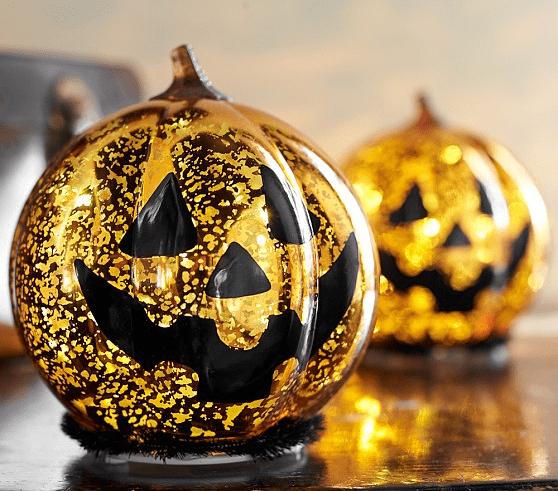 And here is my version of the Mercury Jack-O-Lantern: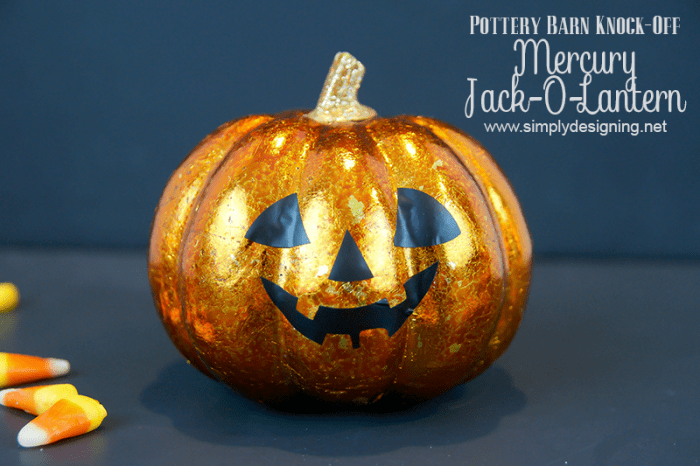 This project came together so quickly!  I found this really fun mercury pumpkin at Hobby Lobby.  It was about $7 but then I had a coupon so it only cost about $3.5o!  Wahoo!  I love a good deal!
Mercury Jack-O-Lantern
Then I snagged a piece of left over black vinyl I had, cut out a cute jack-o-lantern face out of it, and applied it to the front of my pumpkin!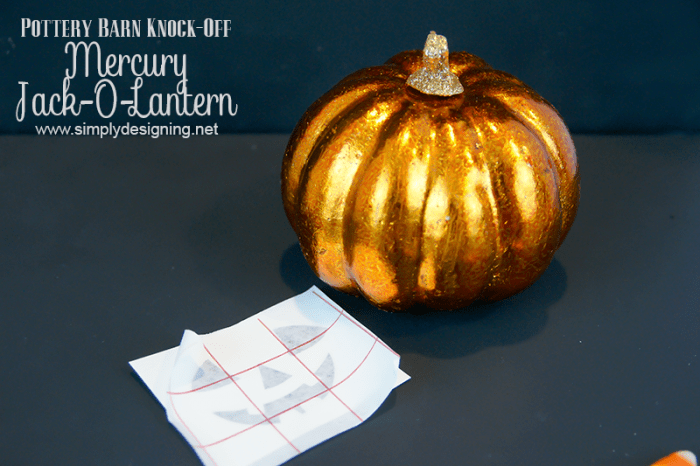 You can not get a more simple craft then that!  I love how it turned out and I love that I could get the Pottern Barn look for ¼ the cost!  These would be perfect to decorate a Halloween mantle with!  I actually want to run back to the store so that I can make a few more!  I just love how they turned out!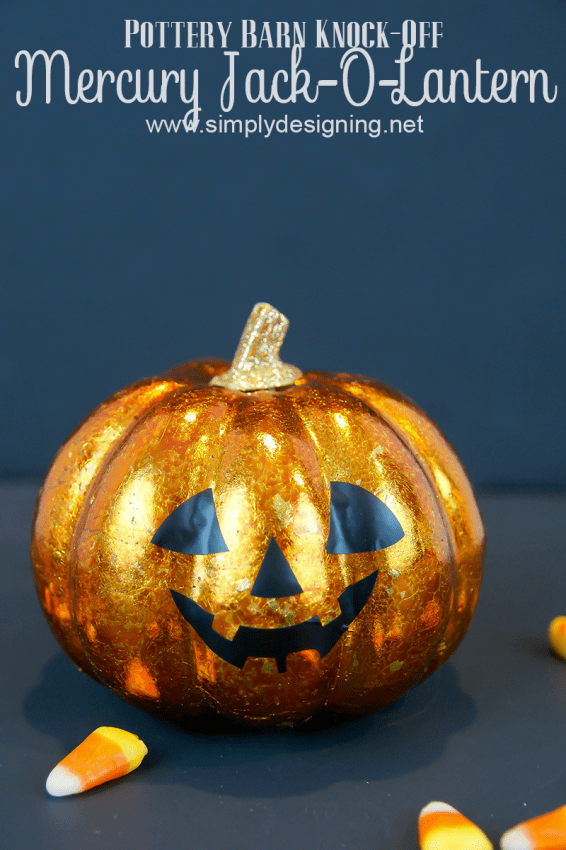 You might like these other Pottery Barn Halloween Knock-Off Ideas too: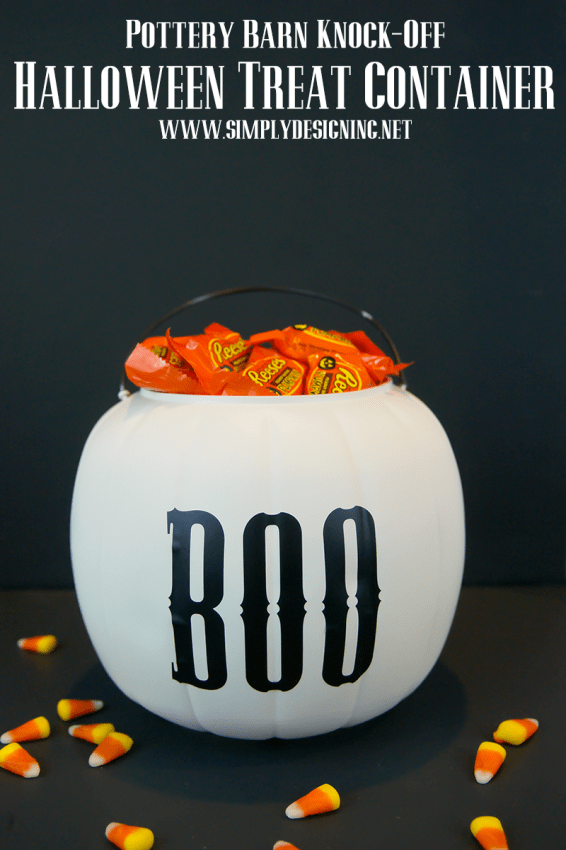 BOO Treat Containers Pottery Barn Knock Off
Pottery Barn Knock Off Hanging Ghosts
Now, are you ready for more fabulous Halloween ideas from my blogging friends???  Have some fun and join in on our blog hop!  Simply click on each of the links for the Halloween projects you'd like to see and it'll take you right to that post with details on how to create it.  Have fun and pin away!
Happy Halloween!
1. No-Sew Fairy Halloween Costume
2. Free Halloween Print: Frankenstein Wall Art
3. Candy Corn Layer Cake
4. Day of the Dead Sugar Skull Party Decorations
5. Free Happy Halloween Print
6. Halloween Toilet Paper Roll Candles
7. It's in the Details Dessert Cups DIY
8. Printable Halloween BINGO cards
9. Ghoulish Glam Halloween Wreath
10. Creepy Potion Bottles (with Free Printable Lables!)
11. Easy Trick or Treat Basket
12. FREEBIE :: Halloween ART PRINT
13. Mercury Jack-O-Lantern
14. FREE Halloween Printables
15. Glittery Glue Spiderwebs
16. Halloween Metal Punch Night Lights
17. BOO, It's Claytime Playtime!
18. Washi Tape Halloween Frame
19. Zombie Facials
Follow our Fabulous Halloween Ideas Pinterest board for even more inspiration!
Follow Design Dazzle's board Fabulous Halloween Ideas on Pinterest.
Be sure to come back tomorrow for another 20 awesome Halloween ideas!
Thanks to all 110+ fabulous bloggers participating! We'd love for you to visit their blogs and see what else they're up to!