Today I finally am sharing something with you that I have had the idea for for a long time.  But I never managed to make it.  I finally decided to create it and it turned out just as cute as I imagined it!  We are all about decorating for Halloween in my house, especially not-so-spooky Halloween decorations!  So with the help of my daughter, we created this cute and fun Monster Eye Topiary.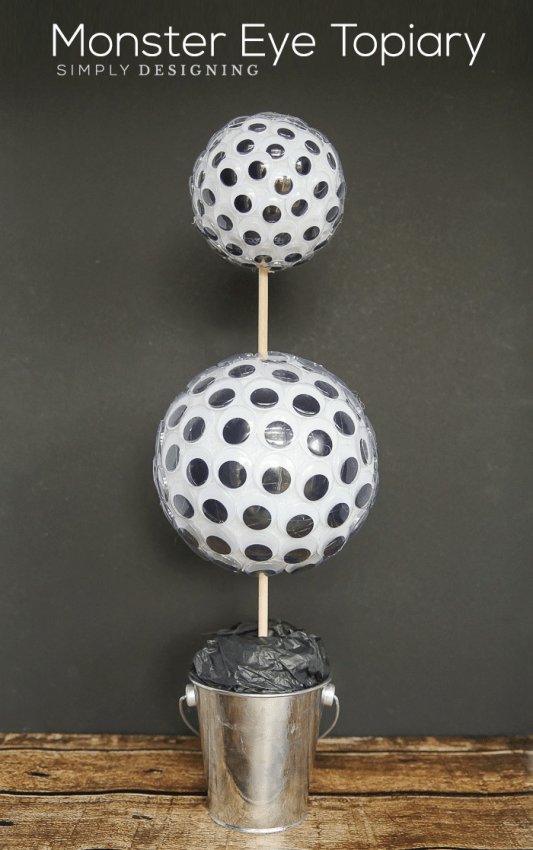 This craft is a lot of fun to make and is also really simple to make.  It doesn't take a lot of crafty ability or a lot of time.  But it will take a lot of googly eyes and a bit of hot glue!  So run to the craft store and have fun creating this fun and not so creepy Monster Eye Topiary.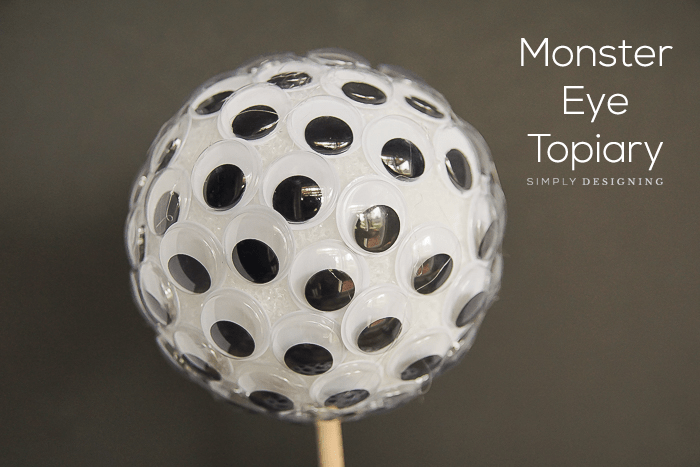 Monster Eye Topiary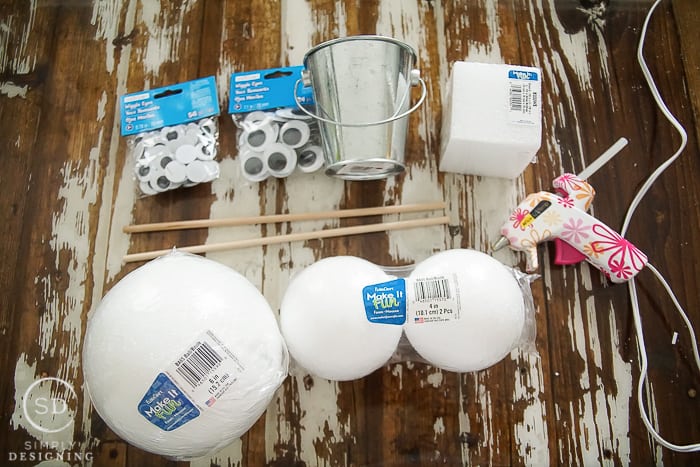 Please note that this post contains affiliate links for your convenience.  Thank you for helping to supporting my blog.
To create this, you will need: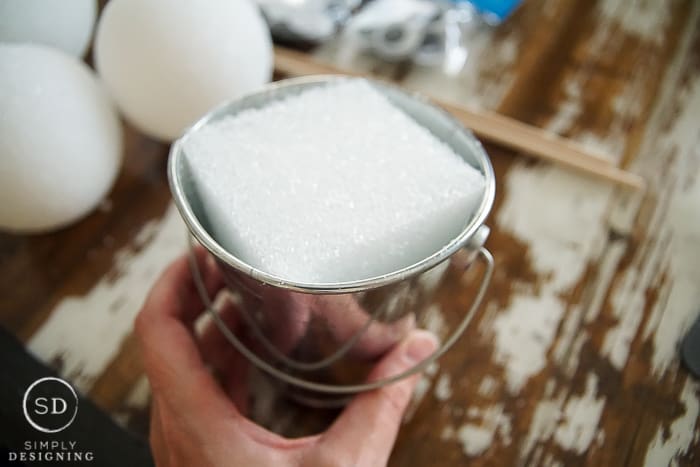 You will begin by placing and securing the foam block into the metal tin.  You may need to trim the foam to make it fit, or use hot glue to secure it into place well.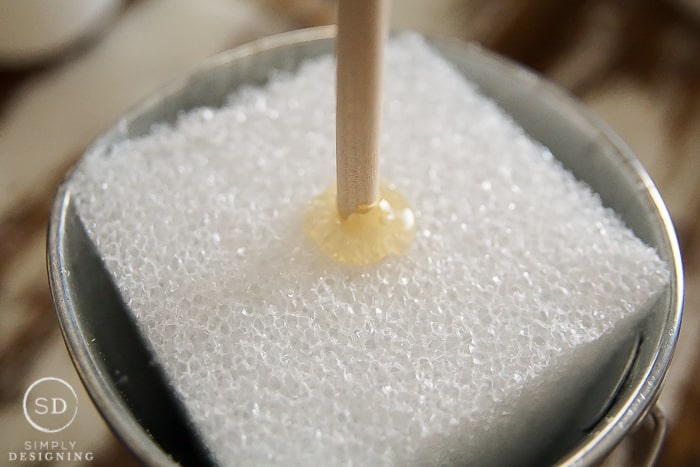 Next you will take one of your wooden dowels and secure it into the foam block that is in the metal tin.  Secure this with hot glue.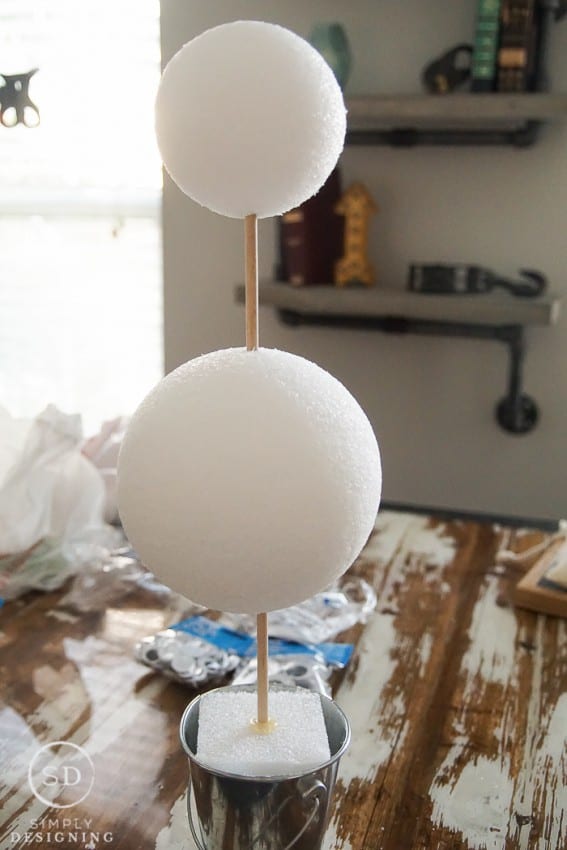 Then place your 6" foam ball about halfway down into the wooden dowel in your metal tin.  Trim a second wooden dowel if needed and place one end into the 6" foam ball and the other end into a 4" foam ball, being careful not to push the entire way through the ball.  With the holes in both foam balls in place, remove both foam balls from the wood dowels.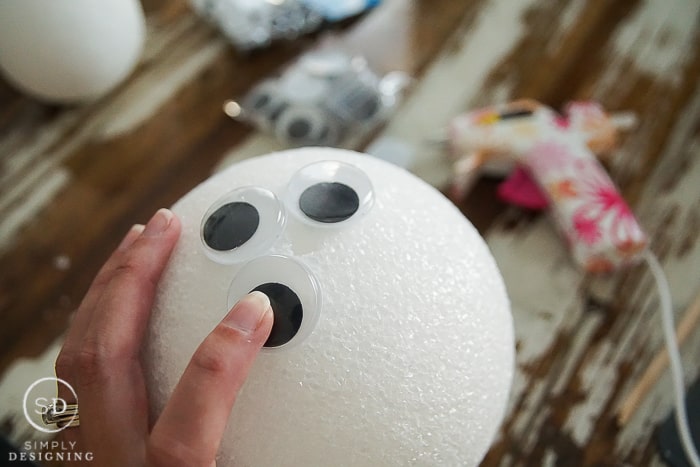 Next you will use hot glue to attach the wiggle eyes to the foam balls.  I covered the 4" foam ball with .78" wiggle eyes and the 6" foam ball with 1.1" wiggle eyes.  The amount of wiggle eyes needed may vary slightly from the above numbers, but it is how many we used.  Be sure the wiggle eyes do not cover the holes created for the wooden dowels.
After the eyes are all glued on, re-build the topiary by placing the foam balls back onto the wooden dowels.  You can use hot glue to permanently attach this together and for added stability.  Add black tissue paper around the bottom of the topiary to hide the foam.
Then enjoy your not so spooky, Monster Eye Topiary for a fun and simple Halloween decoration!
This post was first shared on Make It Fun Blog.
You might also enjoy: