I absolutely love being a HomeRight ambassador and so when they challenged me this month to find a thrift store find for $20 or less and transform it using their paint sprayer, I was so excited!  (Thanks HomeRight for making this post possible today!)  I always love a good challenge!  And then, I was stumped.  Our thrift stores aren't that great and so I had very limited options.  Everything I found was either in really bad shape or I didn't have a spot for it in my home.  But I have a dear friend who had been searching for a nightstand so I decided to use this opportunity to create something for her!  After I found what I was looking for, I became pretty excited to turn this plain nightstand into a beautiful Refinished Nightstand!  The only request my friend had was that she wanted it to be navy.  I figured this would be such a fun and simple project to complete...but like most DIY's, I ran into an unexpected complication along the way...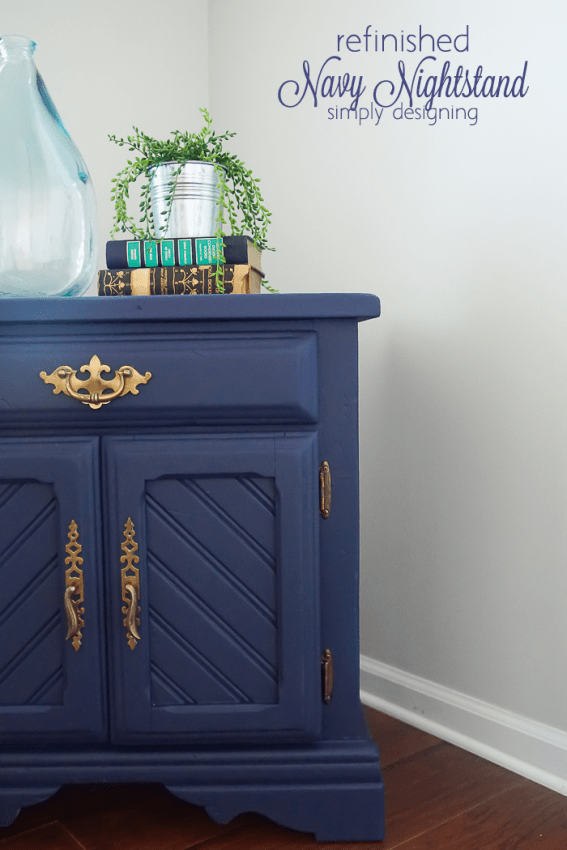 Isn't she a beauty!?  Oh my goodness, I really love how this refinished nightstand turned out!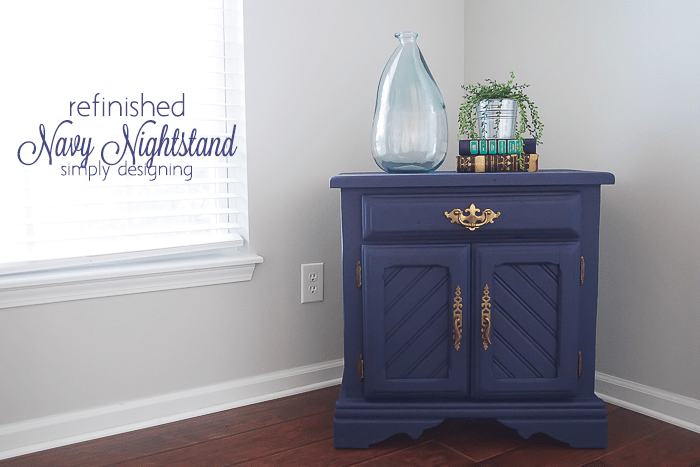 The nightstand wasn't always this lovely...here is how I found her...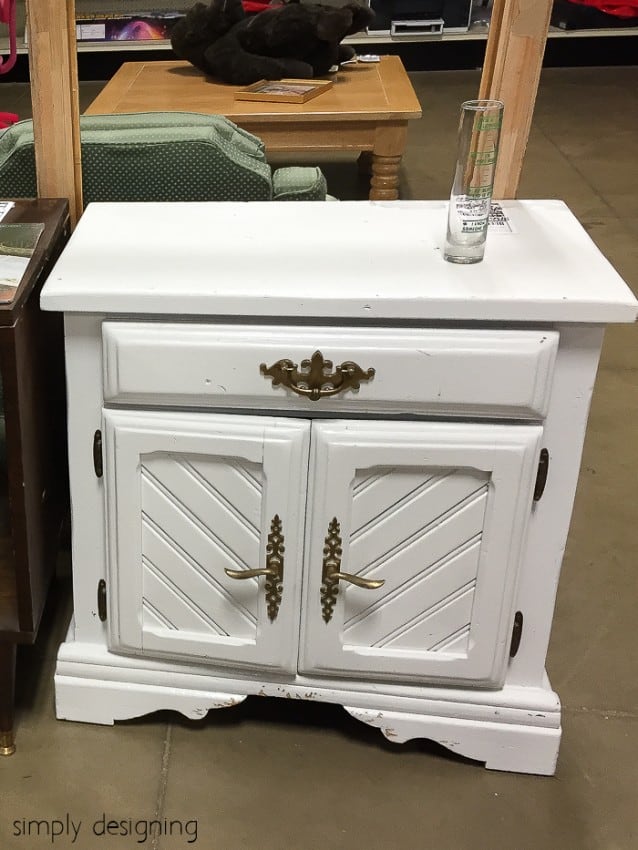 This nightstand had been refinished previously but it was a bad paint job.  Plus they didn't paint the inside of the doors.  Yikes.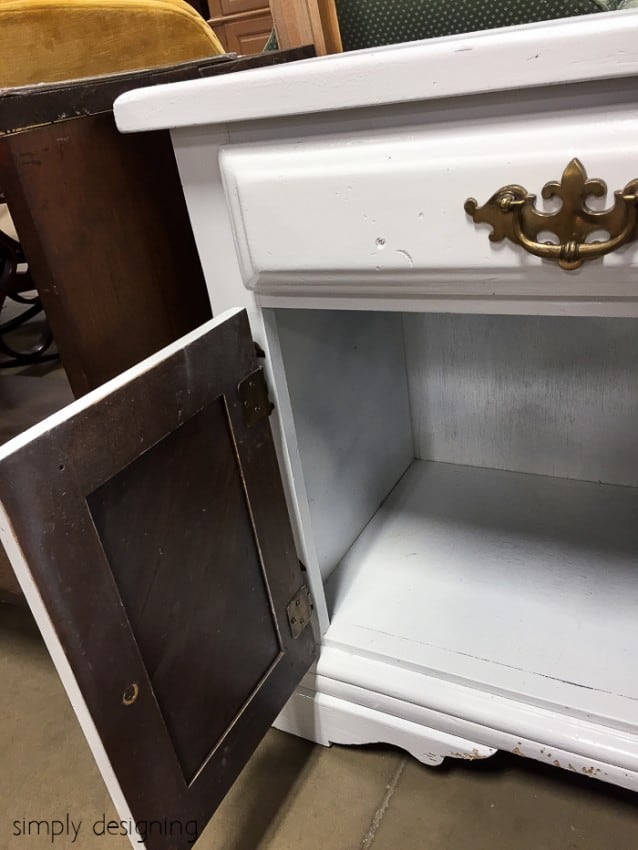 But I knew with a little time, love, my sander and my paint sprayer I could whip this nightstand into shape in no time!  Plus did I mention that it was only $14!  So it was a complete steal!
Navy Refinished Nightstand
I began by giving the nightstand a good sanding with the help of my son.  He was a great help for about five minutes before he got bored.  Ha!  But I did appreciate his help.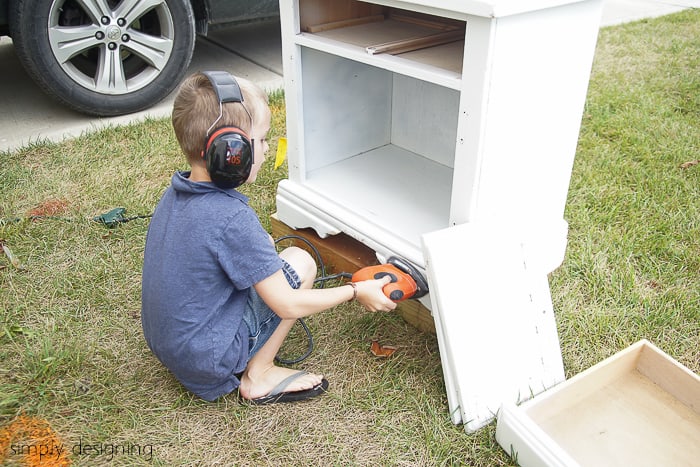 Then I put navy paint into my HomeRight FinishMax paint sprayer and thinned it according to the recommendations.  It was a bit windy outside and there is nothing worse then getting grass and dirt into a newly painted piece of furniture, so I set up my new HomeRight Spray Shelter and put my nightstand in there to paint.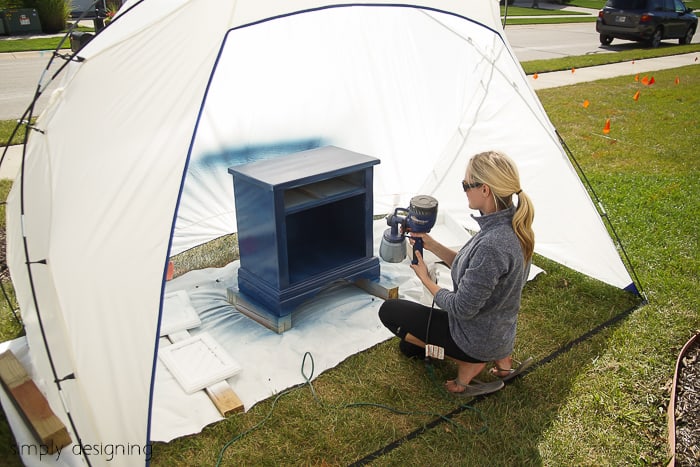 Isn't this spray shelter the coolest thing ever!?  It pops up like a tent and is a great way to help protect your surroundings while you paint.  I plan to use it a lot in the winter time when I have to paint inside my garage.  This is really pretty neat!
So I began painting, and then the worst thing ever happened.
The paint.
Didn't.
Stick.
It ran off my nightstand and pooled up and did anything and everything but actually stick to the dresser.  On no.  Someone had painted this with an oil based paint.  I was not expecting that at all.  Bummer.
So I waited for the navy paint to dry, gave it another sanding and then went to work...again.
When you are dealing with oil based paint, you have a few options.  You can completely strip it down (but that is time consuming and a pain in my opinion), you can paint over it with another oil-based paint (but oil based paints are not my favorite and I had already bought latex paint) or you can lightly sand the furniture and then use a primer that works as a layer of paint between the oil based paint and the latex paint.  This is the least amount of work and is what I opted for for this project.  It's actually what I opt for every time!  It really isn't that hard and with the help of my FinishMax, it ended up going really fast.
I used Zinsser Bulls Eye 123 Primer to paint the entire nightstand.  After the primer dried, I painted the dresser with the navy paint.  Thankfully, it went on perfectly the second time!  Wahoo!  Second time's a charm right!? 🙂
I needed a couple of coats to fully cover this previously white dresser in the new navy paint.  But once it was done I realized how beautiful it truly was!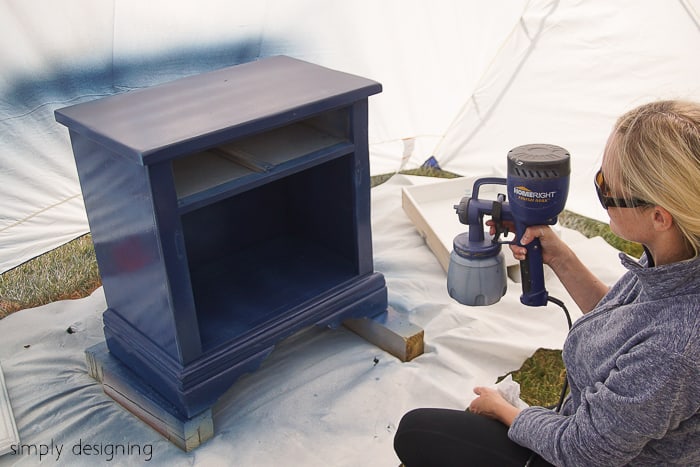 I can't wait to give this to my friend...but I am also a little jealous I don't get to keep it!  I just think this refinished nightstand is absolutely stunning in navy blue!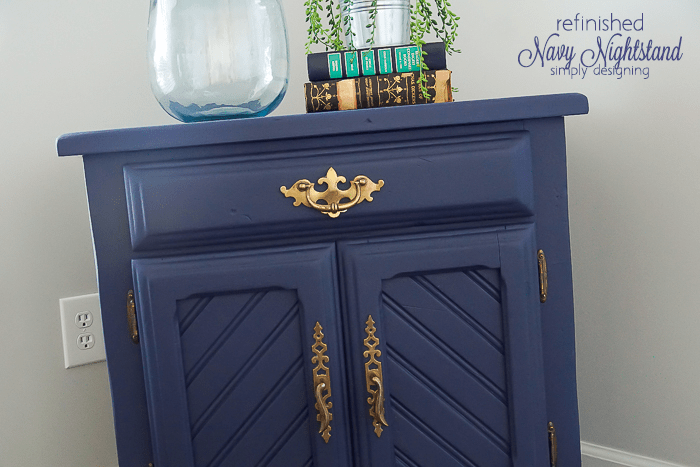 I love how rich and beautiful the navy paint is, it really compliments the pretty lines of the dresser!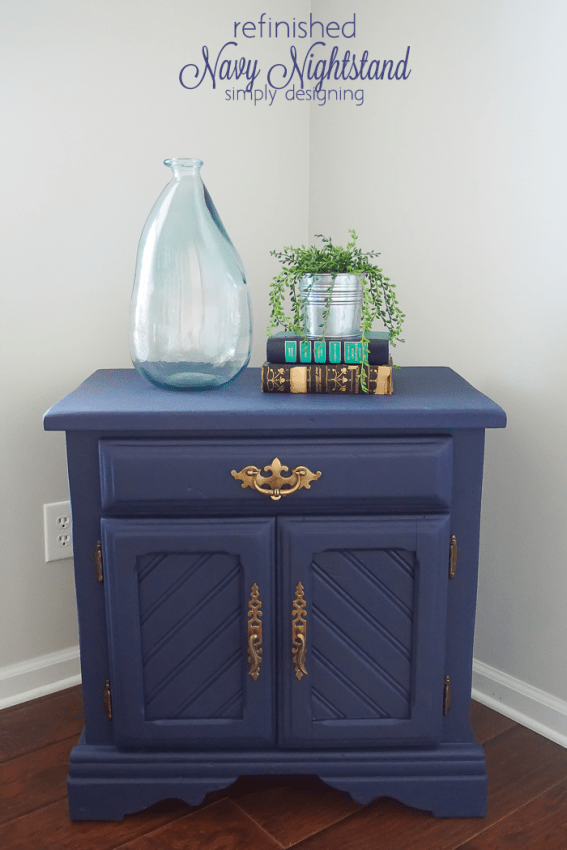 So so pretty!!  And now I want a piece of navy furniture in my house!!  Do you have any navy furniture in your home?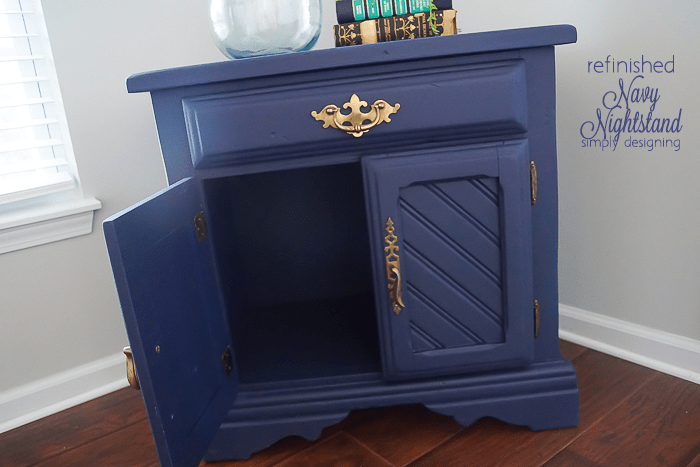 And the best news is is that today, HomeRight has generously offered to give away (1) FinishMax Paint Sprayer and (1) Spray Shelter so that you can complete your own thrift store make-over!!  Woot woot!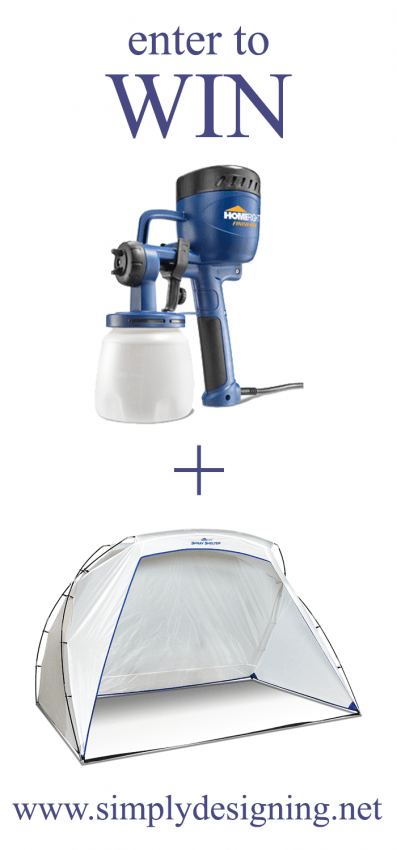 Please wait until the Rafflecopter fully loads below and then enter to win!  (If you are on a mobile device, you might need to click the Rafflecopter link to be taken to the entry page.)  Good luck!
By entering to win, you agree to these Terms: Winning entries will be verified.  This giveaway is in no way affiliated, administered or endorsed by Facebook, Pinterest, Twitter or Instagram.  No information will be disclosed to Facebook, Pinterest, Twitter or Instagram by entering this giveaway.  No purchase necessary to win.  Odds of winning are based on number of entrants.  Winner for prize package will be chosen randomly through Rafflecopter.  Giveaway will run from September 24, 2015 until October 5, 2015 at 6:30am EST.  Winner will be announced on October 5, 2015 in this blog post and the winner will need to respond within 48 hours of announcement via email to claim their prize or another winner will be chosen.  Winner must be 18 years of age or older and a US citizen with a US mailing address in order to win.  Void where prohibited.  Winner is responsible for paying any necessary taxes on winnings.  All prizes will be mailed / emailed / fulfilled by the sponsor and the blog owner(s) involved are not held responsible if the prize is not fulfilled.  A list of winners may be requested after the giveaway has ended.  Please email me with any questions or to obtain additional information at: [email protected]
Check out these cool posts too: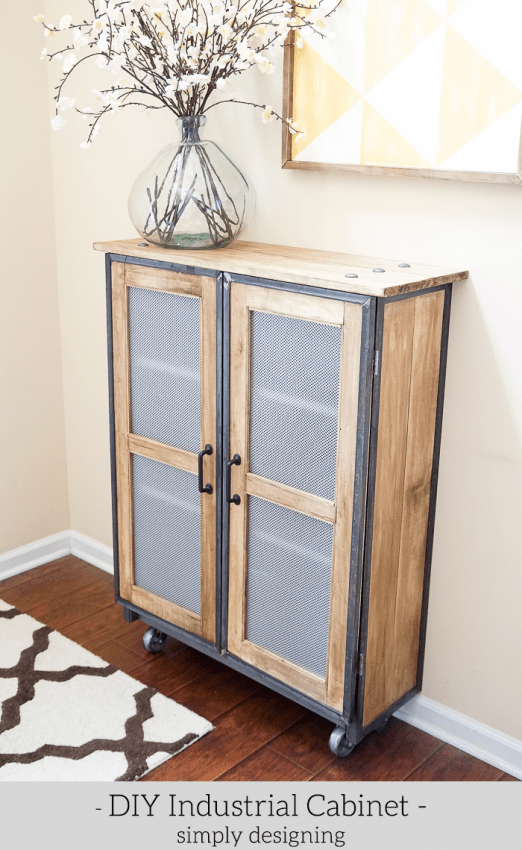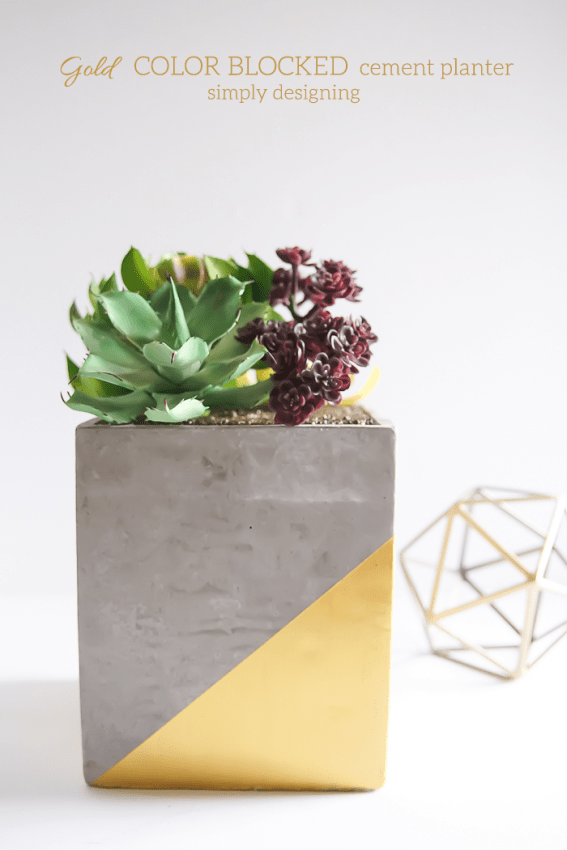 Gold Color Blocked Cement Planter