I love sneak peeks don't you!?  It is so fun to have the inside scoop and today you are getting a sneak peek of our Holiday Card 2016 edition!  Yes!  Even after just having a baby, I convinced my amazingly supportive and awesome family to take a few family photos while the leaves were brightly colored and then I began my yearly event of picking and designing our holiday cards!  I love doing this every year, it is just such a fun way to remember the year, a good excuse to take family photos and a fun way for us to share the news of the arrival of our beautiful little girl!  So today I am sharing a sneak peek of our family Christmas card and sharing how it's not too late to get yours either!  (See their shipping cutoff dates here.)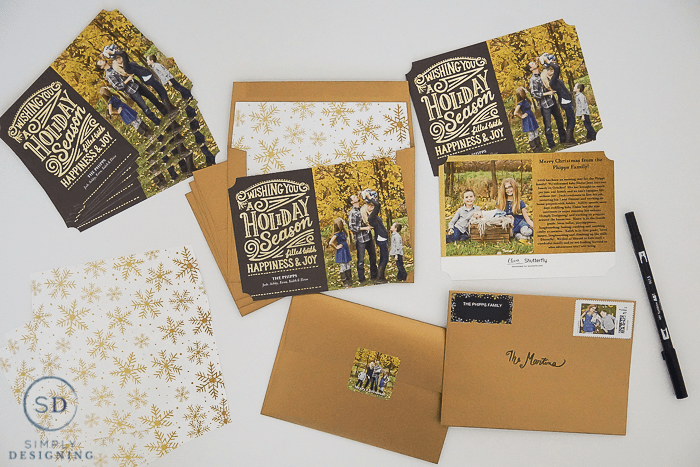 As I have done in years past, I turned to Shutterfly for my holiday cards this year.  A big thank you to Shutterfly for making this post possible today.  I love the variety and quality of cards that I get from Shutterfly and I love that you can order fairly last minute if you need to.  And I love that you can order EVERYTHING you need to get your holiday cards created and mailed from the comfort of your home on Shutterfly (yes even the stamps) so that I don't have to brave the post office this time of year.  Shutterfly truly makes holiday cards easy!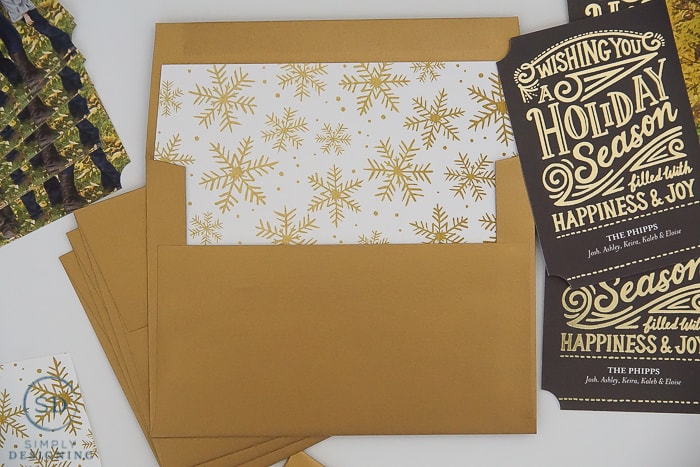 If you want to check them out, you can see our holiday cards from 2015 and 2014.  I really really have loved all of them.  But this year I wanted something a little different.  I was completely smitten when I found my gold foiled holiday card, both my husband and I fell in love with it right away and we knew it would look great with our holiday photos too!
So now for a few more photos and to share what I got with you: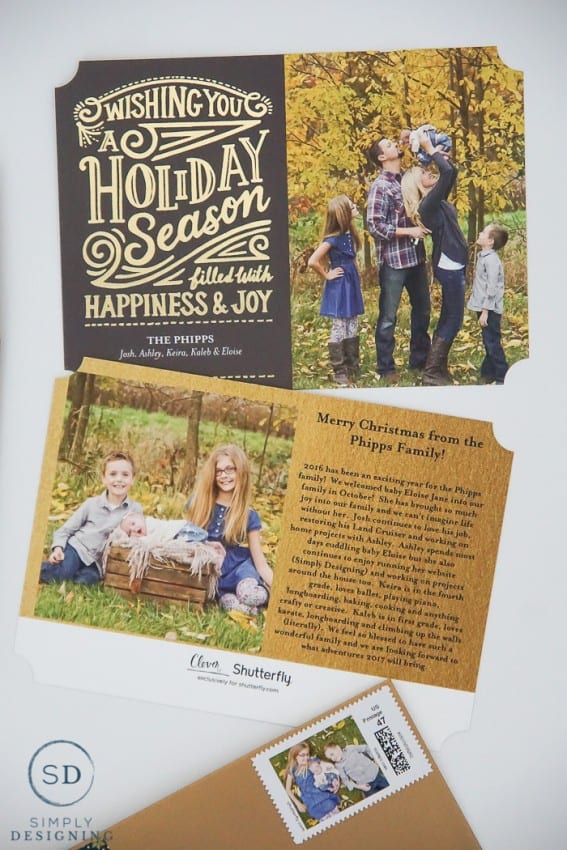 You can find a great selection of holiday greeting cards to choose from HERE.
This year we went with a gold-foiled holiday card and added a little blurb about our year on the back with a second photo.  We choose gold envelopes to match the card and added a cute gold snowflake liner to the inside of it!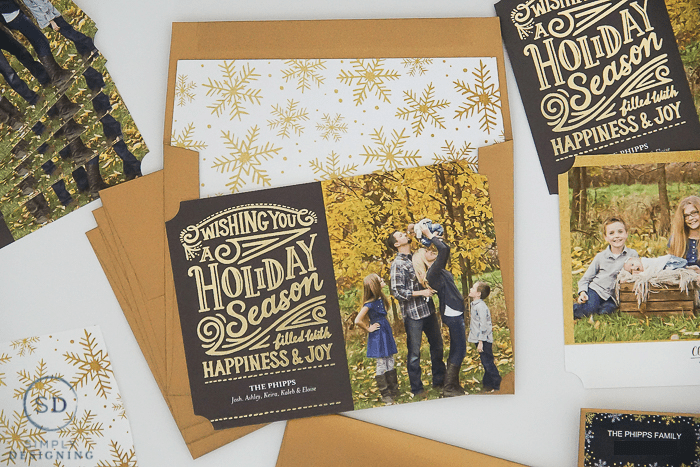 I love that once I was done creating my card, Shutterfly recommended return address labels that coordinated with my card!  I was able to quickly add those to my cart.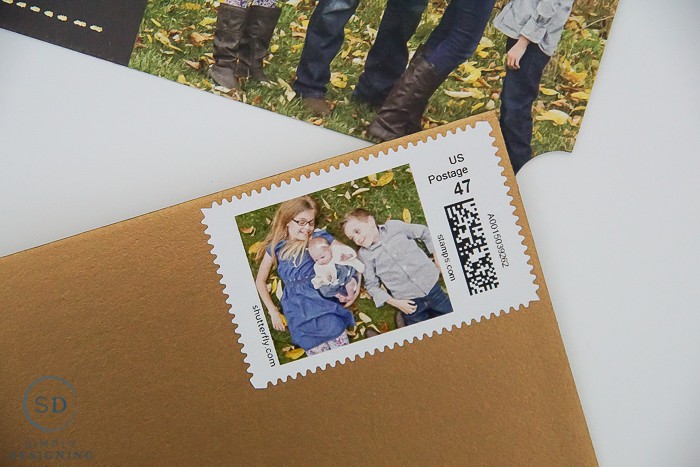 We also love that you can order customized stamps from Shutterfly too!  First of all, you can add a photo to the stamps which means we have just about the cutest stamps on our holiday cards ever!  And second, it saves a trip to the post office.  Let me repeat that: no fighting holiday mayhem at the post office!  This is one of the big ways I stay sane during the holidays.  Thanks Shutterfly!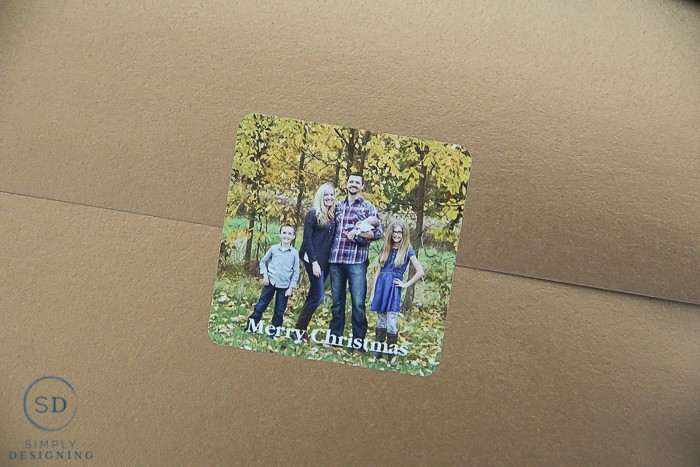 And because we don't like to lick our envelopes shut (true story) we decided to purchase some customized stickers to secure the envelopes this year!  Believe me, this saves a lot of frustration and complaints in my house by using stickers instead of licking them shut.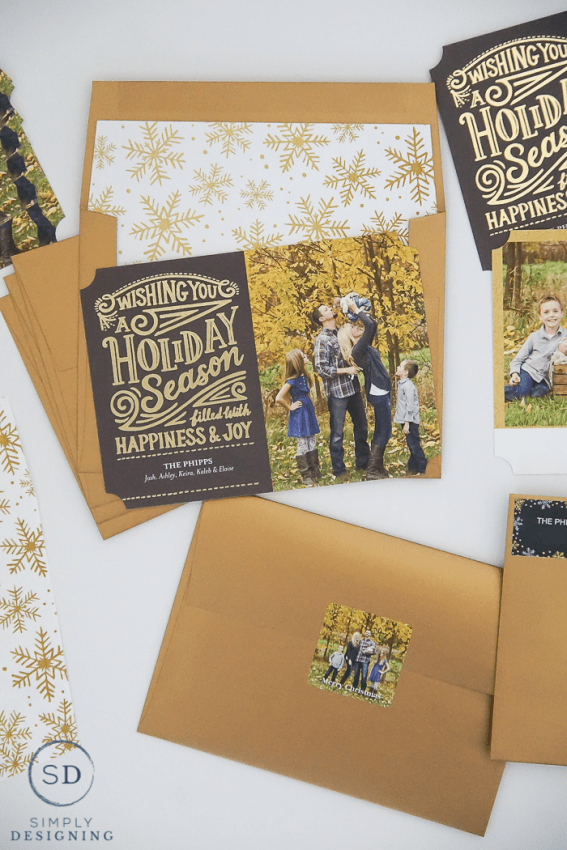 If you are having trouble deciding on a card, there is a new "Use My Photo" feature where you can upload your photo and then preview all of the holiday cards with your image in them.  It is a great way to quickly see what cards will enhance your photos this year.
If you haven't ordered your holiday cards yet, there is still time!  Head to Shutterfly and get them in time for Christmas!
Do you send holiday cards out every year?