A big thanks to Shutterfly for making this post possible today.  All opinions are mine.
This time of year can be incredibly busy!  From parties to school functions to remembering to get everyone on your list a gift!  To making cookies and singing carols, this time of year can really become stressful if you let it!  But I am trying to be more intentional about how I spend my time and what takes me away from my family this holiday season.  And while I absolutely love sending holiday cards, it can become stressful!  But this year I have planned ahead and so today, I am sharing 5 Tips for Stress Free Holiday Cards!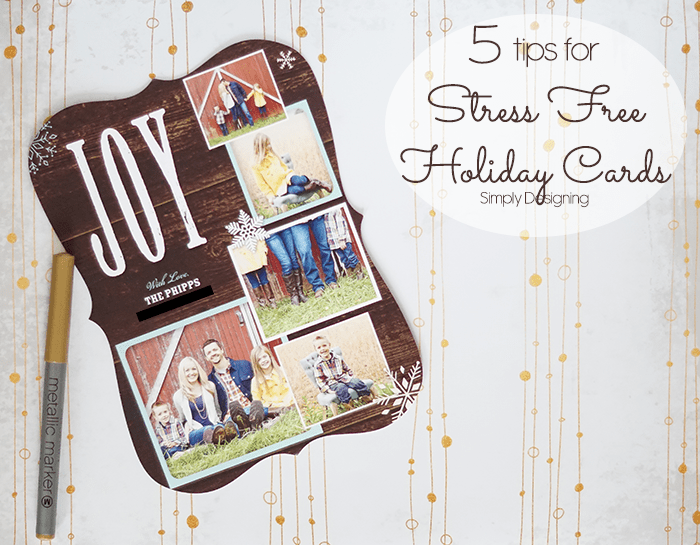 5 Tips for Stress Free Holiday Cards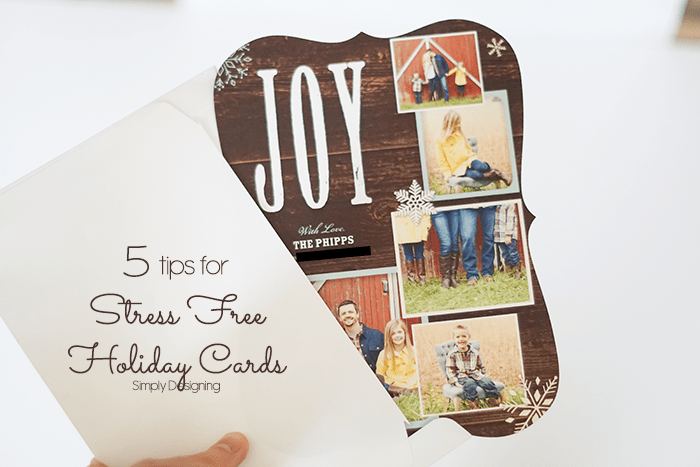 Plan Ahead
I knew I wanted to send Christmas cards in September, and I knew I wanted a new family photograph for them.  This year we decided to take our own family photos and they actually turned out really well!  See my 11 Tips to Take Your Own Family Photos HERE.  But whether you plan to take your photos yourself, hire someone, use snap shots from the year or skip including a photo all together, plan ahead and get it done early!  Like, right now!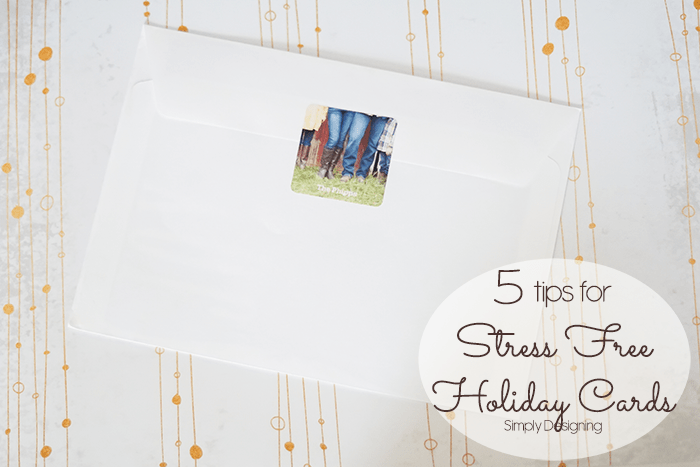 Make a List (and Check it Twice)
I keep a running holiday card address list.  Seriously!  The first year we sent out Christmas cards, I created an Excel spreadsheet that simply listed who I was sending cards to and their mailing address.  Every year I pull that list up, save it as a new document, and edit it.  I add people, or take people off the list as needed.  And I reach out to any who have moved to get updated addresses.  And when I am really on top of things, I simply update the list throughout the year as changes happen.
Having this running list serves to amazing purposes: it enables me to quickly know how many cards I sent last year and how many I will need to order this year.  And it also makes it really easy to address envelopes when the cards arrive!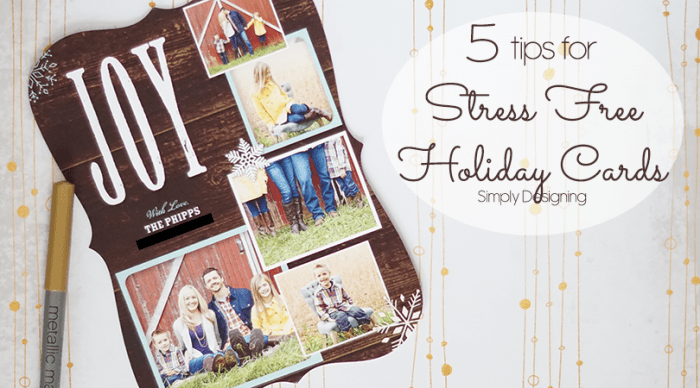 Budget
If you are like me, and money isn't growing on your trees, sending out holiday cards is something that is completely feasible, but you just need to budget for it!  So make it as stress-free as possible and budget for this ahead of time!  Remember to plan for the photographer if needed, the cards, return address labels and stamps.
This year I got my cards from Shutterfly and was really impressed with how reasonable they are!  You can see their great selection of Perfectly Personal™ Holiday Cards here.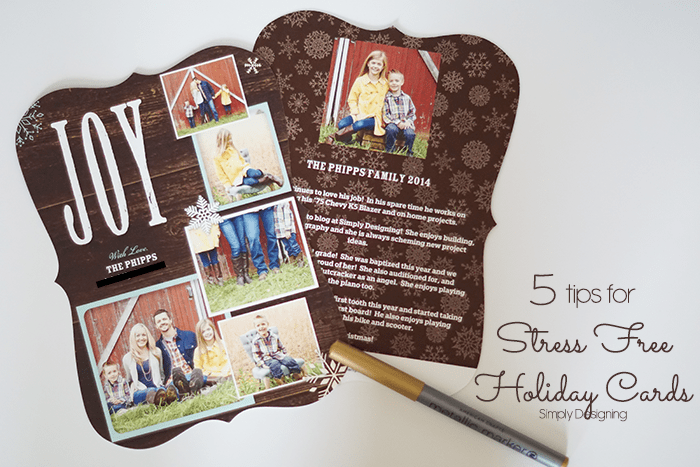 Order Cards In Advance
I am super excited to say that I already have ordered and received my Christmas cards!  Eek!  And it was so simple to do too!  I love Shutterfly and the amazing card selection they have, and I am in LOVE with their die cut cards!  So after my family photos were taken, I imported them into my Shutterfly account and went to work designing our card!
I ordered Big Joy Collage cards, and had it die cut in a scallop shape.  This card style went well with our photos and the die cut shape is so fun and unique!  We printed photos on the front and a short Christmas newsletter on the back!  So I got my card and letter done in one fell swoop!
I love how Shutterfly has so many options of card styles and shapes to fit any preference!  If you plan to host a party, they have a great selection of party invitations too.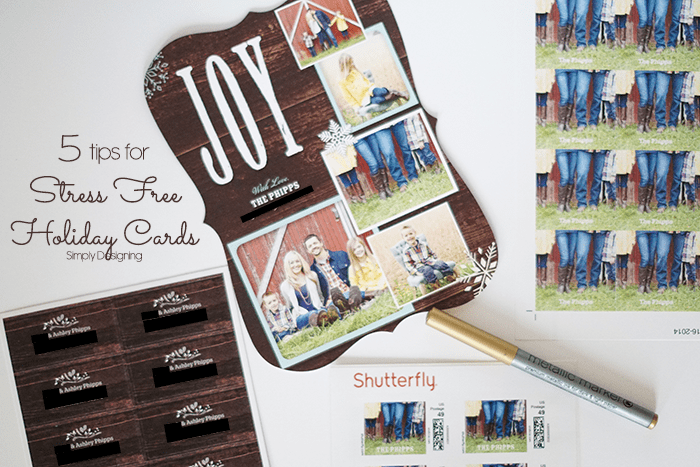 Find Ways to Make It Easier
Don't like licking envelopes shut?  Neither do I!  Enlist a child's help or order personalized stickers and seal your envelopes shut with those instead!  I decided this year to order some personalized stickers to seal our envelopes shut with that they turned out so cute!  I loved this boot photo we took during our family photo session and it makes the perfect sticker!
Order return address labels so that you don't have to write your address hundreds of times.  I ordered these cute Rustic Greeting address labels and they match my card perfectly and make my life a lot more simple!
Shutterfly also offers the option to address and mail your cards out for you!  (Uhm...how awesome is that!?)
Don't want to stand in line at the post office, order your stamps online.  Even better, create personalized stamps and have them shipped to your door!  Seriously!  How much fun are these!?  I love that I was able to personalize stamps and have them shipped to my home.  I don't have to leave home or fight the post office crowds to get my cards mailed this year!  Talk about stress free holiday cards...this might be my favorite idea of all!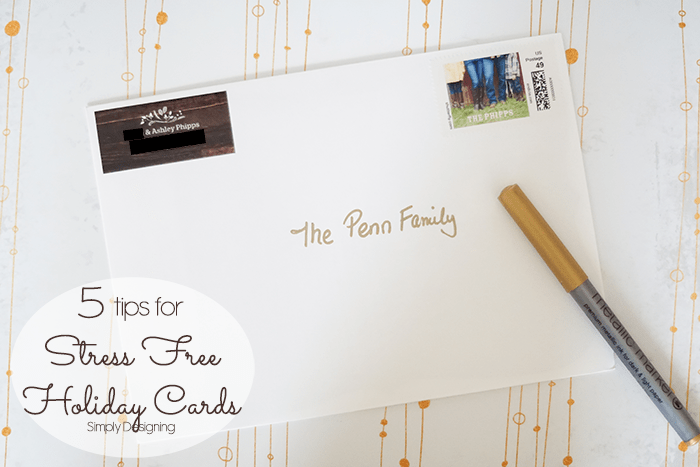 Send them Early and Enjoy the Rest of Your Holiday Season
Plan a time to sit down, address the envelopes and mail them out!  Enlist help if at all possible!  My children are great at putting cards in envelopes and licking them shut!  (This year they will be so thrilled that they can use a personalized sticker to seal them instead of licking them!)  I don't love Black Friday Shopping (unless it is online) so I think our family might take that morning to prepare and send our holiday cards out.  That way they arrive early (one year my Christmas card plan turned into a New Year's card...oops!) and I don't have to spend December stressing about it!
Do you send out Holiday cards and what tips do you have for Stress Free Holiday Cards?