It seems like I always need a gift to bring somewhere.  Either a hostess gift or just a neighbor gift.  The other day I made these really beautiful Succulent Tin Can Gifts that I am so excited to give this year!  I really love to give gifts that are creative but that don't take a lot of time to put together and so today I am really excited to partner with Expressions Vinyl to share a really fun and simple Thanksgiving Gift Idea!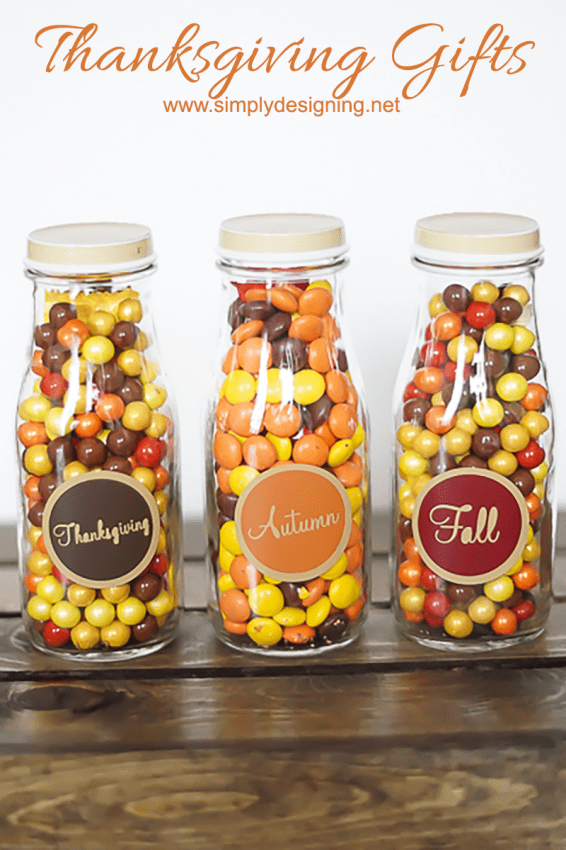 This Thanksgiving gift comes together so quickly with the help of a Silhouette!  (or another vinyl cutting machine...but y'all know I love my Silhouette!)  So grab a few empty glass jars, a bit of vinyl and some tasty treats and you will have the perfect gift to hand out this fall season!  I created these while drinking a warm mug full of my amazing Caramel Apples Spiced Cider too!  So it was the perfect fall crafting day!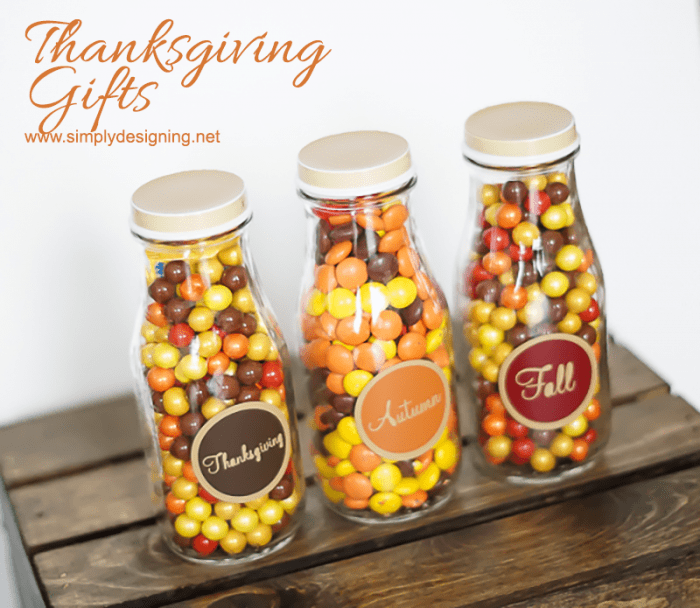 To create this Thanksgiving Gift, you will need:
Fall Circle Tags (Design ID #51314) from the Silhouette Design Store (or similar)
Empty Glass Jars
Candy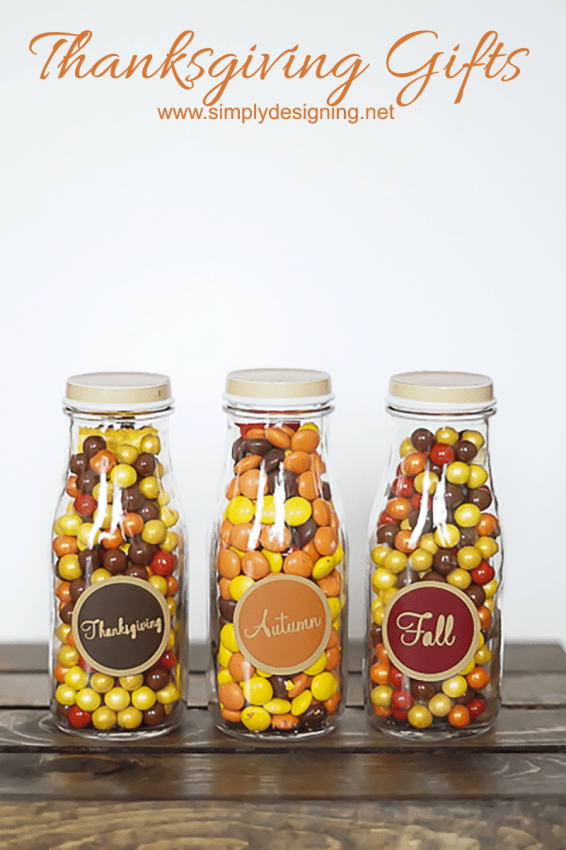 I began by downloading my tag design into my Silhouette software program and un-grouped the designs so that I could manipulated them individually.  I sized them to fit on my glass jar and then I cut them each out in a different color of vinyl.  I then made a circle slightly larger then the tags and cut three of those out. Then I weeded my vinyl. Next I placed transfer tape on my tag, and applied it to the top of the light brown larger circle.  Then I took the stacked vinyl and applied it to the glass jars. Then fill with your favorite candy and gift! This is of course a project that can be modified to fit any reason or time of year.  But they are really really cute looking and they only took a few minutes! And I think nearly any hostess, neighbor or friend would love to receive a cute Thanksgiving gift like this!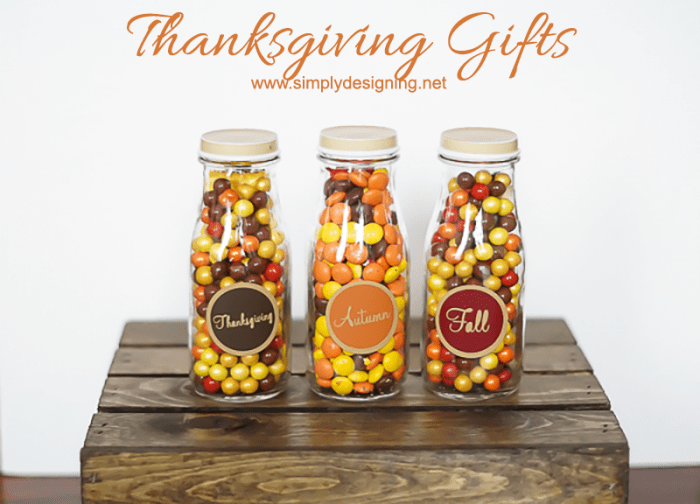 I love partnering with Expressions Vinyl and two other bloggers every month to bring you some amazing vinyl ideas and host a great giveaway!  Here is what Melissa and McKenzie created this month.  Take a moment to go visit their site and leave them a little love!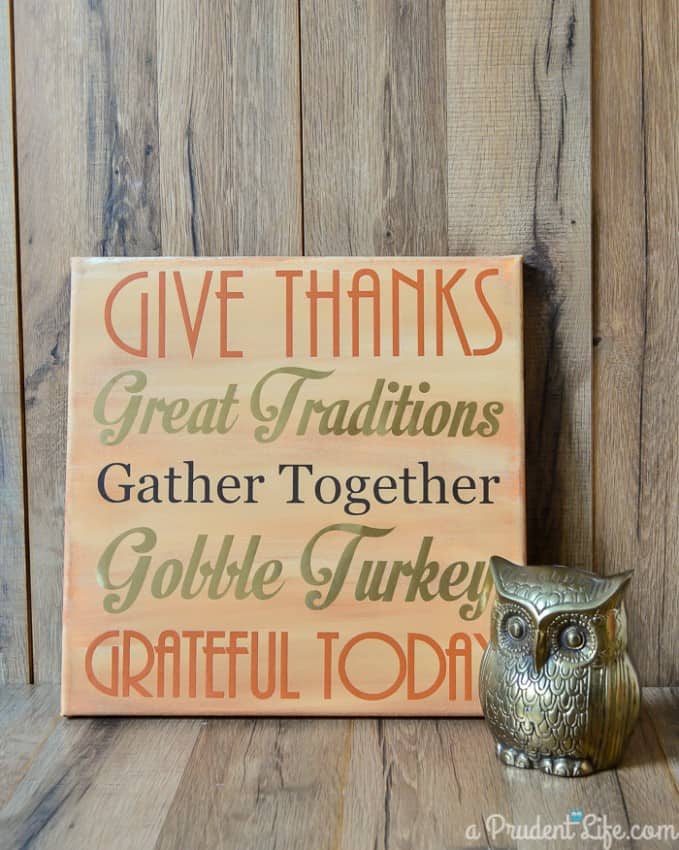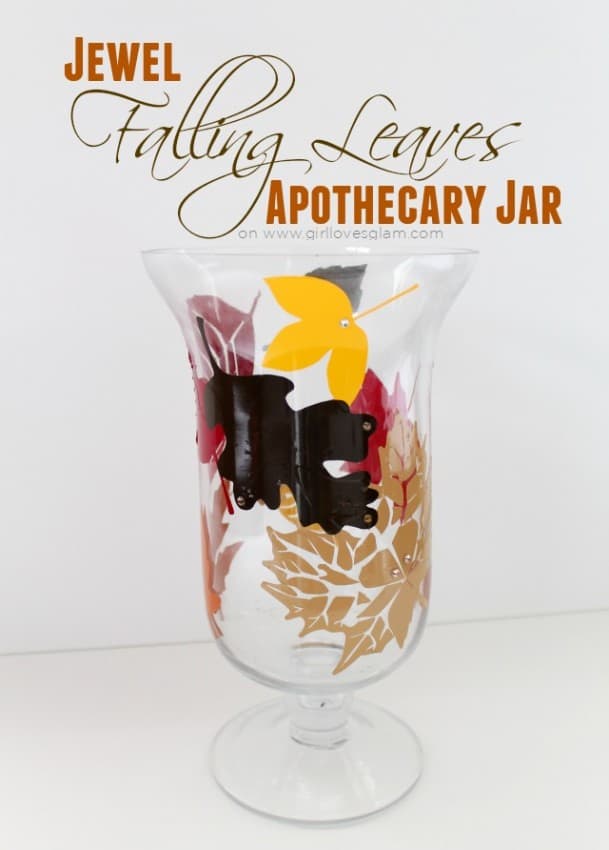 Aren't those so super cute!? And now it is time to join into Expressions Vinyl GIVEAWAY!  Wait until the Rafflecopter below fully loads and enter to win $100 gift card to spend as you please at Expressions Vinyl!  Woot woot!