The two most remodeled rooms in a home are the master bathroom and the kitchen.  But they are also the most expensive rooms in your home to upgrade.  Sure you can hire a contractor and spend thousands of dollars, or you can DIY it like we do!  Today I am really excited to share my mini Kitchen Makeover with you and show you how simple it really is to Upgrade Your Kitchen in a Day!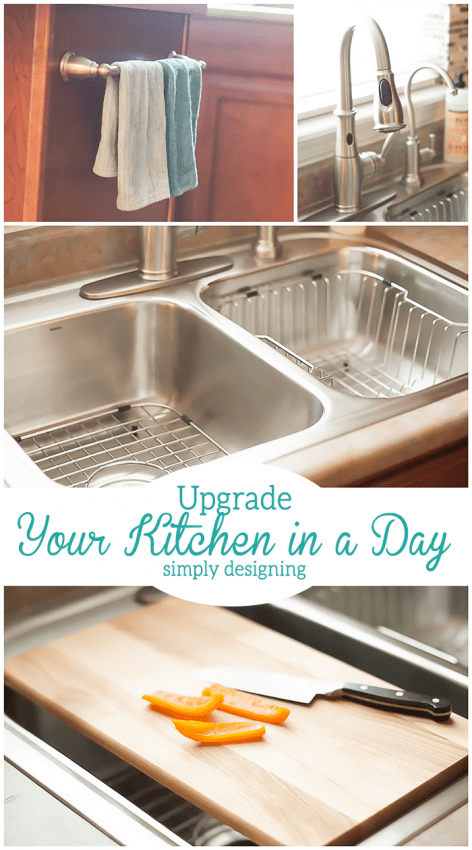 Upgrade Your Kitchen in a Day
Yes, you read that right!  You can upgrade your kitchen in a day!  It actually only took us a couple of hours.  So this is definitely a good Saturday morning projects and by Saturday evening you will be ready to host your own party!
Like many people, I had a few problem areas in my kitchen but I also love a lot of things about it too!  I love my layout and my cabinets (which is good because those can be costly upgrades!)  But I didn't like my shallow sink, my faucet that was falling apart, or how my kitchen towels always ended up on the floor.  And let's not even talk about my soap dispenser.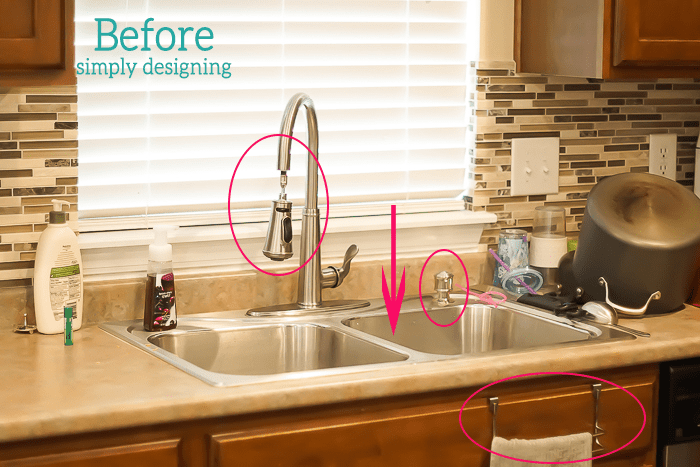 Does anyone else have similar issues in their kitchen?
The faucet didn't retract all the way and the hose was completely frayed.  It was always in this half-up half-down position.  It never stayed up anymore.  The towel bar always fell off the cabinet door and my hand towel would end up on the floor.  Always.  And then there was the soap dispenser that didn't fit right and was usable only because my husband is an awesome rock star handyman and was able to help me hack a solution for it.
I know this "before photo" may not look so bad, but trust me, it was less then ideal to live with.
Thankfully Moen came to our rescue and helped us make a few changes in our kitchen and now it is amazing!  Thank you Moen for making this post possible!  And for helping us have a beautiful and functional kitchen again!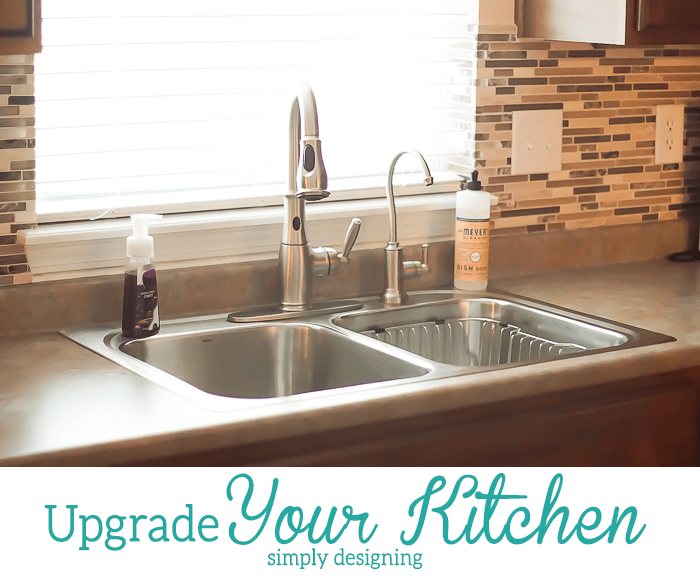 Here is what we did:
First we removed the old sink by removing the screw clamps from the underside of the sink.  Then we disconnected the garbage disposer, drain, and water lines from the facet. We were careful not to damage our counters.
Then we installed a new, deeper Moen 2000 Series, 33"x22". 20 guage double bowl sink.
We followed the manufacture's instructions by running a bead of silicone caulk around the underside edge of the sink and carefully set it in place. Then we connected the clamps under the counter, and re-connected the garbage disposer and drain.  The new sink is much better quality and deeper than our old sink.  Even a little bit of extra depth makes a huge difference when trying to clean big pots and pans!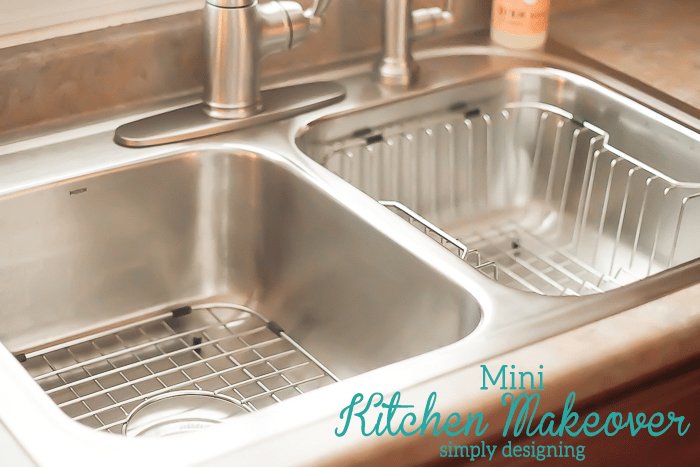 Two of my favorite accessories that Moen sent are the Bottom Grid (left) and the Rinse Basket (right).  They really make the sink extra useful and help keep the bottom of my sink from getting scratched too!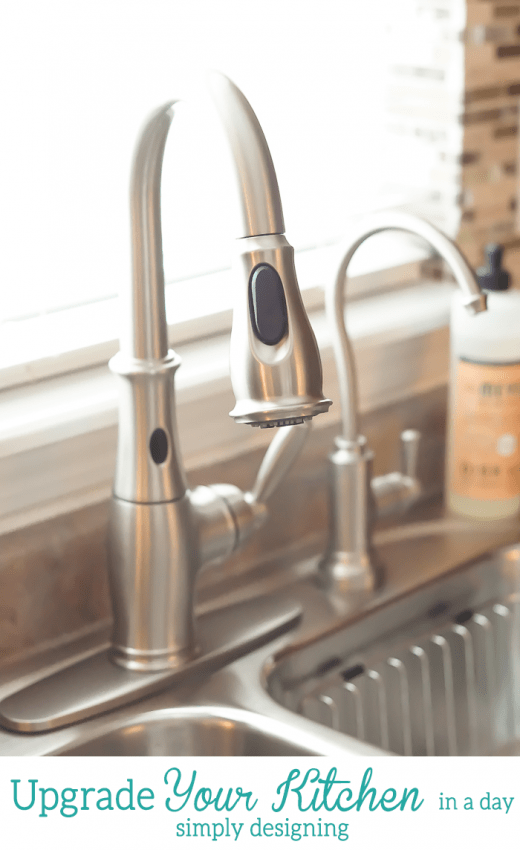 Next, we were ready to install a new kitchen faucet.  Yes, that's right.  No more broken sagging old facet.  Moen sent us a Moen Brantford Spot Resist High-Arc Pull Down Faucet and it is so amazing!
This faucet includes motion sensors so I can turn water on and off by waving my hand over the faucet.  It also comes on when I put my hand or a dirty dish in front of it, which is PERFECT for when I am cooking and have messy hands!  Moen's MotionSense™ is simply awesome!
When installing the faucet, we needed to install a few items below the sink including a control box and batteries.  The rest of the faucet installed quickly by simply following the instructions.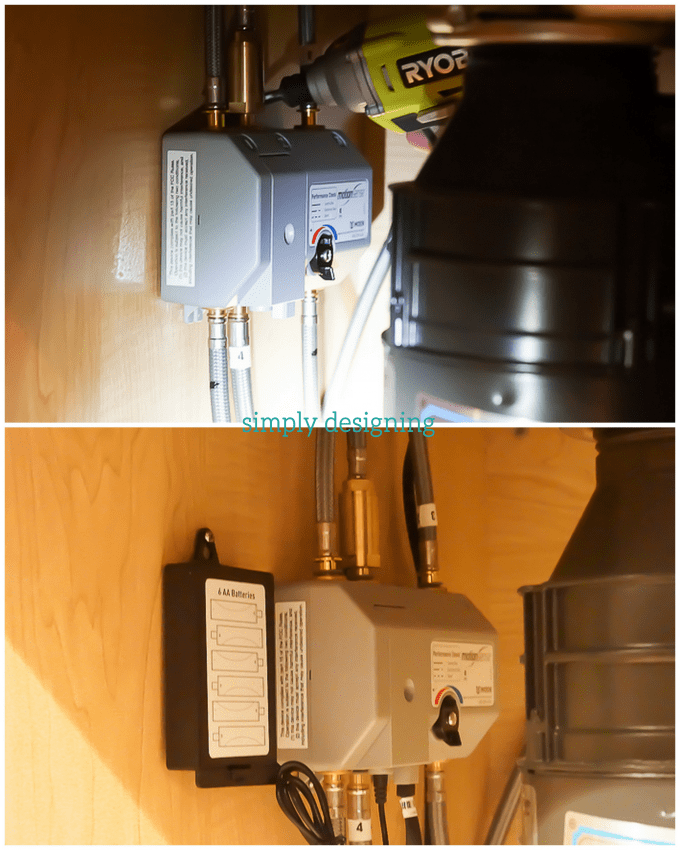 And you know how I had an issue with my old faucet not retracting?!?   Well this faucet is equipped with Moen's Reflex™ system and the faucet retracts with no help needed!  Amazing.
Want to see this baby in action!?  Check out this 20 second video!
Isn't that so cool!  And it looks so pretty in person too!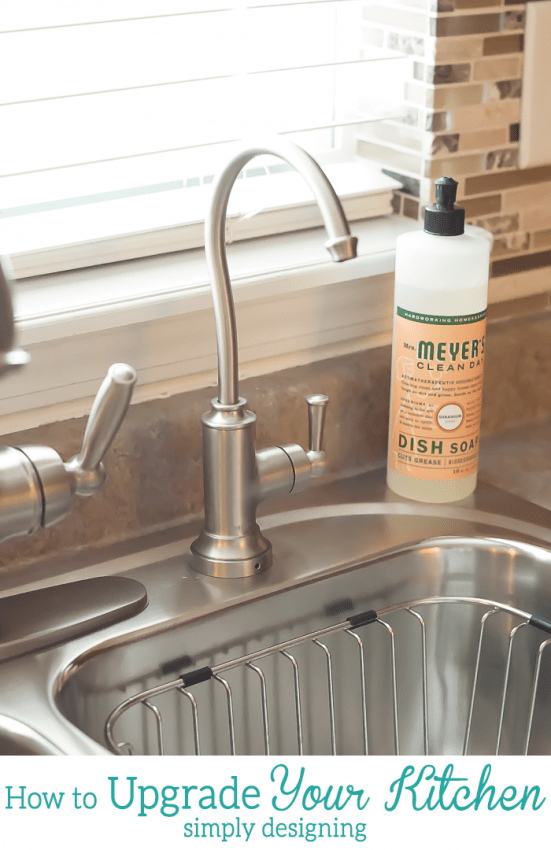 We also installed a Water Filtration System and Moen's Sip Traditional Beverage Faucet.  Since I have a goal to drink more water this year, I have really loved having this!  It is a great way to make filtered water easily accessible to my whole family.
This came with all the needed plumbing accessories to connect the filtration system to the existing cold water supply valve under the sink.
We all get a lot of use out of the beverage faucet!  I use it to fill my water bottles several times a day!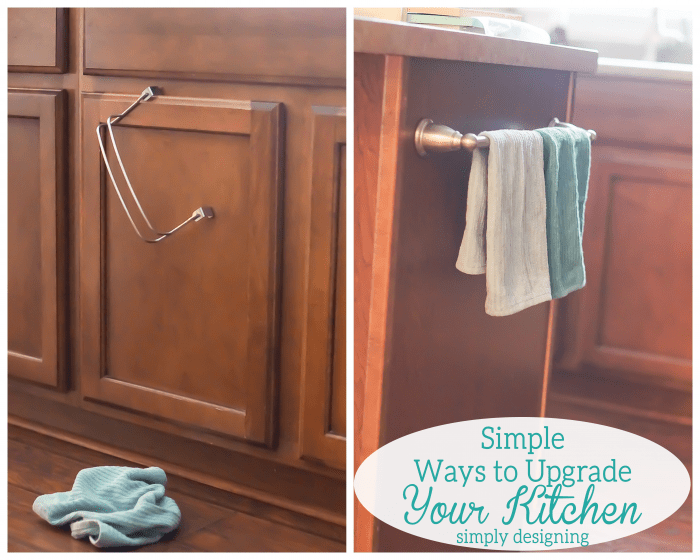 And please tell me you have this problem!  I had an over-the-cabinet-door towel hook, but it would fall off the cabinet if you looked at it funny.  My towel was constantly on the floor which drove me nuts.  So I was thrilled to find out that we could install the Brantford 18" Towel Bar to the end of our island.
And it is amazing!  My towels now stay in place and are never on the floor!  Also this is a much prettier solution too!  It really is the simple things in life that make it so nice sometimes!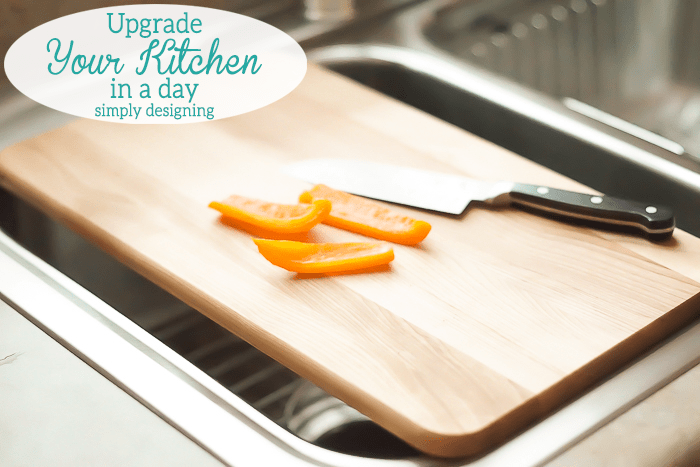 And the last item I added to my mini kitchen makeover was this beautiful Moen Natural Wood Cutting Board!  This fits perfectly on top of my sink and allows me to easily wipe scraps down the drain!
Ah.  I never knew that chopping over the sink would make my life just a little bit easier!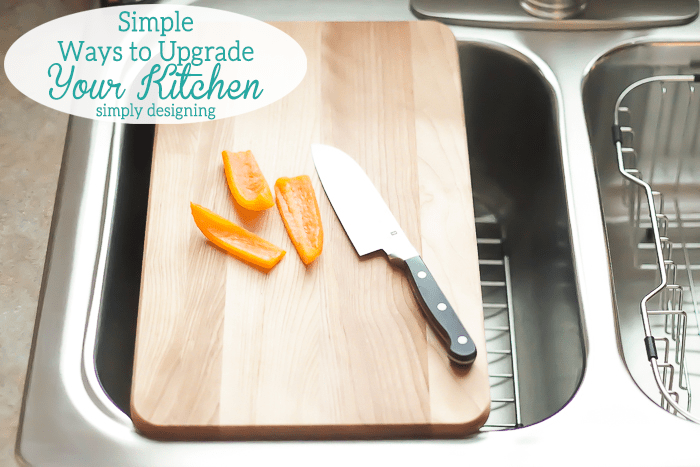 And yes, all of this was easy to install in less then one day!  Without any major plumbing or DIY skills and no expensive tools, it really IS possible to Upgrade Your Kitchen in a Day!!
If you'd like to see a few other fun house projects we have done, check these out: