This post is sponsored by The Home Depot.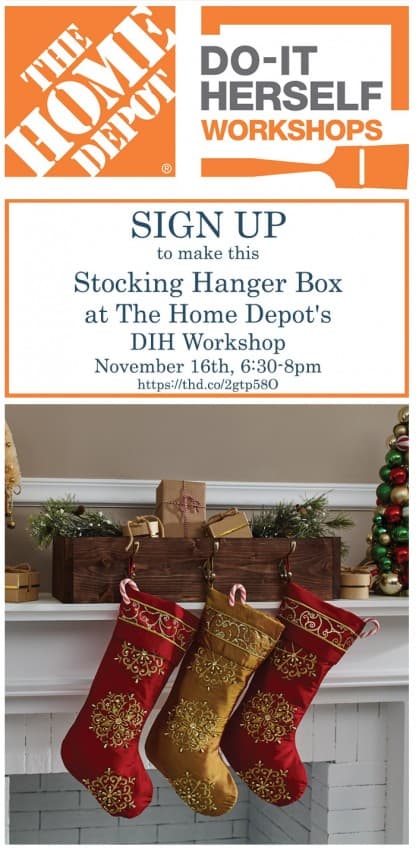 Good morning!  I know it may feel a bit early for some of you to already be thinking about Christmas, but I totally am!  I love Christmas and I love creating one or two new projects every year to help add a little holiday cheer to my home!  And I love that The Home Depot gives you opportunities to create something special for your home too!  This month at The Home Depot, the Do-It-Herself workshop is so super fun and I just love it!  This month you can attend the workshop and learn how to make a Stocking Hanger Box!  This is a project that can make a big statement in your home, but is super easy to do, even for a beginner!  The Home Depot, the Do-It-Herself workshop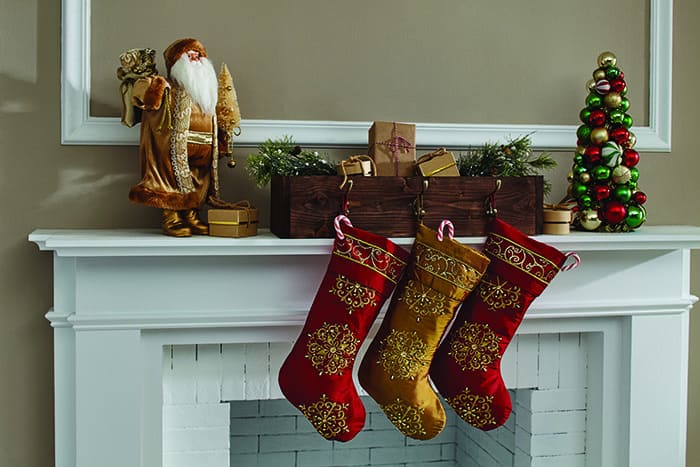 Make a Stocking Hanger Box that is Perfect for the Holidays
The thing that I love most about this stocking hanger box project is the never-ending ability to transform this into something that fits your needs and style preference.  This example shows three hooks, but if you have a family of five, no big deal!  You can either make the whole stocking hanger box bigger, or just add additional hooks onto this size box!  Prefer a painted look to this stained one?  You can paint yours instead!  The possibilities for customization are absolutely endless!
I love that I have been able to to collaborate with The Home Depot and their Do It Herself (DIH) workshops and this has been one of my favorite projects so far!  And I am thrilled to be joining with other amazing bloggers to host a virtual party where we will all share our own versions of the DIH projects on our blogs!  It is going to be SO MUCH FUN and I hope you will  join me on my blog next Monday to see my final project!  And this project...my oh my...I just love how mine turned out and I really can't wait to see all of the other ones too!
I love that The Home Depot offers workshops for all ages and experiences levels at all of their locations.  They offer Do-It-Yourself (DIY) classes, Do-It-Herself (DIH) classes and Kids classes!  (By the way, have you ever been to a kid's class?!  They are so much fun!  My kids beg to go to them!)  Their classes offer a wide variety of topics from home decor to easy home repairs and even tool demonstrations!  You can learn more about the classes offered at the location near you here.
These classes are so fun to attend by yourself for a little break, but they would also be fun to attend with a group of girl friends!  I love how they make projects that are fun, and do-able and you and your friends would end the evening with a really fun project for the holidays!  And don't worry, you can even attend if you don't have a lot of experience with power tools.  This is a great place to learn and have all your questions answered!
I would love it if you would follow along with me on Instagram and Instagram Stories because I love to share little sneak peaks of projects over there!  And of course you can find the final reveal of my own stocking hanger box on IG and also on my blog next Monday!
Go ahead and register to hold your spot in this really fun Stocking Hanger Box workshop HERE.
I acknowledge that The Home Depot is partnering with me to participate in this Workshops Program (the "Program"). As a part of the Program, I am receiving compensation in the form of products and services, for the purpose of promoting The Home Depot. All expressed opinions and experiences are my own words.  My post complies with the Word Of Mouth Marketing Association (WOMMA) Ethics Code and applicable Federal Trade Commission guidelines.  #DIHWorkshop #sponsored