Embossed serving utensils.  Who would have known you could create these!?  I am thrilled that I discovered an easy and simple way to create the cutest hostess, or newlywed gift!  And the best part is that this was super easy and inexpensive to make.  I can't wait to show you how I did these!  I have to say that I used my amazing Heat Gun from HomeRight that I posted about HERE.  It was so fun to use to create a No-Sand Distressing technique that worked really well!  So I was really excited to try my hand at embossing using the heat gun too!  I truly love being a HomeRight blog ambassador and this project and it's giveaway are sponsored by them!  Woot woot!
Embossed Serving Utensils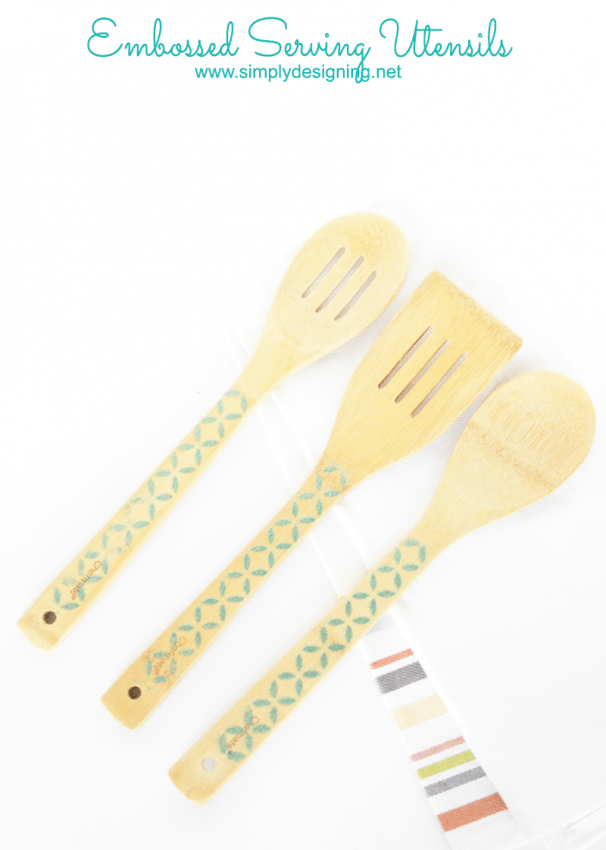 Aren't these as cute as can be!?  I really LOVE how these embossed serving utensils turned out!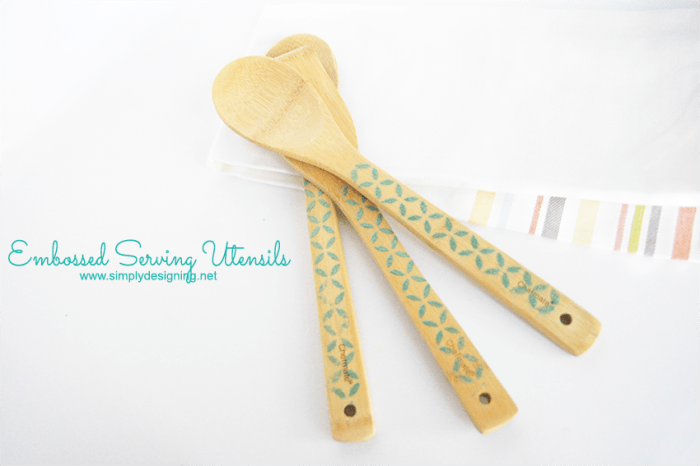 To create these you will need:
Wooden Serving Utensils
Embossing Clear Ink
Embossing Powder (I used a beautiful turquoise color.)
Stencil
Masking Tape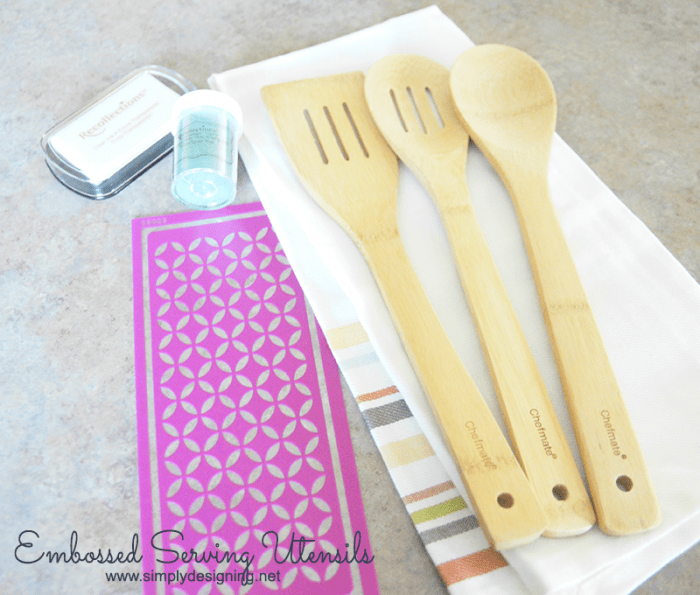 Ok these are actually really quite simple to make! First you will place your stencil onto your wooden handle and tape the stencil in place.  You will also want to mask off any areas you don't want to emboss. Then you will apply your ink to your handle.  Be generous and make sure lots of ink is applied. Quickly sprinkle the embossing powder on top of the ink. Then lift your stencil off of your utensil. At this point your embossing powder should be in the shape of your stencil on your wooden handle.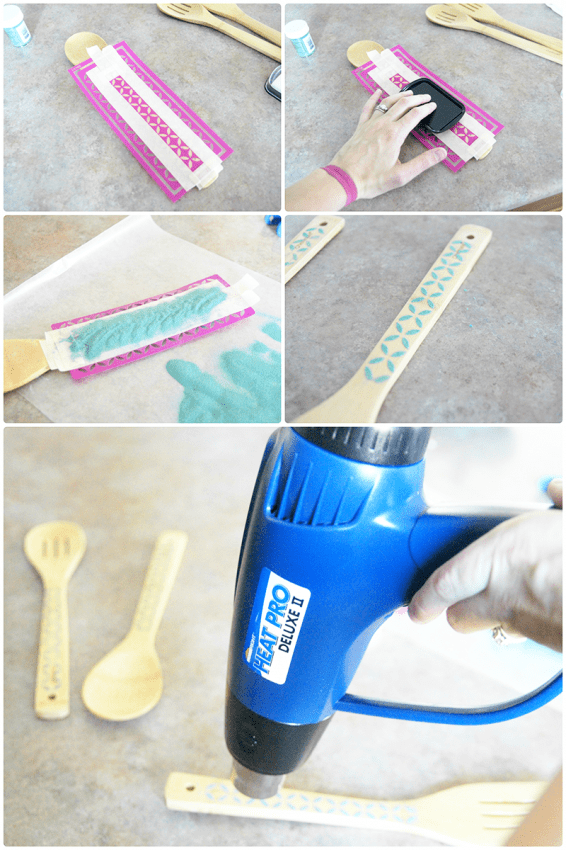 When you get to that point, all you will need to do is use your heat gun to melt and emboss your powder!  Turn your heat gun on and let it heat up and emboss your powder until you have a smooth finish!  It only takes a few seconds.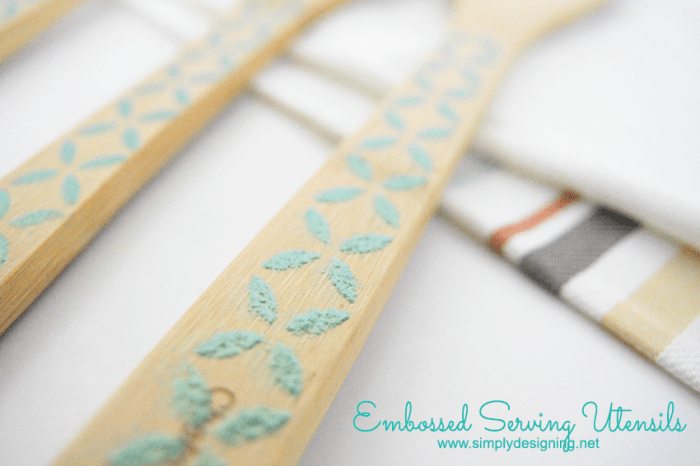 And for very little cost and time, you can create your own beautiful Embossed Serving Utensils! These would make the perfect hostess gift or even a great wedding gift!  And wouldn't these be fun to make in the bride's colors to use at her bridal shower or wedding reception?  And then they could be gifted to her afterwards!  The possibilities are truly endless!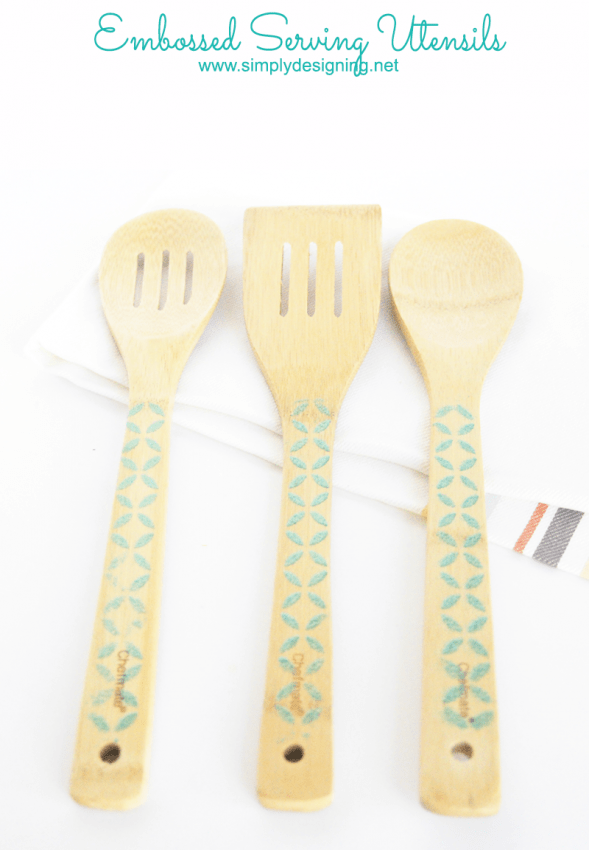 I really do LOVE how these embossed serving utensils turned out! And now, it's time for you to enter to WIN your own HomeRight Heat Pro Deluxe II Heat Gun!  Seriously!!! Just wait until the Rafflecopter fully loads and then enter to win!
a Rafflecopter giveaway
*Winning entries will be verified.  This giveaway is in no way affiliated, administered or endorsed by Facebook, Pinterest, Twitter or Instagram.  No information will be disclosed to Facebook, Pinterest, Twitter or Instagram by entering this giveaway.  No purchase necessary to win.  Odds of winning are based on number of entrants.  Winner for prize package will be chosen randomly through Rafflecopter.  Giveaway will run from August 8, 2014 at 6:30am EST until August 16, 2014 at 12:00am EST.  Winner will be announced on August 16, 2014 in this blog post and the winner will need to respond within 48 hours of announcement via email to claim their prize or another winner will be chosen.  Winner must be 18 years of age or older and a US citizen with a US mailing address in order to win.  Winner is responsible for paying any necessary taxes on winnings. All prizes will be mailed / emailed / fulfilled by the sponsor and the blog owner(s) involved are not held responsible if the prize is not fulfilled.  A list of winners may be requested after the giveaway has ended.  Please email me with any questions or to obtain additional information at: [email protected]
Thank you to HomeRight for making this post possible.