Heart Shaped Hot Cocoa on a Stick
A few weeks ago I had a lot of fun making these delicious Hot Cocoa on a Stick treats!  I loved how they turned out and they were so yummy to use too!  I could hardly keep my kids hands off of them!  So when I found a cute silicone heart shaped mold, I knew that I just had to make Heart Shaped Hot Cocoa on a Stick!!  I knew these would just as cute and just as tasty...but this time I switched it up!  I made some regular Chocolate hot cocoa on a stick and some White Hot Cocoa on a Stick too!  My daughter is a big fan of white hot cocoa so these made her so happy!  Plus, if you add sprinkles to the top (like I did) it will turn your white hot cocoa colors!  So my daughter enjoyed her PINK white hot cocoa on a stick.  Anyway, these are super cute and super yummy and of course, super simple to make too!  Here are my Heart Shaped Hot Cocoa on a Stick treats!

Heart Shaped Hot Cocoa on a Stick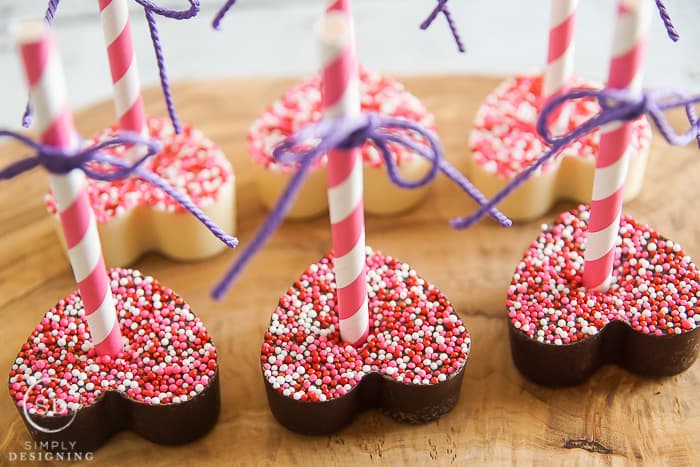 You only need a few items to make these cute Heart Shaped Hot Cocoa on a Stick!  I am providing you with a list with clickable affiliate links for your convenience.  Here you go: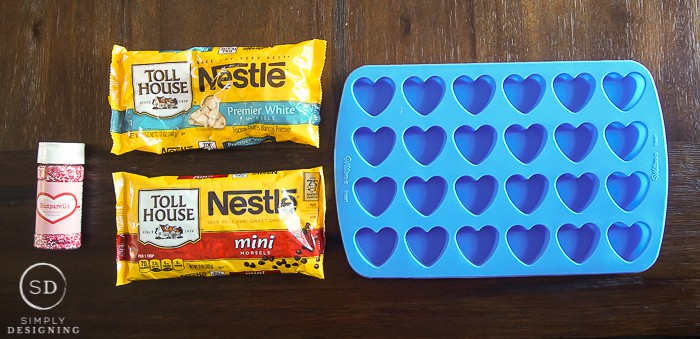 To create Heart Shaped Hot Cocoa on a Stick, you will need:
You will want to begin by ensuring your silicone mold is completely clean and dry before beginning.  Any bit of water can make your chocolate seize so be sure it is completely dry before you begin making these.  Lay your silicone mold on a cookie sheet if you want.  This makes it possible to move the hot cocoa on a stick while you are waiting for them to cool, so I recommend doing this.
Place your chocolate chips (white or semi) into a microwave safe bowl and melt on medium heat until melted.  For all my tips and tricks for how to melt chocolate, I highly suggest you check out my blog post about melting chocolates HERE.  I would avoid adding any oil for this recipe though.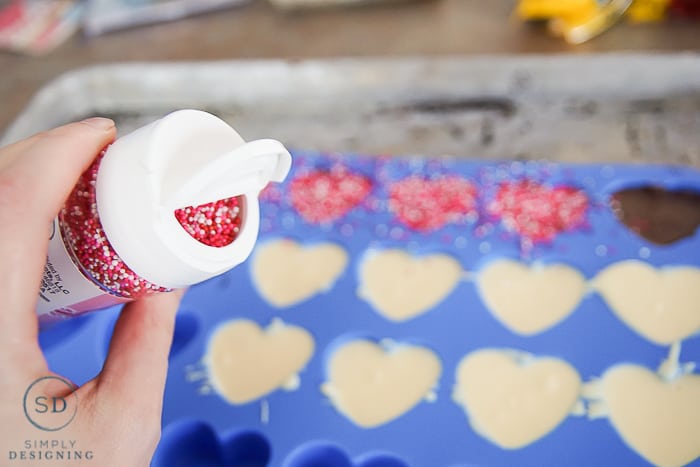 Once your chocolate is melted, pour it carefully into the heart shaped molds.  Cover the tops of the heart shaped chocolates with nonpareils liberally!
Cut the paper straws in half and place one in each heart shaped mold as your stick.
Allow these to set completely.  You can put them outside, or in a cool garage or in your fridge if you want to speed the process up a bit.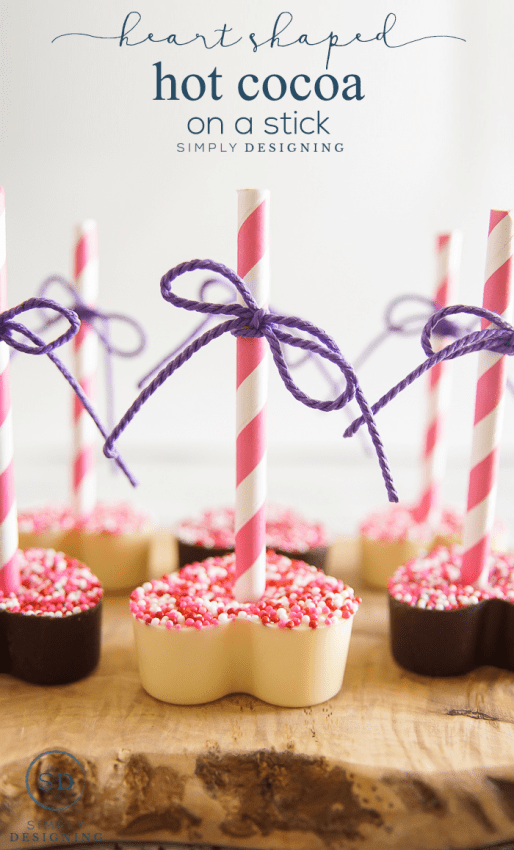 Once the chocolate hearts are completely cooled, remove them from the silicone molds and add bakers twine to the top if you like!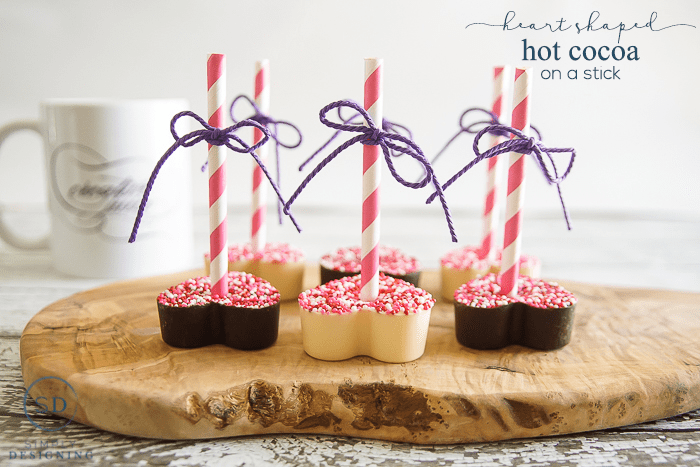 To use these, simply warm up a mug of milk and stir the heart shaped hot cocoa on a stick into the warm milk until it is fully melted.
Be aware that the white hot cocoa on a stick will turn your hot cocoa the color of your sprinkles you added!  So in this case, our white hot cocoa turned pink!  Which my kids both thought was extra awesome.
Enjoy!
You might also enjoy: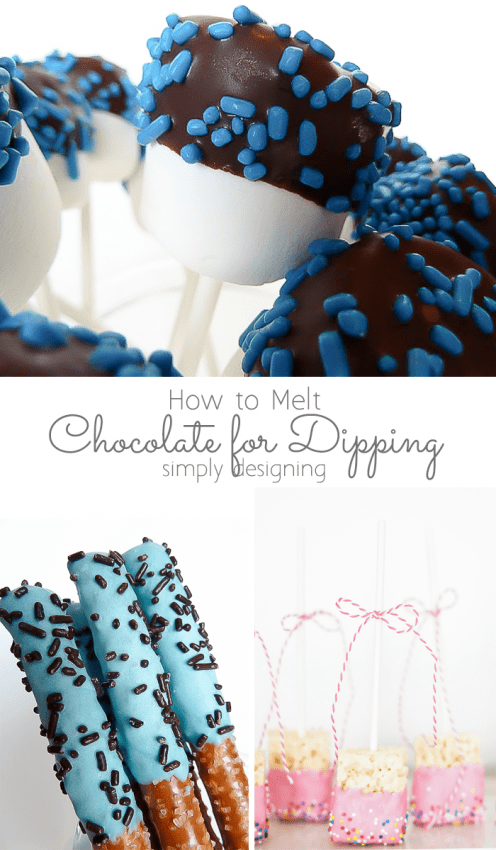 How to Melt Chocolate for Dipping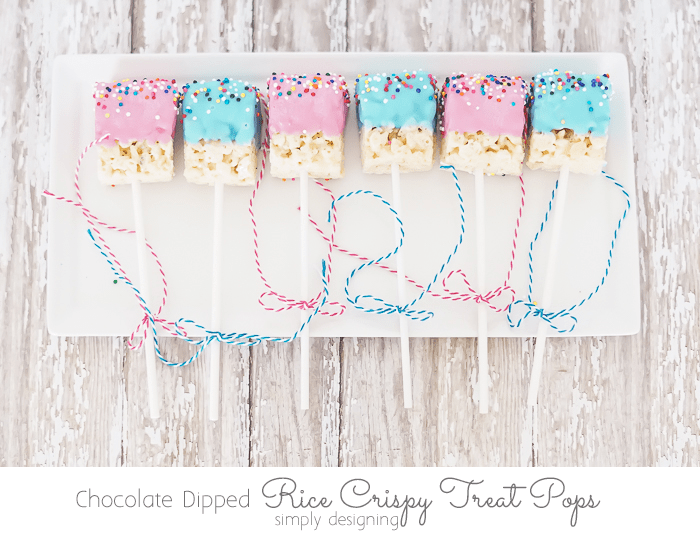 Chocolate Rice Crispy Treat Pops