You all know I love creating and I love encouraging others to create as well.  I am a firm believer that anyone can create with the right instruction and tools.  In fact, one of the reasons I began my blog was to share step-by-step tutorials with enough information and photos so that anyone (and I mean ANYONE) could recreate it.  My whole goal is to encourage and inspired you to create.  Which is why I am super thrilled to be collaborating with The Home Depot's DIH Workshop Virtual Party Program today.  Keep reading for all the details.  But first, I am excited to share with you what you can create at the next The Home Depot Do-It-Herself workshop.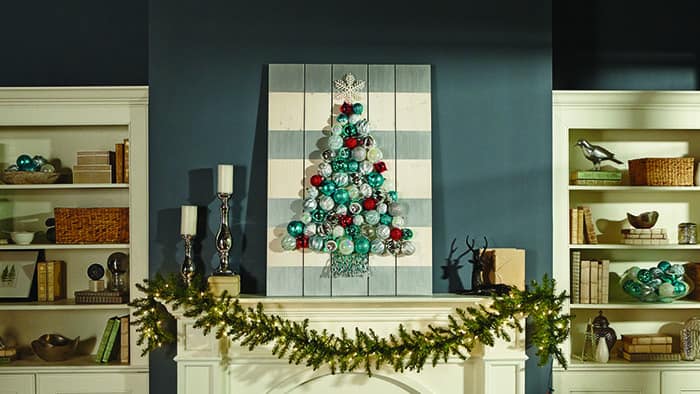 A big huge thank you to The Home Depot for inviting me to participate in this program and for sponsoring this post.  All opinions are mine.  #DIHWorkshop #sponsored 
I think this Holiday Ornament Display is so super cute and it is easy enough for you to make too!  So set your clocks for Monday, November 14th because on that day, 25 bloggers will be joining together for a virtual party to share our own versions of this Holiday Ornament Display.  Which means there will be no lack of inspiration for a fun and easy holiday project that you can do yourself!
You can create one of these for yourself at The Home Depot's next Do-It-Herself Workshop!  (Sign up HERE to attend.)
I love that The Home Depot offers workshops at all of their locations for all ages and experience levels.  They have Do-It-Yourself workshops, Do-It-Herself workshops and Kids workshops!  I have been to both the kids and the DIH workshops and really enjoyed them!  These workshops include making your own home decor projects, home repairs and projects that kids will enjoy and love.  I love that they offer workshops for the whole family to enjoy.
So be sure to sign up HERE to attend the next DIH Workshop (and any other workshop that interests you) and come back here on Monday November 14th to see my version of this project and links to the other 24 blogger's amazing projects too!