Laundry.  It is a task that is truly never done.  In fact, even on days when I work really hard to wash and dry all of the laundry and have no laundry waiting to be done, as soon as the kids get home from school and the hubby gets home from work, I suddenly have laundry to do again.  It is a task that never is finished and as a stay-at-home mom it is primarily my responsibility to ensure it gets done.  (Notice I don't say it is my job to get it done...I said it is my job to ensure it gets done...there is a difference!)  So today I wanted to share How I Simplified Laundry for my Family.  I am sharing 7 tips that work well for my family in order to have a simplified laundry process and I hope that at least one of these tips will work for you too!
This is a sponsored post written by me on behalf of hhgregg.  All opinions are 100% mine.
There are only four of us in our family, but sometimes it seems like there are 10 of us!  I can't believe the amount of laundry I actually do in any given week.  But it is very important to me to have clean looking and clean smelling clothing for my family so it is my job (along with my husband's) to ensure that the laundry gets done.  But over the years I have come up with a few ways to have a simplified laundry process and I hope these tips help you come up with your own process that makes laundry more manageable.
How I Simplified Laundry for my Family
No Hampers Exist in my House
Nope.  My children do not have hampers in their room.  Neither do I.  Why!?  It creates an extra step in getting dirty laundry from point A (off the body) to the laundry room.  More steps = more work.  Less steps = less work.  Because my laundry room is upstairs and so are all my bedrooms, my children know that as soon as they take their dirty clothing off, it goes directly into the laundry room.  In the laundry room I have 4 baskets, one for towels / sheets, one for darks, one for lights /brights and one for whites.  That's it.  They take their clothing off and put it in the correct basket so come laundry time, I only need to dump the basket of clothing into the washer and press the start button.  (Note: we are still perfecting this as my kids sometimes forget to sort and just throw the laundry in there, but at 9 and 6 they do pretty well.  This saves me a ton of time and hassle though and it is worth the initial effort to "train" my family to sort the laundry ahead of time.)
Don't Over Sort
See above.  I have 4 baskets we sort into: towels/sheets (these usually end up in separate loads due to space but are really easy to separate myself), darks, lights/brights and whites.  That's it.  I don't over sort or over complicate it.  And sometimes (gasp) I throw my darks and lights/brights in the wash together, wash on cold and call it a day!  It's true!
Don't Over Complicate It
I will be honest, nearly all of my loads of laundry get washed on the same, exact setting: normal, cold water, medium spin.  And everything except towels and bedding gets dried on low.  Why?  Well, for several reasons.  First of all, cold water tends to keep colors from bleeding, it also means I can get away without over-sorting my clothing (see above.)  And I love to avoid any possibility of clothing shrinking because we are all tall in our family so shrinking arms and legs are never a good thing.  Drying clothing on a low setting has always kept my clothing from shrinking too much.  Also, it means my entire family easily knows how to throw a load of laundry in and what settings to use.  Yup, my husband and daughter are both very capable of putting laundry into the washer and dryer because I don't over complicate it with a myriad of complicated instructions.  I keep it simple, everyone can remember the settings and everything gets washed just the way I like it no matter who is doing the laundry!  Win-win!
Buy Your Clothing Carefully
You can laugh, but I won't buy certain items of clothing if they take too much extra care.  Yes I have the occasional shirt, skirt or dress that has to be carefully laundered, but for general, every day clothing, I want to be able to wash it, dry it and wear it.  I don't buy my children clothing that needs to be ironed (except maybe for Sunday) and I certainly don't buy my children any clothing that is dry clean or hand wash only.  I only made that mistake once.  Oops.  I find that by buying clothing that is easy to care for, laundry is so much easier to keep on top of.
Get Help
I do not wear all of the dirty clothing in my house and I'm guessing you don't either.  Therefore, I don't do all the laundry in the house.  Now I understand that I am a work-from-home mom so it is fairly easy for me to switch loads of laundry during the day.  But I don't do it all myself all the time.  At about age 7 we started to show our daughter how to do the laundry by herself.  Keeping the settings simple and consistent (see above) and having everyone sort as they throw their laundry in the dirty clothes baskets helped her learn how to easily put a load of laundry in herself.  My husband is also very helpful when it comes to putting in a load of laundry too!  And again, since the settings are consistent, he doesn't have to ask how to wash anything, he knows!  Of course you have to do what works for your family, but if you are overwhelmed, enlist help!
Little children are great at sorting laundry too!  So don't forget to put even your littlest of children to work!
Don't Fold
Once upon a time, I used to do all of the laundry, fold it all, and carefully put it into baskets for my children to place in their drawers.  I thought I was winning at the homemaker thing.  And then one day I looked in their drawers and realized they just shove the clothing into the drawers no matter how carefully I fold it.  Sigh.  That was the day I stopped folding my children's laundry.  Since that time I have taught my children how to fold laundry (which is done to varying degrees among my children) and put it away themselves.  And while it is never folded or put away as neatly as I would like it, it is done, and I no longer stress about wasted hours folding laundry for it to be undone in seconds.
Have the Right Tools
Having the right tools in place is probably one of the most important ways to simplify your laundry.  We recently did a small laundry room make-over and it has made all the difference in the world to help keep the things I need most in a reachable location and accessible.  Also, my laundry room is now pretty!  (I promise it is more fun to do laundry when you are doing it in a pretty room!)  (Check out my laundry room make-over HERE.)  I also recently received a brand new Samsung Washer and Dryer that has really improved my simplified laundry process as well!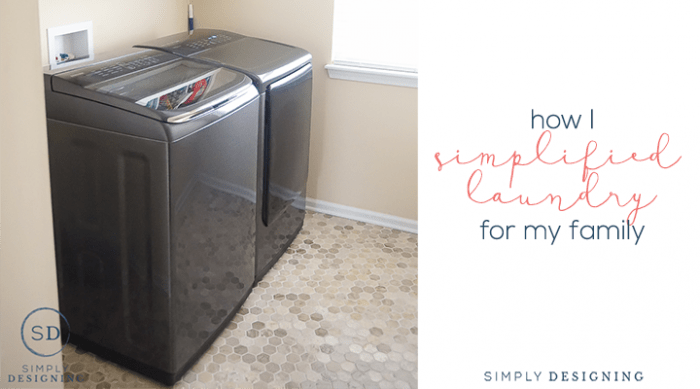 One of the things I always struggled with was not having a sink in my laundry room.  I have thought about plumbing for one, but I really don't like plumbing that much.  One of my favorite features of the new Samsung 5.0 cu ft capacity, 8600 ActiveWash™ Top Load Washer with Integrated Touch Controls (model: WA50K8600AV) is that it has a built-in soaking sink!  So I can pre-soak and pre-treat any clothing that might have stains and then dump it directly into the washing machine when it is done without any mess from moving wet clothes from one location (previously a bathroom) to the washing machine!  Amazing!  I also love to use it when I spot treat anything on my clothing as well.  I used to spray  spots on top of the washing machine, but it always left residue on my washer and I would then have to wipe that up.  With this built-in sink, I can spray it right in the built-in sink and it keeps all the mess inside my washing machine!  Talk about streamlining my laundry process.  This has been amazing!  I also love that my washer has a self-clean cycle to ensure I have a clean washing machine at all times.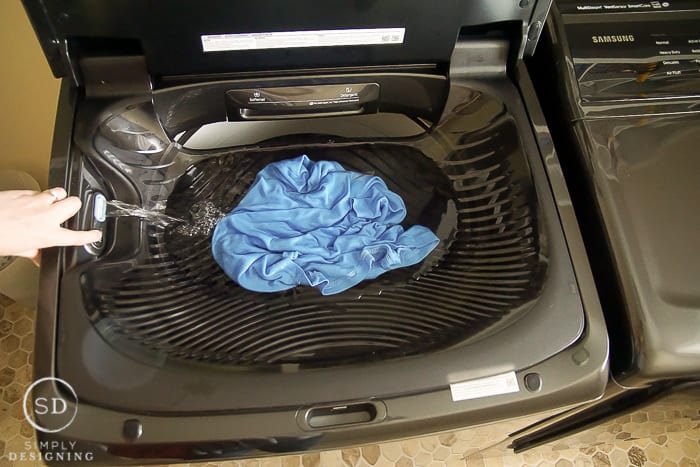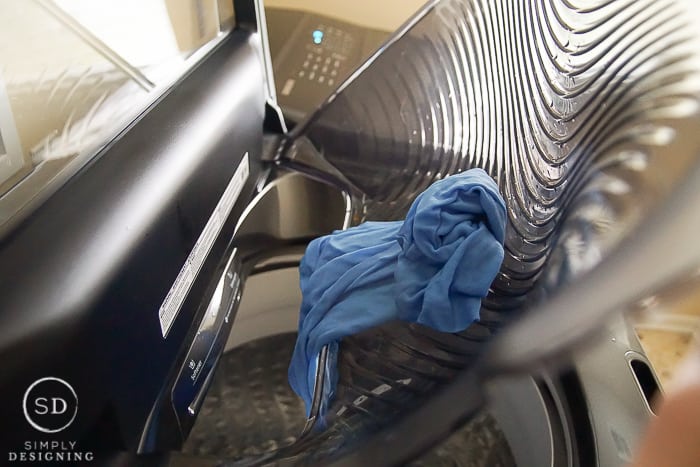 I can wash clothes in a jiffy with the Super Speed setting which can wash a load of laundry in as little as 36 minutes!  It does a good job too!
My new dryer is the Samsung 7.4 cu ft. capacity Dryer with Integrated Touch Controls (model: DV50K8600EV) and has so many amazing features as well.  I love the multi-steam technology that helps steam away wrinkles, odors, bacteria and static.  I also love that it has a vent sensor that will detect duct blockage and remind me to clean the vent.  You can of course use a time dry setting, but there are also sensor dry options that allow the dryer to optimize the time and temperature while drying.  There are 12 preset drying options but you can customize your dry settings so that you can dry your clothes exactly how you prefer.  And I also love the link trap.  In typical traps the lint falls back into the dryer as you are lifting it out to clean it, but in this dryer, there is a cover that keeps the lint from falling back into your dryer as you lift it out.  It is little things like that that truly make doing laundry easier.
Also, my new washer and dryer are bigger then my previous 13 year old washer and dryer!  (My new washer is 5.0 cu ft and my new dryer is 7.4 cu ft.)  So I can fit more clothes in each load which means I am doing fewer loads of laundry each week.  This saves on time, water, energy and sanity!  And I love the black stainless steel finish on them.  Both the washer and dryer are high-efficient and the dryer meets the 2016 standards for energy efficiency.  I also love the integrated touch controls that help give my washer and dryer a clean, sleek look!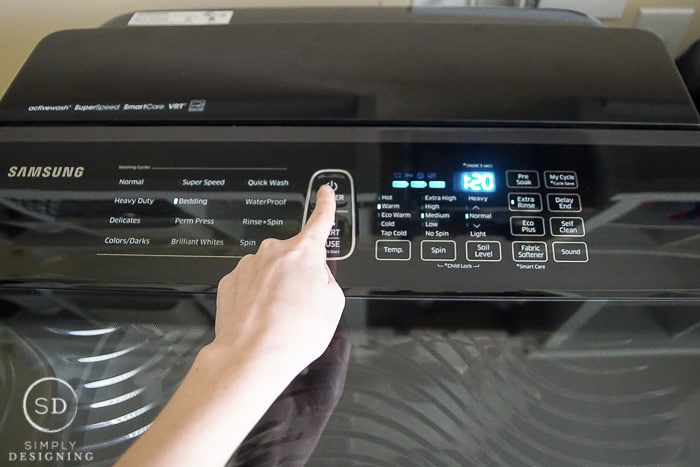 It is important to have tools that work well for you in order to help you have a simplified laundry process for your family.
Whatever your situation, whether you are have a big family or it is just you, I encourage you to find ways to create a simplified laundry process for you and your family!  Don't be afraid to try new things, get new tools, enlist help or simply let some things go if they can save you time and sanity!
So I have shared How I Simplified Laundry for my Family, but now I want to hear your tips for how you stay on top of your laundry in your home!  Leave a comment below and tell me your best tip!