Spring cleaning is right around the corner which means it is almost time to clean your house! One of the areas that often gets forgotten is sanitizing and really deep cleaning rugs. So today I am super excited to show you How to Steam Clean a Rug quickly and easily. Keep reading for all the details below.

Thank you to HomeRight for sponsoring this post. All opinions are mine. Affiliate links are included for your convenience. Thank you for supporting my blog.
How to Steam Clean a Rug
Rugs often get forgotten about when deep cleaning your home.
It is easy to remember to vacuum rugs, but when was the last time you actually did more than vacuum your rugs?
If you're anything like me, it may have been a while.
But don't worry, I am going to share my tips for cleaning, deep cleaning and sanitizing rugs with you today.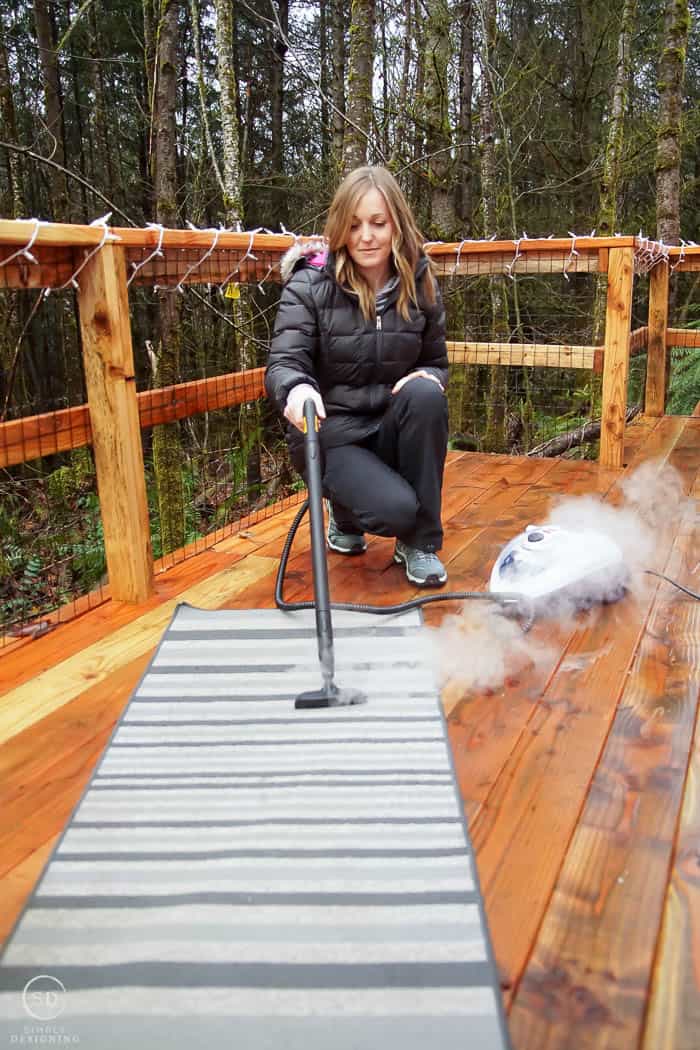 What types of things can I clean with a Steam Cleaner?
I LOVE my HomeRight SteamMachine Elite and use it legitimately all the time. Here are a few of my favorite ways to use it in and around my home:
How do steam cleaners work on carpets and rugs?
Steam cleaning uses hot steam and pressure and when applied to a rug or carpet, it can help to break down dirt, grease, and grime.
It can also kill dust mites and sanitize your rug too.
What is the best way to clean area rugs?
Area rugs are too big to clean in a washing machine, but it is still important to clean your area rugs well and often.
I love to vacuum and steam clean my area rugs.
This helps to remove dirt as well as sanitize it.
There is no need to use possibly toxic shampoo to clean and sanitize an area rug.
A steam cleaner will clean just as well with no harsh chemicals and only water. (Please note that I would not use a steam cleaner on a rug if it was not water-safe.)
Is it better to steam clean or shampoo carpet?
Because a Steam Cleaner can help dislodge and dissolve dirt, grease, and grime, plus sanitize and kill up to 99% of bacteria, a steam cleaner has an advantage over cleaning a rug or carpet with shampoo.
When you use shampoo on a rug or carpet, it can leave a residue that actually makes re-soiling easier.
Can I use a steam cleaner on my carpet?
Steam cleaners are very effective on carpet and on rugs.
They can deep clean, help to loosen and dissolve dirt, cut grease, and grime, and sanitize your carpet or rug.
Plus they are so easy to use and are quick too!
Can you steam clean area rug?
Yes! Steam cleaning an area rug is the best way to clean and sanitize an area rug.
It is quick, easy and effective and loosening dirt, dissolving grime and killing up to 99% of bacteria.
A few things to remember when cleaning your rug:
Always check manufacturer instructions and follow them.
Once again, always check manufacturer instructions and follow them.
Follow the manufacturer's instructions. SERIOUSLY. Ok. Moving on.
Some rugs are not water-safe, if your rug is not, I would not recommend using this method.
It is best to vacuum your rug first. Then
Then vacuum the back of your rug and also the floor it was laying on.
If you are able to throw your rug into your washing machine, I recommend doing that next.
If you can't put your rug into your washing machine (most are just too big) it's totally ok, steam cleaning your rug will deep clean and sanitize it!
Why should you steam clean your rug?
Steam cleaning your rug has so many benefits:
This is a great way to clean your rug easily and sanitize it
Steam cleaning is a great alternative when you can't wash your rug in a washing machine.
You can clean your rug CHEMICAL-FREE
Steam Cleaning will freshen your rug
Steam Cleaning can kill dust mites
It can loosen and dissolve dirt
It can cut grease and grime
Steam cleaning can help expel stains
It can sanitize your rug by killing up at 99% of bacteria
Your shoes are covered with approximately 421,000 bacteria which means they will transfer to your entry rug or area rug if you wear shoes in the house and as we just talked about, steam cleaning will kill up to 99% of bacteria...so it is a great way to keep your house as clean and sanitary as possible.
Step-by-Step Guide for How to Steam Clean a Rug:
Remove all furniture or other items from on top of your rug.
Vacuum your rug.
Vacuum under your rug (let's just be real here, it has probably been a while since you have done this, now is a great time to do it.)
If you are able to put your rug in the washing machine and dryer, do that.
Use a Steam Cleaner to steam your rug to sanitize and deep clean it.
What do you need to steam clean a rug?
How to Use a Steam Clean on a Rug:
Steam cleaning a rug is super easy and I am going to walk you through it step-by-step.
I have a runner rug that needed a great deep clean.
We use it every day and sits in the main entrance of our home so it is walked on approximately one billion times every day.
It gets dirty and I wanted it to be clean and also sanitized.
So I decided to clean and sanitize our rug quickly and love how much cleaner the rug and our whole entrance feels now!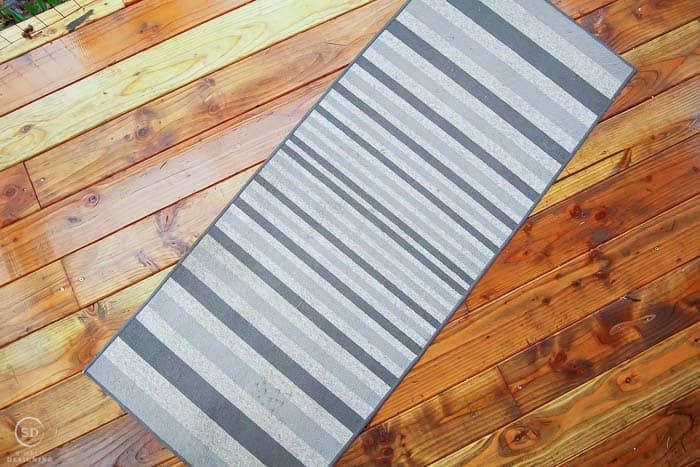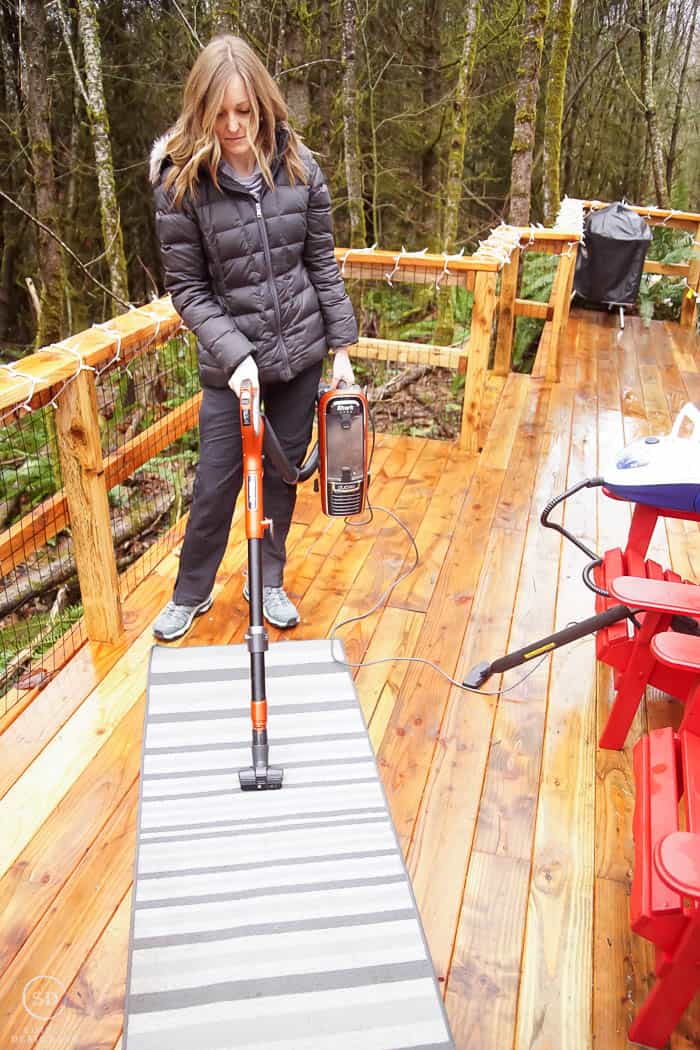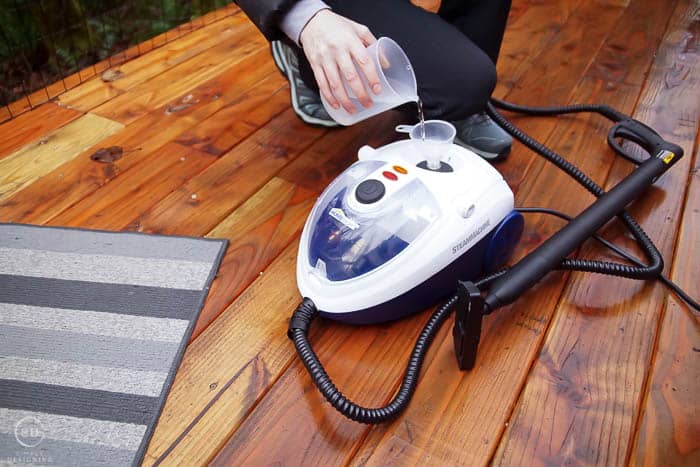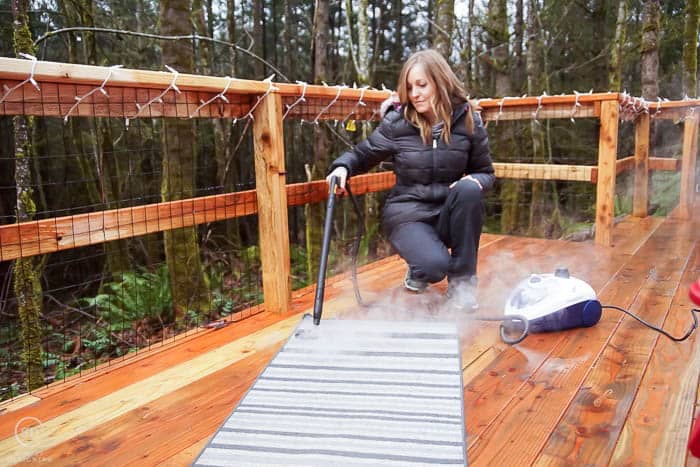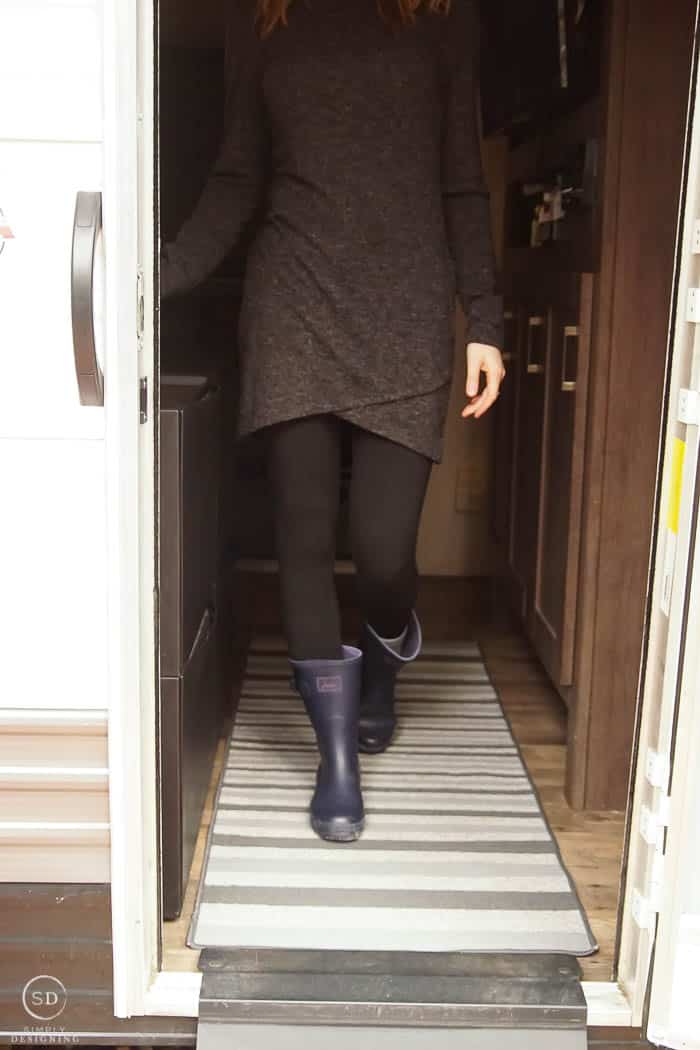 Here is how to steam clean a rug:
Begin by vacuuming your rug on both sides.
Vacuum the floor where your rug was laying.
Then fill your SteamMachine reservoir with distilled water.
Put on the attachments you want to use for your area rug. I used one segment to make the handle longer and the fabric steamer attachment for area rugs.
Plug the SteamMachine in, press the button to turn it on, and let it heat up.
After your machine is heated, you can pull the trigger and let the steam out. Simply spray the steam wherever you need to clean and sanitize!
Let your rug dry completely then put back in place in your home.
You might also enjoy these posts: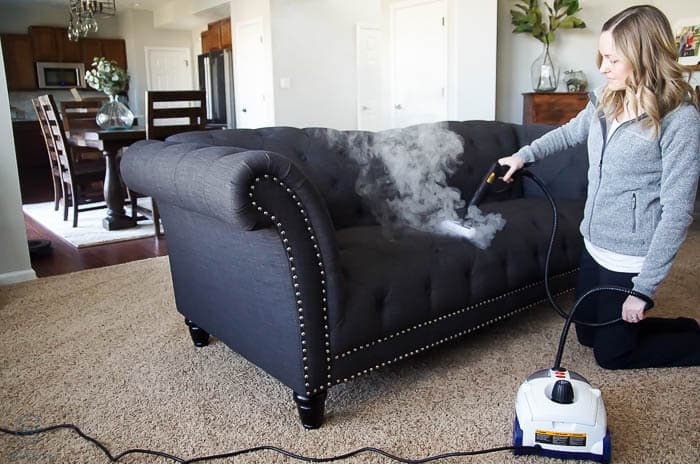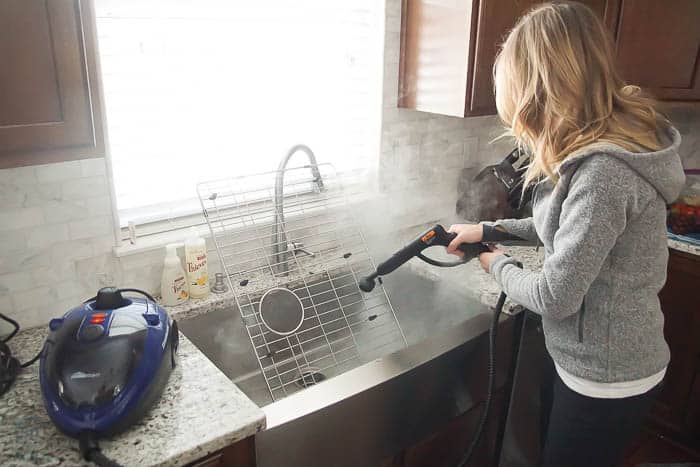 How to Clean a Kitchen Sink Grid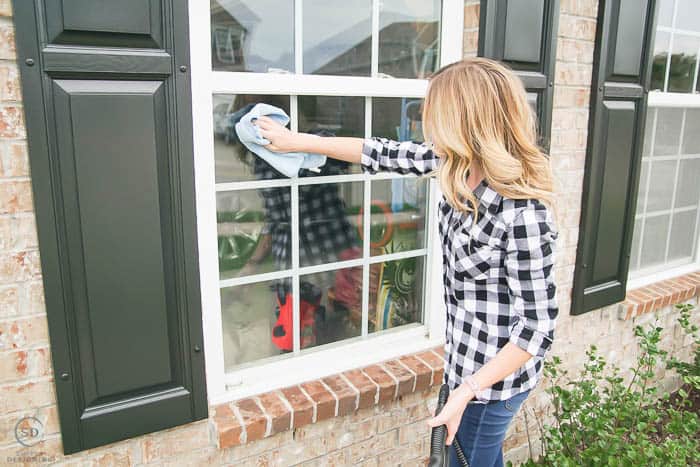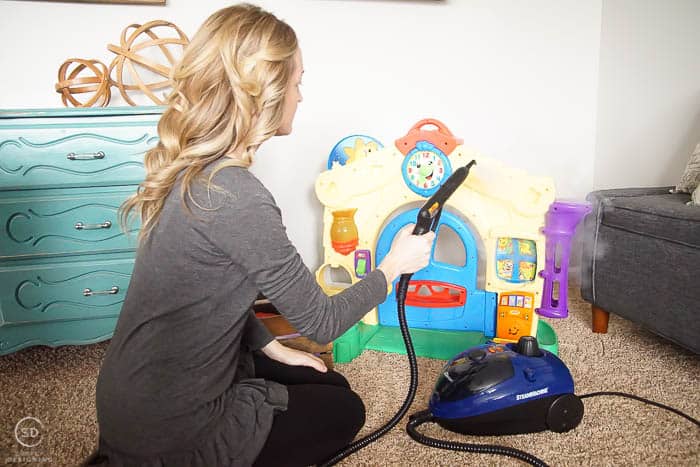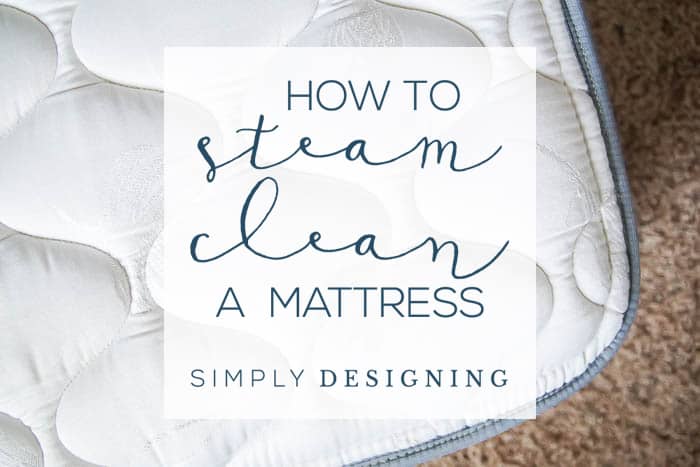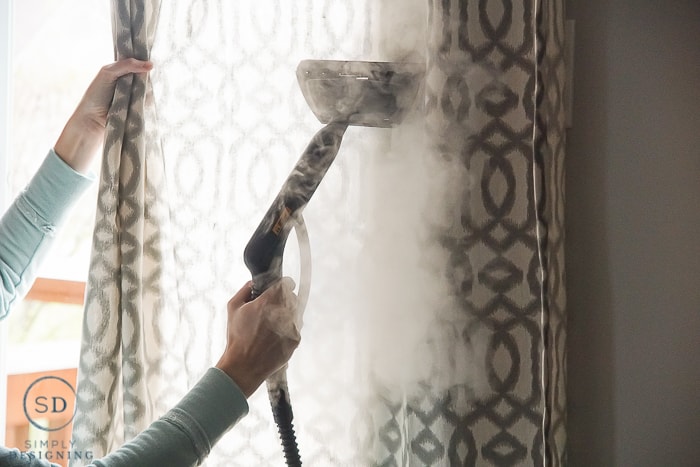 How to Remove Wrinkles from Curtains without an Iron