Today I am really excited to share my tips and tricks for How to Clean a Car with you! Whether you have a family, pets or it's just you, it's important to keep your car clean and I am sharing the easiest way to do that today. And as a bonus, you don't need any harsh chemicals to get a fully sanitized car! If you need a little help with the outside of your car, you should also check out my post about How to Buff Out Car Scratches HERE. Keep reading to learn more about cleaning your car.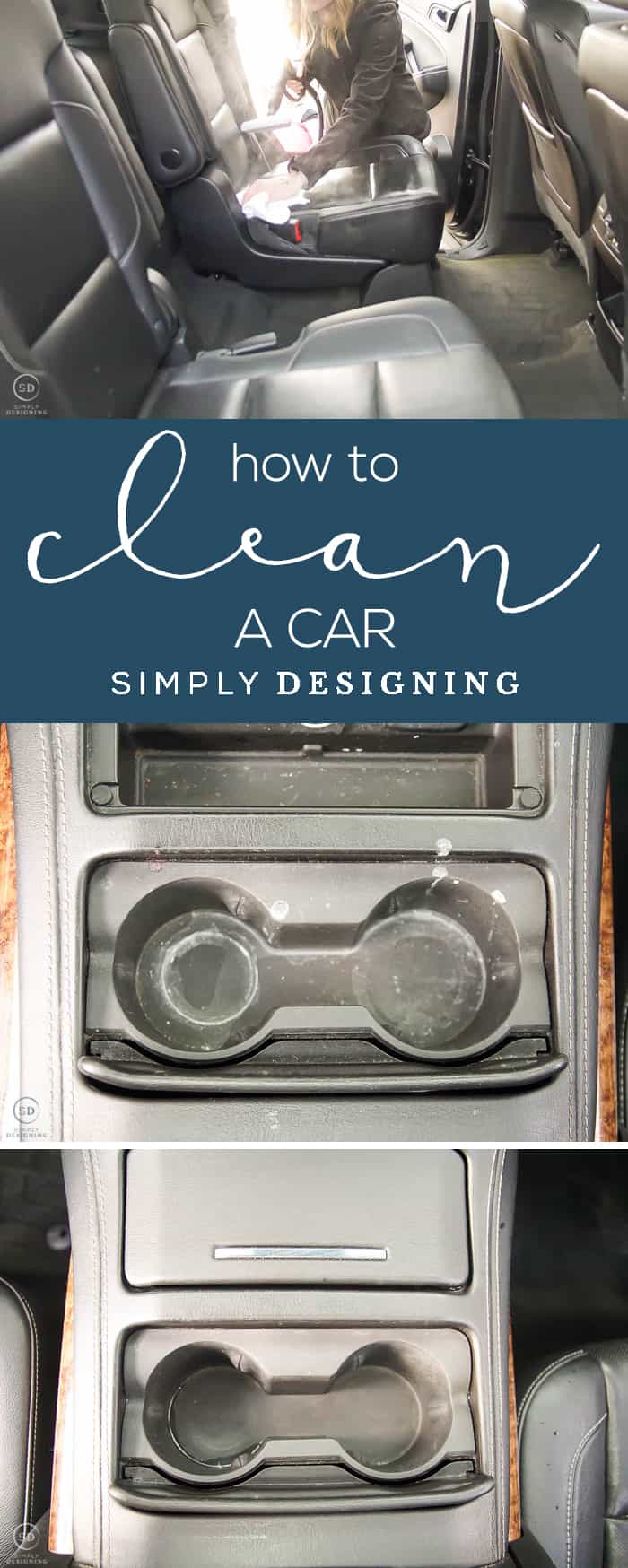 Thank you so HomeRight for sponsoring this post. All opinions are mine. Affiliate links are included for your convenience.
How to Clean a Car
I have kids. I also have myself, my husband and I regularly have 3 other kids in my car too! Needless to say, my car gets a lot of use.
I love my car, and I love that I can tow my children and their friends all over town. But I really love my car when it is clean.
Clean cars are happy cars! Ok, maybe not. But clean cars make this mama happy and that's important too.
We regularly clean out trash, random school supplies, homework and goldfish from the car. But when it is time to really give the car a good clean, I pull out my AutoRight SteamMachine from HomeRight.
I am going to show you some before and afters...they are embarrassing...please still be my friend after you see these, m'kay?
Cupholders - ew.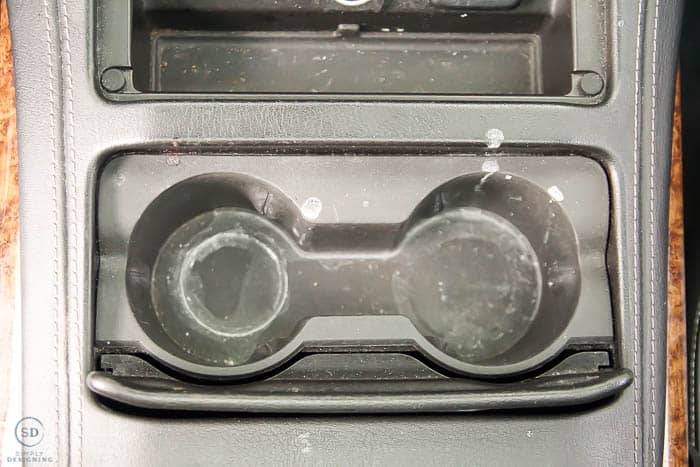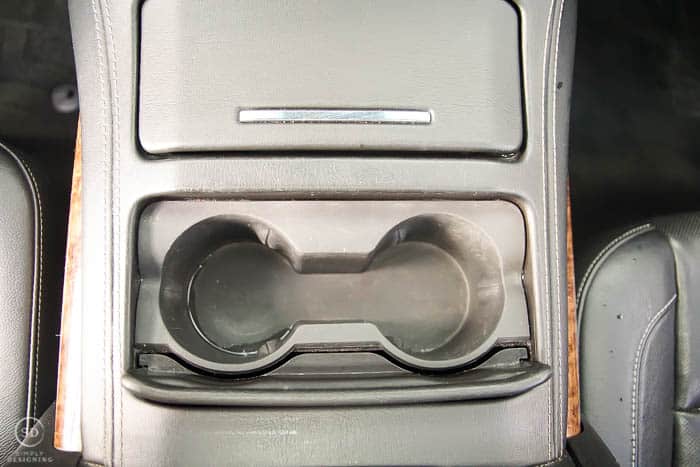 Car door with milk splatters and who knows what else on it -bleck.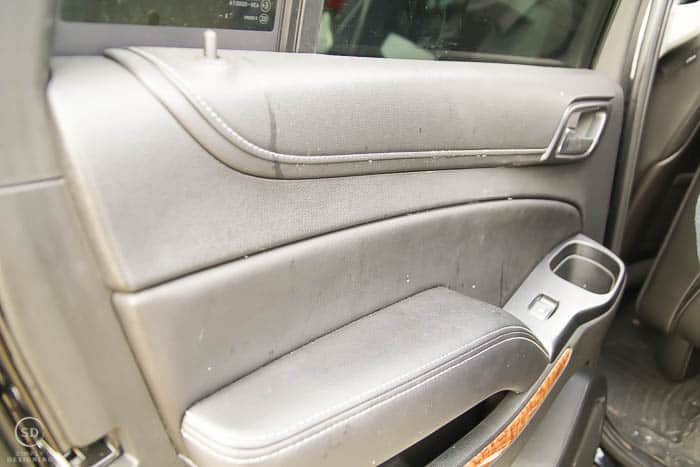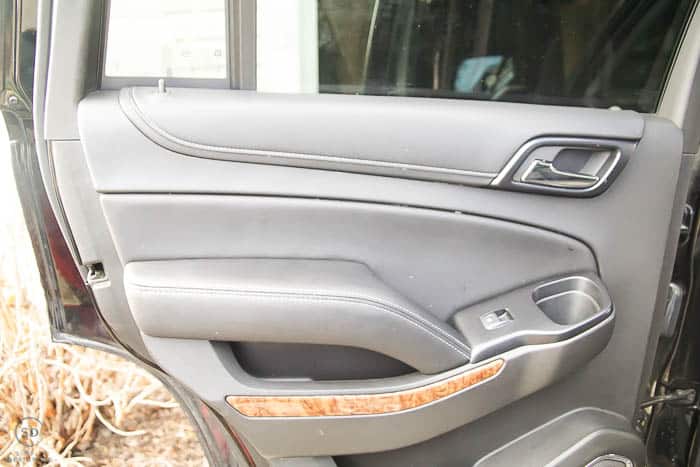 Dried milk in the seat...seriously I can't make up how gross this is...ew.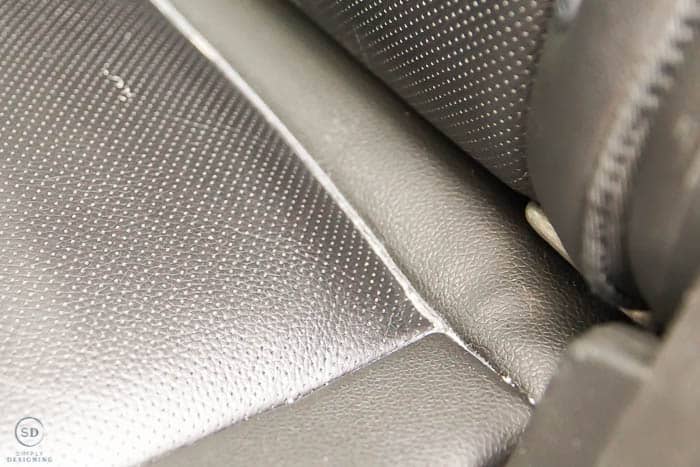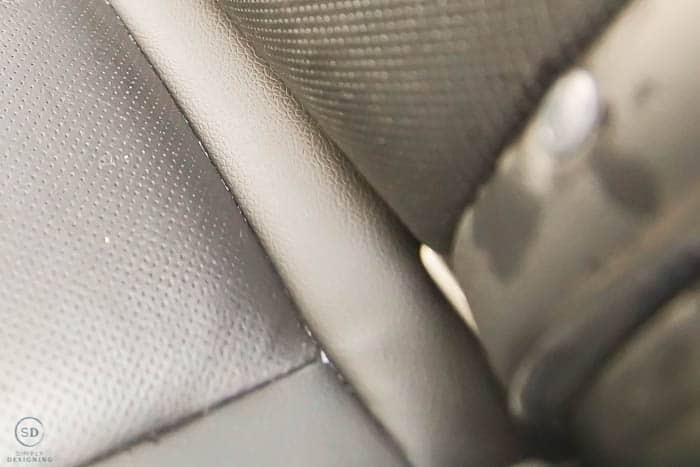 The trunk of the car where we have had so much spilt, like gravy....I am not joking...yuck.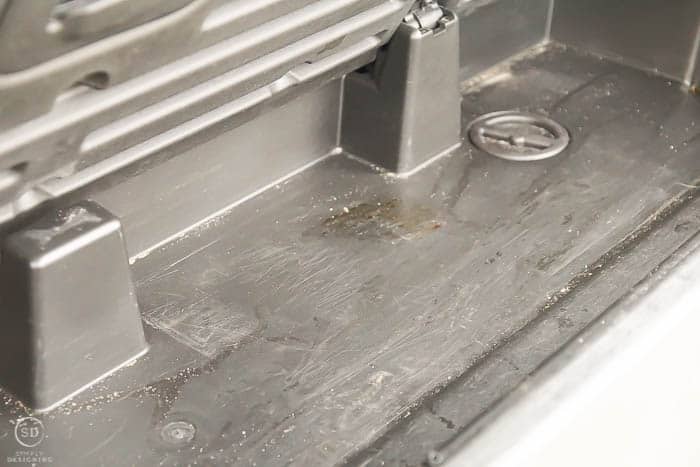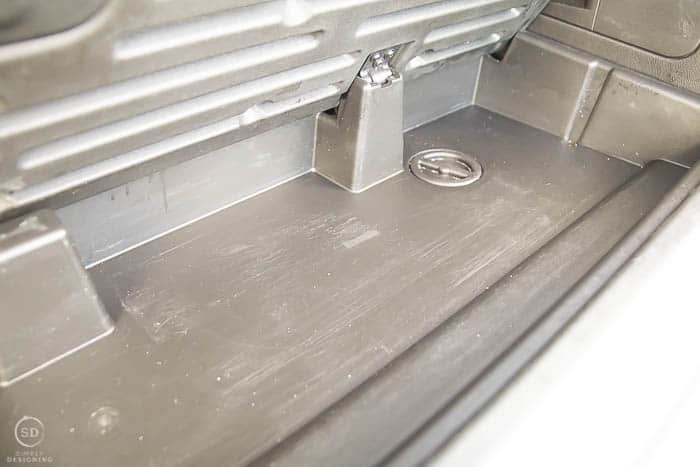 Yup. My car was GROSS. I am a mom. It happens. But now it is crazy CLEAN and SANITIZED so it is the best thing ever!!!
How often should you wash your car?
It depends on how dirty it gets! We go through and take out any random trash or papers my kids have left behind every couple of days. I love to give it a good deep clean on the inside every couple of months! And we wash it on the outside more or less often depending on what the weather has been doing and how dirty it looks! Ideally, it would be every couple of weeks, and more often in the winter when we get mud and salt residue on it.
Can we wash our car daily?
Sure! Wash it as often as you like! The more often you wash your car, inside and out, the nicer it will look and the better condition it will stay in the long term. Just don't use harsh chemicals on it.
What kind of soap can I use to wash my car?
Don't use traditional soap on your car! If you really want to use soap, buy one specifically formulated for cars. I, however, prefer to clean my car, inside and out, simply with the power of WATER!
How do you deep clean a car?
Remove all trash, toys, food etc from the inside of your car.
Vacuum it well. Use attachments to get into the small spaces of your car.
Remove floor mats and vacuum under floor mats too.
Hose off your removable floor mats if appropriate and if you want to. But only if they have time to completely dry before putting them back into your car.
Use an AutoRight SteamMachine and a microfiber cloth to clean your upholstery, floors, windows (if the temperature falls within recommendations), doors, seats, cup holders and more, staying away from all electronics. Use attachments to get into small corners and spots in your car that need extra cleaning. Wipe down with a microfiber cloth.
How to Clean a Car
If you really want to clean a car and sanitize it too, you just need to follow a few simple steps. It's super easy, fast, and you don't need to worry about buying special cleaners just for your car!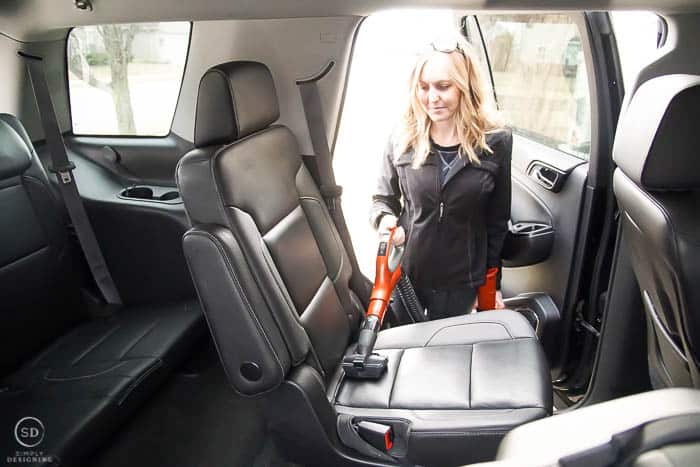 VACUUM
You will want to begin by removing any trash from your car and giving it a good vacuum. Use your vacuum accessories to really do a great job vacuuming all the crevices in your car.
Remove any mats in your car and vacuum under them too!
WASH MATS
If you have mats in your car, and the weather is good, and you have plenty of time to let them dry completely before putting them back in the car. I highly suggest you take a moment and wash your mats! Mine are rubber so I just hose them off with a pressure washer.
If yours are carpet, you can hose them off with a pressure washer too, or you can just vacuum and steam clean them.
I personally love using a pressure washer to remove any dirt and debris not removed by the vacuum and then steam cleaning them so that they are clean AND sanitized!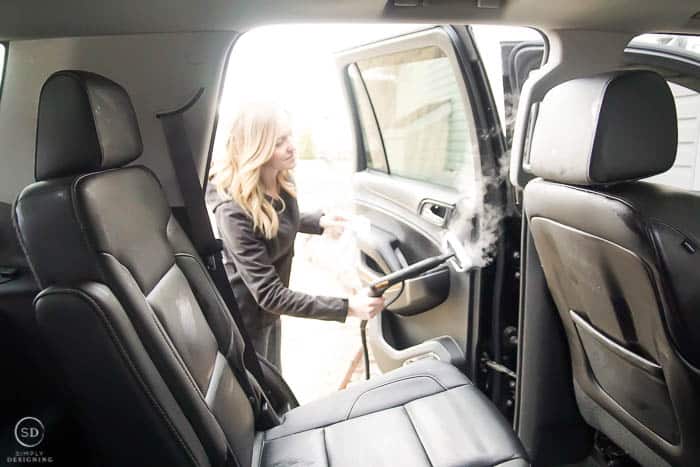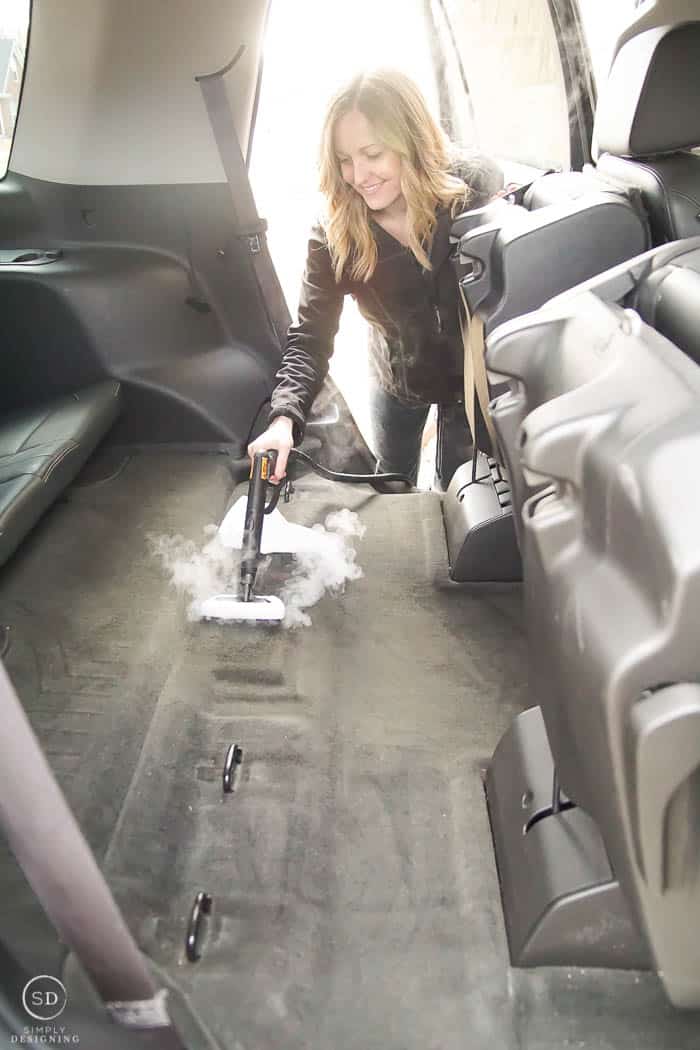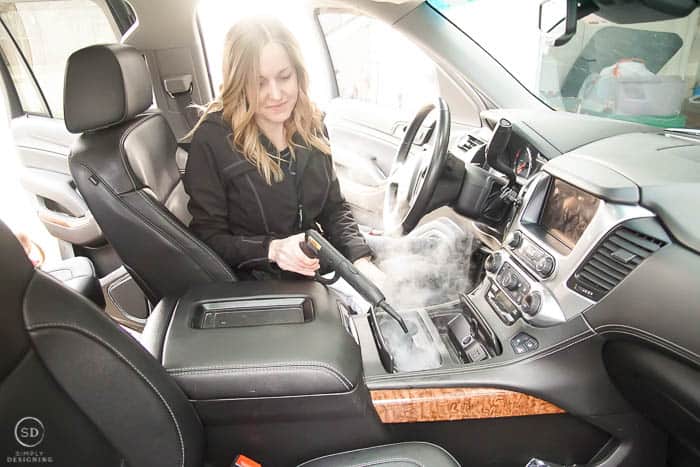 STEAM CLEAN YOUR CAR
It is time to steam clean your car! When you steam clean your car, you will want to avoid taking the steamer over areas that are not suitable for hot steam like electronics, glass if the outside temperatures are not within the recommended temperatures for glass cleaning, and any place where water or steam would not be recommended.
You can use your steam cleaner on your upholstery (as long as your manufacturer does not recommend against it) doors, door handles, floors, cupholders, windows (see note about temperature first) and more!
You will fill your AutoRight SteamMachine reservoir with distilled water.
Then plug the machine in and let it heat up.
After your machine is heated, you can pull the trigger and let the steam out. Simply spray the steam wherever you need to clean and sanitize! You can use different attachments to get into different places better (I love the fabric steamer attachment for seats and floors and the jet nozzle for getting into cup holders, and all other small spaces.)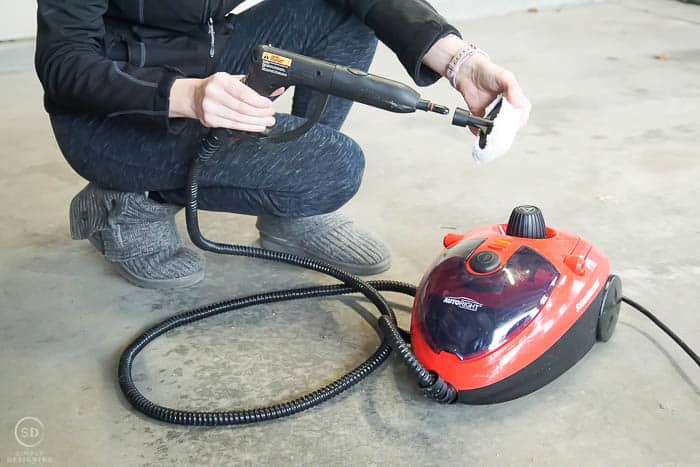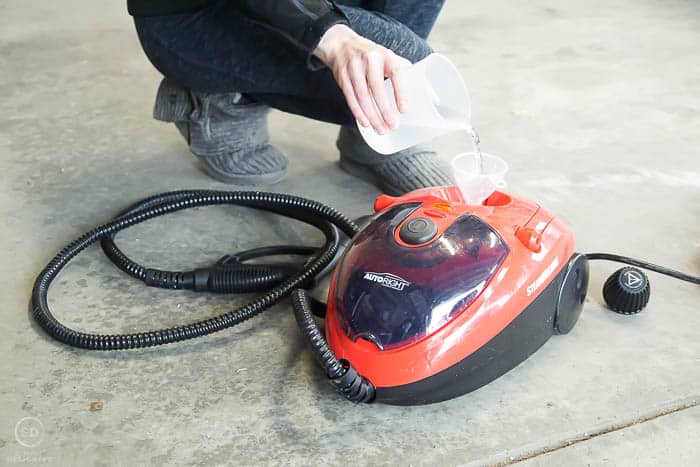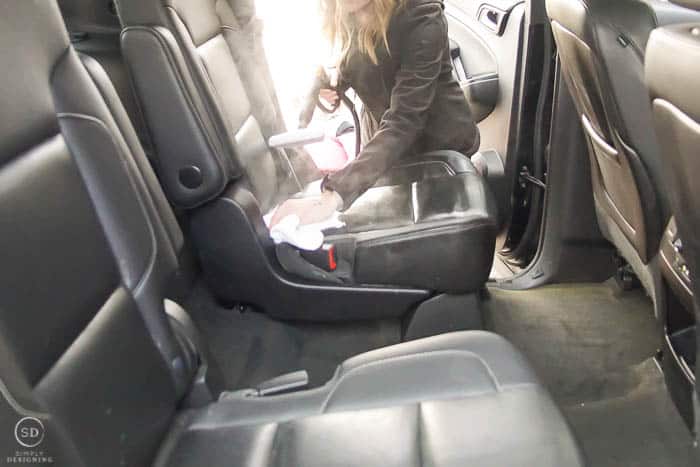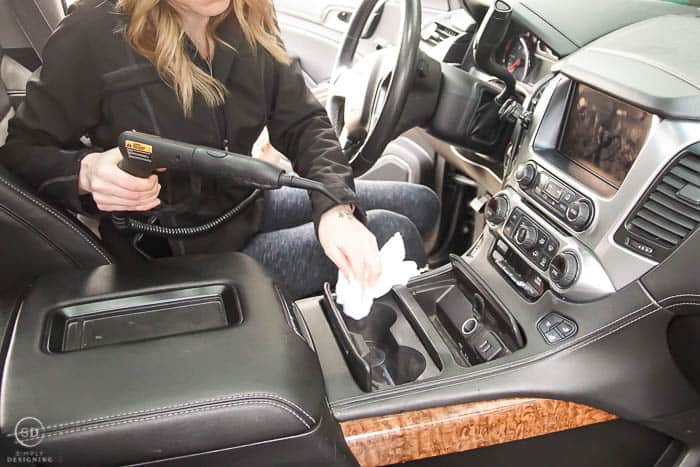 WIPE IT DOWN
Once you are done steaming sections of your car, take a microfiber cloth and simply wipe your car down to remove any residual water.
Why should you use a steam cleaner to clean your car?
Steam cleaners are the best way to clean and sanitize the surfaces in your car! It can remove dust mites and 99% of bacteria and cuts grease and grime on all surfaces making even stuck-on spots easy to clean!
I have found that using a steam cleaner is especially good for getting dried milk off of doors and seats, removing spilt food remnants from the trunk of your car and getting the dirt and grime out of cupholders and any storage places where crumbs and gunk tend to linger.
Steam cleaning is also the perfect way to SANITIZE your car too! With a family of 5, and often taking 3 extra kids different places with us, germs just happen! Especially during the winter months when everyone is sniffling, I love to sanitize the whole car with a steam cleaner!
What is the best Steam Cleaner?
I absolutely love the HomeRight SteamMachine and the AutoRight SteamMachine! They both provide amazing cleaning power without needing harsh chemicals or toxins, just using the power of water!
If you enjoyed this post about how to clean a car, you might also enjoy these posts: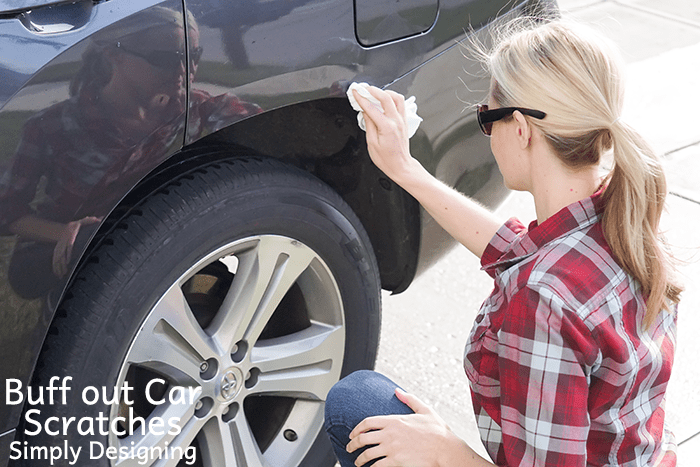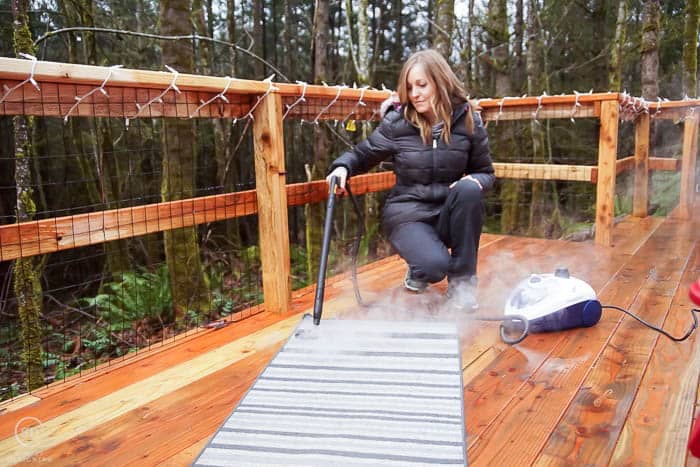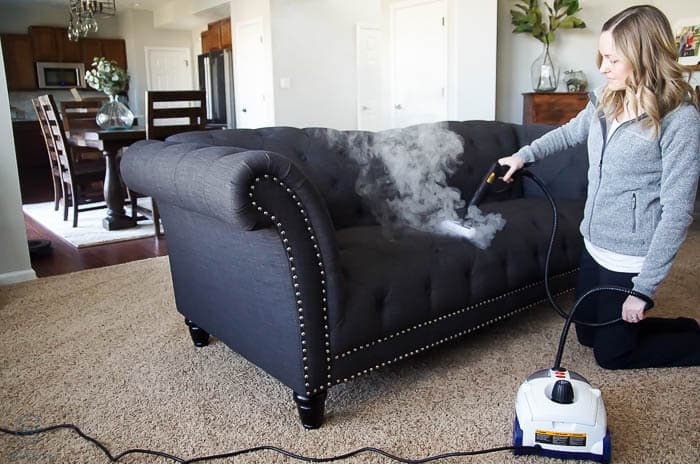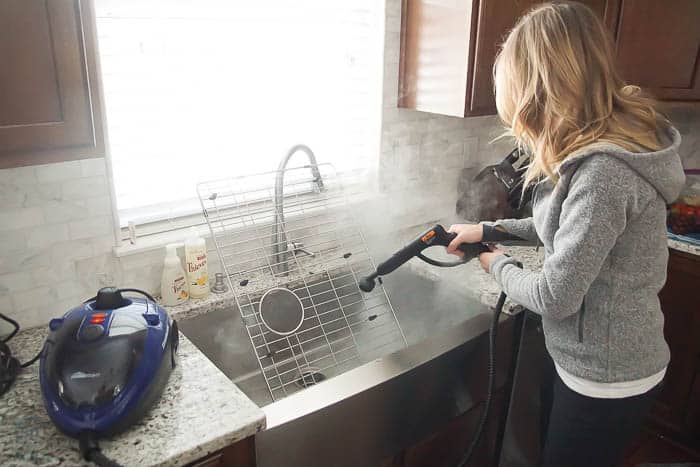 How to Clean a Kitchen Sink Grid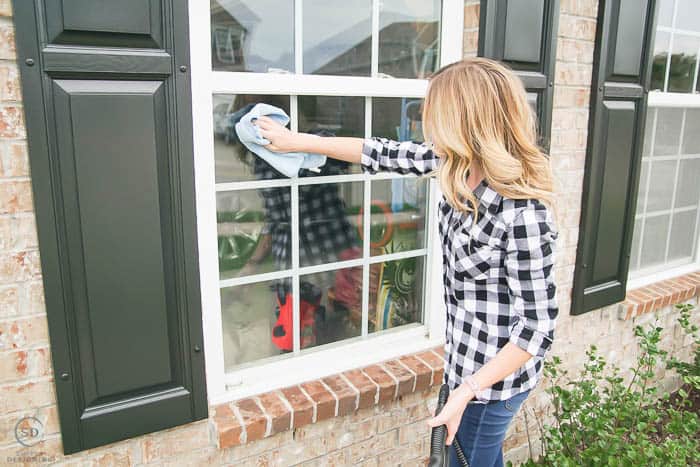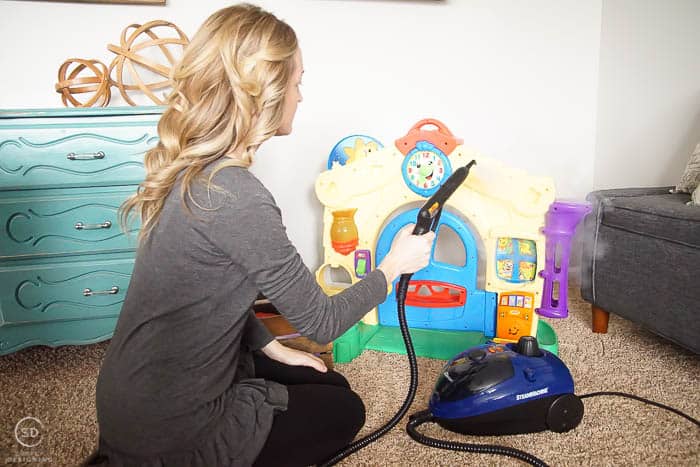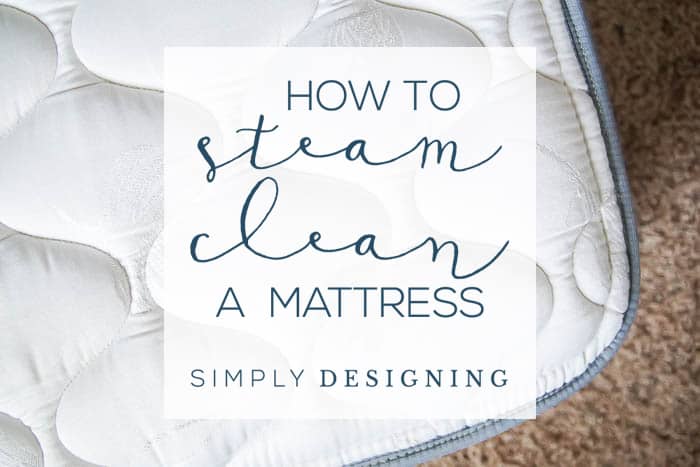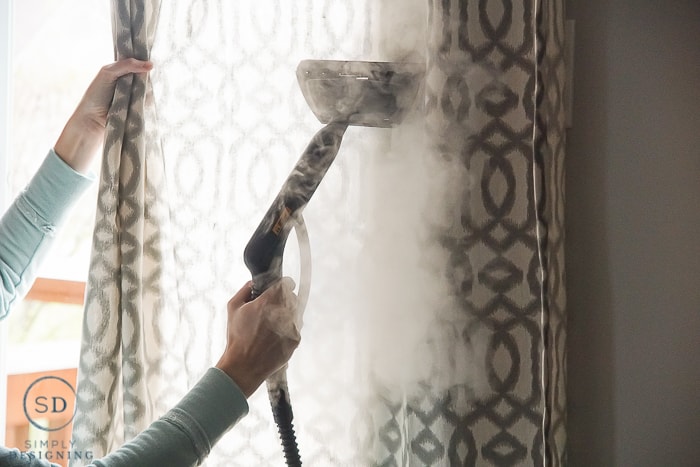 How to Remove Wrinkles from Curtains without an Iron