You all know I love to clean and disinfect all the things, and today I am sharing the details of Why and How to Clean a Couch. If you are like me, after reading this, you might want to also Clean your Mattress, go HERE to learn how to do that. But first, keep reading to learn all about why you need to clean your couch and how to do it below.
Thank you so HomeRight for sponsoring this post. All opinions are mine. Affiliate links are included for your convenience.
How to Clean a Couch
Cleaning a couch is so important. From everyday dust and dirt to kids eating on the couch (even if it is against your house rules), it is so important to clean your couch.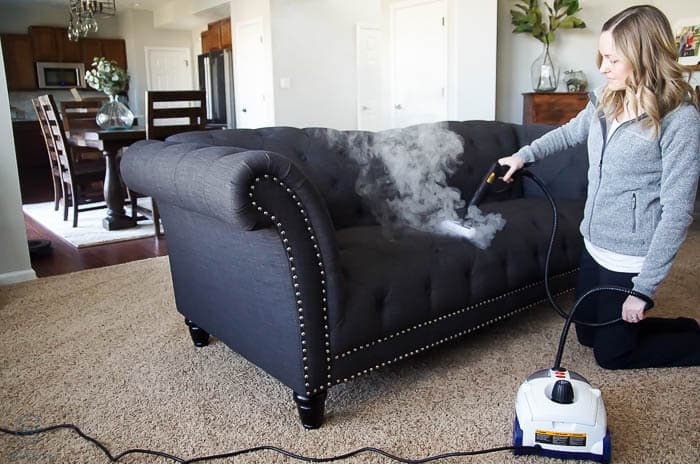 Why is it important to clean your couch?
Just like mattresses, couches can also get dust mites. My husband happens to be incredibly allergic to dust mites and so keeping all of the dust mites away is very important to my family.
SteamMachines are great for refreshing fabrics and for killing dust mites. It can also loosen dirt and grime and sanitize your surfaces by killing 99% of bacteria.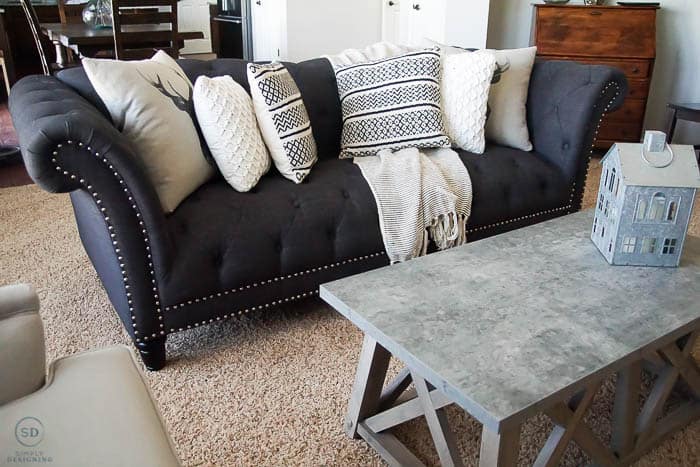 How to clean a couch
It is so easy to clean your sofa at home. Here are the steps to do it. I will go into more detail later in this post about how to accomplish each step.
Vacuum
Read the cleaning label and be sure to follow those guidelines before doing anything else
Steam clean your couch (I use the HomeRight SteamMachine Elite)
Wipe off any hard surface areas like wood or metal
It is really that simple!

What is the best steam cleaner for furniture?
There are a lot of options out there when it comes to choosing a steam cleaner. I personally think it is important to pick one that is easy to use and has attachments suitable for your intention.
Upright steam cleaners are nice for floors but tricky for steam cleaning other surfaces like couches, mattresses or curtains.
I really do love the HomeRight SteamMachine, but you already know this. And this time I was able to try their Elite SteamMachine which is their newest steam cleaner.
It has a similar size and shape to their SteamMachine 53, but the Elite comes with a triangle steam mop that is perfect for floors, and also other attachments so that you can steam clean your whole home!
A steam cleaner is a great way to clean your home without using any chemicals. It can get rid of up to 99% of bacteria and will help you clean almost any surface in your home.
How do you clean upholstery naturally?
I love using the power of hot steam to clean and sanitize upholstery. The steam will kill dust mites and help to refresh your upholstery and requires no harsh chemicals or scrubbing.
How to Clean a Couch
If you really want to clean a couch and sanitize it too, you just need to follow a few simple steps. It's super easy, anyone can do this!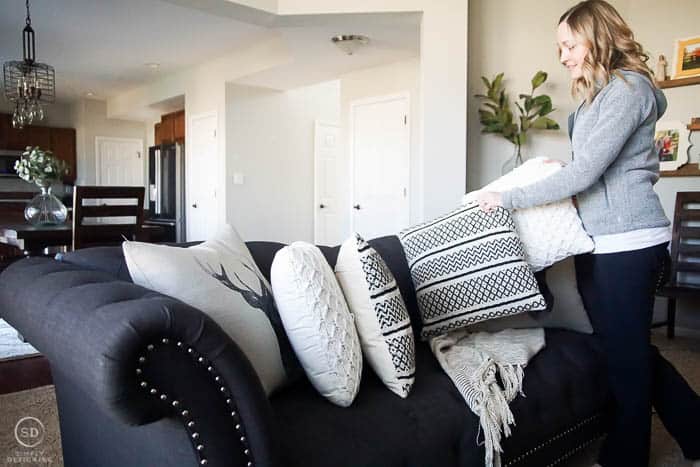 Vacuum
You will want to begin by removing all of the pillows and blankets from your couch and giving it a good vacuum.
Check the Label
It is important to check the cleaning label on your couch before you do anything more to clean your couch. If you don't follow the cleaning instructions, you may damage the fabric.
Because I am suggesting you steam clean the couch with water, most couch fabric should be fine. But, be sure you check the label first.
Steam Clean Your Couch
It is time to steam clean your couch! When you steam clean your couch, you will want to avoid taking the steamer over areas that are not suitable for hot steam.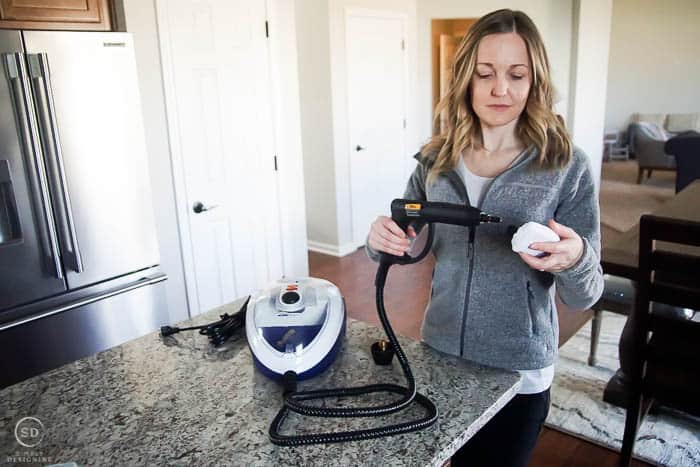 I decided to use the fabric steamer attachment on my SteamMachine Elite. I simply put it on the end of the SteamMachine and placed the microfiber cover on top of it.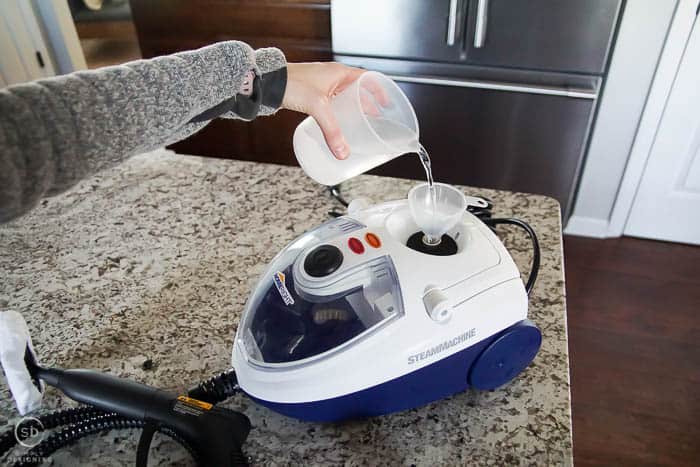 Next, you will fill your SteamMachine Elite reservoir with distilled water. Then plug the machine in and let it heat up.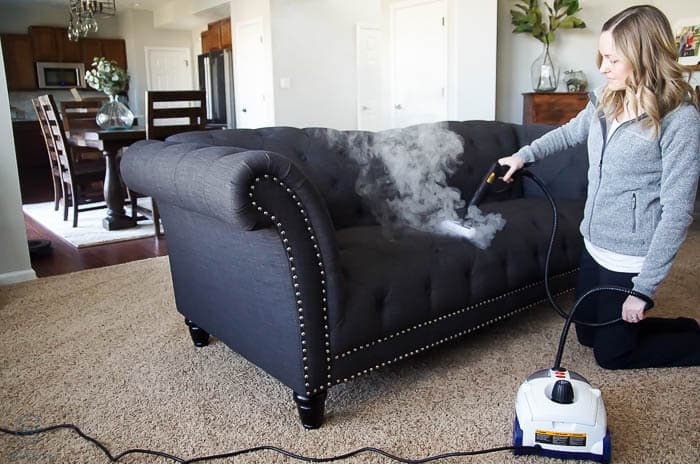 After your machine is heated, you can pull the trigger and let the steam out. Simply glid the SteamMachine Elite attachment across the fabric portions of your couch avoiding places that could be damaged by heat like decorative elements.
Wipe it Down
Once you are done steaming your fabric couch, take a rag and simply wipe down any hard surfaces like wood legs or metal accents on your couch.
Spot Clean
Finally, you will want to spot clean any dirt, grime or stains off of the couch that wasn't removed already. The SteamMachine should have loosened any dirt, grime or grease, so it should be easy to wipe it up at this point.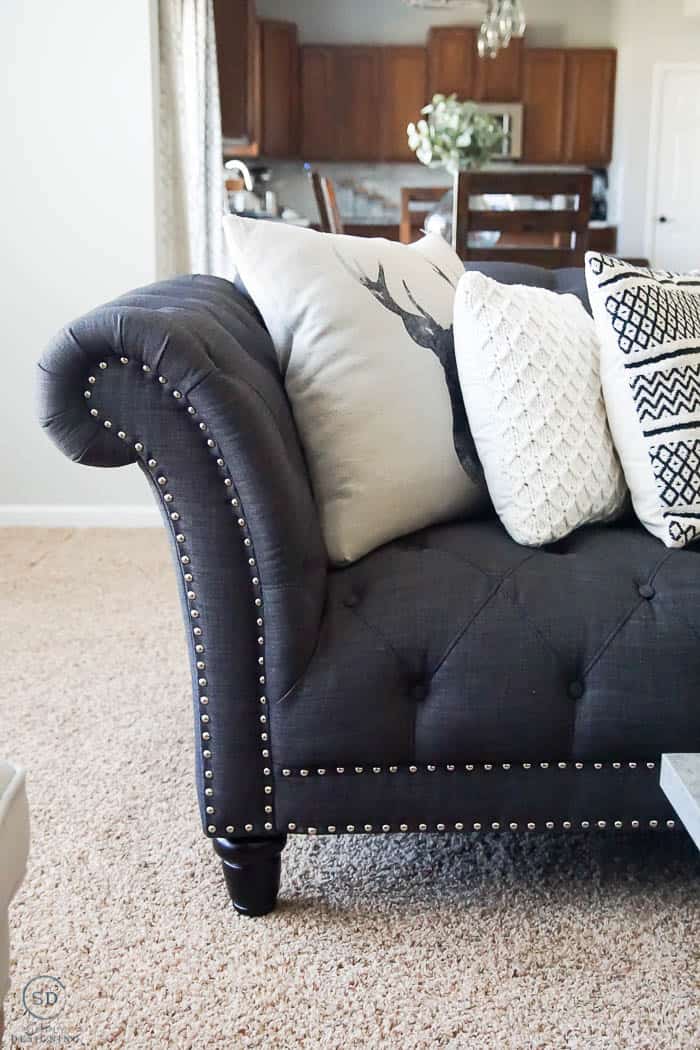 After only a few minutes of work, you can rest assured knowing that your couch is now free from dust mites, and 99% of bacteria. Which means this is a must-do every fall, winter, and spring especially when bugs and germs are going around.
If you like this post about How to Clean a Couch, you might also enjoy these posts: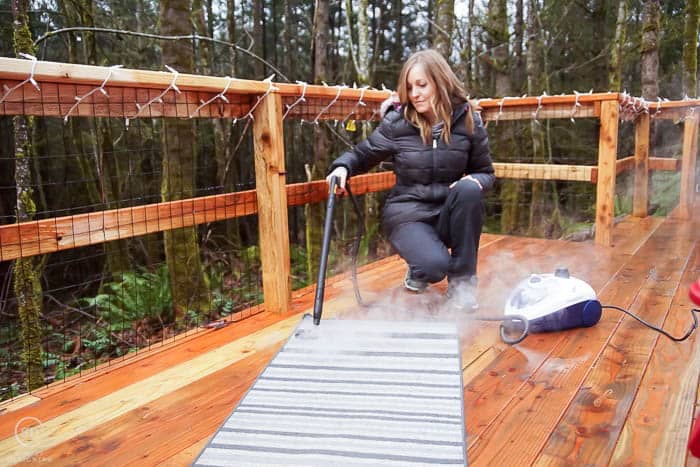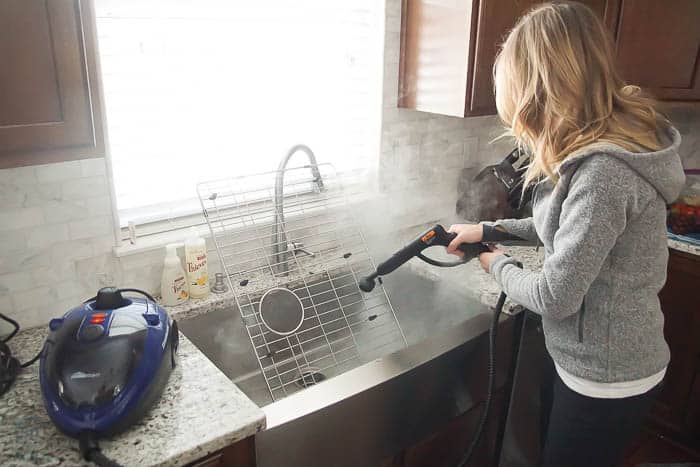 How to Clean a Kitchen Sink Grid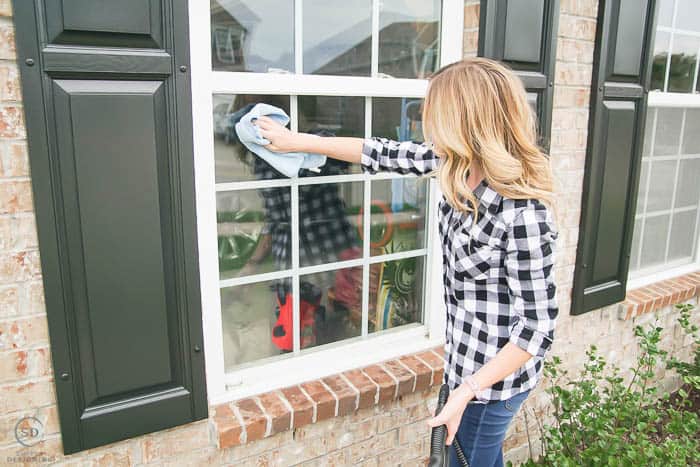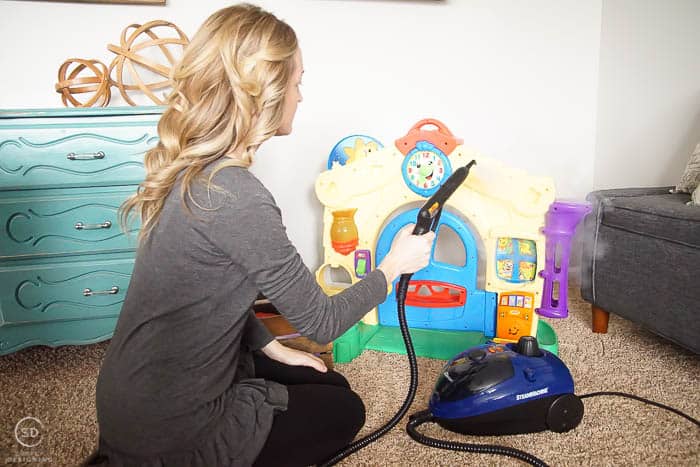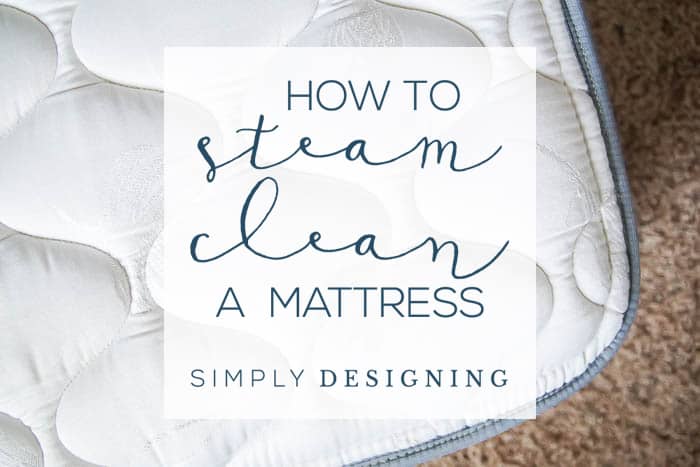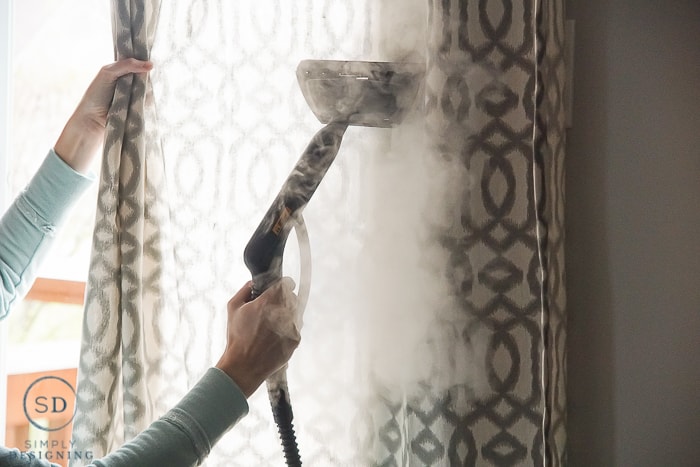 How to Remove Wrinkles from Curtains without an Iron