A few weeks ago, I shared how we made over one wall in our master bedroom.  We took an essentially blank wall (I am not counting the plastic bin we had in there) and turned it into a useful space with a beautiful distressed dresser, a large mirror, fun typography artwork and some other fun decor.  I just love how it turned out!  (You can see all the details about our Industrial Bedroom Make Over HERE.)  What I didn't show you though was the other side of the room.  Eek.  The other side of the bedroom has our bed and two nightstands.  Two beautiful blue chippy paint nightstands, but they were undecorated and there was no artwork up.  It looked a little bit sad to be honest.  But the problem was always budget.  I knew finding artwork big enough, lights and decorations that I liked could get really pricey really fast.  So I was thrilled when At Home challenged me to make over a small space in my home with a high-end look but a low budget.   I knew this side of our bedroom would be the perfect space to makeover and I was so excited for the challenge!  So today I am really excited to share How to Decorate Nightstands with Typography and Industrial Elements with you.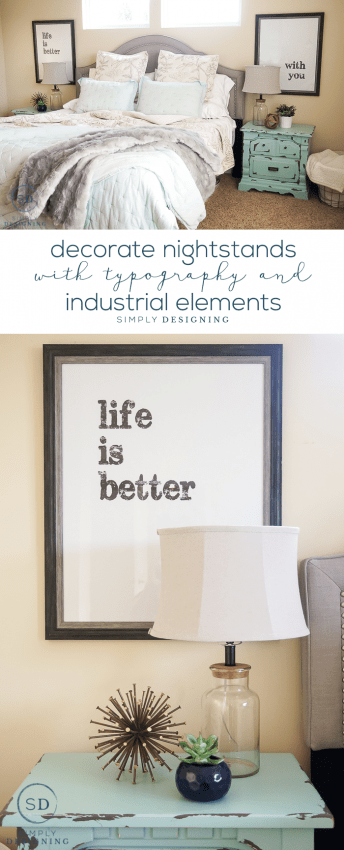 A big thank you to At Home, The Home Décor Superstore for making this post possible today.  All opinions are mine.  #athomefinds @athome
How to Decorate Nightstands with Typography and Industrial Elements
Because the dresser side of our bedroom has a bit of a rustic, and industrial style to it, I wanted the other side of the bedroom to coordinate.  I wanted a high-end designer look, but I didn't want to pay high-end designer prices.  Also, you know me, nothing at Simply Designing is too costly, or too difficult and most things, we do ourselves.  So I didn't just want to recreate something from a catalog, I wanted to decorate nightstands beautifully, but also uniquely.
Of course I feel the need to share another embarrassing before photo with you...so here is what I began with: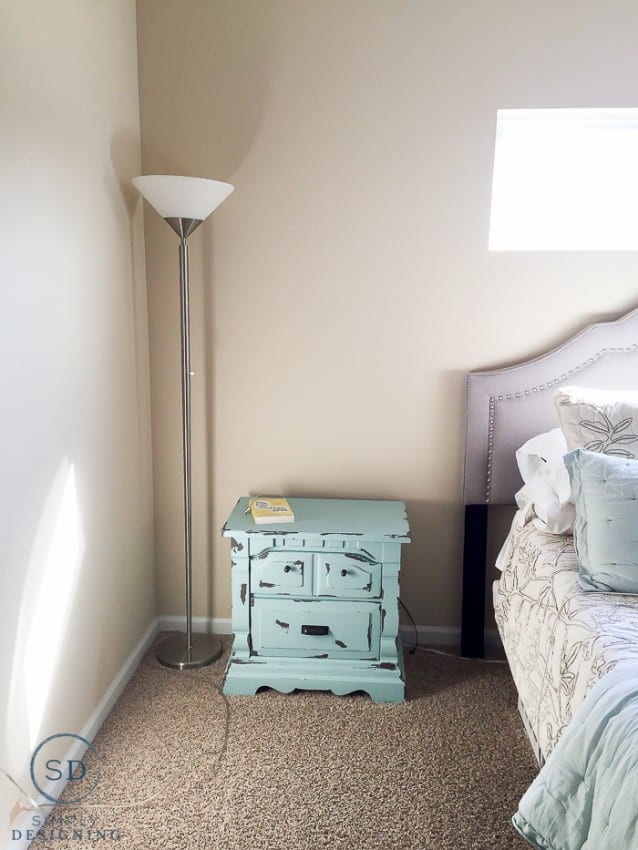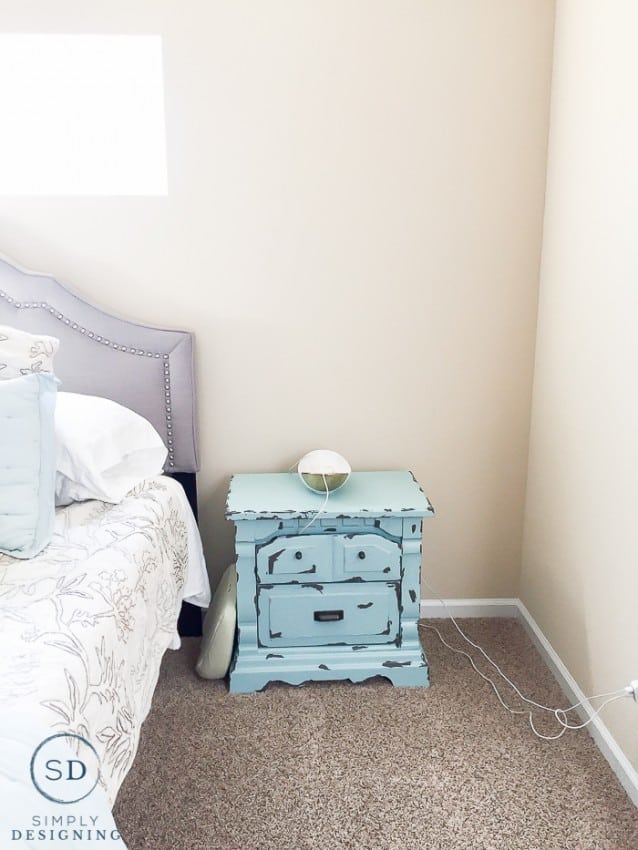 Pretty sad huh?
So I headed to At Home with a basic plan in mind to decorate nightstands, but left most of my planning and inspiration for when I arrived at the store.  I love shopping at At Home because they get over 500 new items each week so every time I go I find something different, and they offer so many affordable home decorating items.  I even had a lot of fun last year doing a little decorating for the holiday's with At Home.  You can see my Natural Glam Winter Mantel HERE.
We have a beautiful overhead light in our bedroom, but I knew I wanted lights on our nightstands, so I began by finding the perfect lights for our room.  I found two clear glass bases (that are actually fillable) and paired them with pretty, light grey lampshades.  I really like how I could select my base and the shade separately.  This allowed me to create my own unique, custom lighting for my home.
After I had selected the lights, I headed to the frame department, I wanted to find beautiful but large frames to hang over our nightstands to fill with custom typography.  Unfortunately large frames often come with a large price tag so I had never made the splurge to buy frames for this side of our bedroom.  Fortunately, At Home has amazing prices and I was able to find beautiful frames that hold a 22"x28" size print for $19.99 each!  I couldn't believe it!  Seriously, that is an amazing price and I was so excited to find something I liked so much.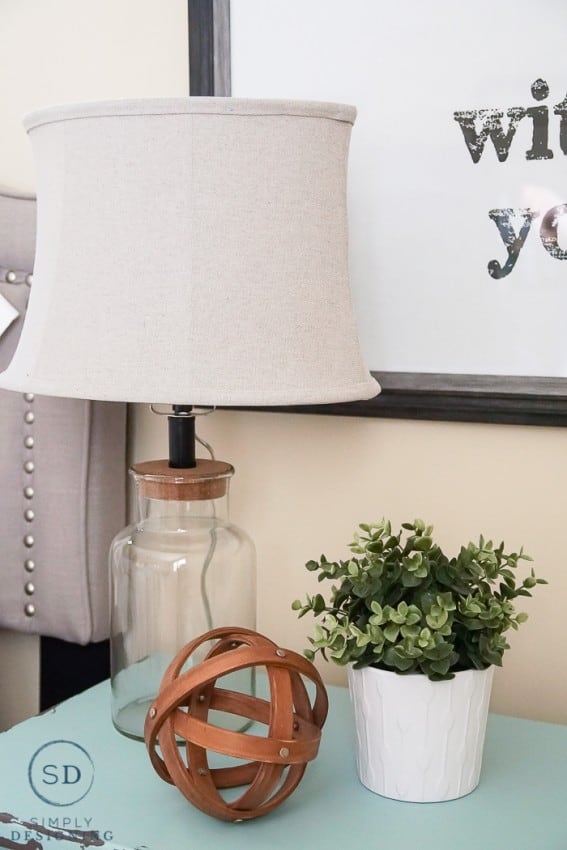 So I grabbed two frames and went on my way to find some beautiful decorations to add to our nightstands.  I like to keep things simple so I didn't want to add too many things to our nightstands.  But I found a pretty wood ball for my nightstand, that is nearly identical to one I bought a couple of years ago from a high-end decor store for a much larger price.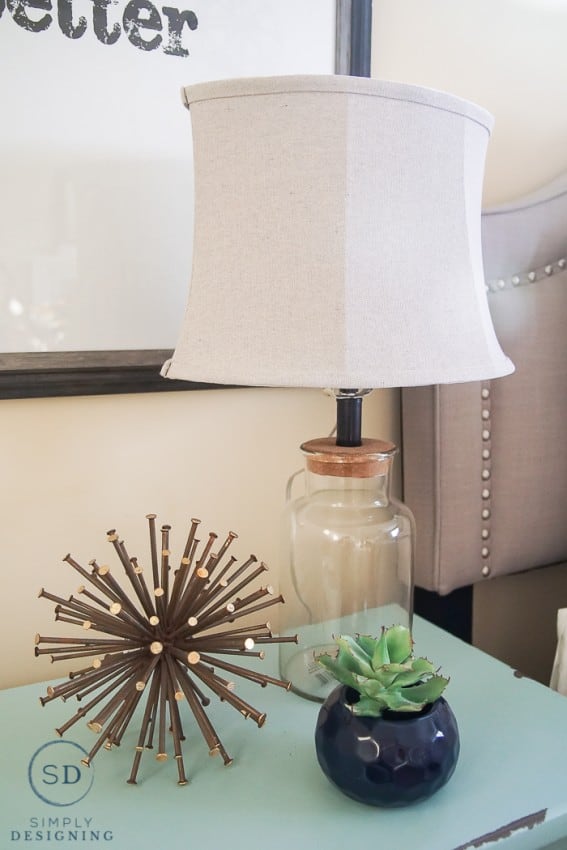 And I found a really cool industrial ball that looks like it is made out of nails for my husband's nightstand.  I really fell in love with the nail ball and my husband loves it too!  I have never seen anything like it before and it adds a really fun, industrial and unique look to our nightstand decor.  I think it is the perfect decoration on his nightstand.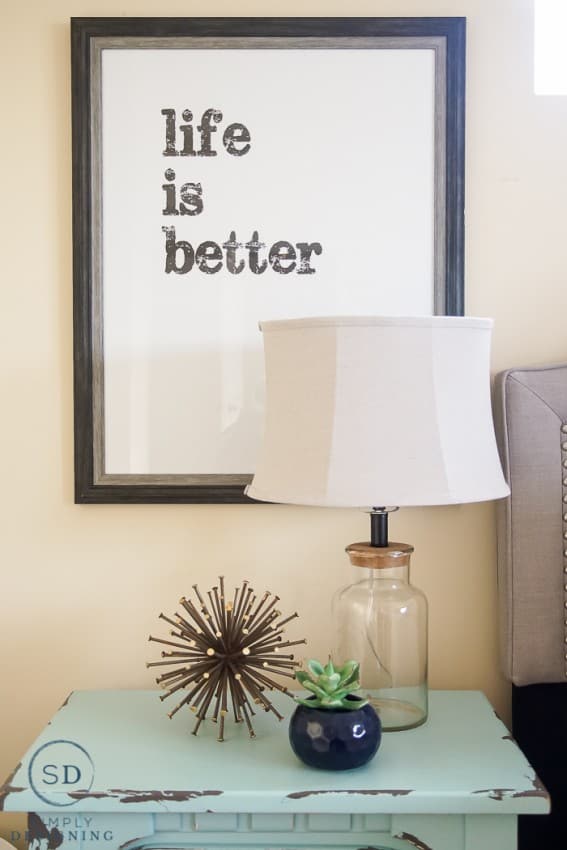 By adding similar but not identical items to our nightstands (like the two balls) I was able to keep a consistent look to the nightstands without them being identical.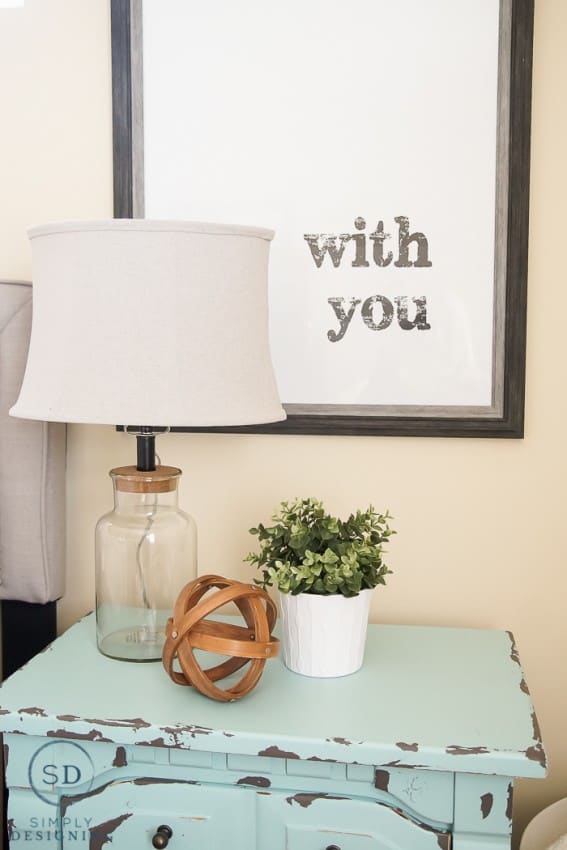 I also added a bit of faux greenery to our nightstands that I actually already had on hand.  But there are so many fun and affordable options for adding flowers or greenery to your space at At Home too.
And I found these cute metal baskets that I placed on either side of the nightstands.  These are perfect to hold for extra blankets or pillows!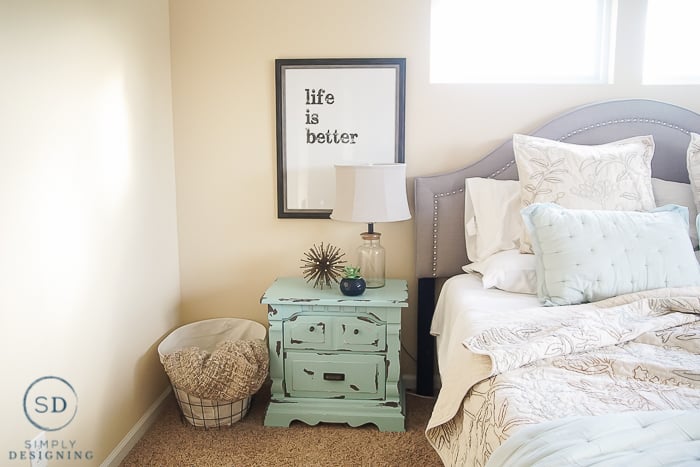 I designed the typography artwork myself and had them printed at a local copy shop.  I added the rustic typography to the frames and hung the frames on the wall.  I love how the frames really fill the large space.  They are the perfect size without being overwhelming and I like how they coordinate with the typography on the dresser side of my bedroom.  Again they don't match, but they help to create a consistent look in the bedroom.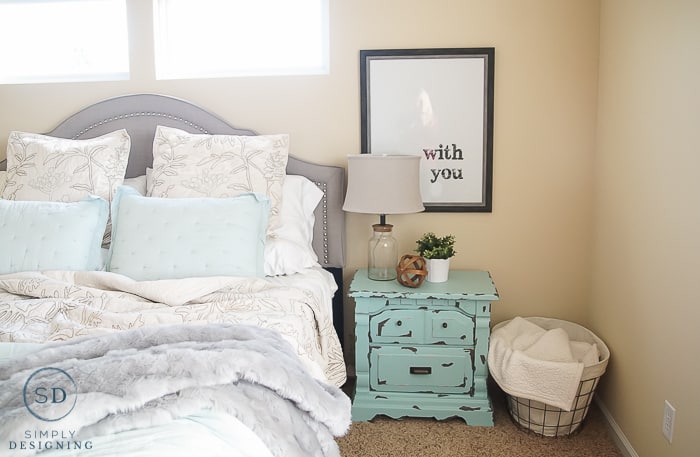 And because I designed this art myself and had them printed as black and white architectural prints, they were fairly inexpensive too, especially considering the size!
My bedroom is far from complete but I love the progress that we have made over the last few weeks on it.  I finally feel like it is starting to come together and can't wait to finish a few more projects in the room that will really make it the perfect space for my husband and I to relax in after a long day and to get some much needed sleep in too.
Do you have a small space in your home that needs a high-end make over at an affordable price?
This is a sponsored conversation written by me on behalf of At Home. The opinions and text are all mine.

You might also enjoy: